Not only are apples the epitome of fall, they're a great fruit to have on-hand all year long. These perfectly baked apples are filled with crispy granola for a dessert that comes together with just a few minutes of prep work. Mix up your apple flavors with this Apple Medley, that will all cook up to perfection.
These baked apples are an excellent alternative to apple crisp or apple pie, but with far less mixing and chopping. For an even easier dessert, you can prep the granola ahead of time or use a favorite that you already have at home. Just don't forget the vanilla ice cream!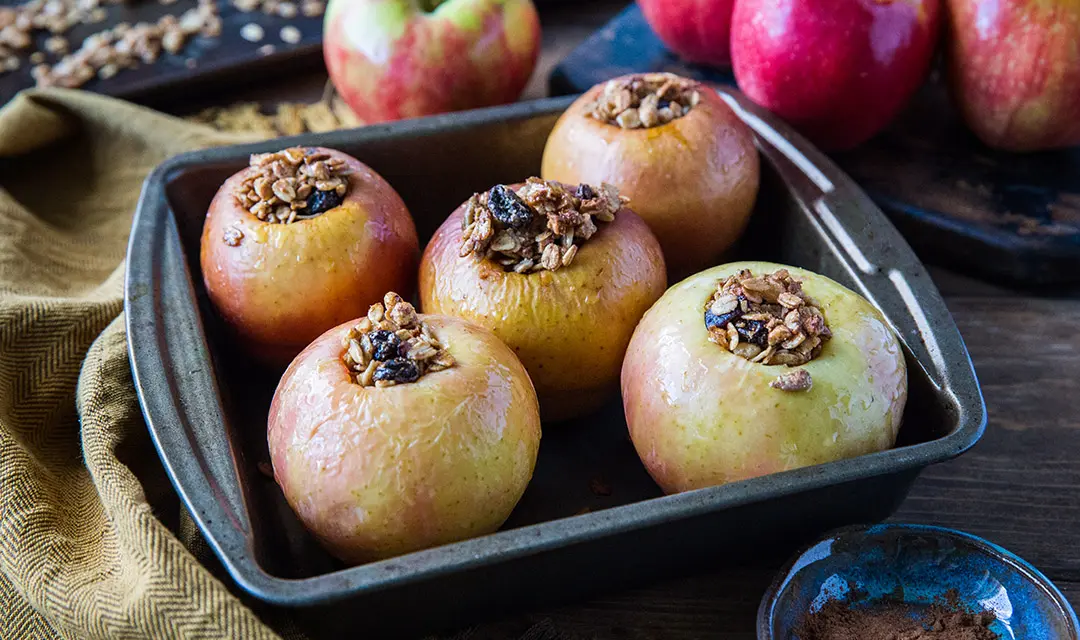 Baked Apples Topped With Homemade Granola
Ingredients:
For the Baked Apples
1 ½

cup

granola

(use store-bought or see recipe below)

¼

cup

unsweetened almond butter or peanut butter

2

tablespoons

pure maple syrup
For the Granola
1

tablespoons

ground flaxseed

3

tablespoons

water

½

cup

raw walnuts

½

cup

raw almonds

3

cups

gluten-free rolled oats

½

cup

raw pumpkin seeds

½

cup

unsweetened shredded coconut

2

teaspoons

ground cinnamon

½

teaspoon

sea salt

½

cup

avocado oil or grapeseed oil

?

cup

pure maple syrup

1

teaspoon

pure vanilla extract

½

teaspoon

pure almond extract

1

cup

raisins or dried cranberries
Instructions:
Preheat the oven to 325° F and line a large baking sheet with parchment paper.

Prepare a flax "egg" (i.e. egg replacer) by combining the ground flaxseed and water in a small bowl. Allow the mixture to sit, stirring occasionally, until it thickens to the consistency of an egg, about 10 minutes.

Place the almonds and walnuts in a food processor or blender and pulse a few times, just until the nuts are coarsely chopped. As an alternative, you can carefully chop the nuts using a sharp knife.

Add the chopped nuts, oats, pumpkin seeds, shredded coconut, ground cinnamon, and sea salt (all the dry ingredients except for the dried cranberries) to a large mixing bowl and stir well.

Whisk together the oil, maple syrup, vanilla, and almond extract. Pour this mixture into the bowl with the oats and nuts, along with the flaxseed "egg." Stir well until everything is well coated.

Pour the granola mixture onto the lined baking sheet. Use your hands to press the granola mixture into the sheet, creating an even layer.

Place the sheet of granola on the center rack of the oven and bake for 35 to 45 minutes, or until the edges are golden brown. Remove the granola from the oven and allow it to sit for one hour – this allows the granola to set and makes for large granola clusters. Once cooked and cooled, mix in the cranberries.

Transfer the cooled granola to a large plastic bag or jar for storing. Store granola for up to 10 days.
For the Baked Apples
Preheat the oven to 350° F and bring a kettle of water to a boil.

Using an apple corer, core each of the apples, leaving about an inch of flesh at the bottom of the apples.

Toss together 1 ½ cups of granola with the unsweetened almond butter (or peanut butter) and maple syrup. If desired, add a pinch of sea salt and ground cinnamon. Stir this mixture well until it is combined.

Stuff each apple with about ¼ cup of the granola mixture.

Place apples in a casserole dish or cake pan (an 8-inch square cake pan works great). Pour hot water around the apples until it reaches ? to ½ way up the apples.

Cover with foil and bake on the center rack of the preheated oven for 30 minutes.

Remove the foil and continue baking an additional 15 to 25 minutes, until apples reach desired doneness.

Remove apples from the oven and use tongs to remove them from the hot water-filled pan. Serve and enjoy!
---