For Lisa Govro, founder of Big Heart Tea, the road to starting her own business all began in a refurbished RV.
"I had this idea for a mobile tea parlor, so in 2012 I decided to go for it. I found an old 1969 camper, bought it, gutted it, and turned it into a traveling tea show," she recalls fondly. "I'd always had a dream of selling tea because I enjoy it so much. I took it to local events, street fairs, and farmers markets in and around St. Louis."
The mobile tea parlor remained a side hustle for two years while Govro continued her day job writing grants for a youth literacy program. Then, in 2014, she decided to go for it: She left her job to sell tea full time.
At the time, the company was called The ReTrailer, an organic tea company that Govro describes as one that "specialized in delicious hand-blended, original tea creations intended to promote the art of balanced living through food medicine."
The food medicine story, Govro says, begins about 5,000 years ago in India with one of the world's oldest holistic healing systems, Ayurveda. Ayurveda is based on ancient Hindu texts and the Nyaya school of Hindu philosophy that promote the belief that health and wellness depends on a delicate balance between the mind, body, and spirit.
Govro, who studied Ayurveda, says that 40% of Big Heart Tea Co.'s tea blends are directly informed by traditional Ayurvedic techniques for healing and balancing the body. "The company uses the chakra system to map out and align its teas," she explains. "If our customers look closely they will notice that the colors and herbs support specific chakra systems."
Selling tea full time while becoming a full-time mom
Quitting her job forced Govro to fully commit to the tea business, and it also came with sacrifices. "I had to let go of what you might call the comforts of life. I had to go on a strict budget, forgo any leisure travel, and really watch my expenses." Then, in 2014, her daughter, Astrid, was born.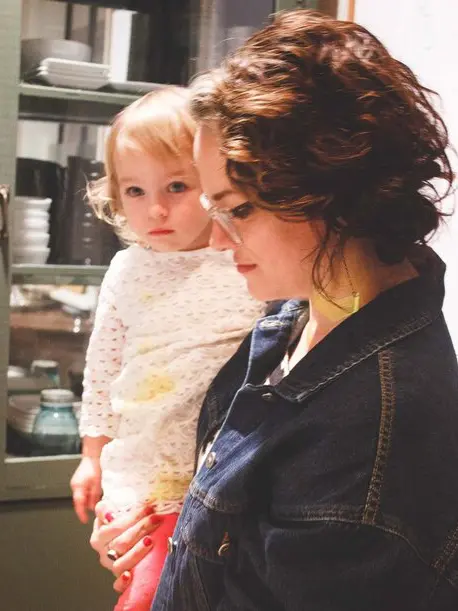 "I had my daughter in year two of business, " Govro remembers. "I was on the floor filling Black Friday orders when my water broke, but I still dropped orders at the post office on my way to the hospital.
"In 2015, when my daughter was four months old, I attended my first World Tea Expo where I met foundational farm partners whom I still do business with today. While I was away at the expo I overnighted breast milk home every morning as my daughter refused to take formula.
"The mental and emotional toll of entrepreneurship is different for everyone, but as mothers, we rarely have the opportunity to share anecdotes, challenges, and commune with our mama peers and allies about our unique circumstances."
Govro became a single mom when her daughter was 3 years old. Now 8, Astrid is old enough to help her mother in the office. "She likes making tea for the team and chatting it up with the staff. "
In 2017, the company was rebranded as Big Heart and created a new packaging design. They also began partnering with local baristas and chefs in the St. Louis area. One of those chefs is owner of Niche Food Group and James Beard Award winner Gerard Craft, who told Govro that one of the main reasons he decided to sell the tea is because Big Heart "is committed to using outstanding ingredients, and you can taste that in every cup."
Never quit, and stay within your means
Big Heart Tea then started growing organically (pun intended), mainly through the company's social media channels. Buyers for big retailers took notice of her posts, saying they liked the brand and the tea she was creating, which contains organic ingredients with anti-inflammatory properties, such as peppercorn and cinnamon. And that attention led to growth: Big Heart teas were soon available in Anthropologie stores, and the company formed a partnership with Nordstrom.
Despite this early success, they still were doing everything themselves, from packaging to shipping, and that wasn't always easy, particularly when dealing with larger vendors. "With bigger orders we had to adjust and grow the way we sourced our ingredients and add team members to help with all aspects of the business," Govro says. That meant hiring an accountant and more backroom help. But by 2020, Govro says she was finally able to make a decent living from the business and start re-enjoying those comforts of life.
Anyone who runs a start-up knows how time consuming it can be, and Big Heart Tea was no exception. But dedication and resilience, Govro says, are key. "The trick is to plow ahead, no matter how many hours it takes, and to not quit, and just keep going. Bigger orders just means bigger interest in the company."
They doubled their business year over year since 2019, so scaling while learning the ropes of day to day business was a challenge for Govro, but it all paid off. "I'm thankful for a solid team that believes in the company and the work that we do," Govro says.
However, despite the rapid growth, she was careful not to grow the company too quickly, opting to make incremental gains instead of taking big leaps. "We were purposely very limited in what we were pumping out, and there's a lesson there: Stay within your means," she says. "So many start-ups grow too fast, and they crash and burn. We did not want that happening to us."
She also said she was deliberate in finding the right partners and ingredient sources for the company's 20 blends of tea. "You do that by making the right connections through networking in the tea industry. One farmer introduces you to another farmer, who introduces you to another, and so on." Today, Big Heart gets its ingredients from countries all over the world, including Japan, Malawi, and India.
Supporting other women and still loving tea
One of the best things about Big Heart being a woman-owned business, Govro says, is meeting other women at tea and gift industry trade shows, such as the World Tea Expo and NY NOW. "Once you meet each other, you help support each other; it's a tight and deep community."
For Govro, owning her own business is personal. "As a single mom and business owner, I can create my own flexible schedule, and enjoy the benefits of parenthood by being present at school functions and soccer games for my daughter. I'm not sure I would be able to do that with a typical 9-to-5 job."
Big Heart Tea not only has provided Lisa Govro with her livelihood — it's given her and Astrid something to bond over. "My daughter and I have our own tea times together at home, and that makes it all worthwhile.
Gifts featuring Amazing Women