In "Cooking up Comfort" we're walking you through all the classics that make you feel all warm inside. These thick, fluffy, and delicious confetti pancakes from Bianca Dodson of Lenox Bakery are loaded with rainbow sprinkles, piled high, and topped with homemade whipped cream. Talk about the ultimate birthday breakfast!
The countdown is officially on to my son's birthday, so I'm deep in planning mode. My son's list of requests grows longer by the minute, but at the top of his list is a delicious breakfast. After all, it is the most important meal of the day so why not start the birthday celebration first thing in the morning!
Pancakes are a go-to in my household; they're always a hit not only with the kids, but with the kids at heart, too. This makes them an easy pick for his birthday breakfast. These classic pancakes are the holy trinity — moist, thick, and fluffy — but the kicker is the confetti sprinkles that give them a festive flair.
How to make confetti pancakes
Harry & David Old-Fashioned Pancake Mix makes the best base for this recipe, because it adds a subtle sweetness and creates fluffy and moist pancakes. Plus, all you need to add to prepare the mix is water, which saves time when the birthday boy or girl is waiting on breakfast. The special touch in the recipe is the rainbow sprinkles. I recommend using regular rainbow sprinkles, since the sequin sprinkles will not hold up in the batter.
The key to fluffy confetti pancakes is to not overmix the batter. Leaving the batter just slightly lumpy will result in a higher rising pancake. For the sprinkles, fold them in at the end rather than whisking them in, to help prevent overmixing.
When you're ready to cook, use a pan or griddle that produces even heat, which will ensure the pancakes cook evenly and achieve that perfect golden brown. Make sure the pan is nonstick (or melt a little butter in the pan beforehand if not). You'll cook for one to 1 1/2 minutes on each side, but the best way to know when they're ready to flip is once bubbles start to form and pop on top of the batter. Only flip each pancake once, as flipping more than that could result in a dry and flat pancake.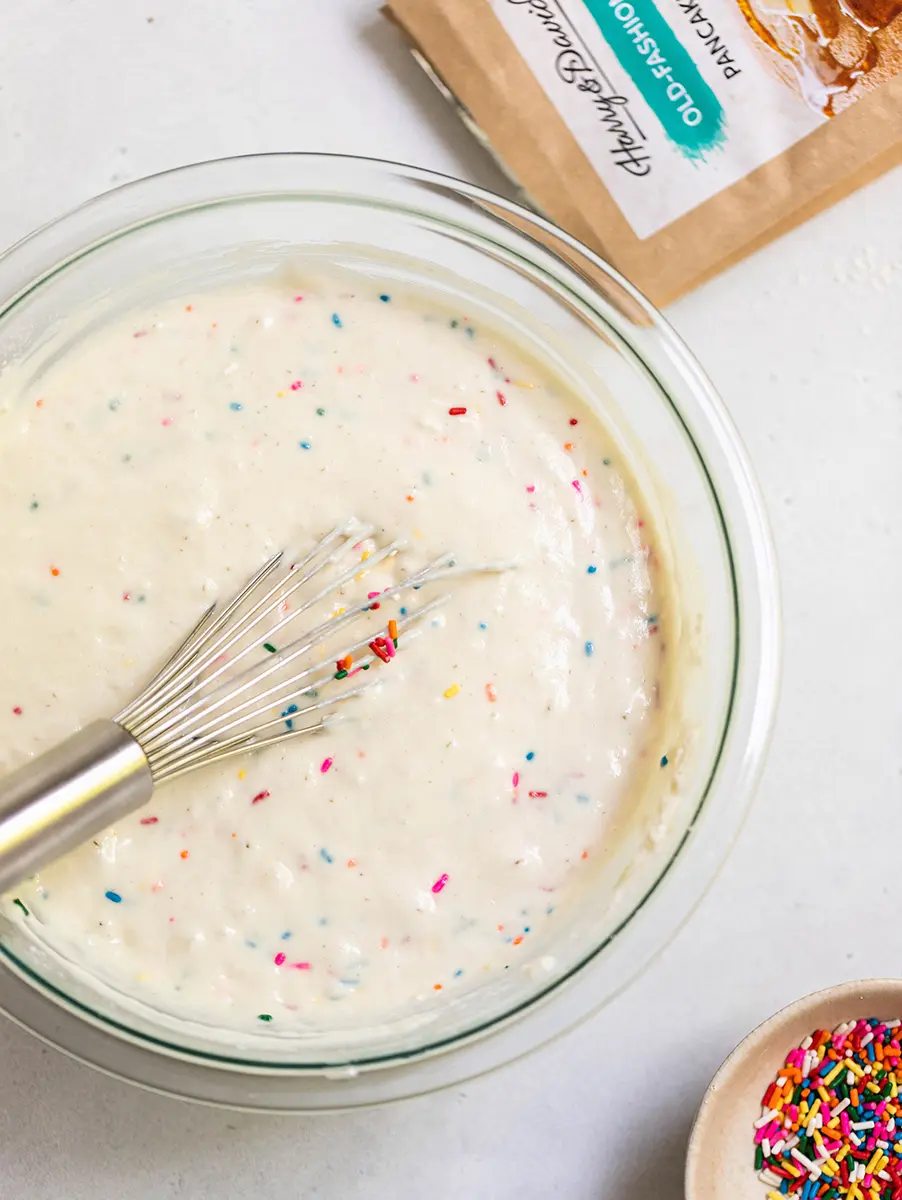 And don't walk away while you're cooking. Pancakes cook rather quickly so it's important not to leave them unattended so you can flip at just the right time.
If you want to start the celebration as soon as possible and not worry about cooking on the big morning, you can also make the confetti pancakes ahead of time. After cooking, you'll allow them to cool completely, then wrap each pancake individually in plastic wrap and store in a large resealable plastic bag in the fridge. They'll keep for three days (which makes this a great option for leftovers, too). When you're ready to eat, you can reheat them quickly. The first option is to place one to two pancakes on a microwavable safe plate and warm in 10 to 20 second increments until warm. You can also place your confetti pancakes in a toaster for 20 to 30 seconds or until warmed through.
When you're ready to serve, add the finishing touch: the homemade whipped cream topping. And of course, you'll want plenty of maple syrup to pour over the warm pancakes before you dig in.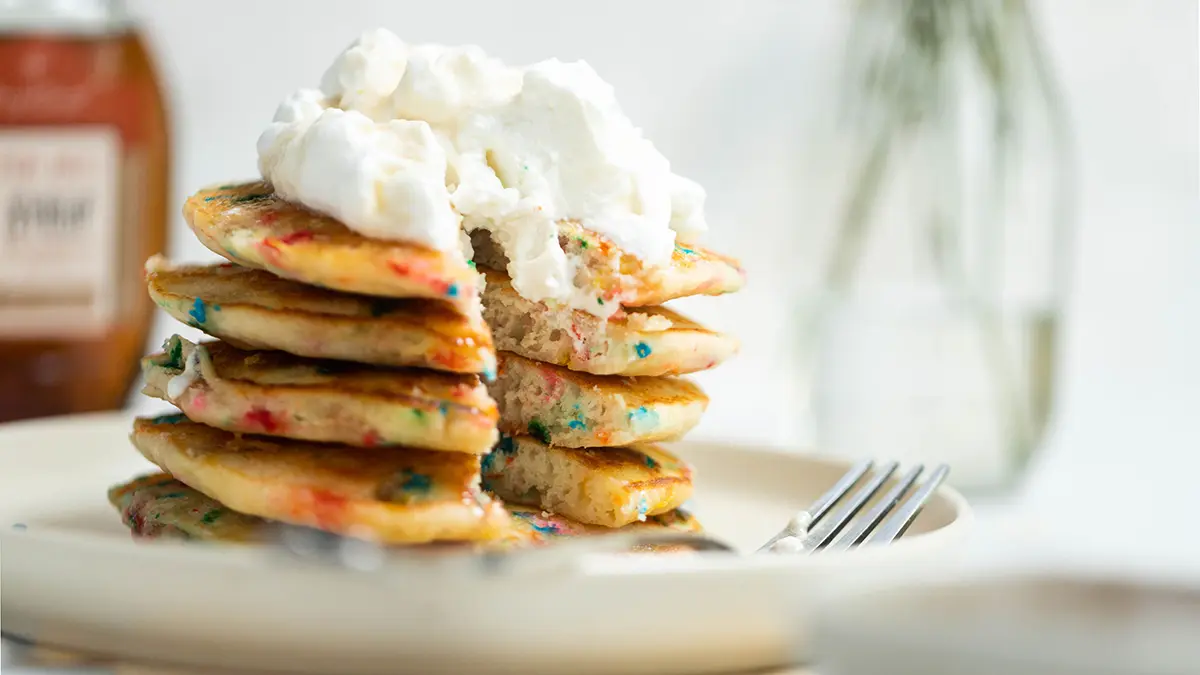 Confetti Pancakes
Ingredients:
For the confetti pancakes
Instructions:
In a medium bowl, pour in the pancake mix and water, and mix until combined, being careful not to overmix. Batter will be slightly lumpy. Fold in sprinkles of your choice.

Pour ¼ cup of batter onto a non-stick griddle and cook for 1–1 ½ minutes on each side until golden brown over medium heat. Flip only once so the batter doesn't dry out and become flat. Sprinkle additional sprinkles over batter as the pancakes are cooking, about a ½ teaspoon per pancake.

For the homemade whipped topping, whip the heavy cream, vanilla, and powdered sugar together until stiff peaks form.

Dollop whipped cream over warm pancakes, drizzle with maple syrup, and serve.
---