There is nothing better than a good breakfast sandwich.
Except breakfast sandwiches on Wolferman Super-Thick English Muffins. These English muffins are absolutely incredible — super thick and fluffy, with an abundance of nooks and crannies for jam, melty almond butter, or your favorite cheese. They're thick enough to stand up to even the heartiest of toppings and sauces.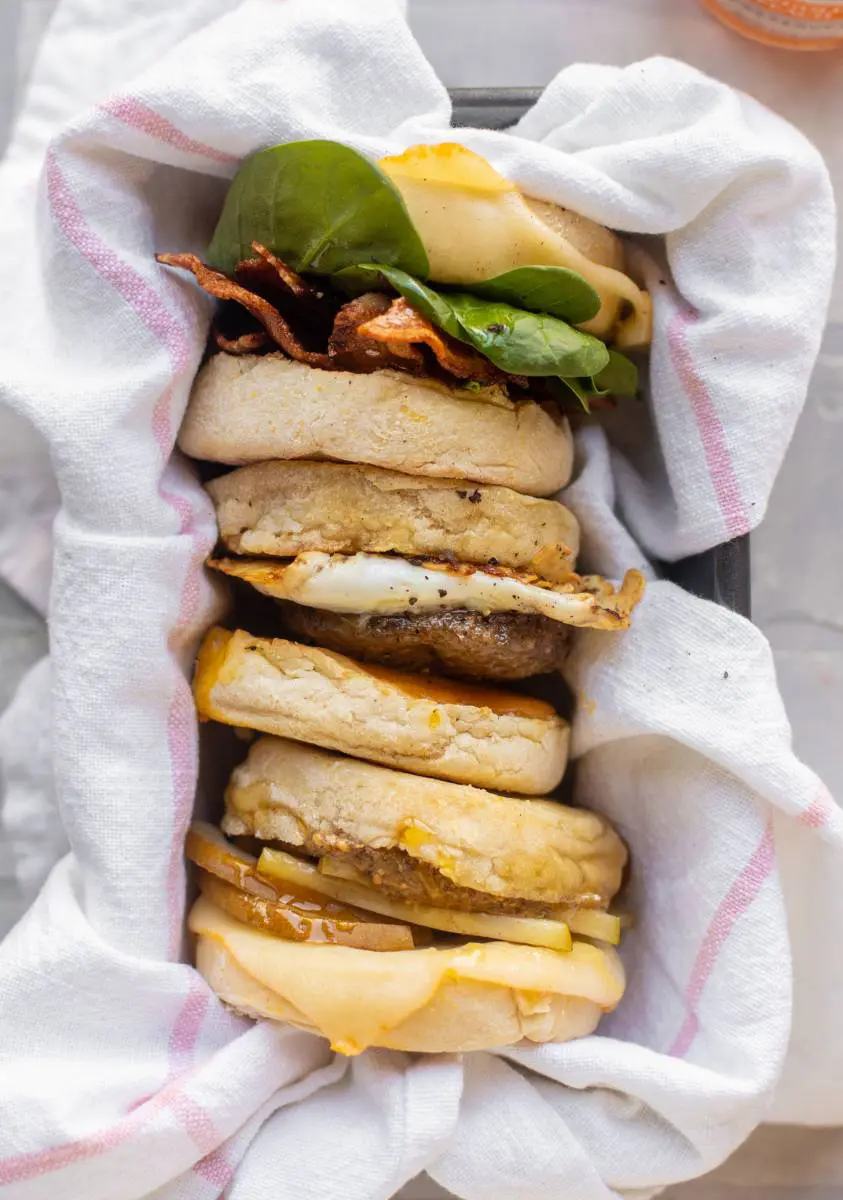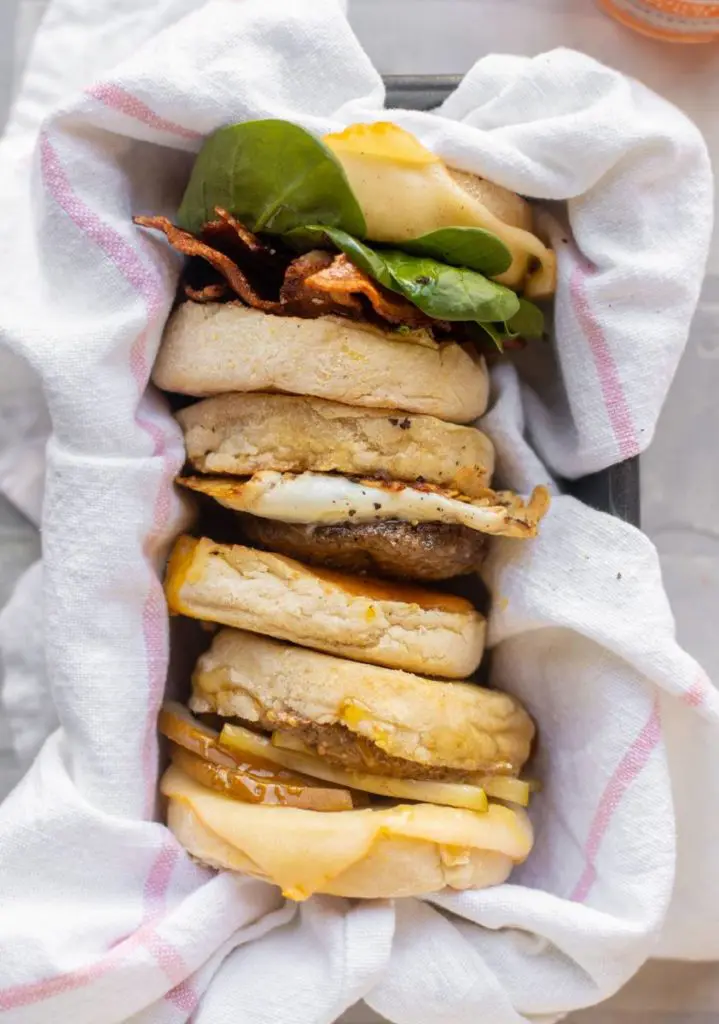 When it comes to breakfast, there is a big decision to be made: sweet or savory? These three takes on breakfast sandwiches cover all the bases so the deliciousness is at your fingertips. And if you like both sweet and savory, well, you're covered! Plus, National English Muffin Day is April 23, so with breakfast sandwiches like these, you're ready to celebrate.

Let's start with the sweet version: a golden, toasty English muffin with a slice of melted muenster cheese on top. The other side is spread with creamy almond butter. It's topped with sliced Harry & David pears, along with a drizzle of honey. It's dreamy! There is texture and crunch, along with creamy sweetness, which means it's full of complementary textures and flavors. It's satisfying and delicious.

For a savory version, you can't beat the classic of sausage, egg, and cheese. Start with a warm, toasted English muffin and throw on some cheddar. Add a smoked sausage patty and top with a fried egg. This is the ultimate comfort food that is also high in protein. While we're calling it a breakfast sandwich, it could easily be dinner, too!
To mix it up with some sweet and savory flavor, we're mixing bacon and jam. I know, we're rebels. Crispy, crunchy smokehouse hickory bacon is combined with Harry & David Oregold Peach preserves, a melty slice of Havarti cheese, and a handful of spinach or arugula greens. This combo presses all the flavor buttons and is everything you want in a breakfast sandwich. You can switch up the jam flavors too, of course, depending on what's in season or your preferences.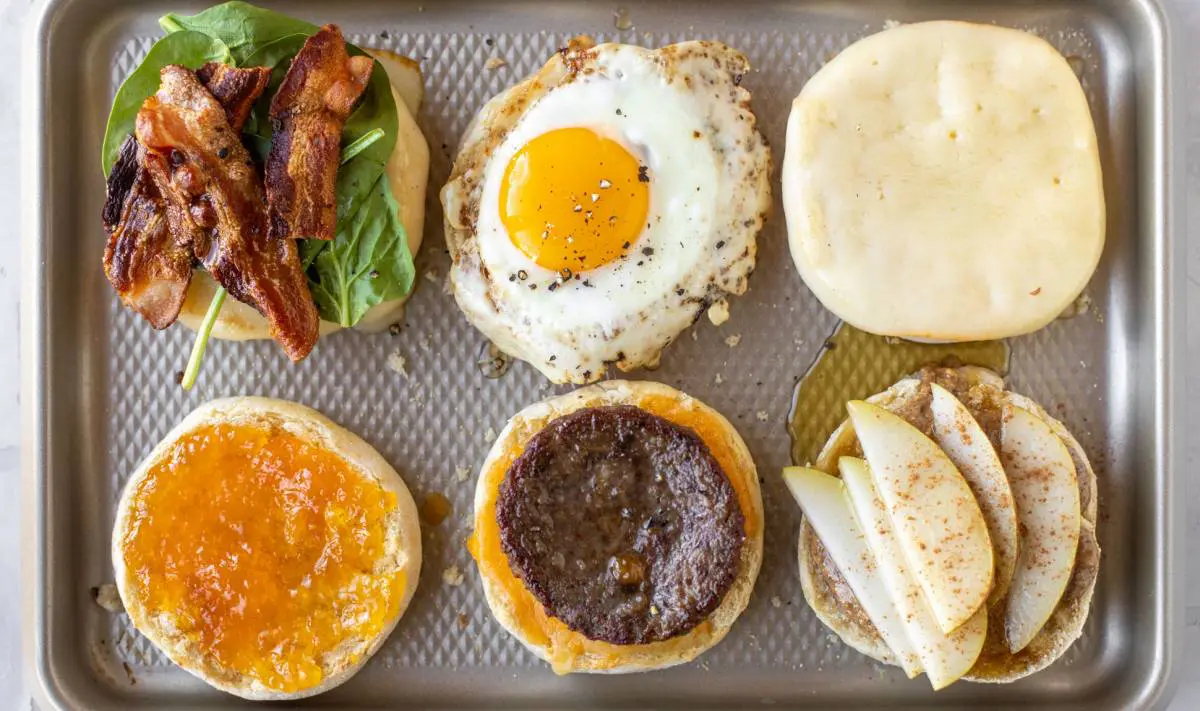 Breakfast Sandwiches
Ingredients:
Sweet Sandwich with Pear and Almond Butter
1

slice

muenster cheese

2

tablespoons

almond butter

1

Pear

1

tablespoon

honey
Classic Savory Sandwich with Sausage and Egg
1

smokehouse pork sausage patty

1

large

egg

1

slice

cheddar cheese

kosher salt
Sweet and Savory Sandwich with Peach Jam
Instructions:
For sweet pear sandwich, toast the English muffin until golden brown. Top one side with the muenster cheese. Spread the other side with the almond butter. Top with the sliced pears. Drizzle with honey and combine the halves. Enjoy!

For the savory egg and sausage sandwich, heat a skillet over medium heat. Add the sausage patty and cook until golden brown on both sides, 3 to 4 minutes per side. Add the egg to the same pan with a pinch of salt and pepper. Cook until the white is just opaque.

Toast the English muffin until golden brown. Top one side with the sausage patty and egg. Top the other side with the cheddar. Combine the halves and enjoy!

For the sweet and savory peach jam sandwich, begin by toasting the English muffin until golden brown. Top one side with a slice of Havarti cheese. Top the other side with the peach preserves. Top with the greens and the bacon slices. Combine the two halves and enjoy!
---