Written by our Founder and CEO, our Celebrations Pulse Sunday Letters aim to engage with our community. From sharing stories to welcoming your ideas, we want to help you to express, connect, and celebrate the important people in your life. Today, join us in celebrating workers this Labor Day weekend.
Labor Day offers us one last chance to make the most of summer. Amid the barbecues and swim parties, how many of us have uttered, "I can't believe it's already Labor Day"? The warm weather, school summer breaks, and vacations all seem to wrap up when the calendar flips to the first weekend in September.
Labor Day is also a celebration of workers and all that they have achieved. Over the past pandemic years, those achievements have occurred as they've ping-ponged from office to home, to hybrid, and back.
Regardless of where you feel most comfortable, or your company's preference, the new workplace environment can be discombobulating. Many feel like they've lost connection to officemates, managers, and different departments. Others fear that their achievements and hard work may not be recognized with less in-person face time with their managers.
The new work environment poses another challenge. According to a recent survey of our Celebrations Passport community, the workplace is the second-most common place to make friends, behind school. Hybrid work doesn't help the loneliness epidemic. It also leads to a retention problem for employers as research shows that workers with friends at the office are less likely to quit.
This Labor Day, we'll be celebrating workers and the last blast of summer. But let's also use the day to make a plan to connect with colleagues and forge deeper workplace relationships. Use your power to connect with a simple message like "How are you doing?" or "How was your weekend?" Or praise their hard work on a project or another contribution. We promise that it'll make their day – and yours!
Forging new connections in our workplace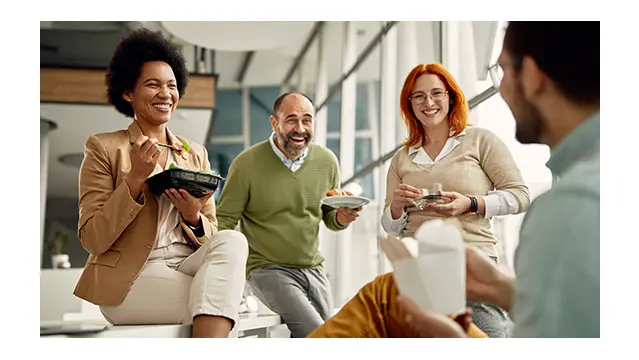 Years ago, when 1-800-Flowers.com was a smaller business, we housed our customer service team in the same location as our corporate offices. As the business grew, the department dramatically expanded, which meant that many representatives ended up scattered around the world.
At Flowers, we like to walk about the office and get to know team members from every corner of the business and all walks of life. But with the expansion of customer service, we could no longer engage in person with employees due to their diverse locations. Moreover, those team members were missing out on connecting with colleagues in other departments – the same issue faced by millions of workers no longer connected to an office.
The customer service department is one of the most important parts of our business. These team members not only deal directly with 1-800-Flowers customers, but they've traditionally advanced into other parts of the business. We felt it was crucial to come up with a way to bring a segment of customer service back into the fold.
Creating The League
Our solution was to create The League, which is a customer-service-focused team that receives robust training and exposure across other areas of the organization for fast-tracked career advancement.
Started earlier this year, the team consists of specialists who ordinarily would not have come to the attention of the hiring department. Rather than focusing on education or work experience, we selected them for their unique qualities, drive, and the "special something" each brings to the organization.
One member of The League, Catherine Cannavina, recently wrote to us about her experience, and how it made her feel closer to the business. We wanted to share her thoughts with you: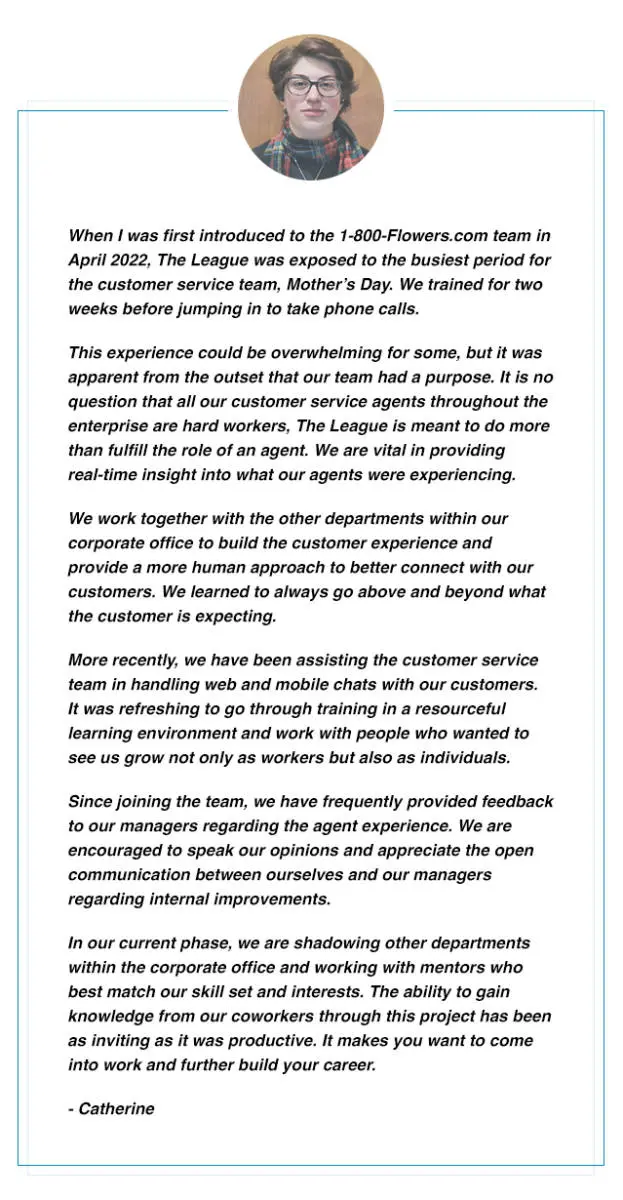 As we celebrate the American worker this Labor Day, hopefully we can use it as an opportunity to make sure all team members are included, whether they are near or far, at home, in the office, or have hybrid schedules. At the end of the day, at the office, it's important to remember that we are all in this together regardless of your role or where you are based.
Happy Labor Day!
Chris & Jim