The recipes in our series "Homemade Gourmet" take the thought and time out of cooking without sacrificing their flavor or gourmet appeal. Cozy up this fall with this cheesy panini recipe by Liz Harris of Floating Kitchen.
The cornerstone of a good panini is a contrast in textures. It should be soft and melty on the inside, but crisp on the outside.
You can put any ingredients you'd like in a panini, but I was channeling some major fall vibes when I came up with the recipe for this cheesy fall panini. It includes some of my go-to seasonal ingredients, like Harry & David apples and Royal Riviera Pears. Along with roasted sweet potato slices and a Brussels sprout slaw, you have all the ingredients you need for all the best flavors of fall. Plus two cheeses to hold it all together: Harry & David sharp white cheddar and gouda.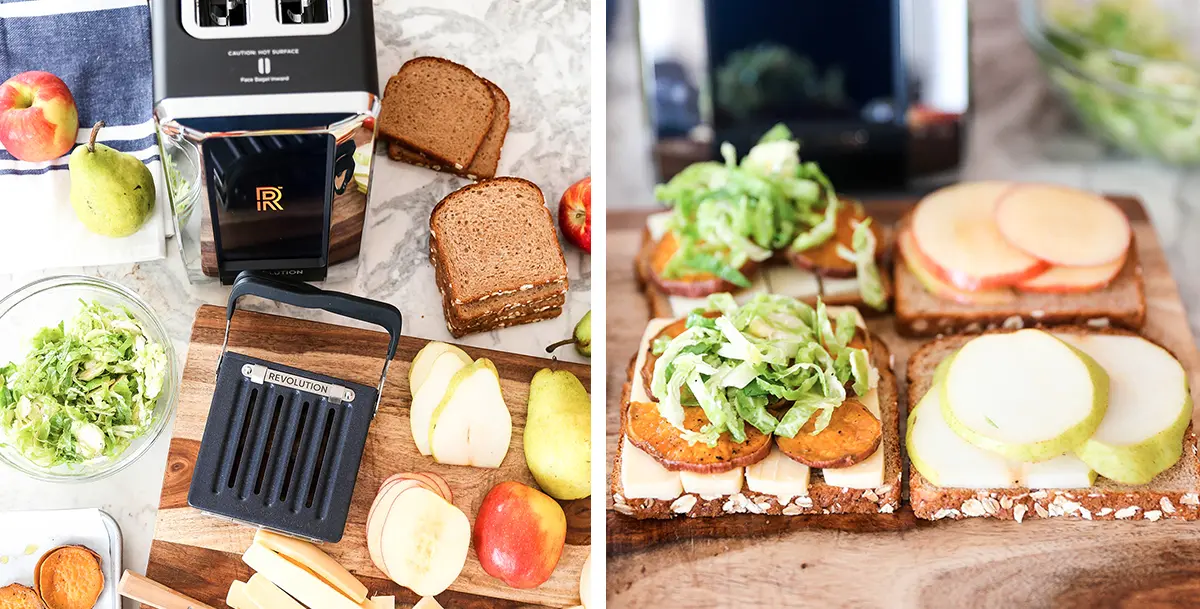 Each sandwich gets a couple slices of the roasted sweet potatoes and a little pile of the Brussels sprout slaw. Then I like to mix and match the remaining ingredients. Personally, I like pairing the apple slices with the cheddar cheese and the pear slices with the gouda. But the best part about making this panini at home is that you can build it exactly to your liking.
After your panini is assembled, you can just pop it in the panini press insert of your Revolution Toaster and let the toaster do all the hard work for you.
I love the different flavors and textures in these panini. The apple and pear slices stay crisp and firm. The Brussels sprout slaw provides additional crunch. The roasted sweet potatoes and cheeses just sort of melt together, becoming soft and warm. It's sandwich nirvana!

Using the toaster panini press is ideal if you want to make just a single sandwich for yourself — there's no mess and no need to pull out any heavy appliances or pans. Or you can churn out several sandwiches in just a few minutes if you're having a party or just really love a cheesy panini.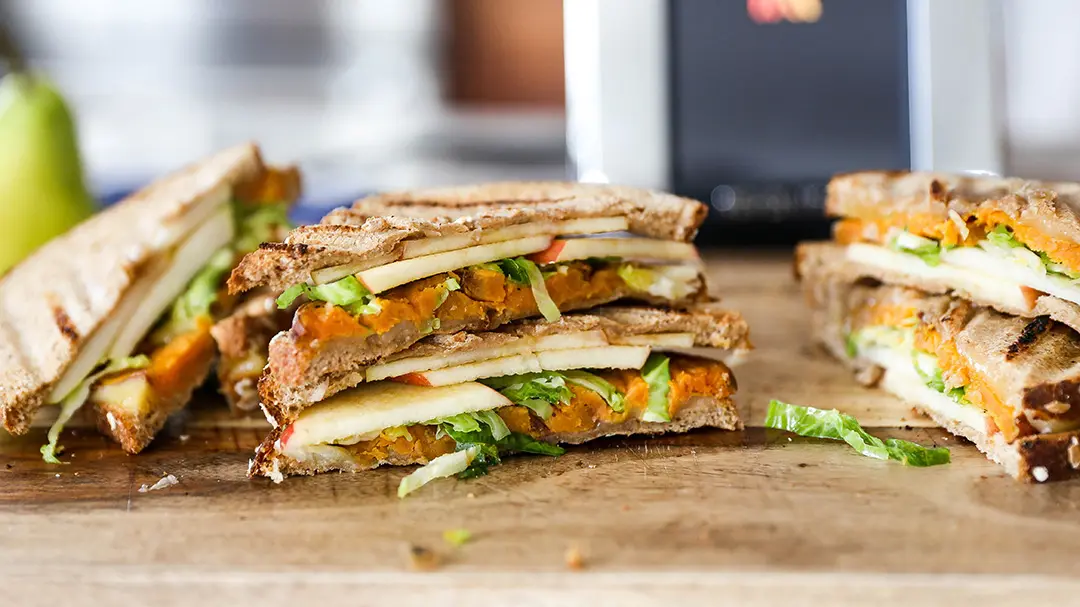 Cheesy Panini
Equipment:
Revolution Toaster

Revolution Panini Press
Ingredients:
For the Sweet Potatoes:
1

Sweet potato

(sliced into 1/4-inch thick rounds)

1

tablespoon

extra-virgin olive oil

¼

teaspoon

salt

¼

teaspoon

black pepper
For the Brussels Sprouts:
2

cups

Brussels sprouts

(shredded )

1

tablespoon

extra-virgin olive oil

1

tablespoon

apple cider vinegar

1

teaspoon

maple syrup

¼

teaspoon

salt

¼

teaspoon

black pepper
For the Panini:
1

loaf sliced sandwich bread

Harry & David® Sharp White Cheddar Cheese

(thinly sliced)

Harry & David® Gouda Cheese

(thinly sliced)

1

Harry & David® Apple

(cored and thinly sliced)

1

Harry & David® Royal Riviera Pear

(cored and thinly sliced)
Instructions:
Preheat your oven to 400° F. Line a rimmed baking sheet with parchment paper. Then spread the sweet potato slices out in a single layer. Drizzle them with the olive oil, turning to coat them on both sides. Then season with salt and pepper.

Transfer the baking sheet to your preheated oven and roast the sweet potatoes until they are cooked, about 15 to 20 minutes. They should be tender and starting to brown in some places. Remove the baking sheet from your oven and set it aside.

Meanwhile, toss the shredded Brussels sprouts in a medium bowl with the olive oil, vinegar, maple syrup, salt, and pepper. Set aside.
Assemble your sandwiches:
Place a layer of sliced cheese (either cheddar or gouda) on one slice of bread. Top with 2 to 3 slices of the cooked sweet potato, about 2 tablespoons of the shredded Brussels sprouts, and then 2 to 3 slices of either the apple or pear. Place a second slice of bread on top and press down gently.

Transfer the sandwich to the Revolution Panini Press and close it with the interlocking hinges. Then place it in the right side of your Revolution Toaster and cook following the manufacturer's instructions.

Carefully remove the Panini Press from your toaster and lay it flat on a cutting board. Open and transfer the sandwich to the cutting board. Let it rest for about 2 minutes before slicing in half. Enjoy immediately.