I am not a football fan, at all, but that doesn't mean I won't attend each and every tailgate or game day couch party I'm invited to. Because I know the best snacks around are always found on at kickoff. Cheesy dips, carb blanketed mini dogs, and the most epic Cheesy Pepper & Onion Pull-Apart Bread made with everyone's favorite Pepper & Onion Relish.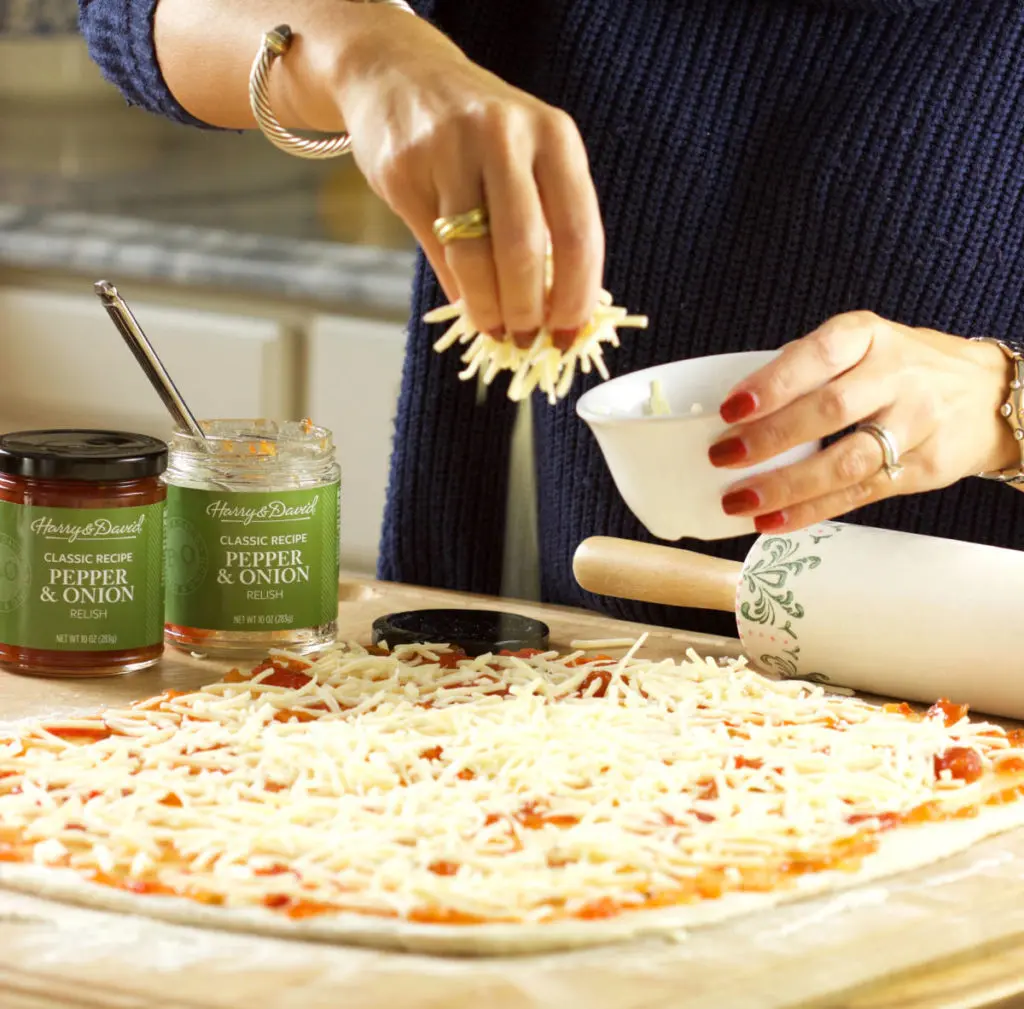 Pull-apart bread is one of my most favorite things in the world. You can make the dough yourself or you can buy your favorite pizza dough to get things started a little faster. Then, roll the dough out and slather on the Pepper & Onion Relish. Sprinkle generously with cheese and cut into squares. Stack the squares and bake in a loaf pan until puffed and bubbling over with melty, molten cheese.
This Cheesy Pepper & Onion Pull-Apart Bread recipe would even make for a great addition to your casual holiday parties. A fun way for friends or family to hunker down and watch holiday movie marathons. Just plop a loaf or two in the middle of a cheese platter and watch what vanishes first. It's a family favorite!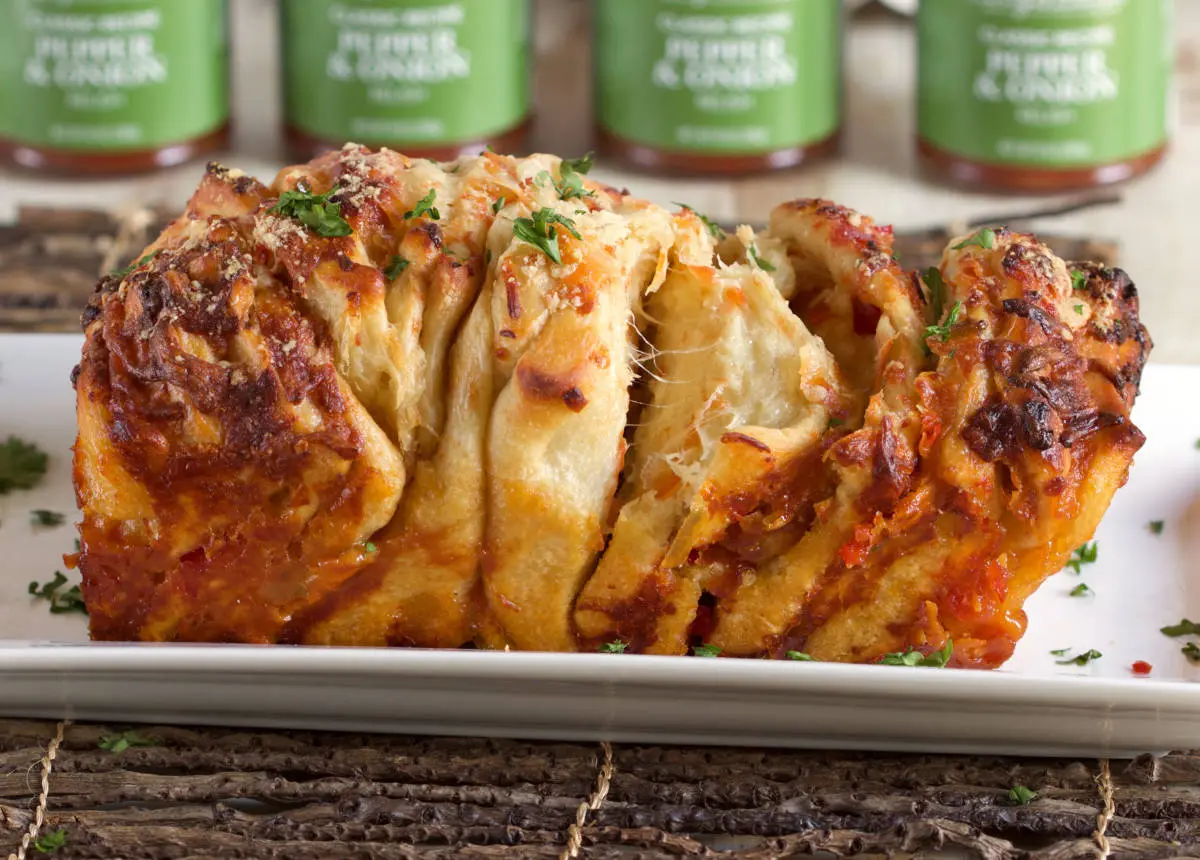 Cheesy Pepper and Onion Pull-Apart Bread
Ingredients:
3 ½

cups

flour

( or bread flour)

2

teaspoons

dry active yeast

1

teaspoon

granulated sugar

2

teaspoons

kosher salt

1 ½

cups

hot water

(110 degrees)

2

tablespoons

extra virgin olive oil

1 ½

cups

mozzarella cheese

4

tablespoons

butter

(melted)

¼

cup

grated Parmesan cheese

2

tablespoons

fresh parsley

(chopped )
Instructions:
In the bowl of a stand mixer fitted with a dough hook, mix together the flour, yeast, sugar and salt. Slowly add the water and olive oil and continue mixing until the dough forms a ball and has pulled away from the sides. If the dough is too sticky, add flour 1 teaspoon at a time.

Transfer the dough to a large, lightly oiled bowl and cover with plastic wrap. Allow the dough to rest and double in size, approximately 1 hour.

Transfer to a lightly floured surface and divide the dough into 2 equal pieces. Form each piece into a ball and allow to rest 10 minutes before rolling out. If storing for later, lightly coat each dough ball with olive oil and store in a zip top bag for up to 5 days.

Gently punch down the dough and turn it out onto a lightly floured work surface. Roll the dough out into a 20×11 inch rectangle. Spread the Pepper and Onion Relish over the surface of the dough in an even layer to coat and sprinkle with the mozzarella cheese. Cut the rectangle into five equal strips then stack them on top of each other. Cut the stack into four equal pieces so you have 20 squares total.

Line the squares against each other and place in a loaf pan coated with cooking spray cut side down. There will be space on each side of the bread. Cover with plastic wrap and allow to rise for 30 minutes.

Transfer the loaf pan to the oven and bake for 15 minutes. Brush the top with melted butter and sprinkle with parmesan cheese. Return the pan to the oven and continue baking for 15 to 20 minutes or until golden brown.

Remove the pan from the oven and cool on a wire rack for 10 minutes before turning out on a serving plate. Serve immediately.
---