You don't have a career like Chef Geoffrey Zakarian's without learning important lessons along the way. Before the dapper chef became a fixture on television — with Iron Chef victories, a co-hosting role on Emmy-nominated talk show The Kitchen, 52-season tenure as a judge on Chopped, and his latest Food Network show, Big Restaurant Bet — he was like many other cooks. He learned from his mother, worked his way up in busy kitchens, and opened his own restaurants.
Not everything came easily. No matter how suave Zakarian looks on screen or how many satisfied diners he's served, there were times when he had to overcome failure, work through chaos, or search inward for inspiration to continue down the long road to success.
Here are some of the lessons he learned along the way:
Lesson #1: Learn how to fail
"Failure is really important," Zakarian says. Whether that means getting a negative restaurant review or dropping a pot of boiling oil on his leg — which he considers his worst-ever cooking accident — the chef adheres to the adage, "What doesn't kill you makes you stronger."
"Humility is a really good thing. You can't undo things. You may think you can bend things to your perspective. You can't."
Lesson #2: Embrace the chaos
Along the same lines as learning how to fail is developing the ability to function at a high level while pots clang, burners flare up, and tensions rise. "I've learned how to operate effectively when things get chaotic. Being uncomfortable and being challenged is the only way to learn and improve." Chef Geoffrey Zakarian says.
---


---
During a career spent in restaurant kitchens across the globe and in cooking challenges broadcast on television, the chef has experienced pitfalls that would make mortals give up. He handles tough situations calmly because, he says, "I love problems. It's an opportunity to get better. I used to view it like, 'It's a disaster.' Now [I say] those disasters are fantastic because they give you a skill you never had before."
Lesson #3: Learn from your elders
Chef Geoffrey Zakarian has spoken of his mentorship at legendary restaurants like Le Cirque, but he also traces his kitchen skills back to his own family. He tells us that one of his first memories in the kitchen is his mother teaching him to fry an egg. That first lesson, followed by countless others, planted the seed for his love for cooking.
He told Today that one of the most useful kitchen tips his mother shared with him was to always save the fat when cooking. Zakarian's mom would freeze the drippings from all types of meat dishes and drizzle it on other dishes, a technique her son continues to call on when he cooks. "It's these small flavor bombs that keep the food exciting," he says in the Today interview.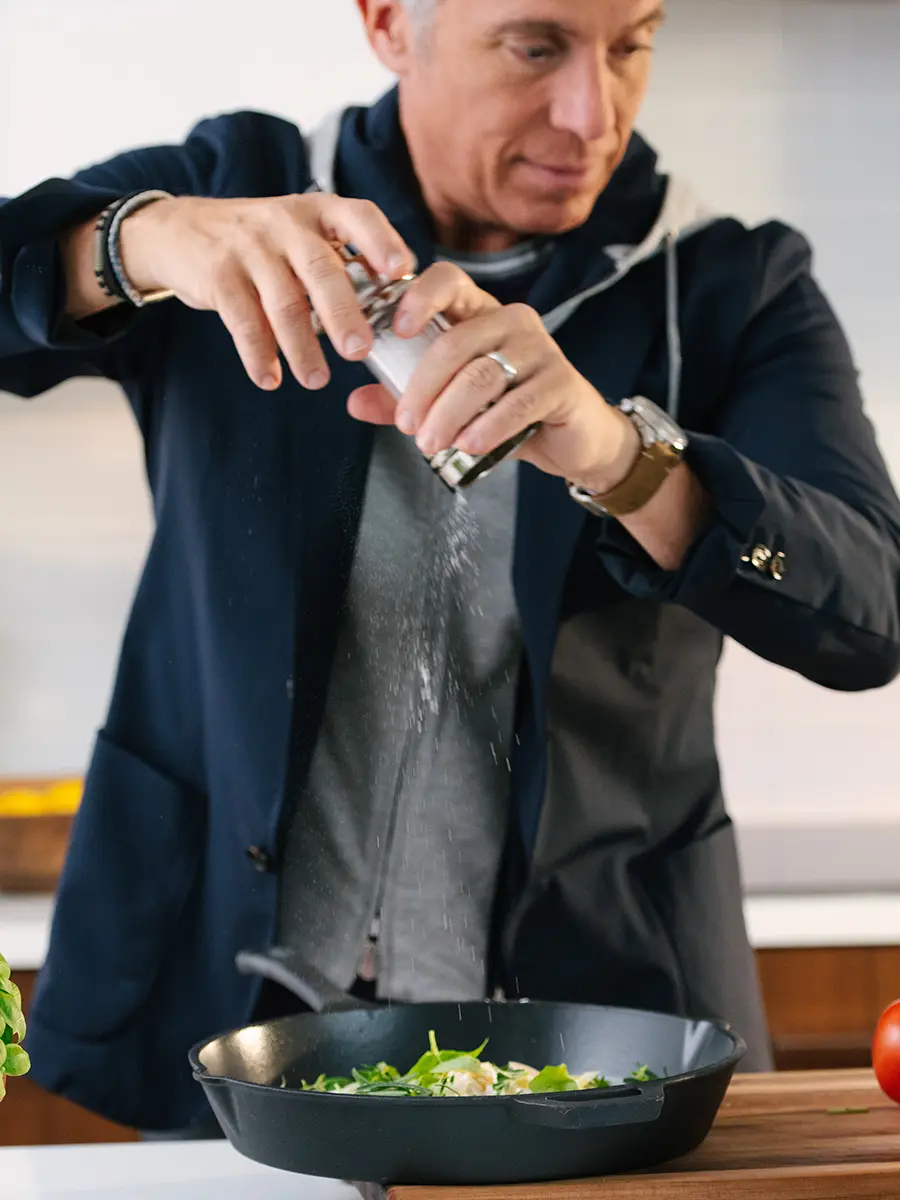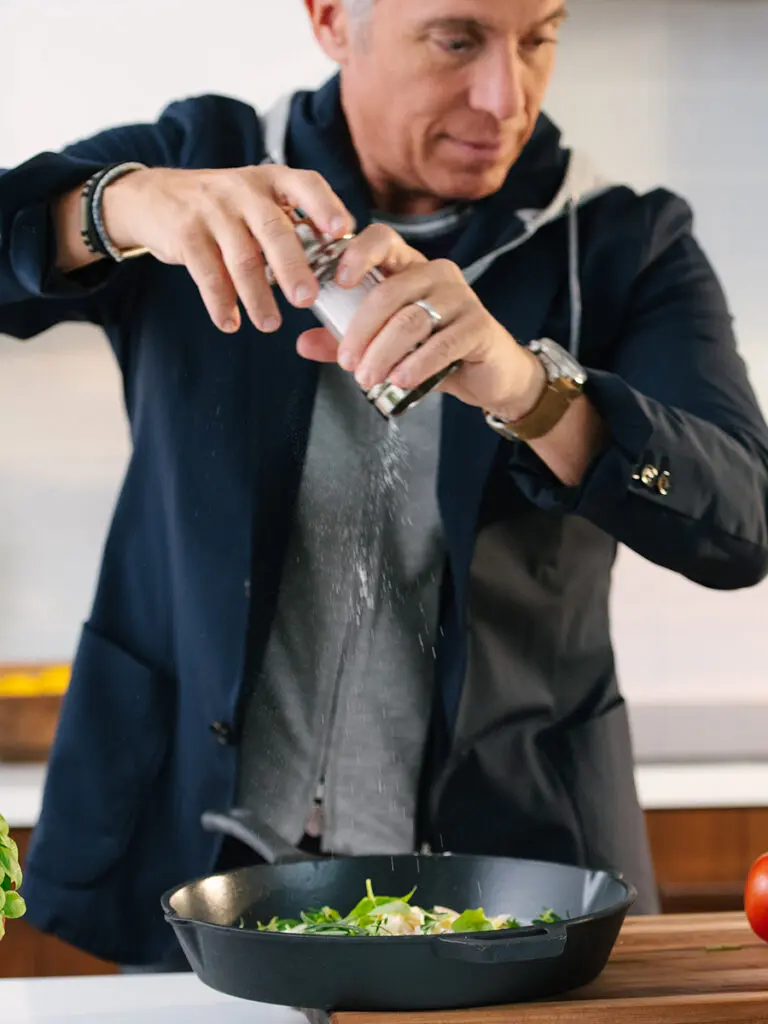 Lesson #4: Season with authority
To borrow the title from a cookbook by his friend and fellow Chopped judge Marc Murphy, season with authority! Zakarian is a big believer in seasoning while cooking. And before cooking. Even after cooking!
As he explained in his recent Harry & David live event Summer Entertaining With Chef Geoffrey Zakarian [click through for a replay featuring cooking demos and tips], "You don't want to season [what you're cooking] at the beginning but bit by bit." It's an important lesson for home chefs who want their dishes to taste as flavorful as what they eat in restaurants.
Lesson #5: Find balance
"Cooking is nuts!" Zakarian says. "It's dangerous. You have knives. You have people running around. There's hot fat. It's 140 degrees."
Hearing him talk about cooking in a professional kitchen is enough to scare someone away from even attempting to make a grilled cheese sandwich. But there are lessons in there that apply to home cooks: Don't get distracted, focus on what you're making, and find balance. "It's a metaphor for life," Zakarian says of the ebbs and flows of a busy kitchen. "Rough waters? Slow down. Then go fast. Calm down. I love it when it's chaotic. To me, it's zen because it's very controllable."
Lesson #6: Don't expect instant gratification
"When you're young, you're not patient. You want everything now," Zakarian says. Looking back, he adds, he wishes he had been more patient and more aware of how he should follow through with what he was doing. It's a lesson that extends to cooking as well.
In his summer entertaining video, Chef Geoffrey Zakarian preaches the gospel of resting your meat before serving it. This simple step seals in the juices, so you avoid dried-out steaks or chops. As Zakarian notes, "Instant gratification is the death of a lot of things, especially a good steak."
Lesson #7: When you find something you love, stick with it
Another cooking lesson is to not only get creative in the kitchen but to incorporate your own lessons into your repertoire. Case in point: Chef Geoffrey Zakarian says he's used Wolferman's English muffins as his go-to burger buns since first using them at 44 at the Royalton back in 1987. "I didn't know who Wolferman's was. I didn't know who Harry & David was. I just knew it was the best. I've been using them for over 30 years."
---
Chef Geoffrey Zakarian has teamed up with Harry & David to share his passion for fine food, entertaining, and healthy living. The Iron Chef known for his award-winning restaurants, TV appearances, and podcasts will wear another type of toque: Chief Culinary Ambassador for Harry & David. In this role, Zakarian will curate a collection of Harry & David products that reflect his philosophy and approach to cooking and entertaining. He will also share his insights and advice in Harry & David's digital magazine, The Table, and host in-person and virtual events.