"From Scratch" features baking recipes that are easy as pie. This cherry éclairs recipe comes from Pate Giltner from The G&M Kitchen and is nothing short of heavenly.
Swap out your traditional summer ice cream cone for light and refreshing cherry éclairs. Crisp choux pastry logs are filled with a mascarpone whipped cream made with Harry & David sweet cherries and covered with a light dusting of powdered sugar. It's hard to just eat one five.
During summer, I love a dessert that's refreshing and fruit-forward versus something that's heavy or overly sweet. There is no pastry cream in these éclairs; just the whipped cream, which makes these pastries feel as light as air.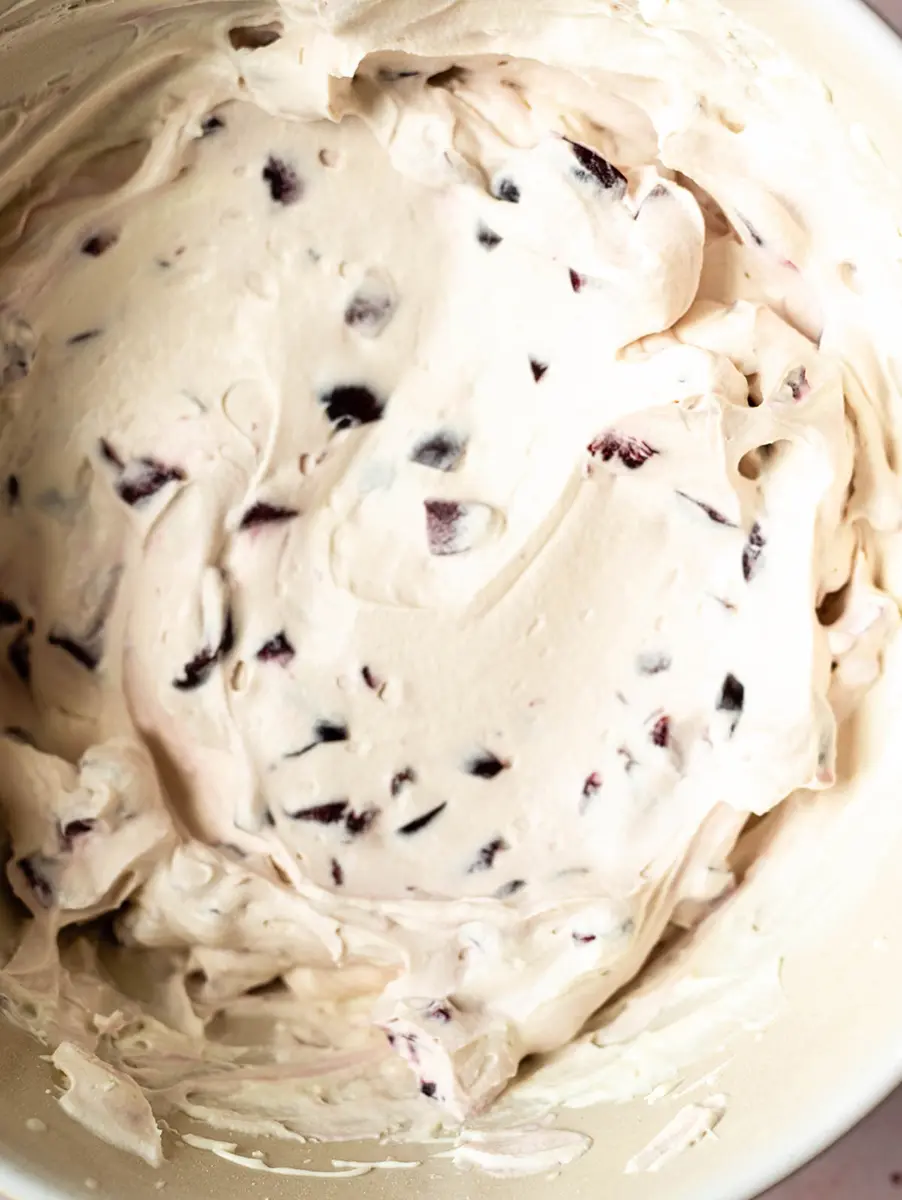 This choux pastry recipe is a little unorthodox because it has a tablespoon of vodka. I prefer a slightly crisp éclair, and a little bit of alcohol helps to make a crisp pastry. When making dough, two wheat flour proteins, gliadin and glutenin form gluten when combined with water, which can lead to a tough consistency. However, gluten will not form in alcohol, so adding a dash of your favorite booze will keep the dough light and crispy. I went with vodka because it is flavorless, but bourbon is another great option if you're looking for more flavor.
Éclairs are easy to make, and I find it's often easier to throw together an éclair than a cake, especially if you are making a whipped cream-based filling. They take less baking and cooling time, it's easier to fill an éclair than it is to frost a cake, and they are equally as stunning.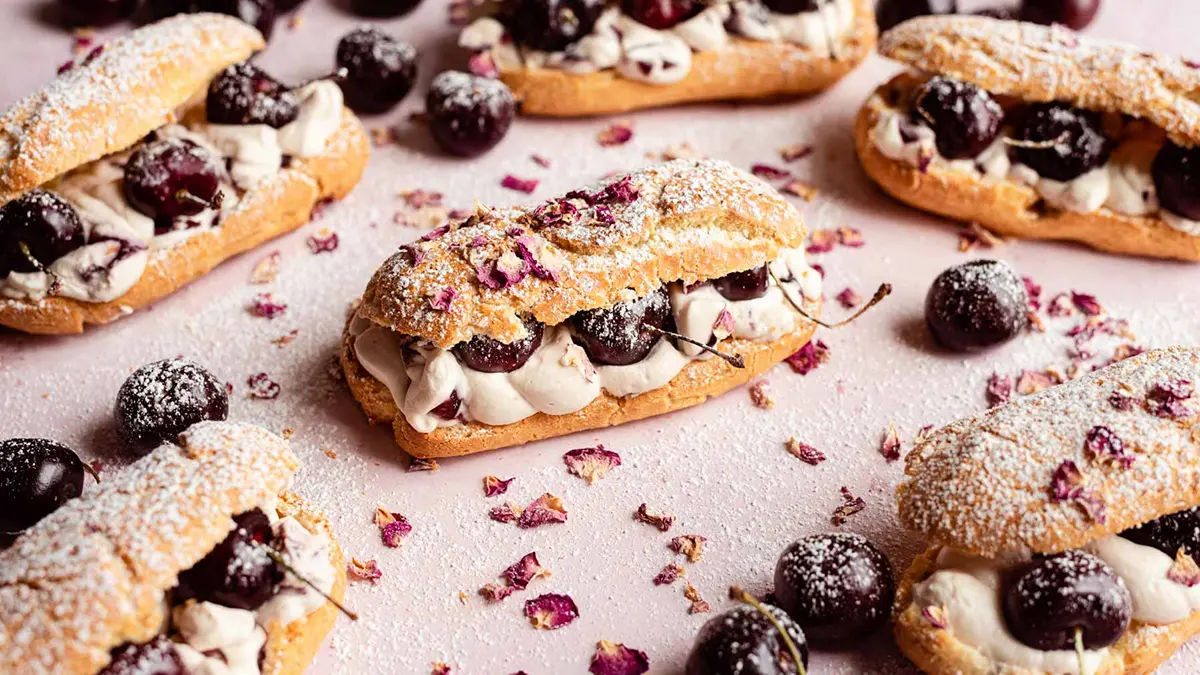 Cherry Éclairs
Equipment:
Stand mixer

2 baking sheets

Parchment Paper

Cherry pitter
Ingredients:
For the choux pastry
¼

cup

Milk

3

tablespoons

water

1

tablespoon

vodka

½

tablespoon

sugar

¼

teaspoon

salt

4

tablespoons

butter

½

cup

flour

2-3

eggs
For the cherry mascarpone whipped cream
2

cups

Harry & David® Cherries

(chopped, 1 cup for the mascarpone cream and one for garnish)

1

cup

heavy whipping cream

8

ounces

mascarpone

½

teaspoon

vanilla

½

cup

powdered sugar
Instructions:
For the choux pastry
In a medium saucepan, heat the milk, water, vodka, sugar, salt, and butter and bring to a boil. Stir until all the butter has melted.

Add in the flour and stir with a wooden spoon until a soft dough ball forms. Keep mixing the dough around the pan for 2-3 minutes to cook the flour.

Move the dough to the bowl of a stand mixer fitted with the paddle attachment. Turn the mixer up to medium and add the eggs one at a time. Allow each egg to be fully mixed before adding the next one. After you add the first two eggs, lightly beat the remaining one and add it in 1/4 at a time. Keep mixing until your dough is glossy but thick enough to hold a V shape at the end of the paddle. (I wound up using 2 1/2 eggs in total.)

Preheat oven to 425° F and line two baking sheets with parchment paper.

Transfer your choux pastry to a pastry bag and cut off the end. Pipe the dough into 3-4 inch logs about 1 1/2 inches apart. You should be able to pipe 9-10 logs. If you have large tips of dough at the end of your éclairs, dab your finger in a little water and smooth them down.

Place your baking trays in the oven and turn the temperature down to 375° F. Bake for 25-30 minutes or until the éclairs rise and are golden brown.

Turn off the oven and let the éclairs cool for 15 minutes with the door open. Remove the trays from the oven and let the éclairs finish cooling.
For the cherry mascarpone whipped cream
Use a cherry pitter to remove the pits of approximately 2 cups of sweet cherries.

Chop the cherries fine enough that they won't have trouble getting through a pastry bag.

Add the whipping cream and mascarpone to a medium bowl and beat until stiff peaks form. Add in the sugar and vanilla and whip until fully incorporated.

Fold in 1 cup of the chopped cherries.
For assembly
Carefully cut the éclairs in half. Pipe the cherry cream into the bottom halves.

Garnish with more pitted cherries and place the tops back on the éclairs.

Dust with powdered sugar and serve.