Creating an ideal date night at home means choosing recipes that require minimum preparation yet yield maximum flavor.
"Whip up something simple, delicious, and attractive," chef Geoffrey Zakarian recommends. "Because you want to sit down and enjoy your partner, not spend the entire night cooking!"
Enter Zakarian's recipe for Chilean Sea Bass with Mint, Caper, and Olive Relish. Its preparation, method, appearance, and flavors capture an easy-breezy date-night vibe. The relish is a bold-flavored condiment made with fresh Italian flat-leaf parsley ("It's more mild than the curly-leafed kind."), fresh mint, zingy citrus, earthy olives, and the pickle punch of capers. It accompanies two gorgeous, rich filets of butter-basted wild-caught Chilean sea bass that take less than 10 minutes to cook.
To make the Chilean sea bass, Zakarian infuses browned butter with fresh rosemary and thyme using a French cooking method called arroser ("to baste"). When cooked indoors, the fish naturally gives off its ocean water, releasing its natural smell that can be off-putting to some, Zakarian explains. "But," he continues, "if you cook with herb butter, [gently basting the fish while it cooks, undisturbed in the skillet], the whole house beautifully smells herbaceous — it's the secret to preparing fish indoors."
Plus, the texture of the filets will be moist and silky because they are basted over low heat. "The fish will have this incredible essence of butter and herb, but it won't have a big crust on it."
Since this fish is so luxurious and the relish so flavorful, Zakarian recommends simple side dishes, if any, so the protein and condiment do not get upstaged. "You can make a vegetable side, or steamed red bliss potatoes if you'd like," he suggests.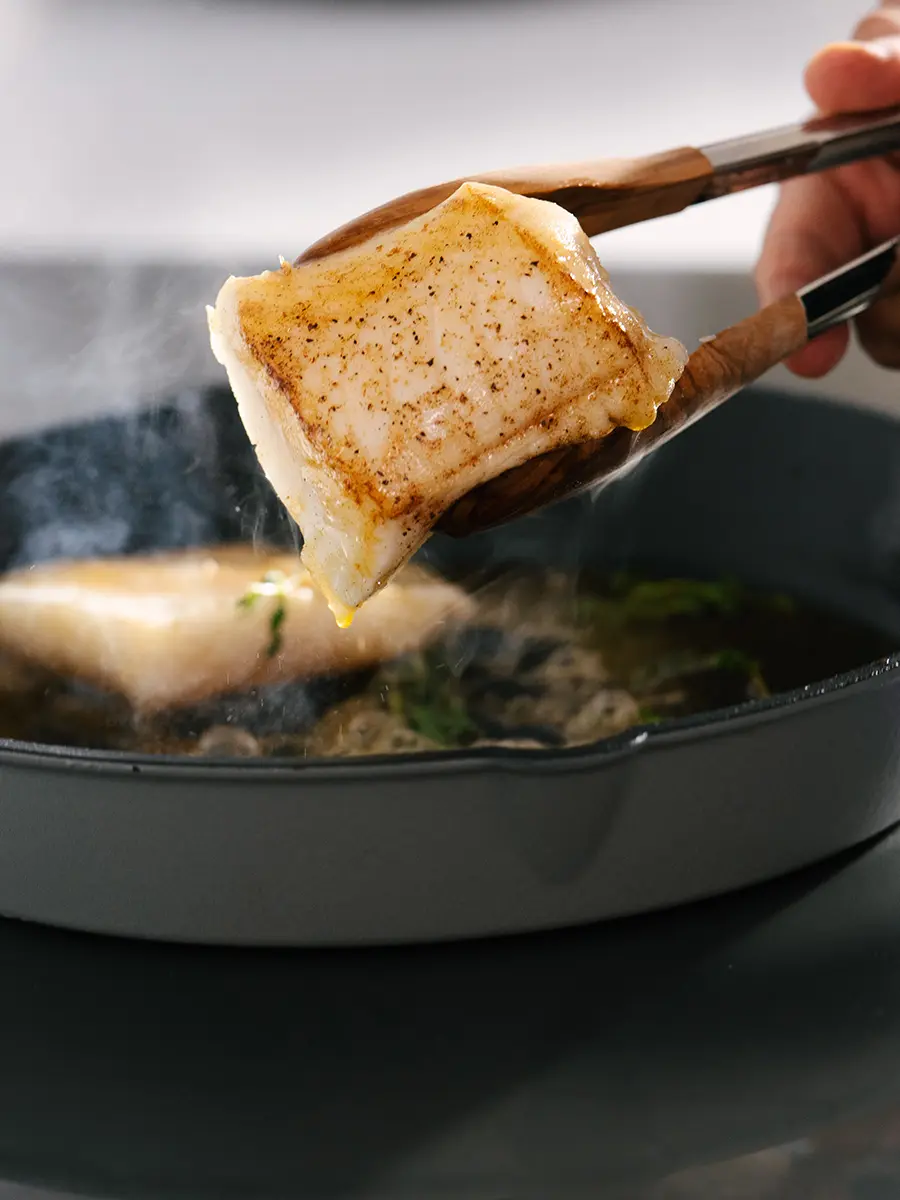 But the final touch to your date night meal should be wine. And Zakarian, a proud oenophile, recommends "a beautiful, cold Harry & David Chardonnay that you've kept at 48 degrees in the refrigerator, and then put on ice." Or open it sooner. "It's nice to have a glass of wine while cooking!" he says.
Grown in Southern Oregon, the 2020 vintage has notes of melon and honeysuckle, with underlying butter and oak. This medium-bodied white wine is the perfect weight for a meatier filet, such as Chilean sea bass, and has just the right touch of sweet fruit to contrast the softer herbs of mint and parsley in the relish.
"This dish is a great way to show someone you care because you're cooking with love —but it's also very good for you."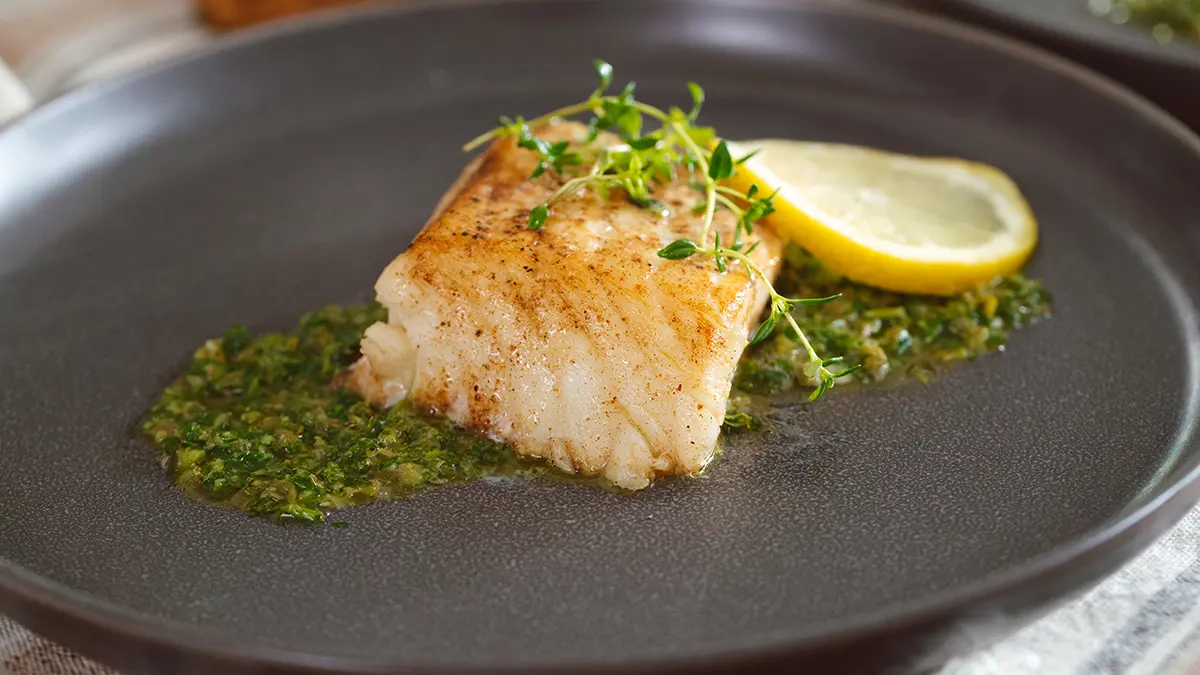 Chilean Sea Bass Arroser
The texture and deep flavor of this Chilean sea bass begin with selecting an excellent quality fish and using a few simple chef techniques. First, ensure that the fish filets are of the same thickness since you'll be cooking both in the skillet and want to achieve the same doneness. "And salt from above, so you know you're hitting all the edges [of the filets]," Zakarian recommends.
While it's common for chefs to choose white pepper for white-fleshed fish, Zakarian reaches for the flavor of the more fragrant black pepper.
Finally, for the arroser method, he advises, "Once you put the fish in the brown butter, don't touch it. Let it sit and cook."
Ingredients:
2

4-6 ounce

Thick Cut Wild-Caught Chilean Sea Bass Filets

Kosher salt

freshly ground black pepper

4

tablespoons

butter

2

sprigs

fresh rosemary

2

sprigs

fresh thyme

fresh mint leaves

Caper and Olive Relish

(for serving, (see recipe below))
Instructions:
Pat the fish filets thoroughly dry with paper towels, then season generously on both sides "from above" with salt and pepper. Set aside.

Warm a cast iron skillet over medium-low heat, add the butter and allow to melt, and then turn light, golden brown, about 5 minutes.

Add both fish filets to the skillet, and allow them to cook, undisturbed for about 1 minute.

Next, add the rosemary and thyme, and give the pan a shake, incorporating them into the butter. Continue cooking, using a spoon to baste some of the now herb-infused butter over the top sides of the fish, about 2 minutes more.

Use a fish spatula to gently flip the fish, and continue cooking, and basting, 3 minutes more, or until the fish is cooked through.

To serve, spoon the mint, caper, and olive relish onto the bottom of a plate, and set the fish on top, followed by spoons of the herbed butter from the pan. Serve additional relish on the side.
---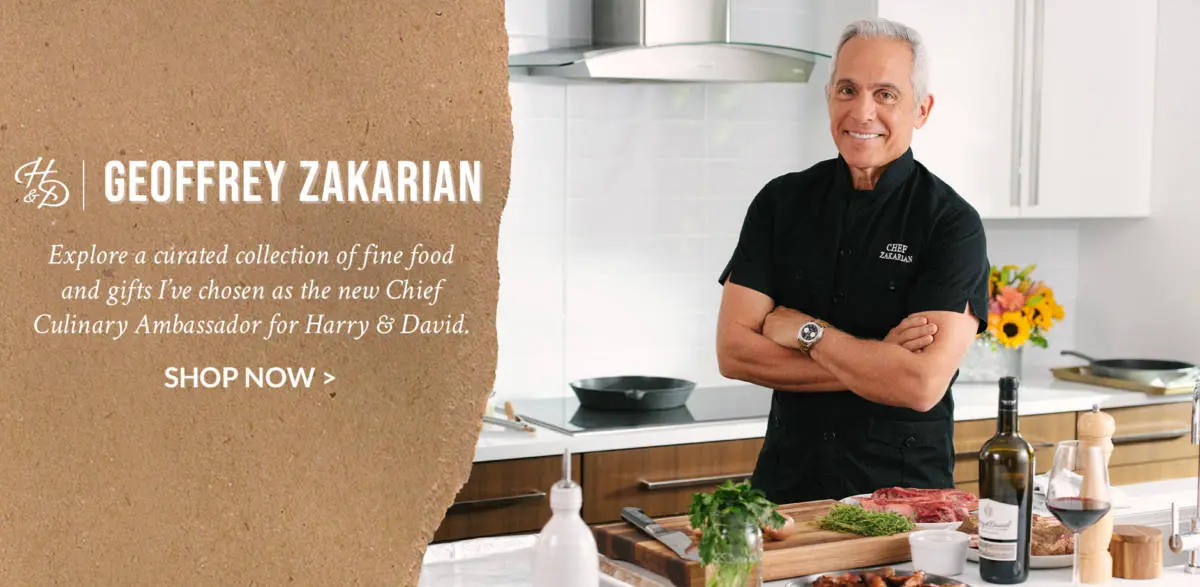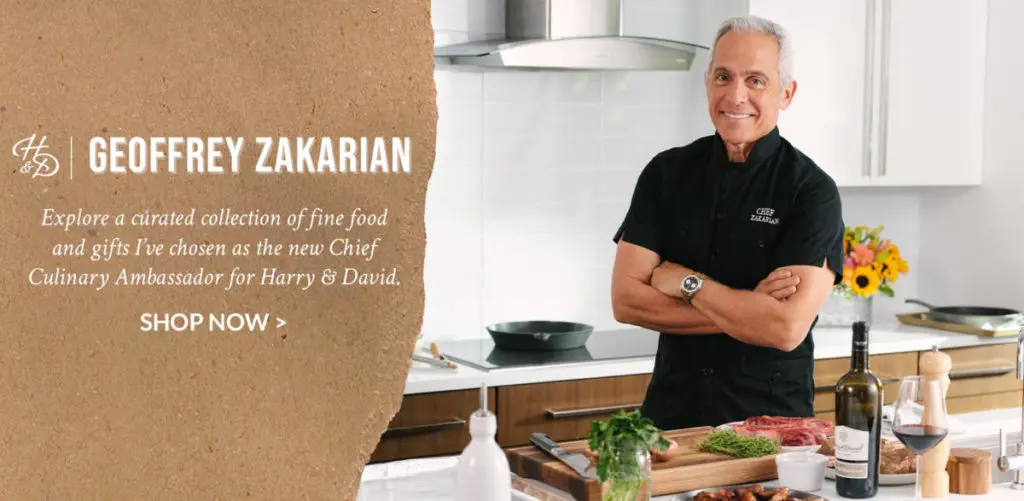 ---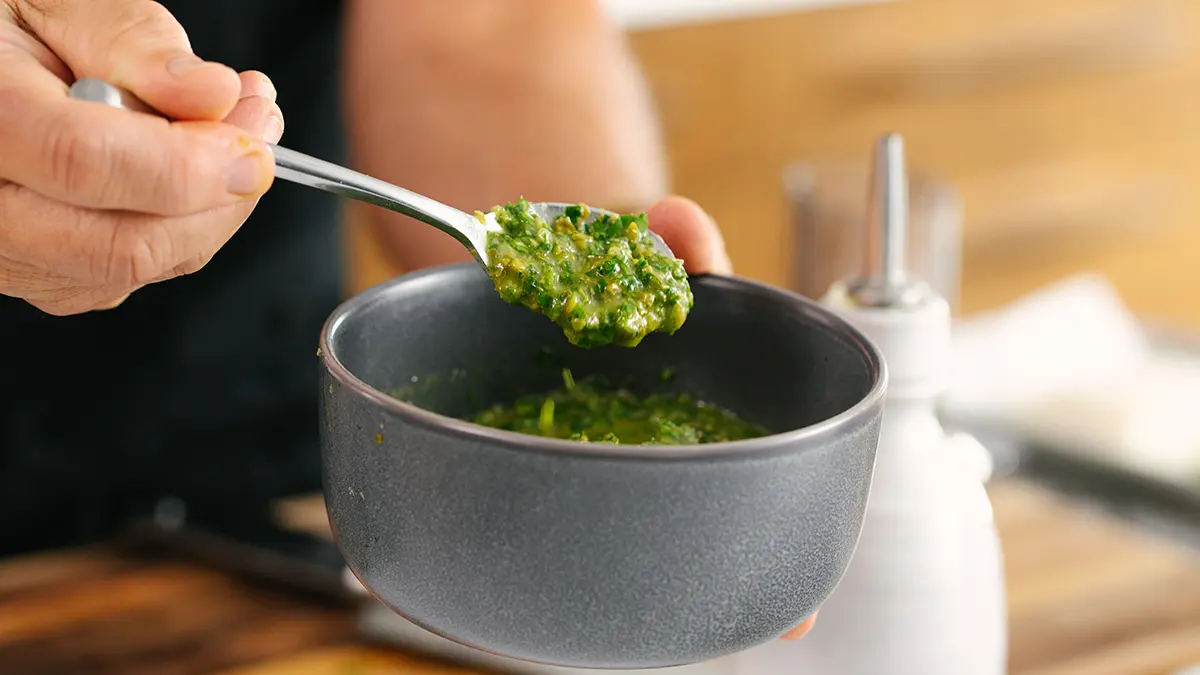 Mint, Caper, and Olive Relish
"A relish is anything you want, mixed in a blender with an acid and oil, with the addition of herbs or pickle, or something else to give it a sweet and sour flavor," Zakarian explains.
Also, it couldn't be any easier to prepare: "It's a dump-and-stir kind of recipe, with the food processor doing most of the work," he says. "You can make the relish the day before, put it in a jar, [refrigerate it], and bring it out [the next day], and you're ready to go!
"If you don't have mint, use basil," he suggests. Soft herbs, such as parsley and cilantro, have soft stems that can go right into the food processor, whereas you'll want to pick the mint leaves off their tougher stem. Even though the food processor does the bulk of the work, keeping an eye on the texture of the relish is key. Zakarian notes that you want to achieve a consistency that is "not too chunky, not too wet, somewhere in between."
Ingredients:
⅔

cup

capers

(drained, plus 1 tablespoon caper brine)

½

cup

Pitted green olives

(such as Castelvetrano)

1

medium bunch

fresh parsley

(roughly chopped, flat-leaf leaves and stems)

1

fresh mint leaves

(small bunch)

1

lemon

(zested and juiced)

1

shallot

(peeled and finely diced)

kosher salt

(as needed)

freshly ground black pepper

(Several cracks )

extra-virgin olive oil

(as needed)
Instructions:
Add all the ingredients to the work bowl of a food processor and pulse until the ingredients are coarsely chopped and incorporated.

Remove the lid, scrape down the sides. If the relish seems dry, add more olive oil.

Pulse 1-2 more times until the relish is the consistency of pesto.

Taste for seasoning, adding more salt, if needed, and set aside until ready to use. (Or transfer to a jar and refrigerate for the next day. Remove it from the refrigerator and bring to room temperature before serving.)
---
Chef Geoffrey Zakarian has teamed up with Harry & David to share his passion for fine food, entertaining, and healthy living. The Iron Chef known for his award-winning restaurants, TV appearances, and podcasts will wear another type of toque: Chief Culinary Ambassador for Harry & David. In this role, Zakarian will curate a collection of Harry & David products that reflect his philosophy and approach to cooking and entertaining. He will also share his insights and advice in Harry & David's digital magazine, The Table, and host in-person and virtual events.