Hello fall… and all things pumpkin! It's my favorite time of year because you can put pumpkin in literally everything without anyone batting an eye. I keep jars of Harry & David Pumpkin Butter around all year long (yes, I've been known to crack open a jar in the middle of July), but this is the time of year when I love to add it to just about every recipe I can think of. Staring with this simple Cranberry Pumpkin Butter Bread Recipe.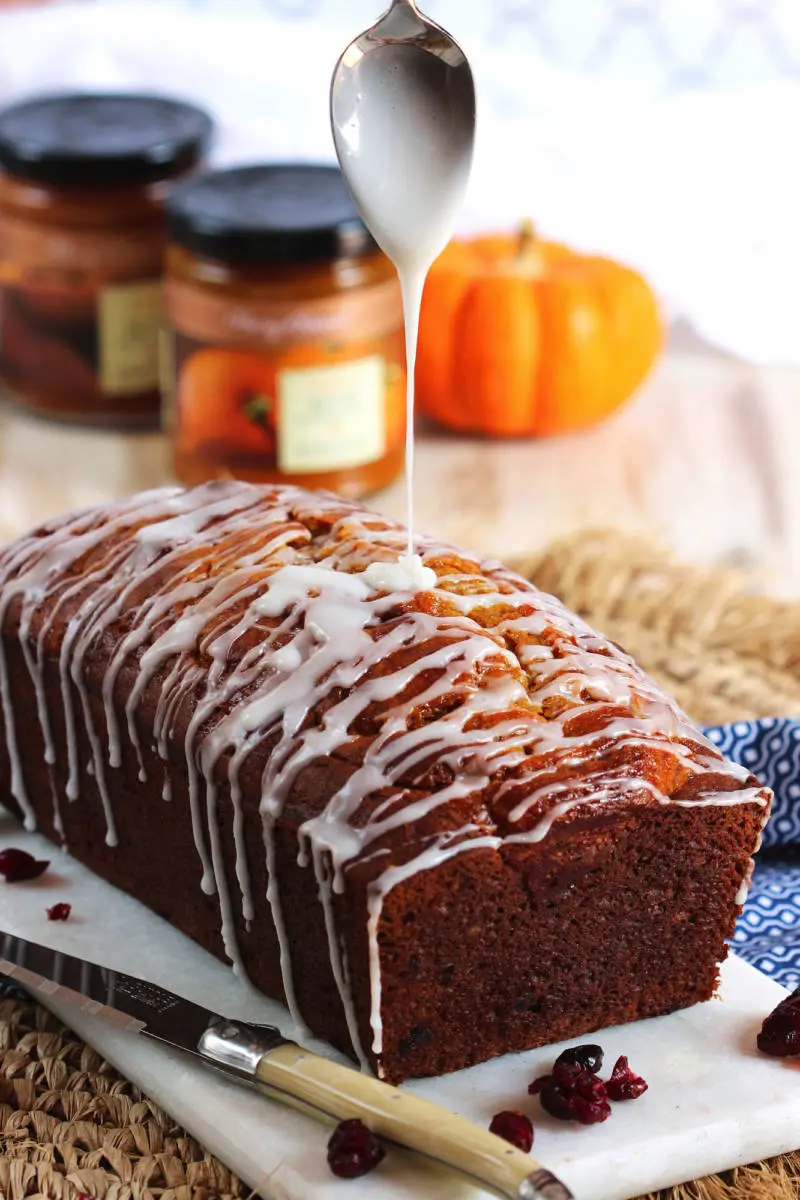 You can stock all the ingredients in your pantry making this recipe simple to whip up at a moment's notice.

To make this Cranberry Pumpkin Butter Bread quickly with the perfect amount of spice, I like to mix some of the Harry & David Pumpkin Butter right into the batter. Then swirl a bit in between layers of batter in the loaf pan so each bite has a bit of the smooth buttery spread right in it.
No need to spread each slice with butter or jam, the tart cranberries and sweet pumpkin butter are perfectly matched in every single bite.
Cranberry Pumpkin Butter Bread
Ingredients:
2

cups

all purpose flour

2

large eggs

1

cup

pumpkin puree

¼

cup

butter

(room temperature)

1

teaspoon

vanilla extract

½

cup

granulated sugar

¼

cup

low-fat milk

¼

cup

plain low-fat Greek yogurt

1

tablespoon

pumpkin pie spice

1

teaspoon

baking soda

½

teaspoon

kosher salt

1

cup

dried cranberries
Instructions:
Preheat oven to 350 degrees.

In an electric mixer bowl, combine the sugar and butter beating at medium speed until fluffy. On low-speed, add the pumpkin puree, milk, greek yogurt, eggs, 4 tablespoons Harry & David Pumpkin Butter and vanilla mixing until combined.

In a small bowl, whisk together the flour, pumpkin pie spice, baking soda and salt. Keeping the mixer on low-speed, slowly add the dry ingredients to the wet ingredients. Beat just until blended.

Add the cranberries and stir briefly.

Pour 1/2 the batter into a 9×5 inch metal loaf pan coated with cooking spray. Spoon half the remaining pumpkin butter over the batter and swirl with a chopstick or knife. Pour the remaining batter over the pumpkin butter and top with the rest of the pumpkin butter. Swirl the pumpkin butter into the batter and bake at 350 degrees for 1 hour or until a toothpick inserted into the center comes out clean.

Cool in pan for 10 minutes on a wire rack.

Remove from pan and cool on rack.
---