Sunday brunch is my favorite way to close out a relaxing weekend and give myself a rejuvenating start to my upcoming week. Gathering around the table with family or friends and enjoying good conversation, belly laughs, and, most importantly, comforting food is absolute bliss.
The breakfast offerings from Harry & David and Wolferman's will take your brunch from ordinary to extraordinary, which is perfect for occasions like Easter. My favorite go-to brunch item is the classic eggs Benedict; although they can be a bit of work to make, they are worth it for a special holiday brunch. (And let's be honest: Hollandaise is always worth the extra elbow grease.) Wolferman's hollandaise sauce mix makes for the easiest eggs Benny you've ever made, which, in turn, helps you spend less time in the kitchen and more time with your family on Easter morning. The salty Canadian bacon and soft English muffins make you feel like you're dining at your favorite brunch spot.
The Triple Cheese and Caramelized Onion Quiche is a fan favorite with my friends. It's the perfect in-between breakfast and lunch dish for those who can't decide, and it has a cheesy, savory flavor I will forever crave. In fact, as you read this, I'm craving it right now. I also like adding warm cinnamon rolls to the board for a little sweetness.
If you need more sweet flavors, add the delightful Mr. Ears, Harry & David's famous chocolate bunny. Lastly, I include fresh fruit, such as bananas, grapes, strawberries, and blueberries, to fill out the rest of the brunch board.
This delicious brunch board pairs great with coffee or fresh-squeezed juice, making it the perfect brunch any time of year.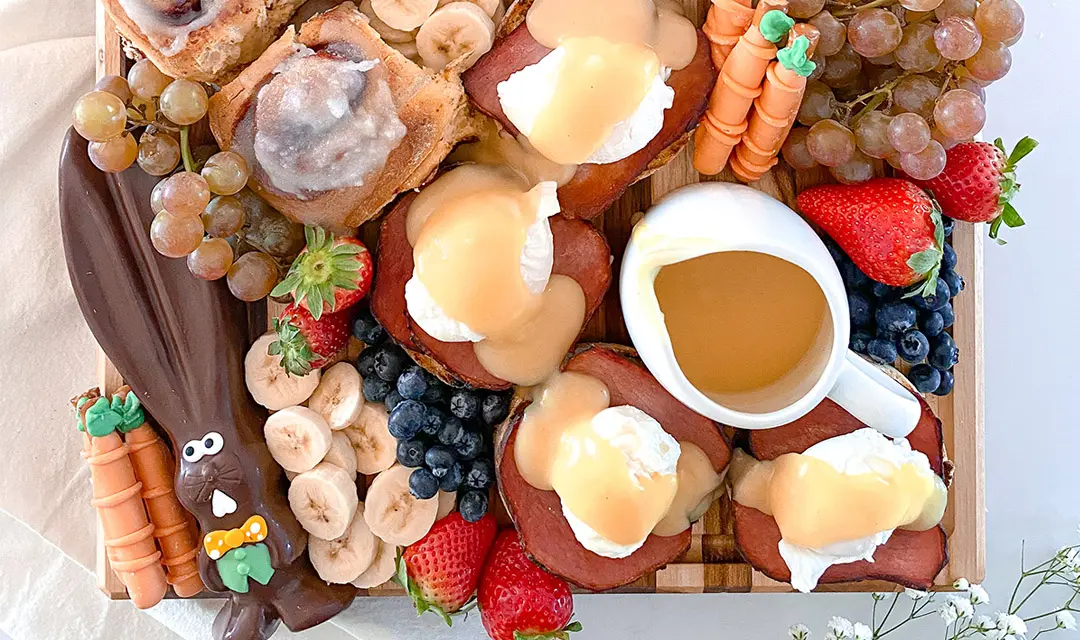 Easter Brunch Board
Instructions:
Prepare the quiche, cinnamon rolls, and eggs Benedict according to the directions on the packages. These will be the focal point of your board, so you'll want to place them in opposite corners to create balance.

Fill in your board with the additional items, such as fresh fruit and Easter treats like Mr. Ears. You want the smaller items to fill out the empty spaces between the quiche and eggs Benedict, but save space for your sauce ramekins and serving pitcher. If you like more savory items at breakfast, you can also fill in some of the space with nuts or breakfast meats (like that Canadian bacon) and cheeses.

Heat up the cinnamon roll glaze and add it to a small ramekin. Do the same with the warmed hollandaise sauce. You can drizzle some glaze and hollandaise sauce over the cinnamon rolls and eggs Benedict, respectively, but leave the jars or pitchers on the board as a reminder for guests to serve up extra.

Serve the board with serving utensils for guests to easily grab their favorites.
---