Pairing great foods and even greater wines for a get-together is easy, fun, and next-level delicious with the help of chef Geoffrey Zakarian. "Any of these pairings would be the perfect way to take your cocktail party from average to awesome!" he says.
Here, he illuminates the nuances of four types of wine — cabernet sauvignon, chardonnay, pinot noir, and, his "all-time favorite wine," rosé — and creates pairings with Harry & David's award-winning cheeses and gourmet appetizers and main courses.
"In France, cabernet sauvignon is called Bordeaux, and these young, big wines, aged in French and American oak, are full-bodied, spicy, and smooth," Zakarian explains. He pairs this cabernet sauvignon from Southern Oregon with foods that have char and smoky notes, such as salty cured meats and cheeses, grilled vegetables, and big steaks like ribeye and prime rib. And for one of his favorite pairings, GZ recommends uncorking a bottle of cabernet sauvignon and serving it with Rogue Creamery Gorgonzola blue. "This cheese is luscious, full of sweet cream vitality, and a little sourness from the veins — it's great with a big wine."
"This oak and stainless-steel aged chardonnay has the best of both worlds when it comes to white wine," Zakarian says. "A gorgeous symphony of rosemary and luscious lemon with a bit of acid makes this wine special." Pair this well-balanced wine with poultry and pork, risotto, and heartier seafood fare, such as scallops and crab cakes. For cheese, the chef recommends a luxurious sharp cheddar such as Face Rock Creamery Aged Cheddar. "This cheese marries gracefully with the wine's toasty aroma," he says.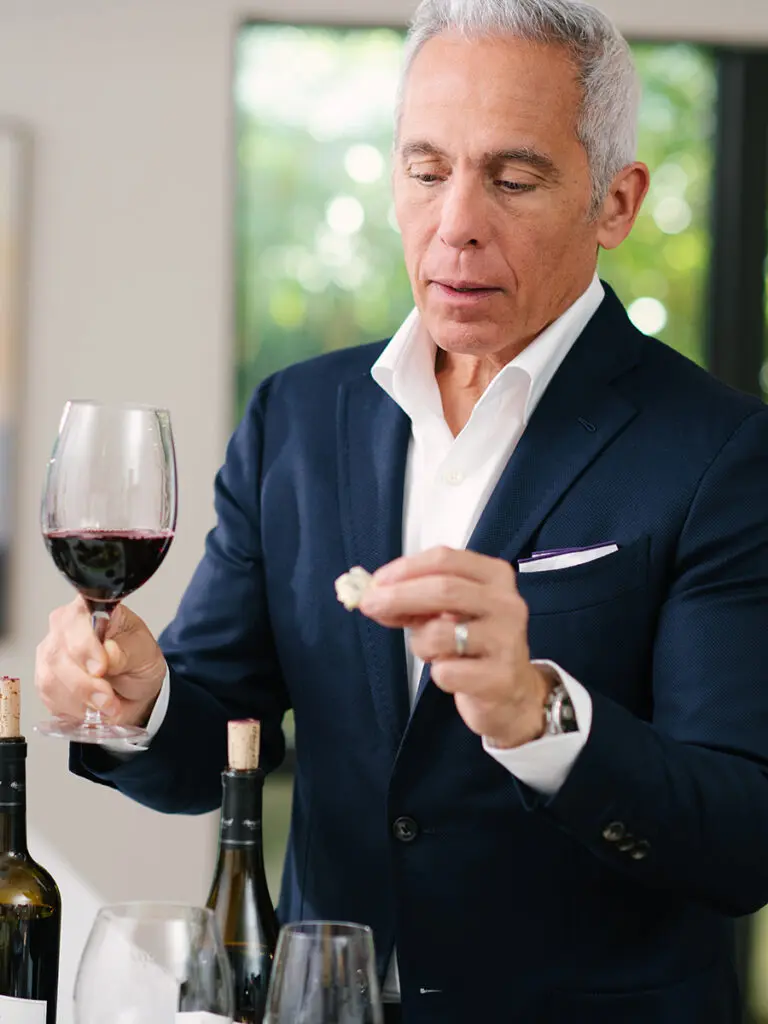 "I love pinot noir aged in French oak, since it's very light-bodied with a bit of tannin, and you can smell the terroir," Zakarian says. He recommends offering pinot noir with "mushrooms, lamb dishes, pork, and lean meats." And to kick off your party with cheese, he recommends Saint Mary's cave-aged Gouda from Wisconsin, made from grass-fed cow's milk. "It's the best of the best — a bit of caramel, smooth texture, and one of my favorite cheeses to eat alone." The light berry notes and structure from the tannin foil the cheese's rich creaminess.
Because of its versatility, rosé is Zakarian's favorite wine. He even has a mantra for it: "Rosé all day!"
"This rosé is a fantastic, early crafted seasonal wine," says Zakarian, who notes that winemakers pick grapes for rosé early in the harvest to preserve their bright acidity. (The longer grapes hang on the vines, the sweeter they become). "Most rosés are the dark pinot noir grape," he explains. "Winemakers let the grape's skin sit for a second (on the juices) to extract a touch of blush."
A cold, crisp Harry and David Rosé, flush with nuances of melon and strawberry, is an excellent counterbalance to buttery rich bites of 12-month-aged Fiscalini Farm San Joaquin gold cow's milk cheese. Or try the rosé with pasta dishes, such as this easy one-pot pasta with tomato and crispy salami. Pair it also with a spicy charcuterie board, seafood, such as salmon, and even red meat.
---
Chef Geoffrey Zakarian has teamed up with Harry & David to share his passion for fine food, entertaining, and healthy living. The Iron Chef known for his award-winning restaurants, TV appearances, and podcasts will wear another type of toque: Chief Culinary Ambassador for Harry & David. In this role, Zakarian will curate a collection of Harry & David products that reflect his philosophy and approach to cooking and entertaining. He will also share his insights and advice in Harry & David's digital magazine, The Table, and host in-person and virtual events.