Chef Geoffrey Zakarian's culinary passions include the art of selecting, storing, and drinking great wines. But forget the pomp and circumstance often associated with wine knowledge and drink in chef Zakarian's "down-to-earth" approach. Here, he offers wine tasting tips for newbies and connoisseurs alike, highlighting wine's proper temperature for serving, wine glass selection, and wine label "know-how."
There are really only a couple of significant things to know about wine, he says. "The most important rule: Drink the wine you want."
Whites, rosé, and sparkling
When it comes to drinking wine, especially the aforementioned three wines, it's all about temperature.
"A lot of people drink wine at room temperature," Zakarian says. But don't do it, he warns. "You can't taste and smell the perfect balance of the wine if it's too warm."
It turns out that chilling white wine, rosé, and sparkling wines is what lifts its aromas, textures, and refreshing acidity right out of the glass and onto your nose and palate.
Zakarian recommends chilling white wines, such as Sancerre, rosé, and Champagne, to temperatures between 46 and 50° F. "I chill these wines nearly three hours before my guests arrive," he advises. As the party goes on, keep wine on ice to maintain proper temperature.
Red wines
This may surprise you, but red wines should be chilled, too. The chef recommends a "cellar temperature" chill before serving. "Cellar temperature," or the temperature at which wine producers store their bottles, is a cool 59 to 65° F. Reds showcase their delicate aromatics at this temperature, and their acidity is focused, making it more refreshing and pleasing to your palate.
"A red wine that is too warm will not show its true beauty," says Zakarian, referring to Harry & David's award-winning Pinot Noir. "A proper temperature will allow the pinot noir to offer its rich fruit bouquet."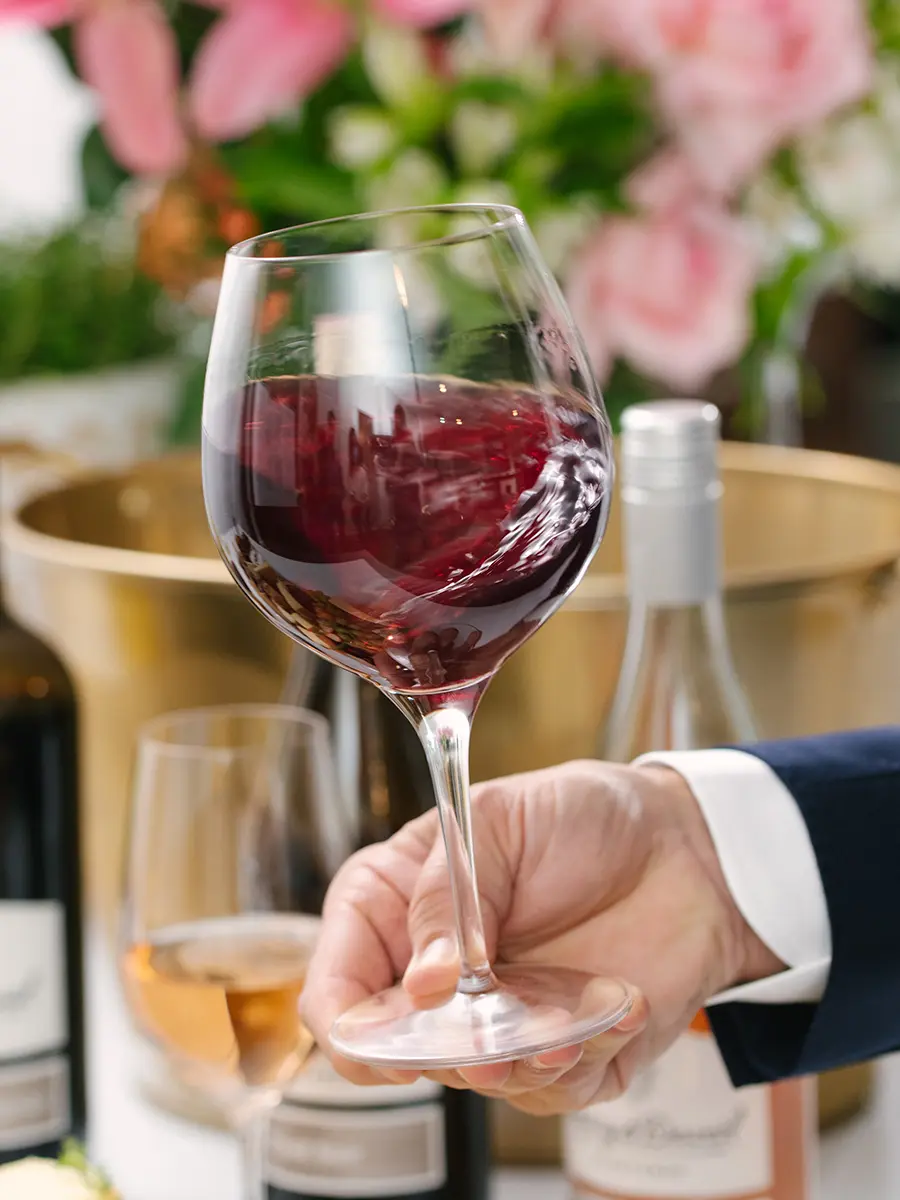 And speaking of "bouquet," once you pour red wine, swirl away since this action aerates the wine, giving it a chance to meet more oxygen and, in turn, "breathe." The reaction between the gases in the air and the wine changes its aroma and flavor. The best and simplest way to find out? "Put your nose in the glass!" he says.
Wine glasses
"You can drink white wines in any glass you want — if you're going to a concert, drink it out of plastic," Zakarian says. But a 12-ounce "all-purpose" wine glass, also called a universal wine glass (it looks like a cross between a tapered white wine glass and a bulbous red wine glass), will serve you well. And when you pour, resist the urge to vigorously swirl white wine since it will cause it to lose its chill quicker.
Instead, Zakarian says, "Pour, smell, and go for it!" (We like his style!)
As you drink, look for a wine's "legs" clinging to the side of the glass in white and red wines. Those "legs," he says, "are glycerin, and the sign of a well-made wine." Glycerin is a naturally occurring chemical in wine and the by-product of the fermentation process. It contributes to wine's mouthfeel, body, and texture.
---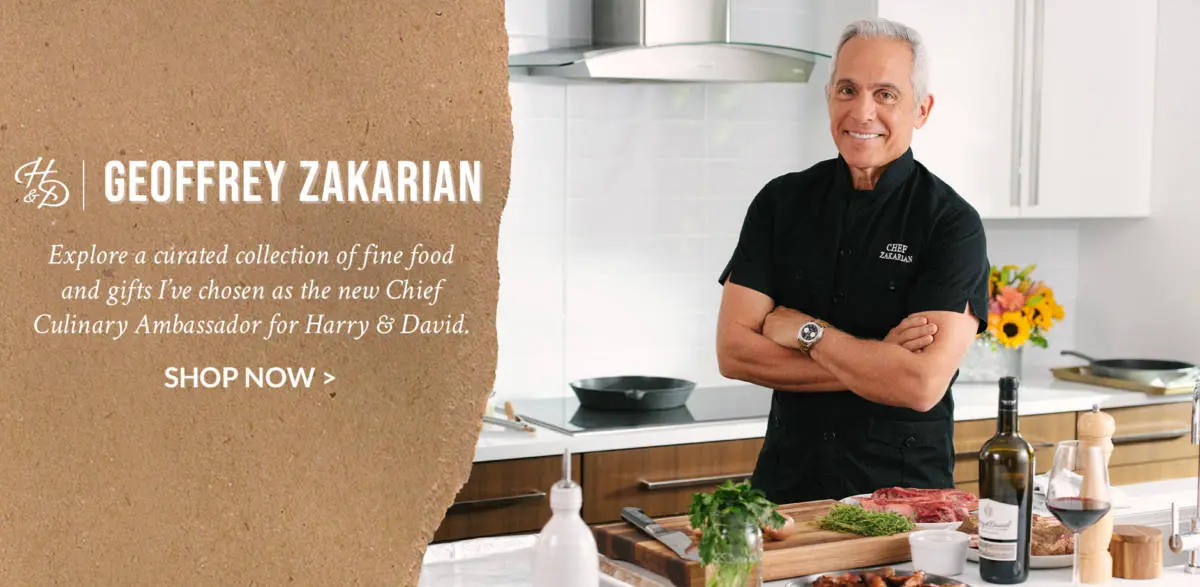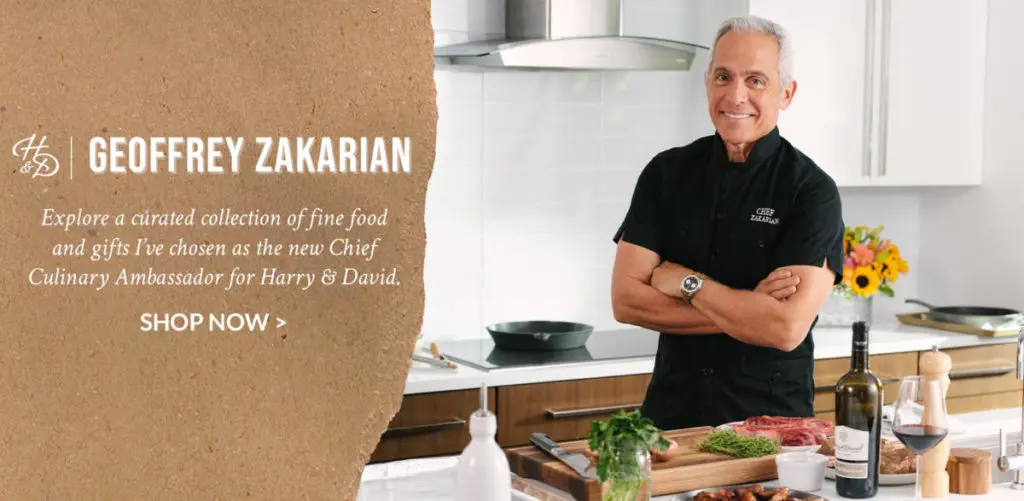 ---
While an all-purpose glass is handy for whites, rosé, and sparkling wines, Zakarian also takes a catch-all approach for reds: "Choose a fat, wide Burgundy glass for pinot noir, cabernet — or anything red, frankly!"
Building a wine collection
"You don't have to have thousands of bottles!" Zakarian states. Instead, he suggests collecting and offering wines everyone loves, including prosecco, Champagne, chardonnay, Sancerre, rosé, and pinot noir.
Whether or not you are falling in love with wine for the first time, or want to expand your collection, Zakarian, an oenophile fascinated by the biblical roots of wine, recommends a trip to the wine store. "Pick out four or five wines at a time, just to taste and see what you like," he says, adding, "Make mistakes — what's going to happen? You're just going to drink a little wine and be happy!"
When selecting wine while dining out, Zakarian recommends watching your wallet since the markup on wine in restaurants is typically three times what you may otherwise pay. "When I go to a restaurant, I try to spend as little as possible and get the best value, asking the wine steward to help me find a fantastic bottle for fifty or sixty bucks," he says.
Reading wine labels
But what to do when you go into a wine store with a thousand selections and don't know what to choose? Zakarian says, "Look at the label since it tells you everything you need to know about the wine," Zakarian says.
Wine label information on domestic wines offers the name of the grape varietal, vintage, and producer, all of which you can further explore.
French wines are a little trickier. Instead of listing the grape varietals, such as pinot noir, or cabernet, bottles bear the name of broad regional classifications for where those grapes are grown in France, such as the region of Burgundy for pinot noir. Be on the lookout for French wines that bear the words "Mis en Bouteille au domaine. "This means it is an estate bottle," Zakarian explains. "All the grapes come from that plot of land, and the wine is made there — it's usually more expensive, but the quality is much better."
---
Chef Geoffrey Zakarian has teamed up with Harry & David to share his passion for fine food, entertaining, and healthy living. The Iron Chef known for his award-winning restaurants, TV appearances, and podcasts will wear another type of toque: Chief Culinary Ambassador for Harry & David. In this role, Zakarian will curate a collection of Harry & David products that reflect his philosophy and approach to cooking and entertaining. He will also share his insights and advice in Harry & David's digital magazine, The Table, and host in-person and virtual events.