Thousands of years before the mango mojito, the sweet, melon-like fruit with creamy texture became a treasure in India. As it made its way to other continents, mango became a special ingredient in many a dish, and today it is the most consumed fruit on the planet!
Like an orange, this tropical fruit has an amazing scent, which has even been incorporated into a number of fragrances. Here's everything you need to know about this fruit.
Scientific name: Mangifera indica, of the genus Mangifera. (Yes, the name sounds a bit like magnificent, but maybe we're partial.)
Family of fruit: The Asian flowering plant family Anacardiaceae (also known as the cashew or sumac family).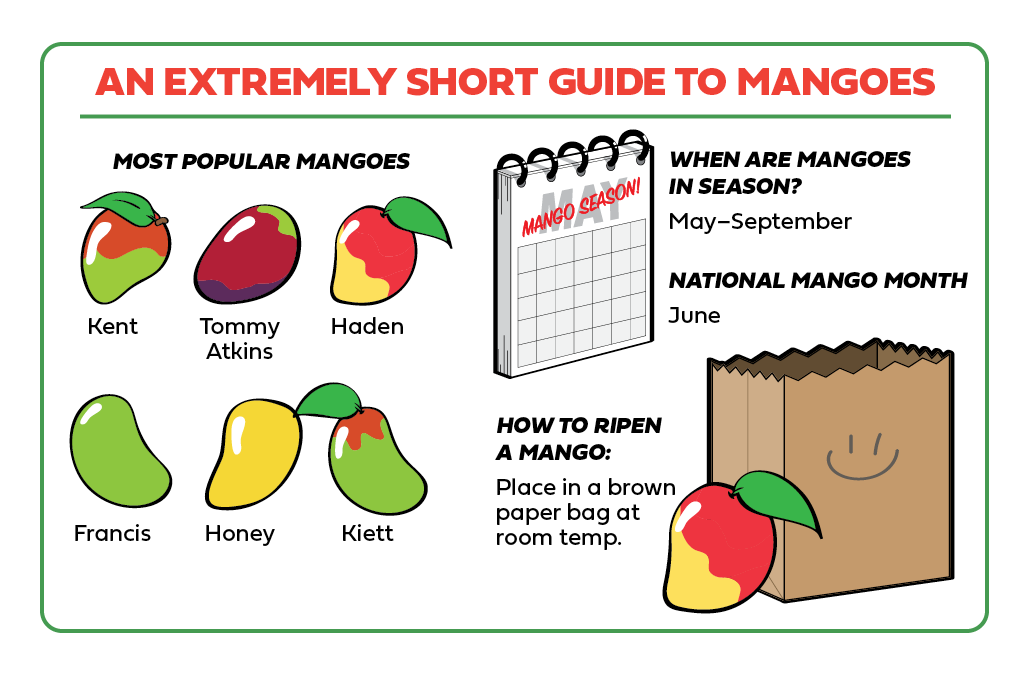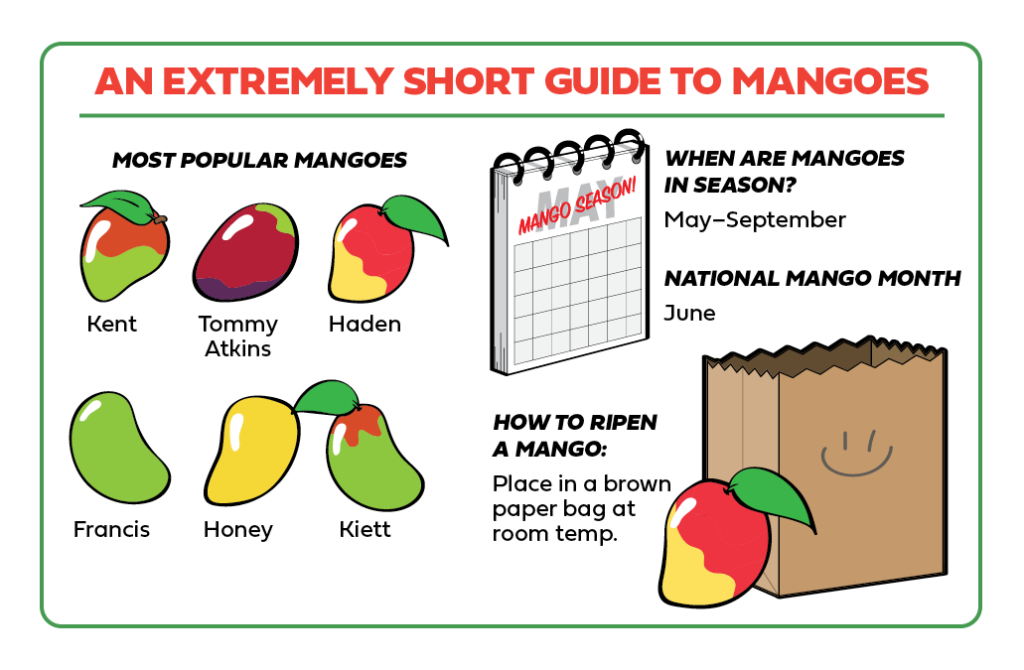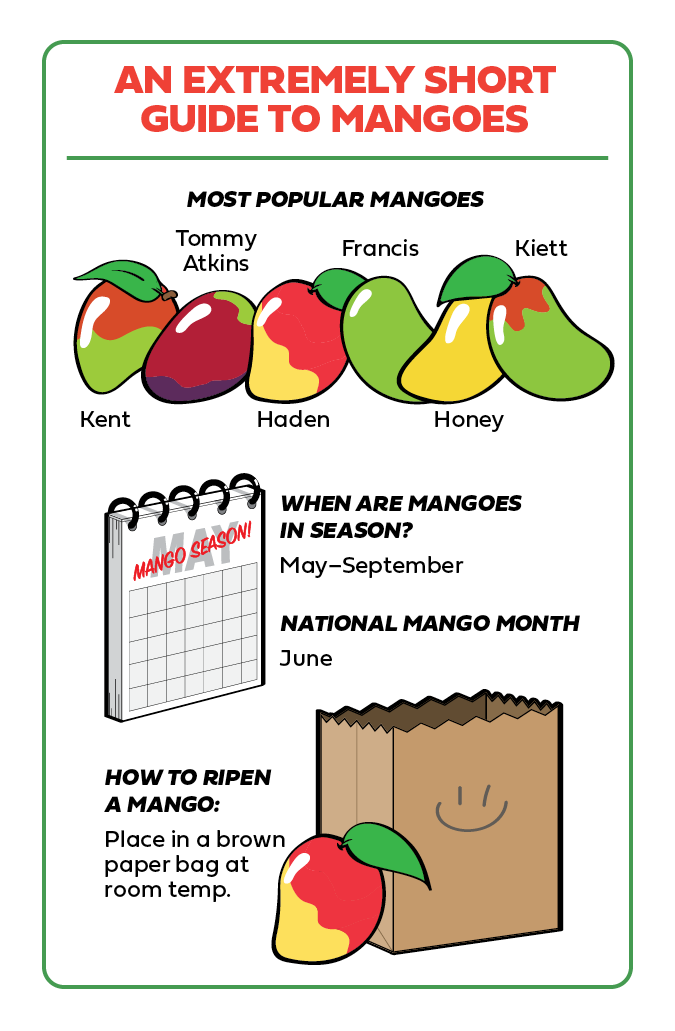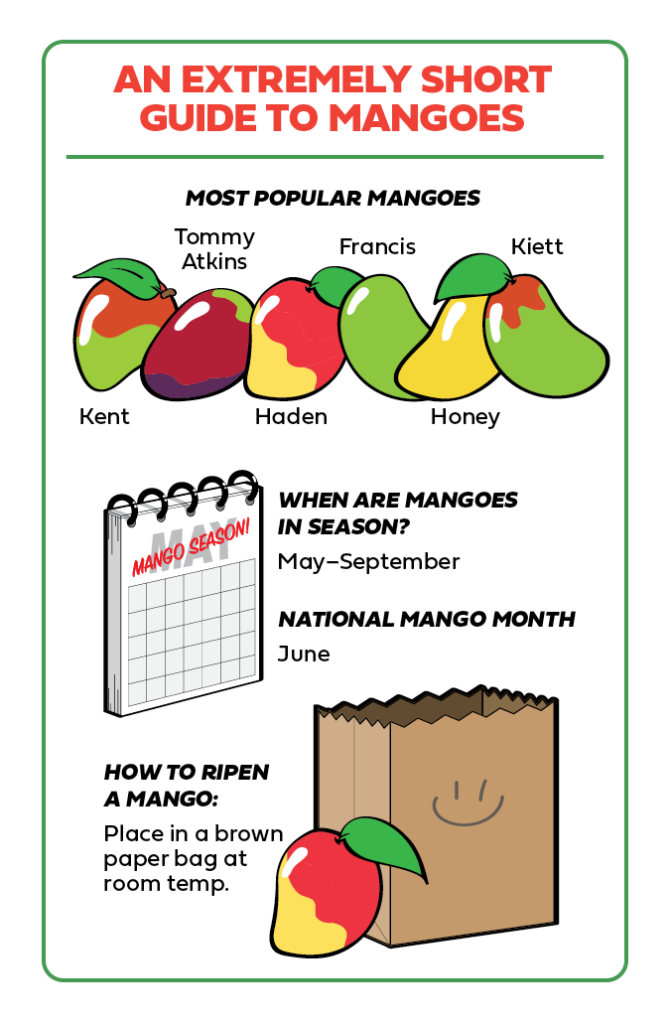 How the mango got its name
Some 4,000 years ago, man-kay (man, referring to its tree, and kay, referring to fruit) turned up in southern India. The Portuguese, upon encountering the fruit in 1498, tweaked that word to manga and brought it to Brazil and the West Indies in the 1700s. In English, the word eventually morphed into mango.
Are mangoes good for you?
Yes! They boast many nutrients, including carotenoids, antioxidants, fiber, and vitamins C and A.
Where do mangoes grow?
Mangoes and tropical drinks were literally made for each other. Mangoes grow happily in tropical and subtropical climates — you can find them all over the Caribbean and in Hawaii. In the continental United States, Southern California and South Florida reign as top mango producers, while places like Mexico and Australia produce their share of this famous fruit as well.
Other top producers include China, Thailand, Indonesia, and Pakistan.
But, really, the mango's home is India.
Apple pie is to America as lots of mango-rich dishes are to India. The country grows 40% of the world's mangoes, which it hails as the "king of fruits" and regards as a symbol of love. You'll find Indians incorporating mangoes into smoothies — mango lassi, anyone? — chutneys, curries, cakes, pickles, and a whole lot more.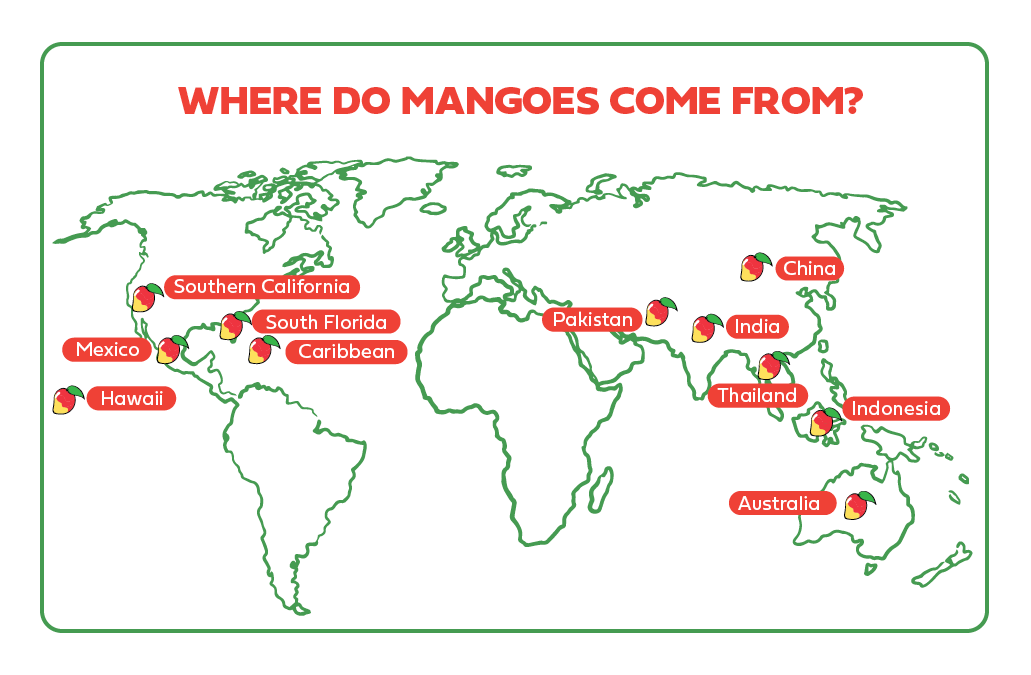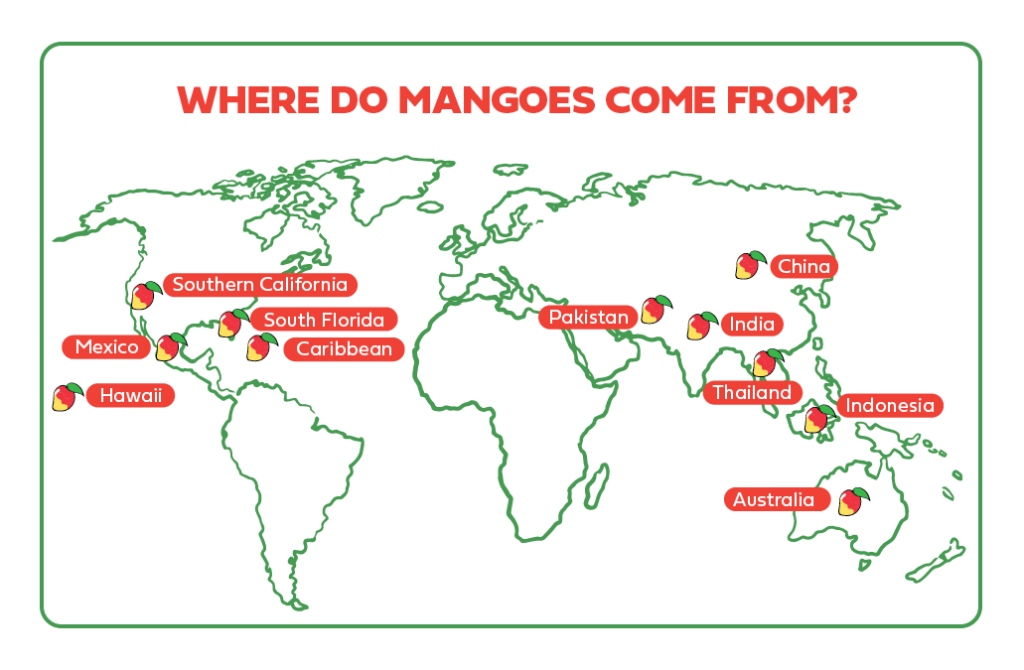 This fruit, as you can plainly see, is positively adored in India, to the point where the country hosts the International Mango Festival every summer.
How many mango varieties are there?
No one knows for sure, though the number reaches into the hundreds. Six types are the most common: Honey (aka Ataulfo or Champagne mangoes), Francis, Haden, Keitt, Kent, and Tommy Atkins. There's also this type of mango.
When are mangoes in season?
Peak mango season runs from May through September. Mangoes from Hawaii are in season from March until November. Still, you can find imported mangoes at your grocer year-round.
When is National Mango Month?
What makes you think there's a National Mango Month? Just kidding — of course there is. Recognized by the United States Department of Agriculture, National Mango Month is in June — the same month Harry & David offers mangoes as part of its Fruit-of-the-Month Club.
But don't worry if you somehow miss the entire month of June — National Mango Day is July 22.
Mangoes at Harry & David
Harry & David offers Honey and Champagne mangoes from Mexico. In addition to getting them fresh, the fruit gets the star treatment in a number of other offerings. Here are a few.
Have a very mango Christmas
In Australia, December marks high season for mango crops, and the stone fruit is a big deal there at Christmas. Harry & David gets in the holiday spirit by selling these Aussie fruits during the month; the varieties it carries are called Kensington Pride and R2E2 (yes, that's correct — named after the row and plot where it's grown, not some sci-fi droid). "We ship it the week before Christmas so they arrive in home in the days before the holiday," says Jane Hunts, merchandising manager for the Harry & David fruit division.
How to choose the best mango?
Hold the fruit and give it a squeeze. If the fruit gives a little, it's good to go. In terms of color, just avoid the green ones; yellow, orange, or red ones are all fine and dandy.
How to ripen a mango
Yes, we know we just said to pass on the green mangoes. But really hard, green mangoes are still viable — they just need a little more time and love. To ripen, put them in a paper bag and store at room temperature.
Once they are ripe, mangoes should be eaten soon. You can store them in the fridge for roughly five days before they start going south.
Can we eat the mango skin?
Absolutely! It's chock full of nutrients, including polyphenols, carotenoids, dietary fiber, and vitamins C and E. The only thing is, the skin is thick, and you may find it bitter and too chewy, so you may opt to peel it.
Also — and this is a big also — the skin can trigger an allergic reaction in some people because of the oily compound called urushiol found within it, Hunts warns. In fact, urushiol shares some properties found in plants like poison oak and ivy. Upon ingestion, the chemical can cause swelling, or worse; even just touching it can cause a rash if it's on the outside (most likely near the stem). Keep these potential harmful effects in mind and make sure to follow standard fruit protocol: Wash it first.
Can you do anything with the pit?
Oh, you mean that giant seed? You sure can! It comes loaded with vitamin C, protein, and antioxidants, although you may find it to be hard and bitter (it's softer in un-ripened mangoes). The better option may be to incorporate the seed into your cooking — in a Mexican mole sauce or mango syrup, for instance.
Our favorite mango recipes
Are mangoes just a fruit?
Nope, they're also a type of wood. Mango wood comes from, what else, the mango tree. This golden brown sustainable wood, which is categorized as a hardwood, is durable enough to make ever-lasting furniture and strong enough to craft kitchen tools and gadgets out of it. Who'd a thunk it? Here are four pieces we really like.
---
Power of Fruit
Learn more about nature's candy with our series on seasonal fruit.