The Festival of Lights lasts for eight days, giving you ample opportunity to start a new Hanukkah tradition — like brunch. Have your loved ones raving over this festive Hanukkah brunch menu that features the new and the old, including latke eggs Benedict and delicious snacks, such as Royal Riviera Pears paired with cheese. Forget something tangible, this is the Hanukkah breakfast gift they'll want eight days week.
What are latkes?
In the European Jewish tradition, latkes (Yiddish for "pancakes") are the celebratory Hanukkah food of choice.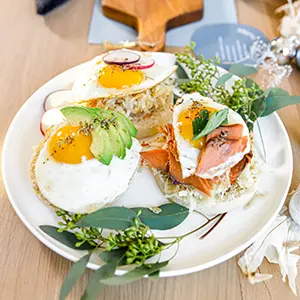 Latkes come from the story of Judith, a Jewish heroine who beheaded the Assyrian army's general, Holofernes, and aided the Israelites in their surprise attack on the Assyrian camp, saving their land. Judith fed Holofernes salty, cheesy pancakes and plied him with wine, and then beheaded him with his own sword after he passed out from having too much to drink.
Since potatoes were cheap and many Eastern European Jews were poor, these delicious tubers became the key ingredient in the latkes that we know and love today. So, let's raise a glass to Judith and fry some potatoes!
The potatoes are grated and fried in oil (as are many traditional Hanukkah foods). If you're looking to modernize your latkes, you can add grated apples, beets, or carrots, spices, and maybe even dry raisins or cranberries. You can even make latkes out of sweet potatoes and zucchini — separately or together!
With their fried and crunchy outside, latkes are delicious on their own, yet they are frequently paired with applesauce or sour cream. (For a real treat, try them with apple chutney.) But why not incorporate them into an eggs Benedict recipe? It's a rhetorical question. There's no reason why you shouldn't do this.
How to create a Hanukkah brunch tablescape
To set up this Hanukkah brunch tablescape, start with the traditional blue, white, and silver colors of the holiday. Make your guests feel extra special by incorporating custom details, such as menus, name cards, or ornaments. Include florals, ornaments, or garlands to add lovely pops of color or go for a classic, all-white look.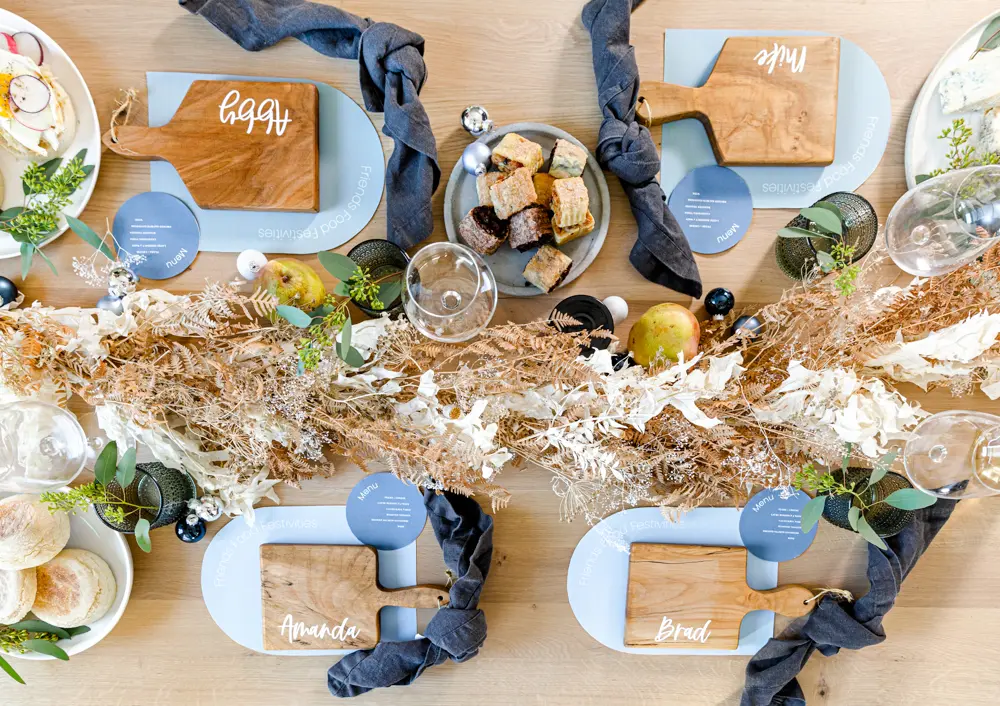 The crowd-pleaser on the menu is, of course, the latke eggs Benedict. I served the latke as a layer between fluffy Wolferman's English muffins and the poached egg. Different toppings on the eggs Benedict, such as baby vegetables and avocado, add extra flavor. Or you can create an eggs Hemingway and add smoked salmon.
Try adding a few non-traditional food items, such as Royal Riviera Pears, which are one of the few fruit gifts that are always a big hit during the holidays. I recommend creating a little cheeseboard with the pears, some cheese, of course, and snacks. Arrange these on a platter with some pretty garnishes to help fill out the table.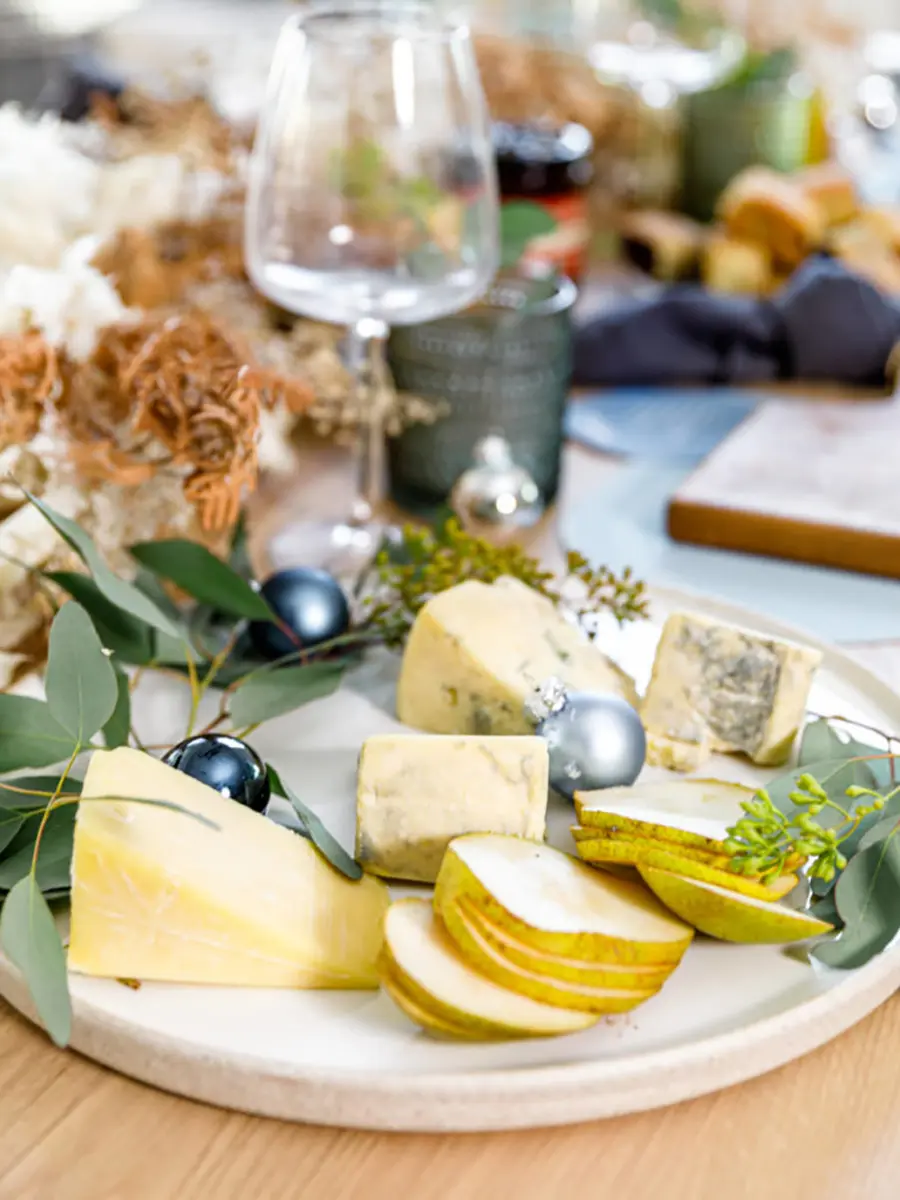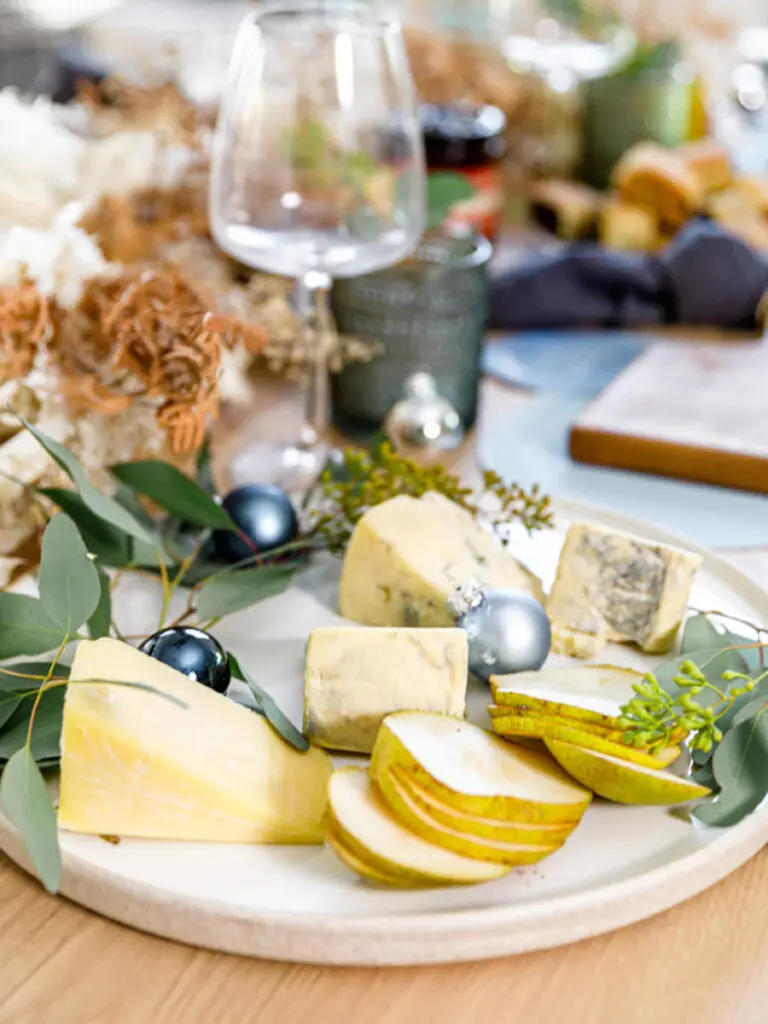 I finished the tablescape off with some delicious rugelach. Yiddish for "little twists," rugelach are crescent-shaped pastries filled with nuts, poppy seed paste, chocolate, or fruit jams. European Jews brought them to the United States, but the recipe has since shifted to be a cream cheese-based dough instead of yeast, making it quicker to make (don't worry, it's just as delicious). How can you say no to flaky puff pastry filled with a sweet surprise? A box of them make for a wonderful Hanukkah gift.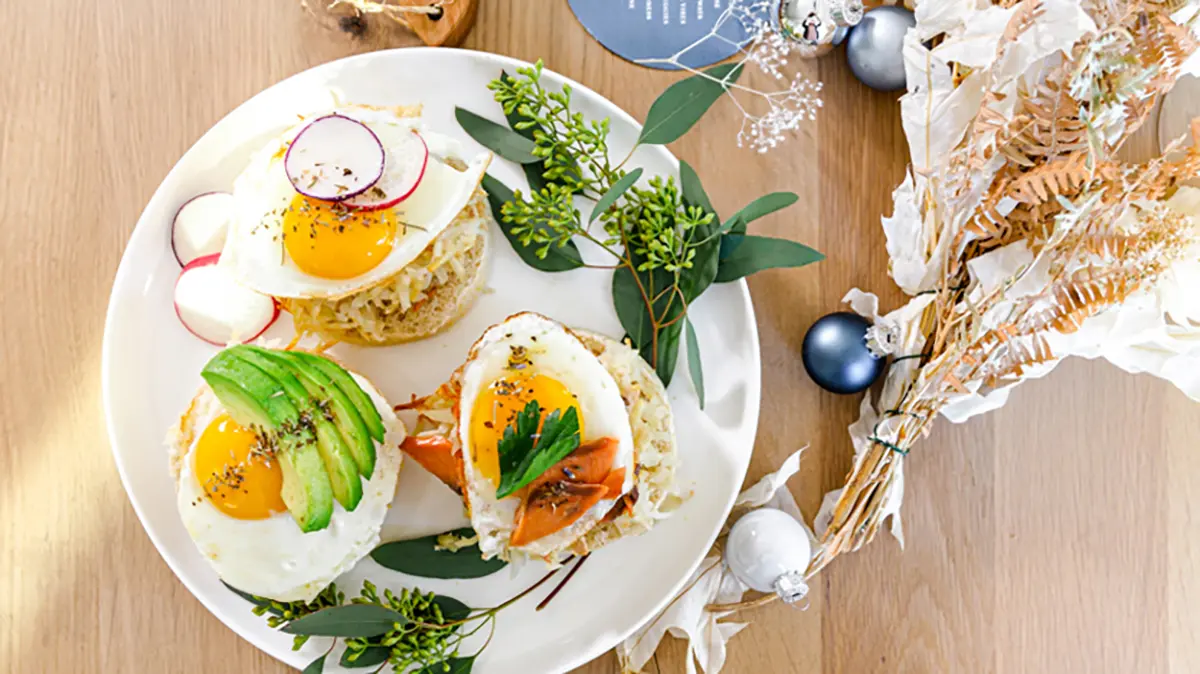 Simple Latkes
Ingredients:
1 ½

pounds

russet potatoes

(scrubbed and shredded with a box grater. (This may sound blasphemous, but you can also use frozen shredded potatoes.))

1

small

onion

(shredded)

1

large

egg

2

tablespoons

breadcrumbs

(unseasoned)

½

teaspoon

salt

½

teaspoon

freshly ground black pepper

½

cup

cooking oil
Instructions:
Start by shredding the potatoes and onion. If you are using frozen potatoes, go watch one of your stories while they thaw out to room temperature.

If shredding the potatoes yourself, you will need to drain them. Take a couple of paper towels folded in half over a medium-sized bowl and add the potatoes and onions. You can use cheesecloth as well. Squeeze as much of the liquid out of the potatoes and onion as possible. You want as much liquid out to achieve crispy latkes. In fact, when you think you're done squeezing the liquid out, go back and squeeze out more. DO NOT SKIP THIS STEP!

Pour your potato and onion mixture into a clean bowl. Add the egg, breadcrumbs, salt, and pepper, and mix them all together.

Add the oil to a large skillet and heat over medium-high heat. Using a 1/4 cup measuring cup, scoop the mixture into your hand and form a patty. Gently place it on a clean plate.

Once the latkes are all formed, gently place them into your hot skillet. Cook about 4 to 5 minutes per side, or until golden brown. Be sure not to overcrowd your pan, and adjust the heat if you see the latkes burning or taking too long to cook.

Once the latkes are golden brown, place them onto a paper towel-lined plate. You can sprinkle them with a little bit of salt. Serve with sour cream or apple chutney, or add them to your eggs Benedict for a delicious twist on this brunch classic.
---