Salads are my go-to dinner for busy weeknights. They are so easy to put together and leave you feeling light and refreshed. The key to them is to use simple ingredients and let the produce do the talking. And, of course, a good dressing is an absolute must.
This crisp kale and orange salad, along with a zesty and sweet orange dressing, is so easy to make and takes less than 30 minutes to prepare. You can use your favorite greens in the salad; I, personally, like the texture of curly kale against the juicy HoneyBell oranges. If you use kale, you can prep the leaves yourself or get the shredded, packaged variety if you want one less thing to do.
To make this salad more filling and nutritious, I added some canned green lentils. Feel free to improvise with other legumes, such as chickpeas, or a grain, such as quinoa. I also tossed in some slivered almonds and dried cranberries for texture and taste.
The HoneyBell oranges are the undisputed highlight of this salad. They are oh so sweet and juicy, and perfect for the dressing. The citrus flavor they bring shines beautifully throughout the dish. Because of how juicy the oranges are, I recommend cutting them into thick slices for this salad. Make sure to use a sharp knife to do this so you get cleanly sliced segments.
We can't have a salad without cheese now, can we? My choice for this is goat cheese, as its creaminess complements the other ingredients well.
Now, let's talk about that dressing.
It's simple, yet versatile, a combination of orange juice, apple cider vinegar, maple syrup, salt, black pepper, and extra virgin olive oil. Just add all the ingredients to a mason jar, shake until thoroughly mixed, and you're done. Yup, that's all you have to do.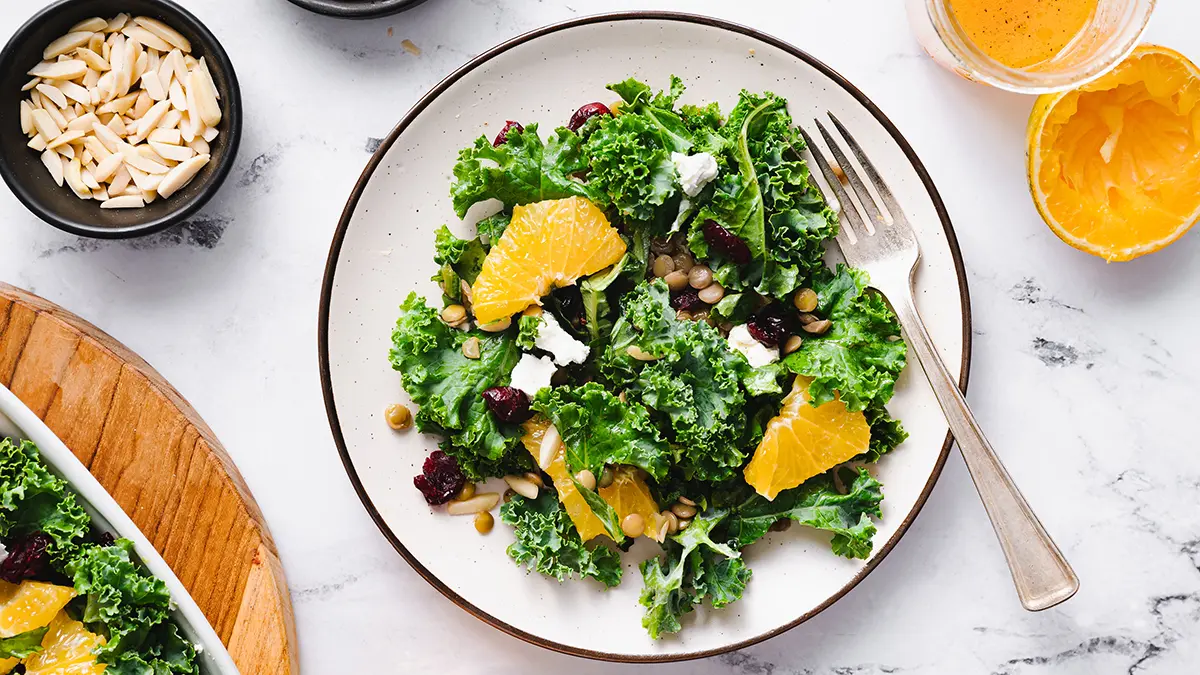 Citrus Kale Salad with HoneyBell Oranges
Ingredients:
For the salad
1

curly kale

(about 6-7 cups, sliced or torn kale leaves without the thick stem, washed)

1 15-

ounce

Green lentils

(drained and rinsed)

⅓

cup

slivered almonds

⅓

cup

dried cranberries

4

ounces

goat cheese

(crumbled)
For the dressing
3

tablespoons

apple cider vinegar

1

HoneyBell Orange

(juiced)

⅓

cup

olive oil

1

tablespoon

maple syrup

½

teaspoon

salt

¼

teaspoon

ground black pepper
Instructions:
Wash the kale and remove the leaves from the thick stem. Chop or tear the leaves and add them to a big salad bowl.

Cut an orange in half and then cut each half so you get two thick slices (rounds). Trim the peel/skin from each slice so you end up with a hexagon-shaped orange segment without any peel. Cut each hexagon in half. Do this for all four oranges. (Alternatively, you can prep the oranges in your favorite way. Just make sure the seeds and peel are removed.)

Add the orange slices to the salad bowl followed by the lentils, dried cranberries, and almonds.

Add the goat cheese.
To make the dressing
Add all the ingredients for the dressing to a mason jar. Close the lid of the jar and shake vigorously until ingredients are well combined.

Drizzle the dressing over the salad, gently mix and serve.
---