Learn how to make almond butter and cashew butter using assorted nuts with Abby at Beijos Events. These yummy homemade snacks are easy to make and will become fast favorites for the entire family.
We all know and love peanut butter, but have you tried other nut butters? Now, when you go to grab peanut butter at your local market there are so many other kinds to choose from! There's cashew, hazelnut, almond, pistachio, and even walnut and sunflower. Cashew and almond are some of my family's favorites, and when we started quickly going through jars I decided to try to make them myself. To my surprise, making almond and cashew butter at home is simple and quick.
The best part of these homemade nut butters is that they're naturally high in protein. Plus, they all go great with all sorts of snacks, from crackers to vegetables and fresh fruit. I used almonds and cashews for these two recipes, but you can always use your favorite nuts or seeds to experiment with different flavors.

How to Make Almond Butter
To make the almond butter, you'll start by roasting the raw nuts in the oven until fragrant and slightly browned. After they've cooled off and are just a little warm, you'll blend them in a food processor. They'll grind into tiny pieces at first, but don't worry that you did anything wrong! As you continue blending almonds will start to release their natural oils, which will cause the mix to begin to clump and stick to the sides. You'll need to scrape them down a couple times (not while blending, otherwise you'll be in the market for a new spoon) and keep blending for about 5 minutes until the mixture turns smooth. I also recommend mixing in a pinch of sea salt to help accentuate the flavor. Then dip vegetables in or spread on crackers for maximum flavor accentuation.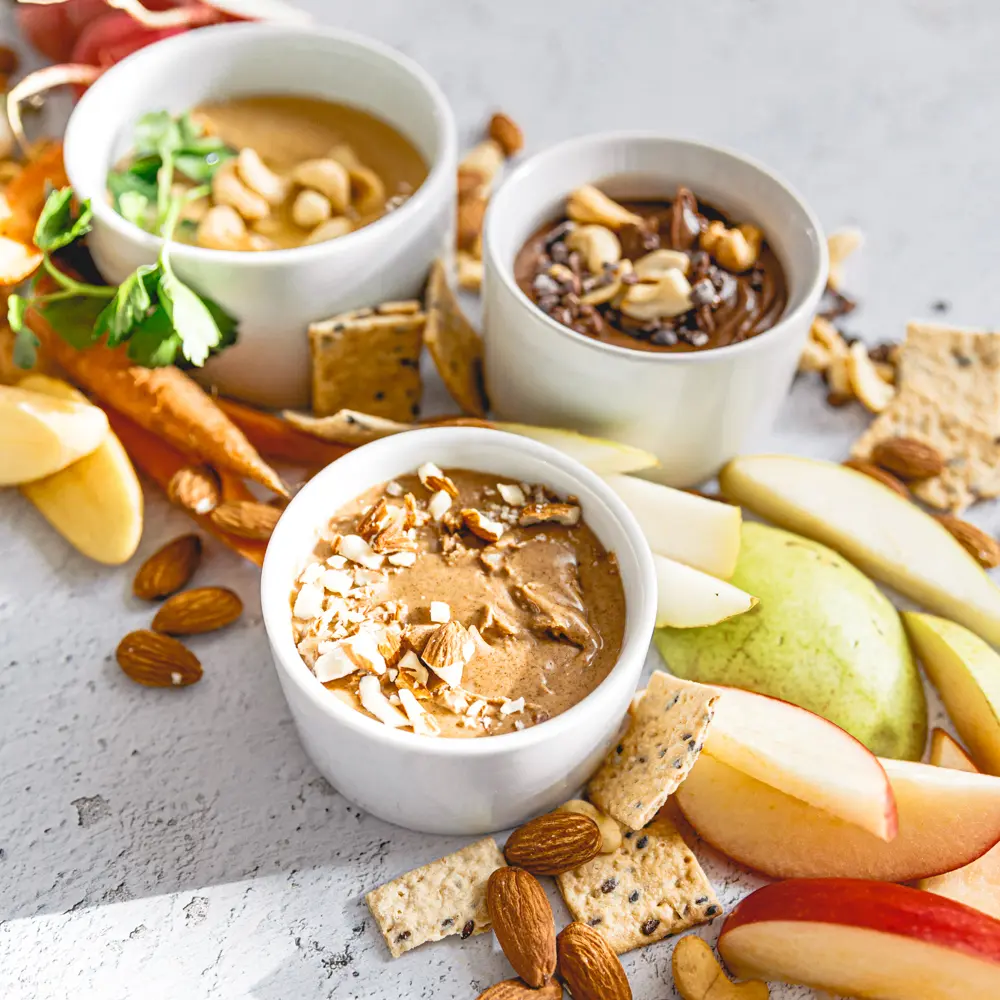 How to Make Cashew Butter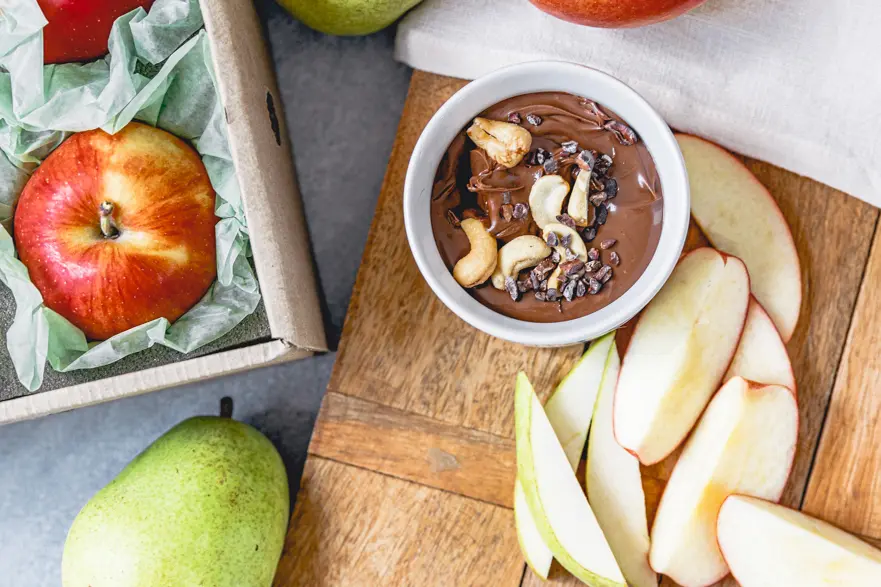 You can make cashew butter in the same way you make the almond butter above, but sometimes I like to add a few secret ingredients. In this cashew butter recipe I use a touch of cocoa powder to create a delicious, salted dark chocolate twist!
I like to soak my cashews in hot water for 15 minutes beforehand to soften them up. This helps create a smoother texture, but it's not necessary if you like a chunkier nut butter. Serve up this cashew butter with apples and pears—the hint of chocolate complements the fruits' natural sweetness.
If you want to add a little gourmet flair while serving these almond and cashew butters for snacks, you can sprinkle some crushed almonds, cashew halves, or even a few chocolate shavings on top. Add the nut butters to bowls on a charcuterie board, put some in a Tupperware with apple slices for an on-the-go snack, or spread them on bagels or toast for an easy breakfast. The snacking possibilities are endless!
In 2021 Food Trends we explore the recipes that will be a hit this year! From sunny orange mocktails to personal charcuterie boards, let's start the year with something delicious.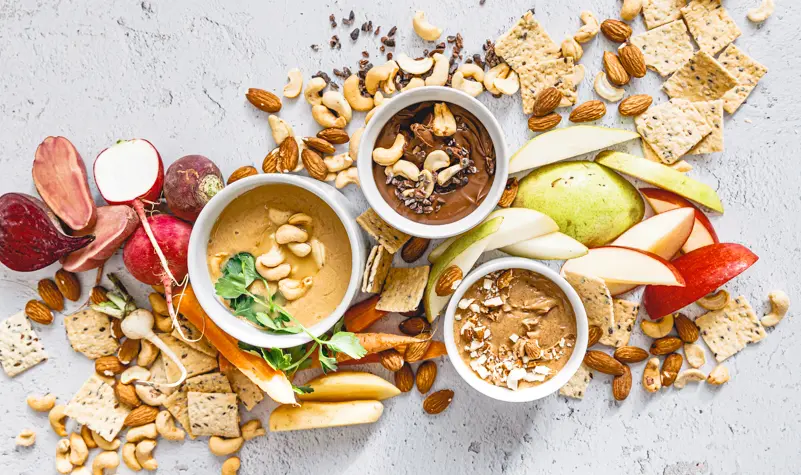 Almond and Cashew Butters
Ingredients:
For the Almond Butter:
1 ½

cups

Harry & David® almonds

pinch

Himalayan salt

(to taste)
For the Salted Dark Chocolate Cashew Butter:
2 ½

cups

Harry & David® Roasted Salted Cashews

2-3

tablespoons

maple syrup

2

teaspoons

dark cocoa powder

3

tablespoons

coconut oil

(melted )
Instructions:
To make the almond butter
Place the raw almonds in a thin layer on a baking tray.

Roast at 300 degrees Farenheit for about 15 minutes until fragrant and slightly browned, giving them a toss halfway through.

Remove from the oven and let cool until just warm. Place the warm nuts in a food processor and start blending.

Blend until the nuts have ground up, add the salt, then keep blending for about five minutes until smooth. You may need to scrape them down a couple times as they start to clump and stick to the sides.

Store in an airtight container in the pantry.
To make the cashew butter
Soak the cashews in hot water for about 15 minutes––this will soften them up and create a smoother texture. You can also skip this step for a rougher butter if that's your preference.

Put the softened cashews in a food processor or high-powered blender, then process until smooth, about 3-5 minutes.

Add the maple, cocoa powder, and melted coconut oil. Blend again until smooth, another 1-2 minutes.

Store in an airtight container in the pantry.