Whether it's a busy weeknight, a friend's decided to stay for dinner, or you simply don't want to cook, sometimes you need something easy to throw together. The recipes in our series "Homemade Gourmet" take the thought and time out of cooking without sacrificing their flavor or gourmet appeal. This seafood pasta recipe by Chef Joe Flamm is simple to throw together without sacrificing flavor.
Chef Joe Flamm's Italian grandmother, Mary, raised nine children: seven daughters and two sons, which then grew into a family teeming with cousins. "Growing up, everything was a big event," Joe says about his family's gatherings. "Whether it was playing sports on Sunday and then going to my grandma's house for pasta afterward, or a baptism, or a birthday."
For Joe, these big family events always felt like one big happy party. "There was always food around. And I just loved that. I think that's why I love restaurants too because you get to do that every day — host a big party," Joe recounts.
Telling stories through food
Joe still enjoys family get-togethers at his grandmother's home. "[These days] I'm leading the cooking charge a little bit more, and my younger cousins are getting more involved, so it's fun to just carry those traditions," he says. "And I like feeding others because it makes people happy and brings people together."

His passion for cooking also comes from his mom, Janice. Joe says he's a better cook because of spending time in the kitchen learning from his mother. "She's one of the reasons I fell in love with cooking."
Joe continues: "I love traditions and I love stories. With cooking, all you need is a recipe and you can carry traditions and history, and all these things, and bring them with you wherever you go and share them with people, and that is so special."
Cooking is super relaxing
For Joe, who has spent years sweating and plating and slicing and chopping in professional kitchens, revels being in his home kitchen. "It's therapeutic for me when I can just spend a couple hours in the kitchen by myself," he explains.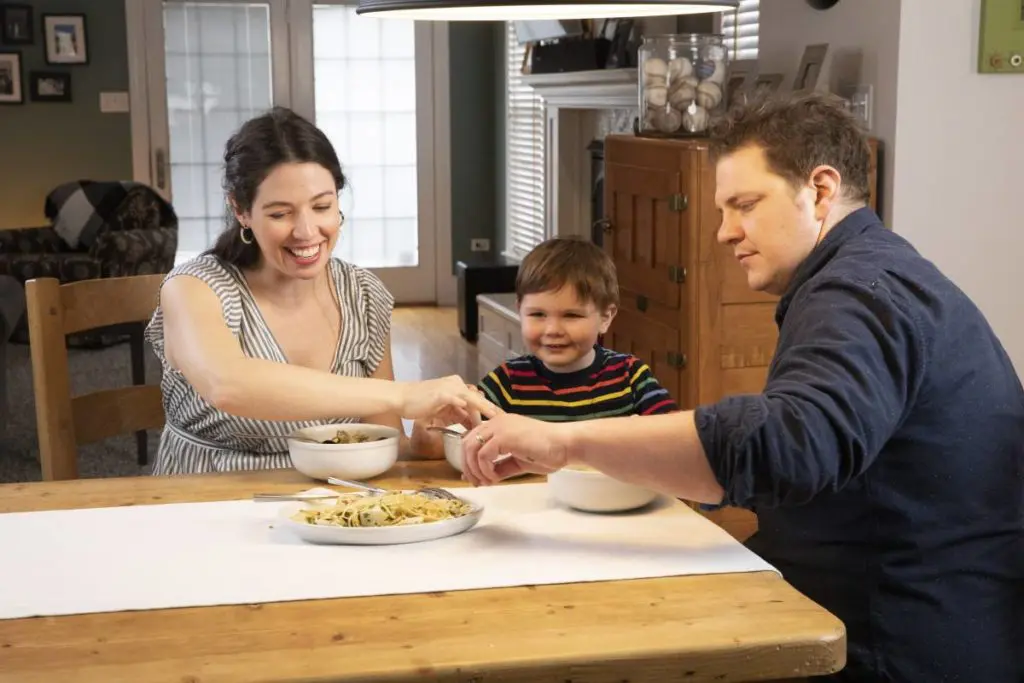 And while his wife Hillary is a fan of his home cooking, their toddler, Luka — who is into pesto pasta at the moment — is "usually a fan" of dad's cooking. "But when he's not, he's a pretty rough critic," Joe laughs. "Luka is a big peanut butter and jelly guy, but I always liked the idea of putting little meats and cheeses in [his lunch box]. We'll see if he'll eat it."
And while Joe shows his love for his family through food, he also sees cooking for his guests as a way to take good care of them too. "I think sometimes for people, cooking can be stressful for them. So, if I feel like I can take the stress of cooking off their plate and make their day a little bit nicer, it's always a really good feeling," Joe says.
The coast with the most
Joe's wife Hillary's Croatian roots inspired the Italian-Croatian menu at his new Chicago restaurant, Rose Mary. Joe's first solo restaurant tells the story of food from the Adriatic. "Adriatic cuisine is the culmination of coastal Italian, Croatian, and Balkan cuisine," Joe says.
This light, fresh seafood pasta dish that celebrates the seafood found along the coastline is especially for his wife. "Hillary loves seafood…and garlicky, buttery sauces, so it's right up her alley," Joe says.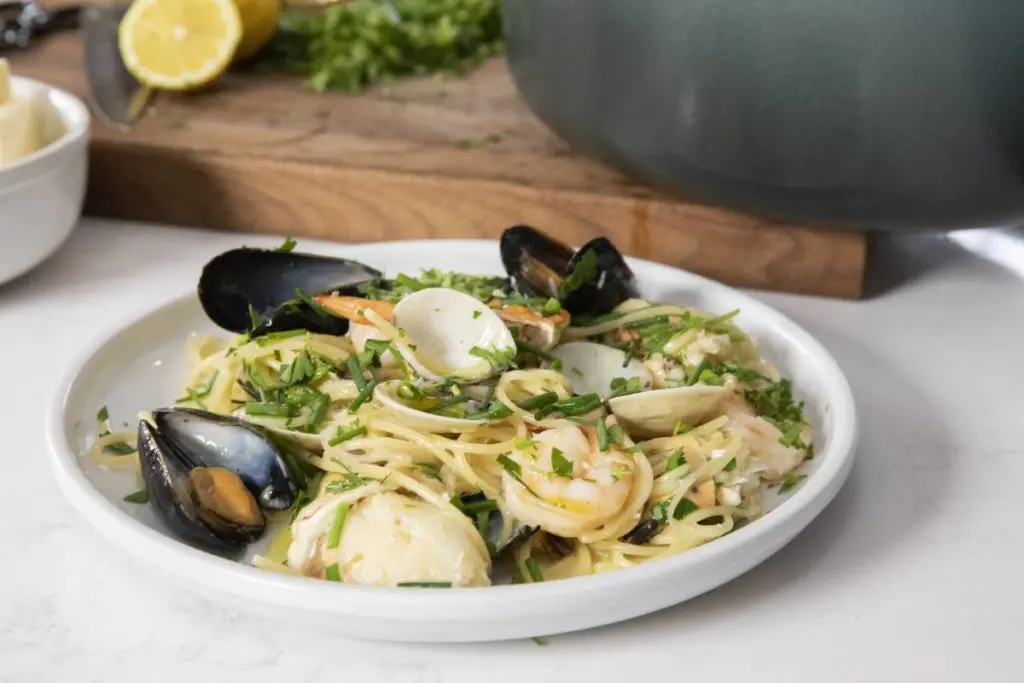 Before their son was born, Joe and Hillary traveled to Italy and Croatia. "The last place we went was on the Dalmatian Coast, and we ate pasta and seafood everywhere we went," he says. "The brininess of the seafood, a little bit of the fatty sweet from the butter, and garlic to cut through all that richness, as well as slight acidity from the lemon makes this pasta well-balanced and delicious."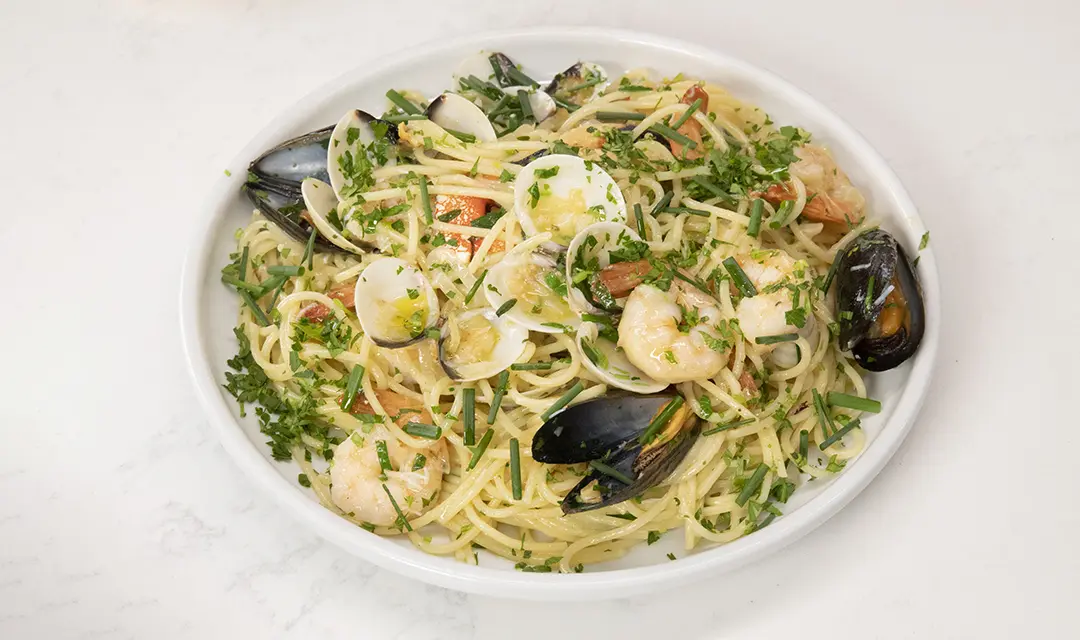 Coastal Seafood Pasta
Ingredients:
1

Harry & David Maine shore seafood bake

(exclude the corn cobbs)

Kosher salt

1

pound

dry bucatini or spaghetti

4

tablespoons

olive oil

3

small

garlic cloves

(thinly sliced)

1

small

shallot

(thinly sliced)

3

ounces

fresh parsley

(chopped, divided)

½

cup

pasta water

4

tablespoons

butter

(cubed)

2

fresh lemons

(juiced)

freshly ground black pepper
Instructions:
Bake the Maine seafood bake (minus the corn cobbs), according to the directions, and set aside to cool.

Meanwhile, bring a large pot of generously salted water (about 6 quarts) to boil, add the pasta and cook al dente according to the directions on the package.

While the pasta is cooking, warm the olive oil in a large skillet over medium-low heat. Add the garlic and shallots and sweat for a few minutes, allowing them to slowly release their moisture, turning soft and translucent.

Add the reserved seafood to the skillet, along with half of the parsley and stir to combine.

Drain the pasta, reserving 4 ounces of pasta water. Add the pasta and the pasta water to the skillet.

Raise the heat and continue cooking the pasta-seafood mixture until the seafood is warmed through and the flavors come together, about 2 minutes. Turn off the heat, mix in the butter, lemon juice and more salt to taste.

Garnish with the remaining chopped parsley, a nice crack of fresh black pepper, and drizzle olive oil. Serve immediately.