The recipes in our series "Homemade Gourmet" take the thought and time out of cooking without sacrificing their flavor or gourmet appeal. Waking up on time for school is hard, but making lunch shouldn't be. Here are five easy lunch box ideas you can put together quickly.
As parents, we often have to show off our juggling skills. Homework, sports, meetings, endless video conference calls, laundry, packing lunches…it never ends! Balancing these obligations is a challenge we know all too well.
We want to provide the best for our children, and that includes the food we make for them. We strive to make meals that are as delicious and healthy as they are easy to prepare. Thankfully for you, we have a solution inspired by our mother that will create the time you need to send your children to school with a homemade meal — and it starts the night before.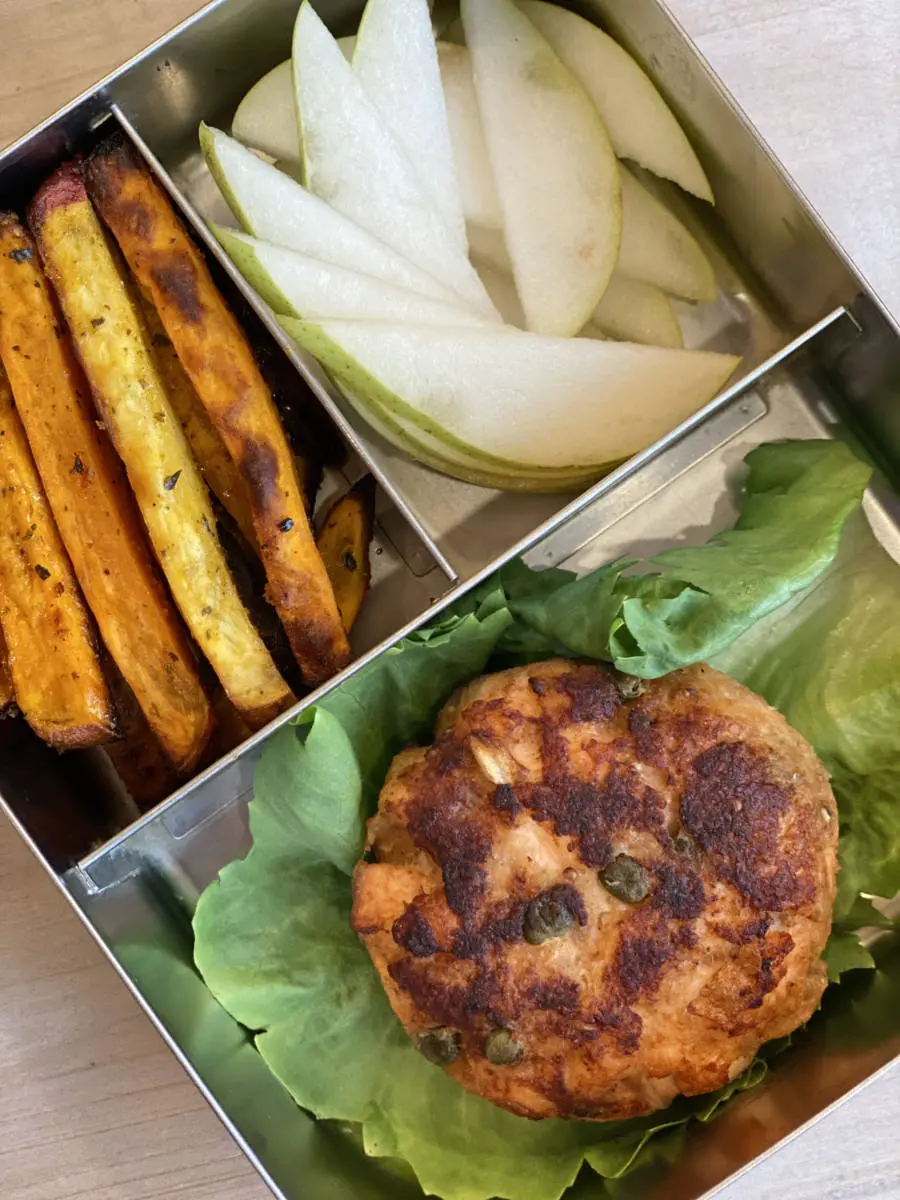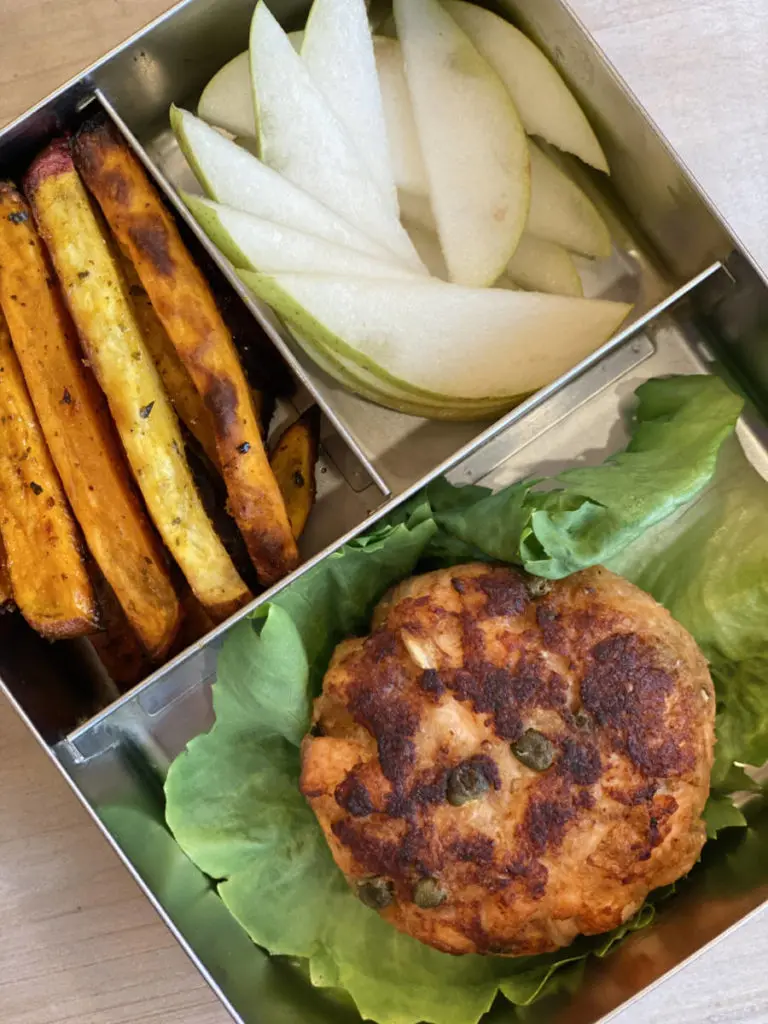 Mother knows best
Our mom had a knack for getting dinner quickly from the fridge to the table. Her speed was uncanny, but the most impressive part was how delicious and healthy the meals were without trying, considering how effortless she made it all look. Whether it was her zesty zucchini and chicken pasta or Candice's favorite, breakfast for dinner (aka "brinner") — complete with green eggs and ham (chopped spinach frittata and prosciutto) — we would enjoy a home-cooked meal each night around the table, together. The next day we'd head off to school, toting our Millennium Falcon and Little Mermaid lunch boxes packed with delicious lunches. We didn't know it at the time, but she was up to something.
Mom was an elementary school art teacher, and was undeniably creative in and out of the kitchen. Her creativity had a process, one that we have been able to harness now that we have children of our own. That process all comes down to planning.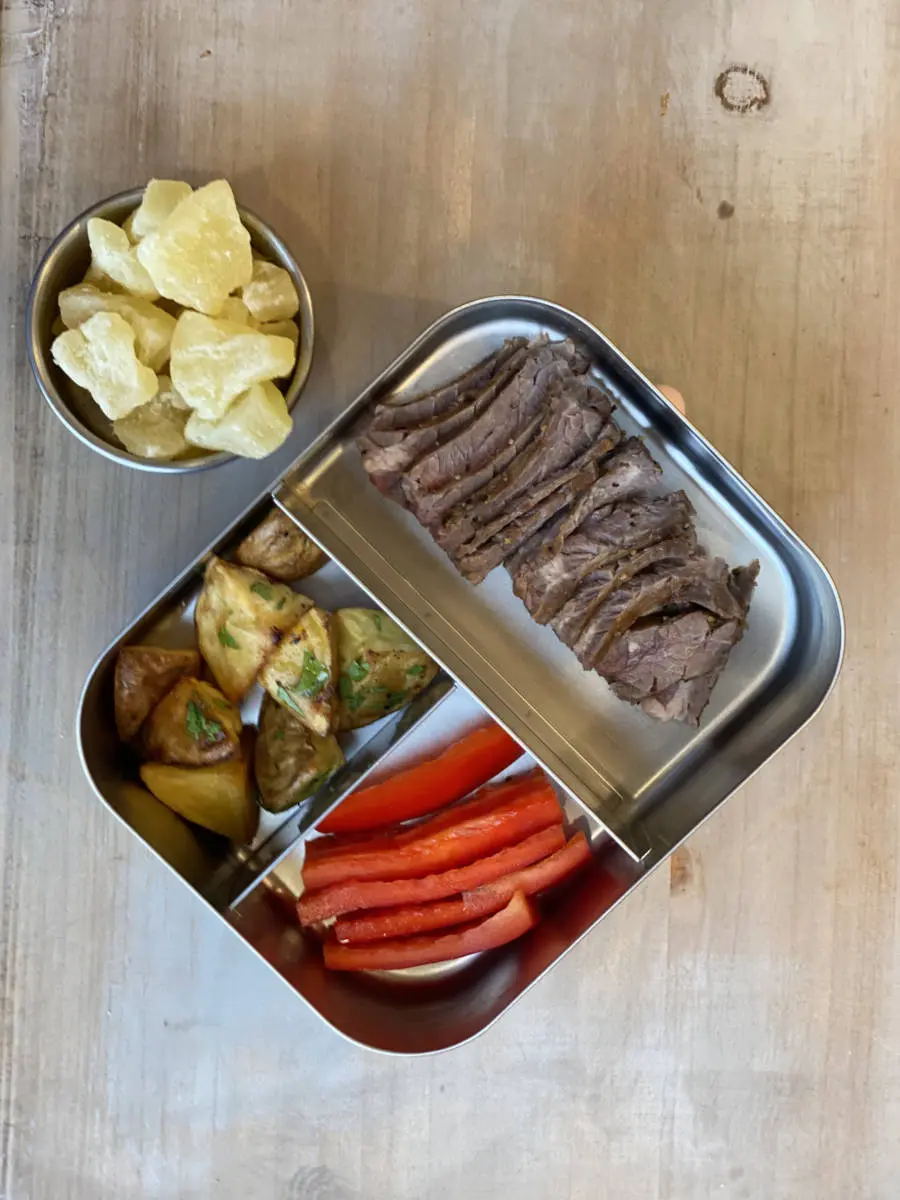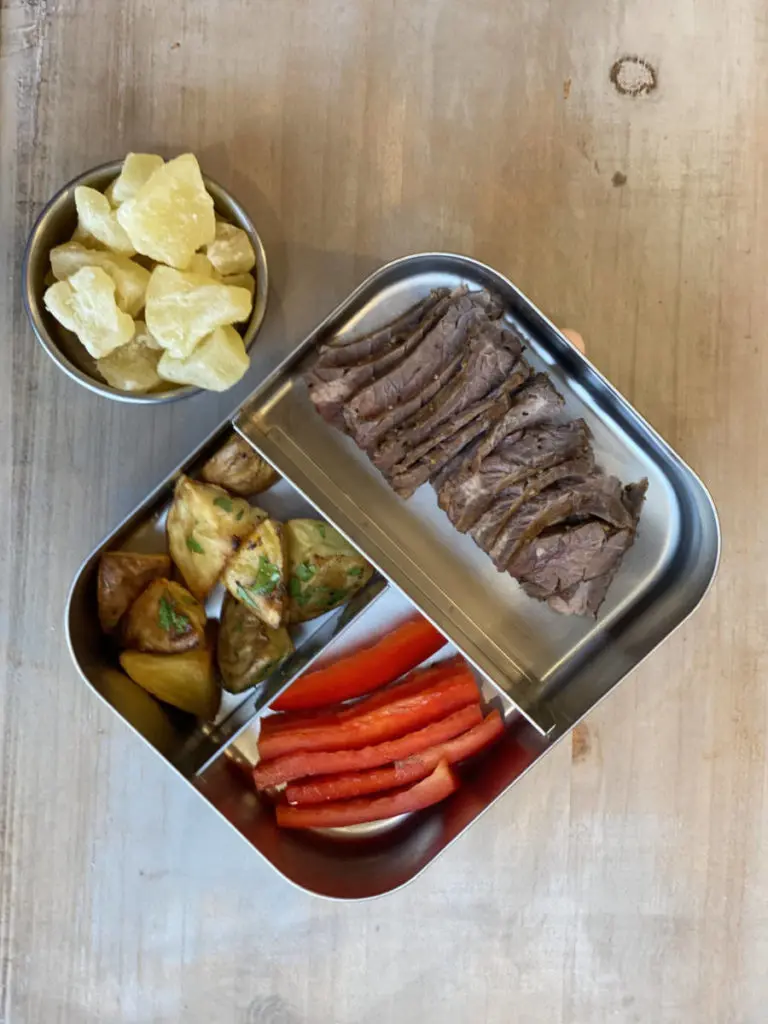 The mother of all processes
Mom's process was simple and cyclical: Sheutilized leftovers whenever possible. We have not only adopted that strategy but taken it one step further: We are intentional about our leftovers so that they can inspire lunch box ideas for the next day.
---

---
Here's our easy four-step plan:
Stock the fridge and pantry with items that you enjoy eating and are good for you.
Follow a simple recipe using ingredients you usually have on hand, or get creative with the ingredients you have.
Cook a bit more than everyone at the table will eat.
Pack the kids' lunches with the leftovers as you clean up for the evening.
We have put together a week's worth of reimagined school lunches — along with snack suggestions — that all come from some of our favorite dinner leftovers.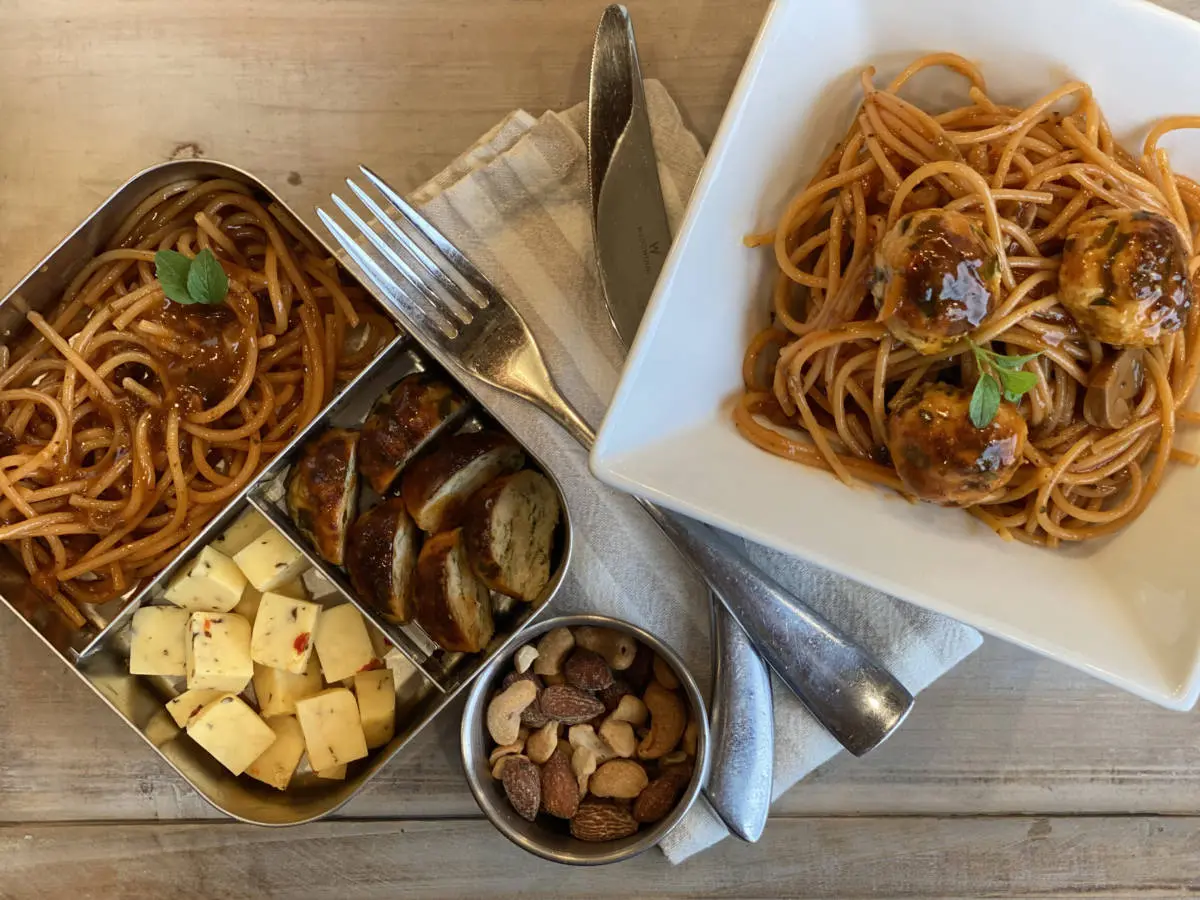 Turkey Mushroom Meatballs & Pasta
Lunch box: Pasta with tomato sauce and meatballs cut in half with Sicilian jack cheese cubes.
Snack: mixed nuts
Ingredients:
1

pound

spaghetti

2

pounds

ground turkey

1

cup

panko breadcrumbs

1

medium

yellow onion

(minced)

½

cup

fresh baby spinach

(chopped fine)

2

garlic cloves

2

eggs
Instructions:
Preheat broiler and place a large pot of water on to boil. When it boils, add a handful of kosher salt and the pasta, and cook until al dente.
For the meatballs
In a large bowl, gently combine first six ingredients. Roll into 1 1/2-inch balls. Transfer to a parchment-lined baking sheet.

Broil meatballs until golden and firm, 7 to 10 minutes.

Set a large Dutch oven on the stove over low heat. Pour in the Harry & David Red Wine Mushroom Sauce. Fill jar halfway with water and add to sauce, then simmer.

When the meatballs are golden, transfer them to the pot with sauce and let simmer while pasta boils.

When pasta is cooked, drain and combine with meatballs and sauce in Dutch oven.

Cut meatballs in half. Sprinkle fresh grated parmesan.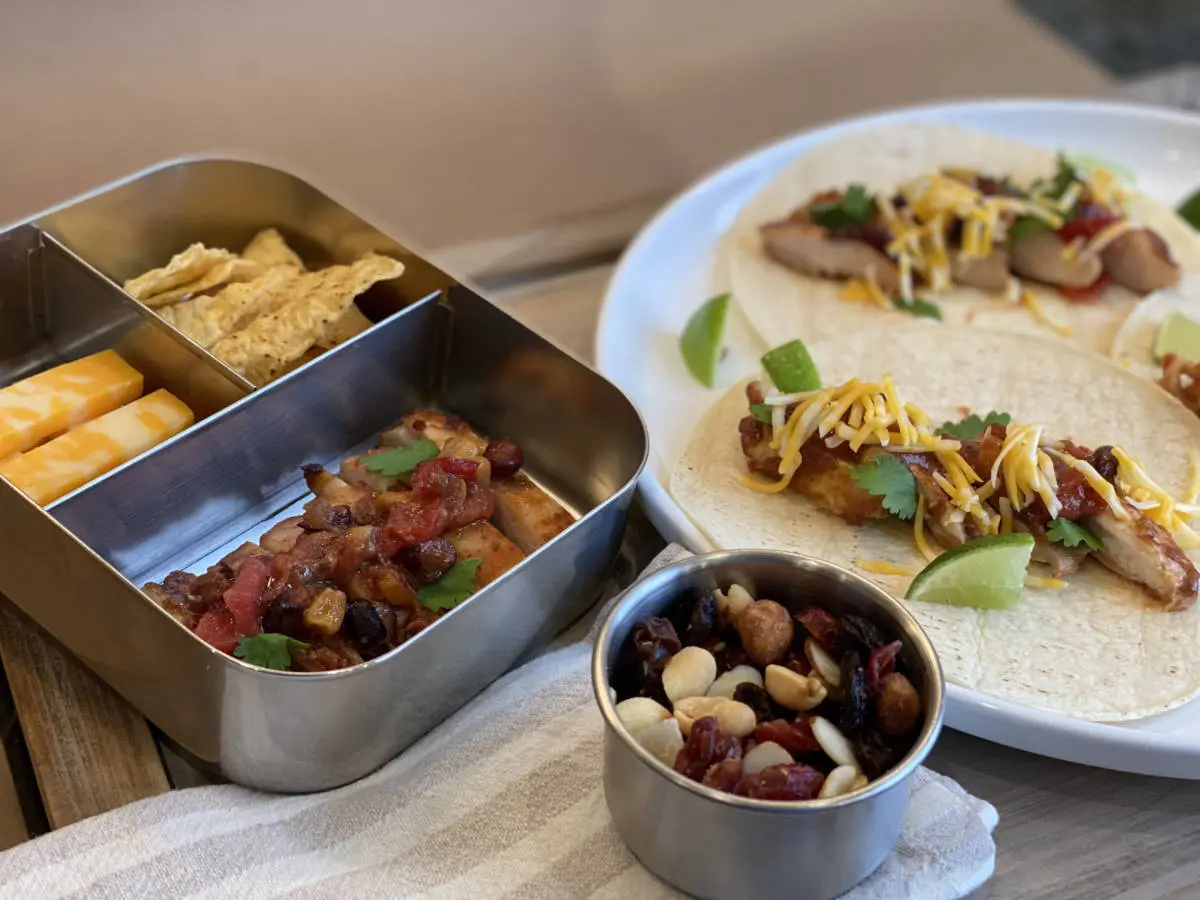 Baked Chicken Tacos
Instructions:
Heat the oven to 450° F and arrange a rack in the middle of the oven. In a Pyrex dish, season the chicken with Harry & David Chile Lime Rub. Set aside for at least 10 minutes to marinate.

Once chicken is marinated, place the chicken in a single layer and then cover with half the jar of Harry & David Black Bean and Corn Salsa, gently turning so the chicken is evenly coated with the sauce.

Place the Pyrex dish in the oven and roast the chicken until it has an internal temperature of 165° F, about 15 minutes.

Once the chicken is done, remove from the oven and begin slicing chicken thighs.

Build tacos in their warmed tortilla shells and top with additional salsa, grated cheese, and cilantro, adding a squeeze of lime when desired.
Grilled Steak 'n' Taters
Lunch box: Sliced steak and herbed potatoes with raw bell peppers.
Snack: dried pineapple
Ingredients:
For the potatoes
3

pounds

Yukon gold potatoes

¼

cup

olive oil

2

teaspoons

salt

1

red bell pepper

(cut into strips)
Instructions:
For the steak
Place steak in a large sealable plastic bag and pour in balsamic, soy sauce, olive oil, and peppercorn rub. Lock bag and massage steak, making sure marinade covers all the meat.

Let rest for at least 30 minutes at room temperature, or overnight in the fridge. (If marinating overnight, take meat out of the fridge 30 minutes before cooking to come to room temperature.)

Set half the burners on a gas grill to high heat setting, cover, and preheat for 10 minutes. When the grill is hot, remove the steak from the bag and place it on the hot grill. Let steak cook, covered, for about 5 minutes. Turn and cook for about 3 to 4 minutes more. Remove meat to rest on a cutting board, covered with aluminum foil, for about 5 minutes. Slice very thin against the grain, serve, and enjoy.
For the potatoes
Preheat the oven to 425° F. Line a sheet pan with parchment paper. Gently wash the potatoes and then cut them in half, followed by quarters. Place them on the sheet pan and drizzle them with olive oil and salt.

Cook the potatoes in the oven until crisp and golden, about 25 minutes. Remove them and serve with steak and fresh peppers.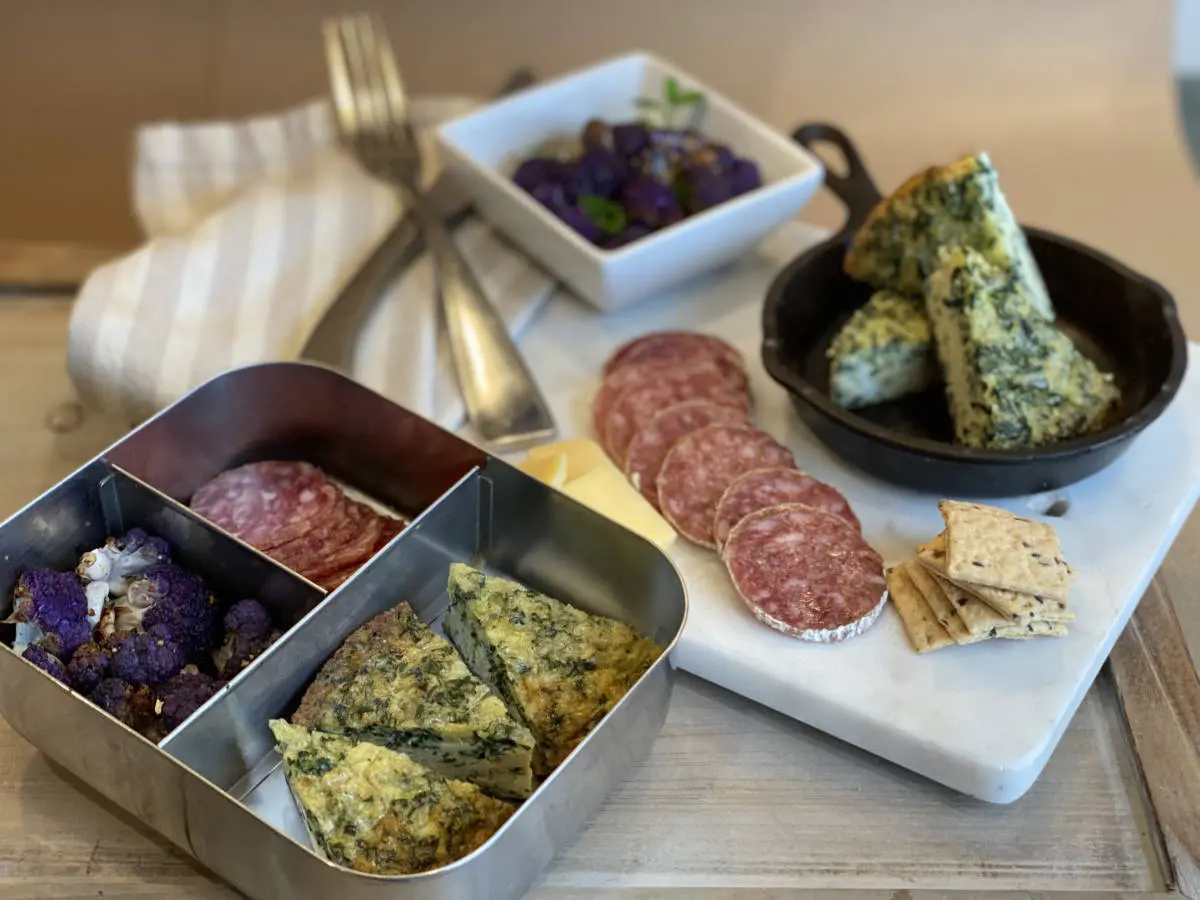 Kale & Cauli Frittata
Equipment:
10-inch cast iron skillet

or similar broiler-safe pan
Ingredients:
For the frittata
3 ½

tablespoons

olive oil

1

small

yellow onion

(diced)

2

garlic cloves

(minced)

4-5

ounces

lacinato kale

(sliced crosswise into ribbons)

6

large eggs

½

cup

Harry & David Gouda

(shredded)

Salt and black pepper
Instructions:
For the frittata
Heat the olive oil in a heavy 10-inch, broiler-safe skillet (cast iron) over medium heat. Add the onion and garlic, cooking until softened but not browned. Add the kale, an additional tablespoon of olive oil, and a couple of pinches of salt. Stir until the kale begins to wilt, then cover, reduce the heat to low, and cook for 5 minutes. Stir occasionally.

In a medium bowl, beat the eggs well with a fork. Then, beat in the shredded cheese and a pinch of salt and a crack of pepper.

When the kale mixture is tender and caramelized, remove it from the skillet and whisk it into the egg mixture. Add 1/2 tablespoon oil to the pan, and pour the mixture back into the skillet over low heat, spreading out the kale evenly. Cook over low heat until the top just barely begins to set.

Cook for 1 to 2 minutes under the broiler, until the top is gently browned. Serve warm or at room temperature.
For the cauliflower
Preheat the oven to 425° F.

Place cauliflower in a large mixing bowl. Pour on enough olive oil to coat (a few tablespoons). Season generously with steak rub and toss gently until evenly coated.

Lay cauliflower pieces out on a parchment-lined baking sheet. Drizzle any remaining oil and spices from the bowl on top. Bake for about 20 minutes, until caramelized on edges and tender.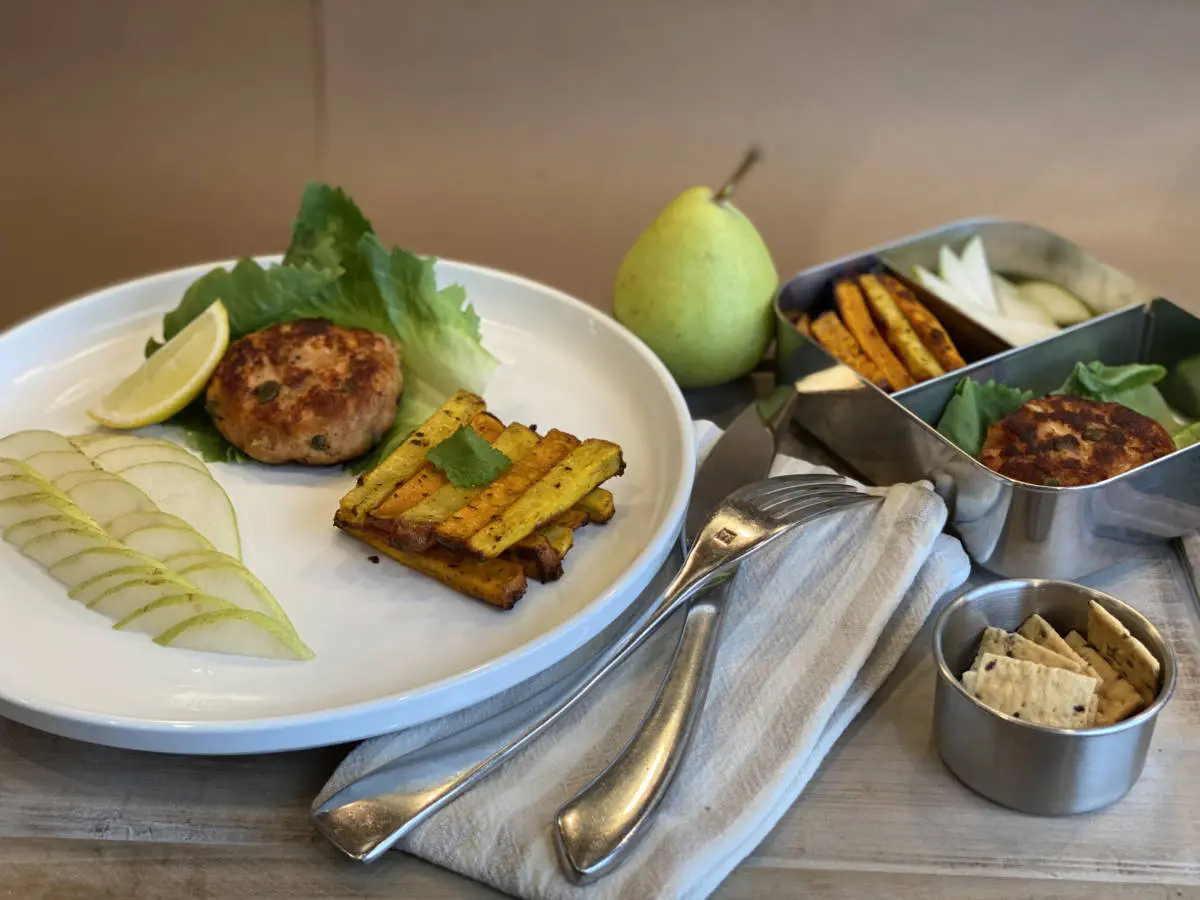 Salmon Burgers & Sweet Spiced Fries
Ingredients:
For the sweet potato fries
Instructions:
For the salmon burgers
Cut the salmon into large chunks, and put about half into the bowl of a food processor with the mustard. Turn the machine on, and let it run until the mixture becomes pasty. Scrape down sides when needed.

Add the shallots and the remaining salmon, and pulse the machine until the fish is chopped and well combined with the puree. Be careful to not make the mixture too pureed.

Scrape the mixture into a bowl, and, by hand, stir in the bread crumbs, capers, and some salt and pepper. Shape into eight burgers or 16 sliders.

Place the butter or oil in a 12-inch nonstick skillet, and turn the heat to medium-high. When the butter foam subsides or the oil is hot, cook the burgers for 2 to 3 minutes a side, turning once. To check for doneness, use an instant read thermometer and register to 145° F in the center. Be careful not to overcook.

Serve on a bed of greens, on buns, or by themselves. Add lemon wedges and a side of sweet potato fries.
For the fries
Heat the oven to 425° F.

Cut the sweet potatoes into sticks 1/4- to 1/2-inch wide and 3 inches long, and place them in a large bowl.

Toss the potatoes with the oil. Once completely covered, toss them with spice rub. Spread them out on two parchment-lined rimmed baking sheets.

Bake until brown and crisp on the bottom, about 25 minutes. Serve hot.