As winter lingers on, filling your home with the rich aromas of a savory soup can provide a tasty enrichment that helps lift the spirits of the entire household. A homemade bowl of soup, laden with the perfect blend of flavors and textures, satisfies the soul along with your appetite.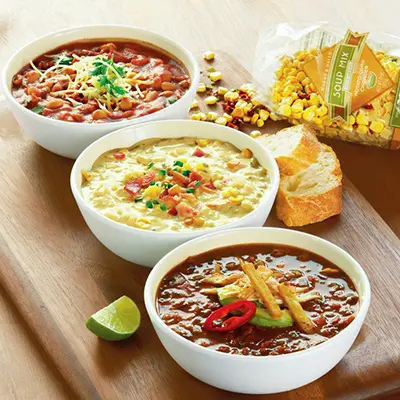 Soup is evocative of sustenance and warmth—an enticing cure for the chill of winter. Our quick and easy dry soup mix collection offers delicious flavors that can be ready to serve at a moment's notice. Keep a selection on hand in your pantry so you have a convenient means to make homemade soup—for that unexpected guest, when you're too tired to cook, or if you can't get to the grocery store.
Our gourmet soup mixes are inspired by popular international flavors like Tuscan bean, jambalaya, fajita chili and a variety of cultures and cuisines. Crafted from the finest ingredients, our soups simply need to be simmered on the stovetop and they'll be ready to enjoy on short notice. Serve a steaming bowl of soup with our crunchy three-seed crackers or a wedge of crusty bread for a hearty, satisfying meal.
You can also use our mixes as a flavorful, perfectly spiced base and add in your favorite ingredients. For example, substituting broth for water intensifies the flavor, and mixing in tomato sauce or cream creates a richer, creamier texture. By adding fresh broccoli, premium cheddar cheese and green onion garnish to our broccoli cheese flavor, you'll create an even richer soup. Here are several other suggested embellishments and toppings you may want to sample. These are all easy soup recipes that produce tantalizing results.
Chicken Noodle: Add shredded chicken, grated cheese and mixed vegetables to make this classic even tastier.
Potato Corn Chowder: Cured ham, cheese, real bacon or clams all complement the chowder and increase the protein content.
Vegetable Pasta: Stir in stewed chicken meat to increase the savor.
Fajita Chili: Fresh diced tomatoes and cooked ground turkey will add color and more texture.
Split Pea: Cubed pancetta or finely chopped ham, along with freshly sliced leek, adds flair to this classic soup.
Tomato Basil: Smoked salmon, shrimp or freshly grated Parmesan cheese complements this base. Garnish with fresh basil or diced tomato.
Drop us a line and let us know how you've refined a mix and made it your own special soup creation. And remember, when the weather outside is chilly, you can always find comfort indoors with a warm bowl of soup.