Bring all the generations together through food with these occasion-based recipes in our series "Homespun Holidays." Chef Jennifer Iserloh shares her recipe for matzo ball soup, a Jewish holiday staple that brings comfort to all who partake.
Matzo balls can be eaten anytime of year — they're expected to be offered at great Jewish delis — but these round dumplings are a must for any Passover Seder. And when they're tossed into a bowl of chicken soup, aka "Jewish penicillin," you've got the ultimate comfort food. Some even say matzo ball soup is the most iconic dish of Jewish food culture.
Matzo ball's origins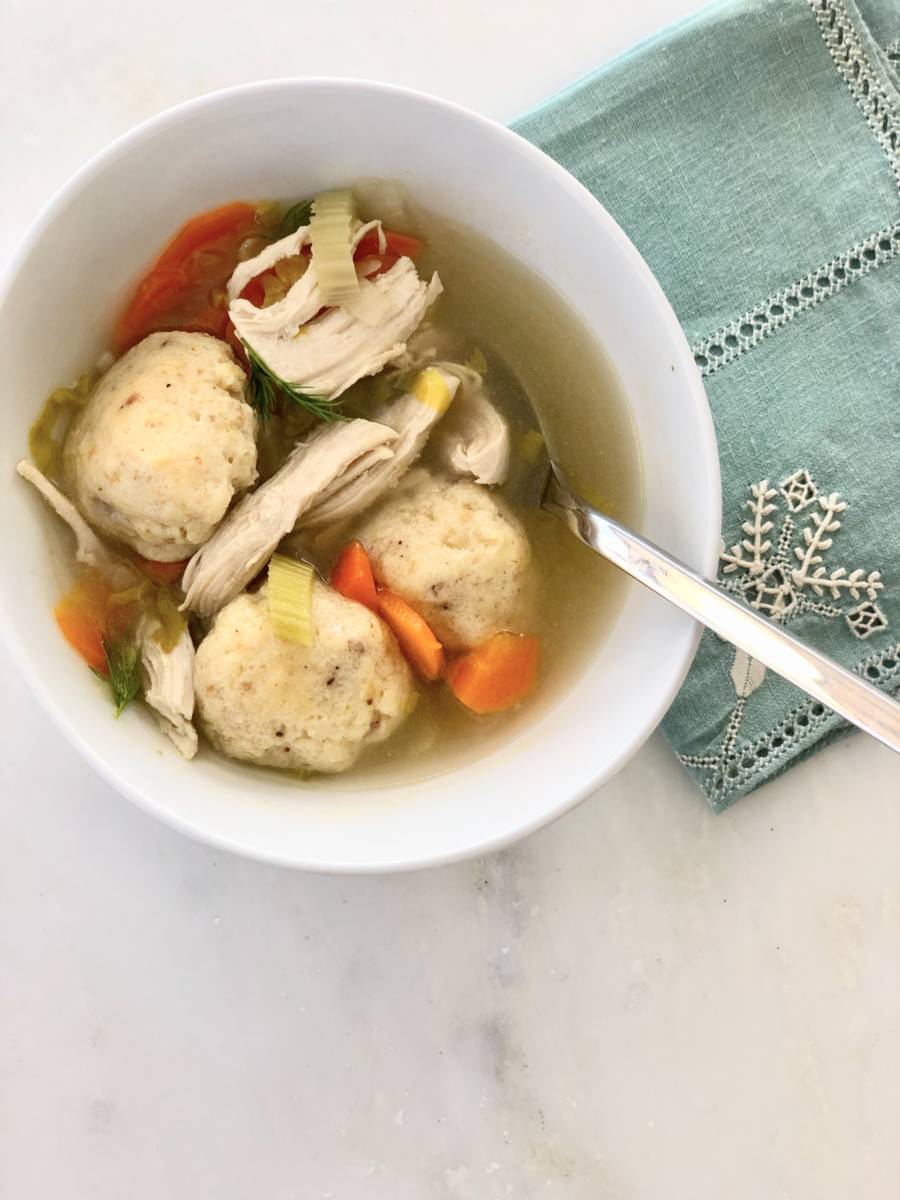 Originally called knödel by Central and Eastern European Jews, matzo balls appeared in a 1930 cookbook from B. Manischewitz Company, which was known for its syrupy grape wine and matzo. Per a New York Times article, it appeared in the book as "feather balls, Alsatian style." The queen of Jewish cookbooks, Joan Nathan, joked on NPR in 2015 that comedians and vaudeville performers were probably responsible for calling them "matzo balls."
Matzo ball soup has since become synonymous with Passover. Nobody knows why, but to make them kosher for Passover, matzo meal instead of wheat flour is used, since eating any food that has a leavening agent is forbidden during the weeklong holiday.
Sinkers or floaters?
The big question among matzo ball connoisseurs is whether you want your matzo balls to sink or float. If you go the more popular floater route, add in a touch of seltzer, or beat the egg whites separately; sinkers require more than the required amount of matzo meal. The biggest takeaway from the sink-or-swim debate is, whichever one you prefer — light as air and fluffy as a cloud or heavy and dense like a potato — the choice is purely subjective.
For this matzo ball soup recipe, use chicken or beef broth to add richness and nutrition to the standard soup version. But if you can't find the bone versions of these broths, stick to classic chicken broth. If you want to make this dish even easier — and with noodles — get yourself some chicken noodle soup mix.
Add a gourmet twist to this homey soup with a flavored olive oil that lends extra aroma to the matzo balls. And don't forget the fresh dill, or toss in a handful of parsley for more flavor and texture.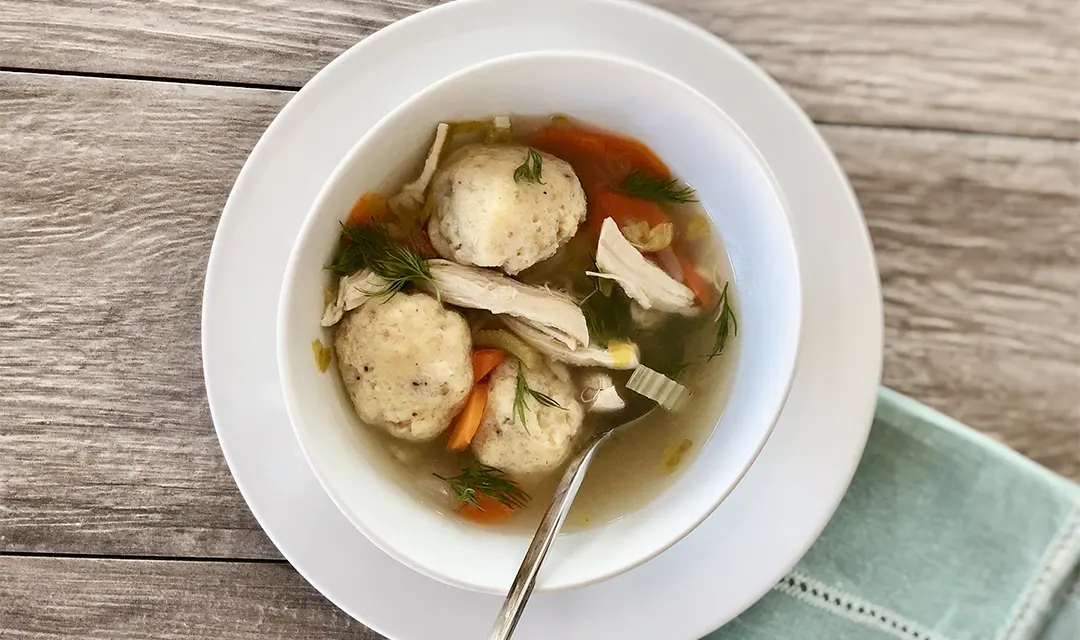 Matzo Ball Soup
Ingredients:
For the Soup
1

tablespoon

Olive oil

2

garlic cloves

(minced)

1

yellow onion

(or white, diced)

3

carrots

(thinly sliced)

3

celery stalks

(thinly sliced)

2

quarts

chicken or beef bone broth

(or basic chicken broth)

1

cup

water

1

chicken breast

(about 3/4 pound)

Kosher salt and black pepper

2

sprigs

fresh dill

(plus 2 sprigs for garnish)
For the Matzo Balls
1

cup

matzo meal

1

teaspoon

salt

½

teaspoon

baking powder

2

large eggs

3

tablespoons

Harry & David® Organic Seasoned Extra Virgin Olive Oil

(or flavored olive oil)

3

tablespoons

water
Instructions:
Warm the oil in a large stockpot over medium heat. Add the garlic, onion, carrots, and celery; season with salt and pepper. Cook until the vegetables start to soften, 4 to 6 minutes. Add the broth and water, bringing it to a rolling boil. Add the chicken breast and 2 sprigs of dill and reduce heat to a very low simmer. Cook 20 to 25 minutes until the chicken is cooked through and no longer pink. Season with salt and pepper to taste.

While the soup is simmering, prepare the matzo ball dough. Place matzo meal, salt, and baking powder in a small bowl and stir well to combine. Place the eggs and oil in a medium bowl and whisk well to combine. Add the matzo meal mixture to the egg mixture and stir until a thick dough forms. Stir in the water until smooth. Refrigerate the dough for 20 to 30 minutes to allow the matzo to thicken further and absorb the moisture.

After the chicken is cooked through, carefully remove the chicken breast and shred it with a fork. Put chicken back in the pot and return the soup to a simmer. Taste the broth and add additional salt if desired.

Once the dough has chilled, form the dough into walnut-sized balls with wet hands. Transfer to a plate. Add all the balls to the soup and increase the heat slightly. Simmer for 15 to 20 minutes, until the matzo balls are cooked through. Garnish with additional dill and serve immediately.
---