Explore the ways in which people care for each other in the series "How We Care." In this article, we examine therapeutic memory gardens and how plants, flowers, and nature are helping people with dementia.
The sweet scents and delicate blossoms of flowers on a wedding day. Vibrant greenery as the backdrop for a stroll through a forest on a lazy summer afternoon. The coarseness of earth slipping through fingers while gardening on a warm spring day. Over the course of a lifetime, we experience millions of interactions with flowers, plants, and nature.
Reminders of these little experiences bring back emotions for people in the autumn of their lives. Caretakers of people struggling with cognitive impairments, Alzheimer's disease, and dementia increasingly use flowers, plants, and gardens to evoke memories of past events or feelings.
Researchers have found that nonpharmaceutical treatments such as therapeutic gardens, many also including active horticultural therapy, improve emotional well-being and alleviate agitation, physical aggression, and disruptive behavior, without side effects. In addition, gardens can be incorporated into daily activities and woven into the living environments.
"The main idea is to design the therapeutic landscape that will help residents interact with nature and enhance their quality of life," says Beth Couet, a certified landscaper designer who designed a therapeutic memory garden at Rosewood Manor, a senior care residence in Harwich on Cape Cod, Massachusetts.
How do therapeutic memory gardens work?
Therapeutic memory gardens tap into our hardwired instinct and life-long desire to be amid nature and plants, says John Zeisel, Ph.D., author of I'm Still Here: A New Philosophy of Alzheimer's Care. A sociologist with a background in design, Zeisel champions so-called "ecopsychosocial" interventions in dementia care.
"Access to outdoors is vital," Zeisel says, stressing the therapeutic effect of combining nature, time, and memories all in one place. "It is in our nature to be outside. In a sense, it's a human right."
Zeisel points people planning therapeutic gardens to archival flower catalogues from the decades when residents were growing up. "Find out what was popular then, and plant old-fashioned flowers that promote memories," he says.
"Outdoor space has to be seen as one more common area — it just doesn't have a roof on it," Zeisel says. "Landscape architecture must be brought in at the beginning of every project: The garden may be dessert, but it's an integral part of the full meal."
Planning a memory garden at Rosewood
Rosewood Manor, a former sea captain's house on Cape Cod, has 33 beds. The average age of the people who live there is mid-90s. The garden project got its start when Couet approached the manor's administrator, Jan Epstein, with an idea to build a therapeutic memory garden.
Couet was inspired by professional and personal reasons. She studied at the Landscape Institute in Boston, which is part of Boston Architectural College. She graduated in 2013, and her thesis was on therapeutic gardens for people with memory impairments.
But she also had personal reasons to propose the project.
"My mom and grandma had Alzheimer's, and I decided to do the project because of them," Couet explains. "I'm glad I did." They were the inspiration for Couet's work, and she sees her garden at Rosewood Manor as part of their legacy.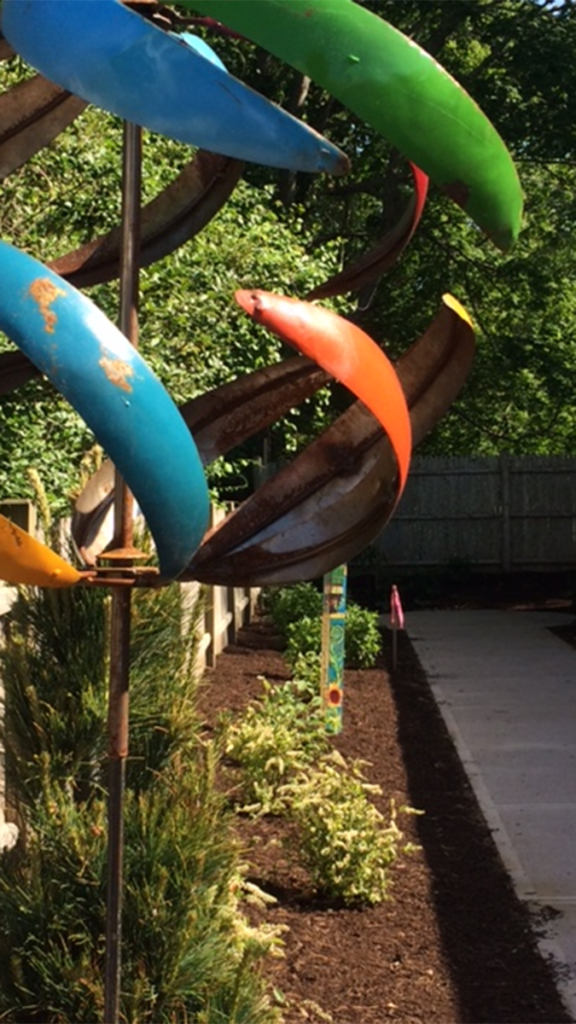 Epstein was quick to agree to Couet's idea. Many of the residents have fond memories of gardening and flowers, and Epstein was delighted that Couet could help her keep that connection alive.
"Beth reached out with a wonderful idea and spent a lot of time at Rosewood Manor gathering information about what the residents and staff wanted," Epstein says. For her part, she consulted with the company that oversees Rosewood Manor and navigated the corporate paperwork to get approval for the project, securing the funding in 2014.
Memories of flowers
Couet kept the importance of flower memories in mind as she designed Rosewood's garden. In planning it, she chose colorful and fragrant flowers — such as old-fashioned roses, lilac, lavender — as Zeisel recommends, and herbs that residents can brush against as they walk to engage the senses and recall happy times from the past.
"When I spoke with the residents, I talked to a woman who said that when she was getting married, she had no money for flowers for a bouquet," Couet remembers. "The morning of the wedding, a neighbor brought a big bunch of lilacs for her to carry." Couet made sure to plant lilacs in the garden.
A memory garden serves multiple needs
Therapeutic gardens rely on both architectural and landscape principles and psychological strategies to create the optimal experience for people with dementia or other memory-related conditions.
Couet initially thought about putting the garden in the front lawn because there's a good-size space, but it's also noisy from the street, and she wanted it to be a peaceful, calming place for residents and their families. She says she drew her design inspiration from Clare Cooper Marcus's Therapeutic Landscapes: An Evidence-Based Approach to Designing Healing Gardens and Restorative Outdoor Spaces, and The Healing Landscape: Therapeutic Outdoor Environments, by Martha Tyson.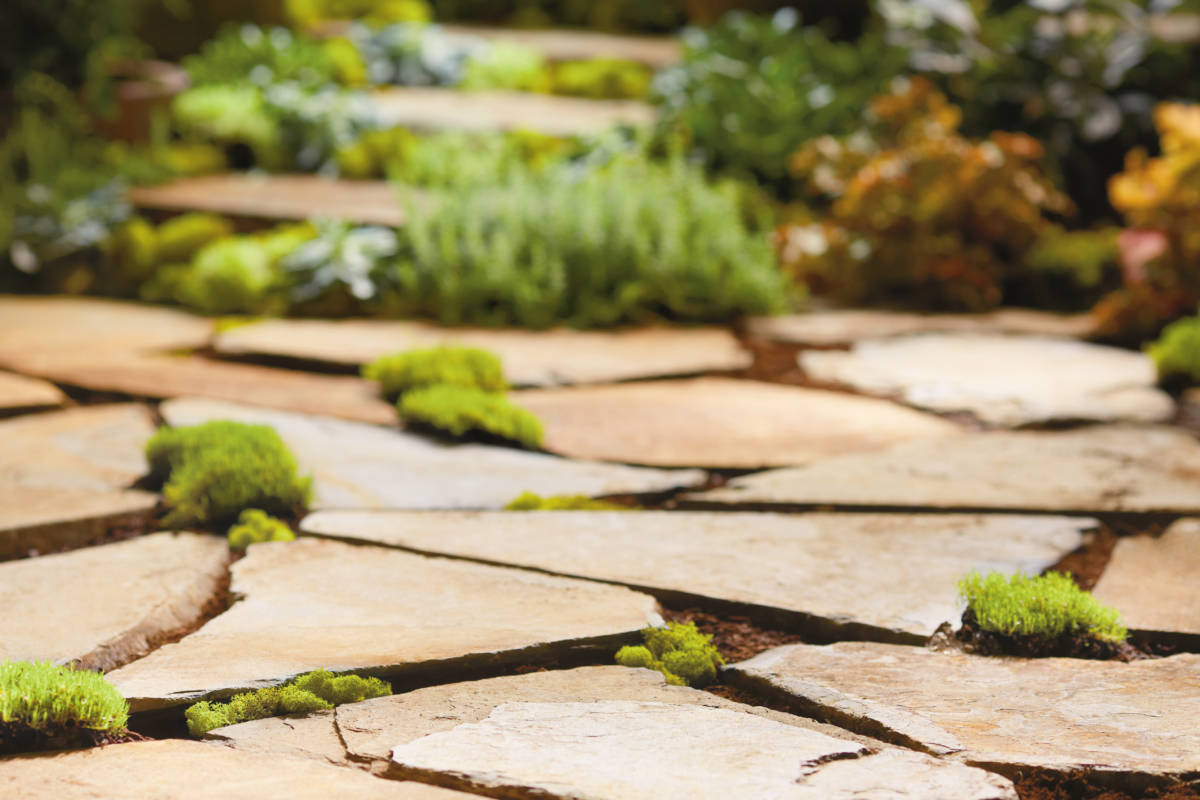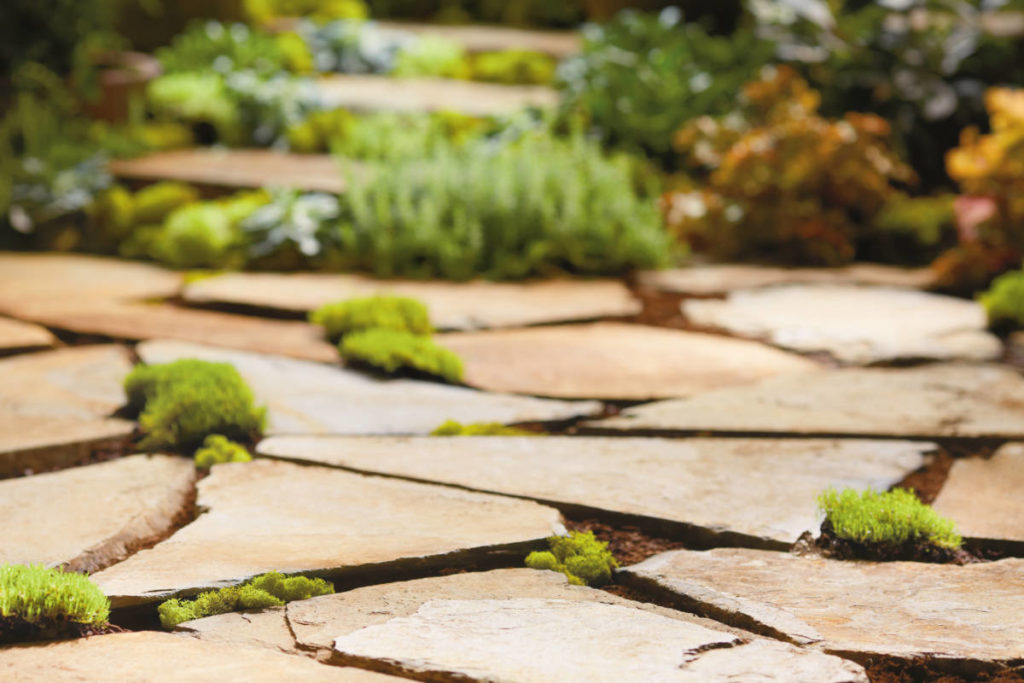 "People with memory impairments can find it difficult to navigate and may become disoriented," Couet says. To combat this, she knew it was important to have a single path with a garden entrance that is immediately clear from the door of the residence. Couet also installed landmarks in the garden: She attached an old bicycle painted Cape Cod blue to the side of the building, and she also added a "totem pole" with greeting signs on it from her own yard. "There's an antique plow and bird feeders to give the residents clues to where they are in the garden as well," she explains, tipping her hat to Clare Cooper Marcus's ideas.
Couet asked the Rosewood maintenance department to install raised flower beds to make it easier for residents to garden and a workbench where they can tinker with projects. "They can help pot annuals or pull out weeds, according to their physical abilities," she says.
A community project
The residents are always in the garden with a staff member or relative, and the design includes places where people in wheelchairs can sit while leaving plenty of room for others to walk past. Easy, nonconfusing circulation is vital.
Couet used Cooper Marcus's recommendation to put furniture and benches in the garden: "I added a little table and chairs that families can move to suit their configuration and make it more personal," she says.
The Rosewood garden has been a community project from day one. "We had a day when current and former families came to help plant, which was incredible," Epstein says. "Some wanted to purchase a rosebush or another plant in the name of a loved one, too." Everyone mucked in, digging, planting, and spreading mulch.
The garden is planted so residents can see the changes of the season through the plants and there is always something new and colorful to look at. Couet even planted narrow pines that can have holiday lights hung on them.
Quiet relaxation for residents and visitors
All of the design elements come together to make the therapeutic garden a special space where people can be apart but still within their community. "It's a very peaceful, peaceful place," Epstein says. "People really enjoy it, and the families love it. Some residents can express their enjoyment of it, and it certainly is a wonderful environment for them."
She can't pick out a favorite element of the therapeutic garden — and she says it's probably different for everyone — but she did enjoy the cranberry harvest festival they celebrated out there with families. "We had games, prizes, different foods," Epstein recalls. "One resident used to grow cranberries, so his family donated cranberries and we made baked goods with them."
The residents also love keeping an eye on the vegetable garden, though the staff do the work there. "They watch as the cook goes out to the garden and comes back with a bowl of delicious ripe tomatoes," Epstein says. "They love knowing they'll be eating them for their next meal." The garden also grows cucumbers, herbs, and squash, among other crops.
Thriving with the garden
Zeisel always encourages interaction with gardens, making them a true experience. "Rosewood Manor could create a gardening club, for example," he suggests. "In winter, residents could plant seeds in pots inside marked with a date for planting to reinforce time."
In line with his philosophy that being able to be outdoors is a human right, he says: "The garden is a place for celebrating, meeting with families, and enjoying sunshine. The beauty that will surely be there is as important as the therapeutic design — how things in the environment touch our spirit is very important."