Blondies are all the rage in my household, and with a dessert as sweet as this one, can you blame us? A blondie is essentially a "blonde" brownie. Whereas your traditional brownie will use cocoa powder for its chocolatey flavor, blondies skip the cocoa powder and instead include brown sugar, which gives them their iconic chewy texture and a rich molasses flavor.
Don't tell anyone, but I've been using a secret ingredient lately to really make my blondies stand out — Moose Munch. Actually, tell everyone! With its mix of traditional, creamy chocolate with divine caramel popcorn, Moose Munch adds an extra sweet and salty kick to these delectable dessert bars.
The base
These blondies are not your basic version, but they are just as simple to make. I combined both granulated and dark brown sugar for an extra chewy cookie bar that also pops with sweetness. You can use light brown sugar for a milder flavor if you prefer; the dark brown sugar has a higher molasses content, which adds extra chew and flavor. Milk and dark chocolate chips mirror the Moose Munch topping, which helps this cookie base complement its crunchy top layer.
---


---
The topping
There's no denying that Moose Munch is fabulous on its own. It's hard for me to get through making this recipe without snacking on a handful or two! When you bake this topping onto our cookie bar, it does not lose any of its crunch or distinct flavor; it simply melts together with the cookie base to amplify the variety of chocolates, flavors, and textures. I used both milk and dark chocolate Moose Munch, but you could also experiment with other flavors like s'mores or butterscotch.
I like serving these blondies slightly warm with some creamy vanilla ice cream plus a drizzle of caramel, but they also taste great cold if you have leftovers (my family usually doesn't!).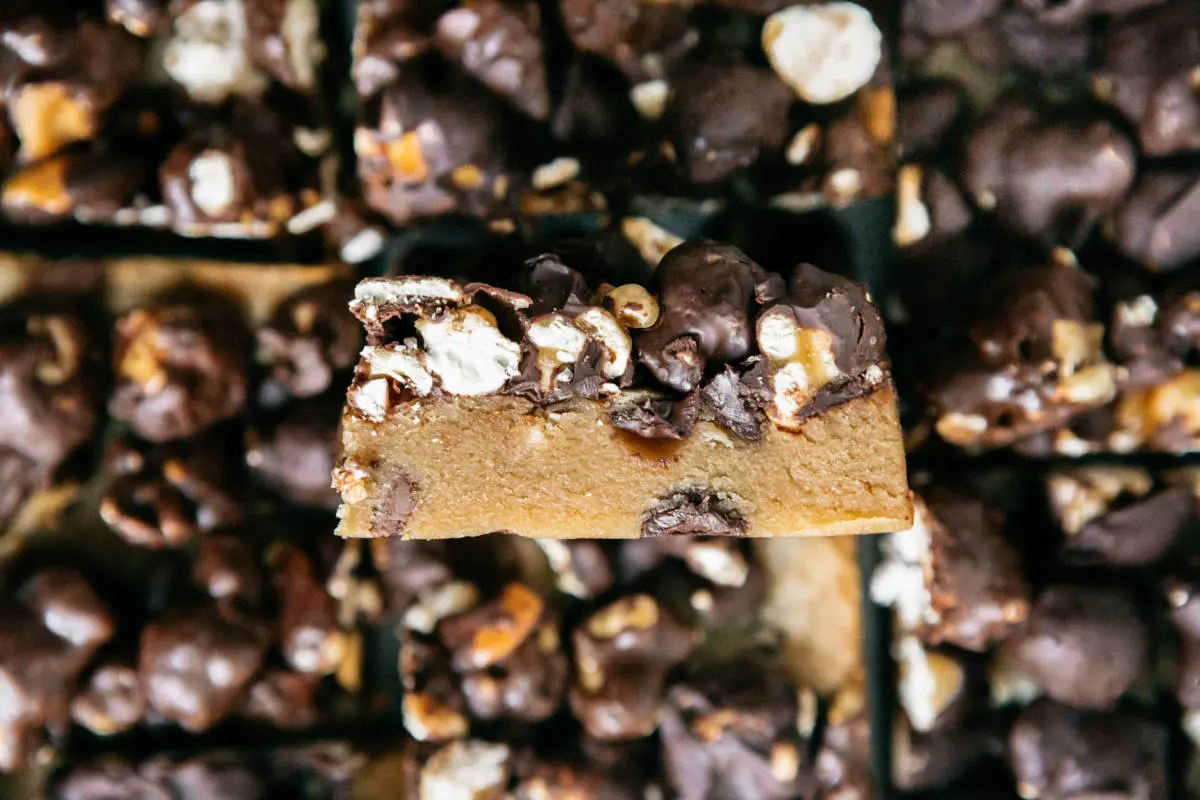 Moose Munch Blondies
Instructions:
Combine melted butter and both sugars. Mix well either by hand or with a standing mixer/hand-mixer.

Add egg and continue to mix for about 20 seconds.

Add vanilla, salt, and flour. Mix until well incorporated.

Gently mix milk and dark chocolate chips into batter.

Pour into prepared 8×8 pan and sprinkle Moose Munch over the top.

Bake at 350° F for 25-30 minutes.

Allow to cool before cutting.
Notes:
Store at room temperature in an airtight container for up to three days.