Is there anything more synonymous with fall than apples? Sure, you've got foliage and football and pumpkins, but there's something about a crisp apple that just screams autumn. And because of its versatility, it makes for a wonderful addition to shaking up traditional cocktails.
This delicious Apple Ginger Moscow Mule is made with apple cider, lemon juice, ginger beer, and a splash of vodka. A fresh apple and cinnamon garnish make this cocktail look instantly fancy, so it's perfect for entertaining, no matter how many people you invite over — or if it's just to entertain yourself! And better yet: It only takes minutes to make.
How do you like these apples?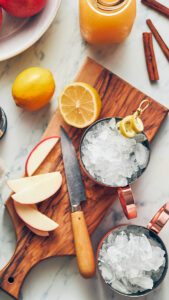 This recipe puts a spin on the traditional Moscow Mule (vodka, ginger beer, lime juice) by adding apple cider for a sweet and fruity flavor. If you don't have apple cider, you can substitute fresh apple juice instead. Fresh lemon adds a bit of tang, and ginger beer provides a fizzy kick — like a mule! (Read on to learn more about the origin of the name.) Choose your favorite vodka or leave it out for an alcohol-free "mocktail."
Garnishes really take the presentation of this cocktail to the next level — and they're super simple to pull off. Crisp, fresh apple slices are all you need. Is that simple enough? Any kind of apple will do, too. The Harry & David Apple Medley comes with an assortment of apples, such as Ambrosia, Gala, and Honeycrisp, so you can pick your favorite of the bunch. Other garnishes, like cinnamon sticks and lemon swirls, make this drink look pretty. If you're looking for a fun party trick, remember this: Cinnamon sticks can double as a straw.
Was the Moscow Mule invented in Russia?
No.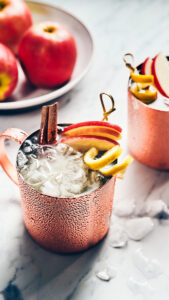 Legend has it the Moscow Mule was invented in 1941 in Los Angeles as a way to sell more vodka and ginger beer. Marketer John Martin was trying to sell Smirnoff vodka to Americans but wasn't having much luck. (At the time, gin and whiskey were much more popular spirits.) He stopped into the Cock 'n Bull bar owned by his friend, Jack Morgan, who was having trouble selling through his supply of ginger beer. So, the head bartender, a man named Wes Price, mixed vodka and ginger beer together, adding a squeeze of citrus, and, voilà, the Moscow Mule was born. The drink got its name from the fact that vodka originates in Russia and the ginger beer gives it a kick.
The copper mugs came about as a result of serendipitous circumstances, too. According to legend, a Russian woman named Sophie Berezinski, who happened to be in the same bar at the same time as Martin and Morgan, was looking for buyers of a mug she designed for her father's copper company.
In an effort to market the drink, Martin would bring promotional copper mugs and Smirnoff vodka to bartenders across America. Thus, the tradition of serving Moscow Mules in copper mugs began.
If you happen to have copper mugs, bust them out to keep your drink icy cold, as they act as a great insulator. If not, don't fret. Simply serve the cocktails in a tall glass or mug of your choice. Or, if you love Moscow Mules as much as I do, check out this Harry & David Moscow Mule Kit, which includes two copper mugs. In any case, do fill the mugs or glasses with plenty of ice to make sure every sip is as cold as the last one.
You can pre-mix the vodka, apple cider, and fresh lemon juice for easy entertaining. Add the ginger beer just before serving to ensure the drink stays fizzy. If you'd like to slice the apple garnish beforehand, you can do that, too — toss the apple slices in a bit of lemon juice so they don't brown as quickly.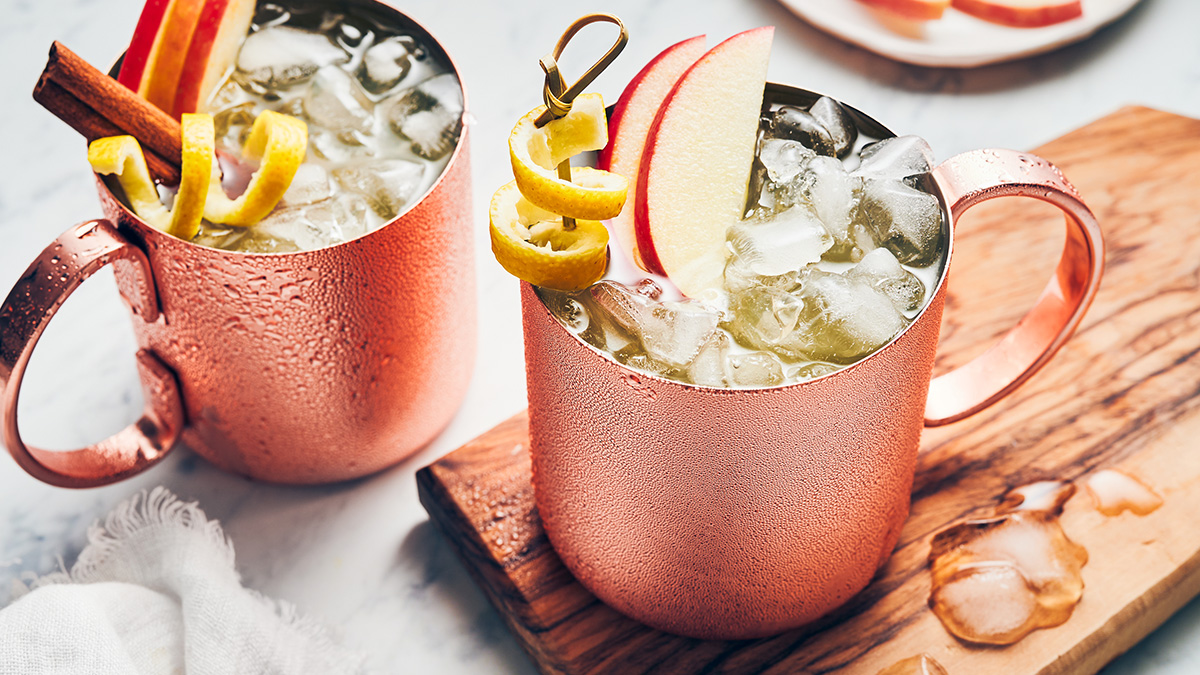 Apple Ginger Moscow Mule
Ingredients:
For the cocktail
1

ounce

vodka

¼

cup

apple cider

(or fresh apple juice)

1½

teaspoons

lemon juice

(fresh squeezed )

¼

cup

ginger beer
For serving
Crushed ice or ice cubes

Sliced apple

(for garnish)

Cinnamon stick

(optional)

Lemon swirl

(optional)
Instructions:
Fill a copper mug or large glass with ice.

Pour the vodka, apple cider, lemon juice, and ginger beer over the ice. Stir well to mix.

Garnish with sliced apple, cinnamon stick, and lemon swirl. Enjoy!
Notes:
The quickest way to make a lemon swirl is to use a vegetable peeler to remove a strip of zest. Alternatively, you can thinly slice a lemon crosswise, then cut through one side of the peel, and discard the lemon flesh. Twist the peel with your fingers for shape, then add it to the drink as a garnish.