"Seasonal Cooking" brings you delicious home-cooked recipes with the freshest ingredients of the season. Pasta primavera is the ultimate seasonal dish, featuring such vegetables as peppers, radishes, and zucchini.
We might sound bias, but every Harry & David basket is filled with some of the most delicious food products on the planet. But, have you ever received one and asked yourself, "Now what?"
---

---
Having all these ingredients and products in front of you can feel overwhelming. Rather than rack your brain for different ideas to use those fresh vegetables and flavorful spreads, just keep reading.
Pasta primavera (meaning "spring" in Italian) is a versatile and flavor-packed dish that can wow on a special occasion and is easy enough to also have during the week. We love mixing up the vegetables based on what is in season and combining different spreads for a unique twist on a classic pasta dish.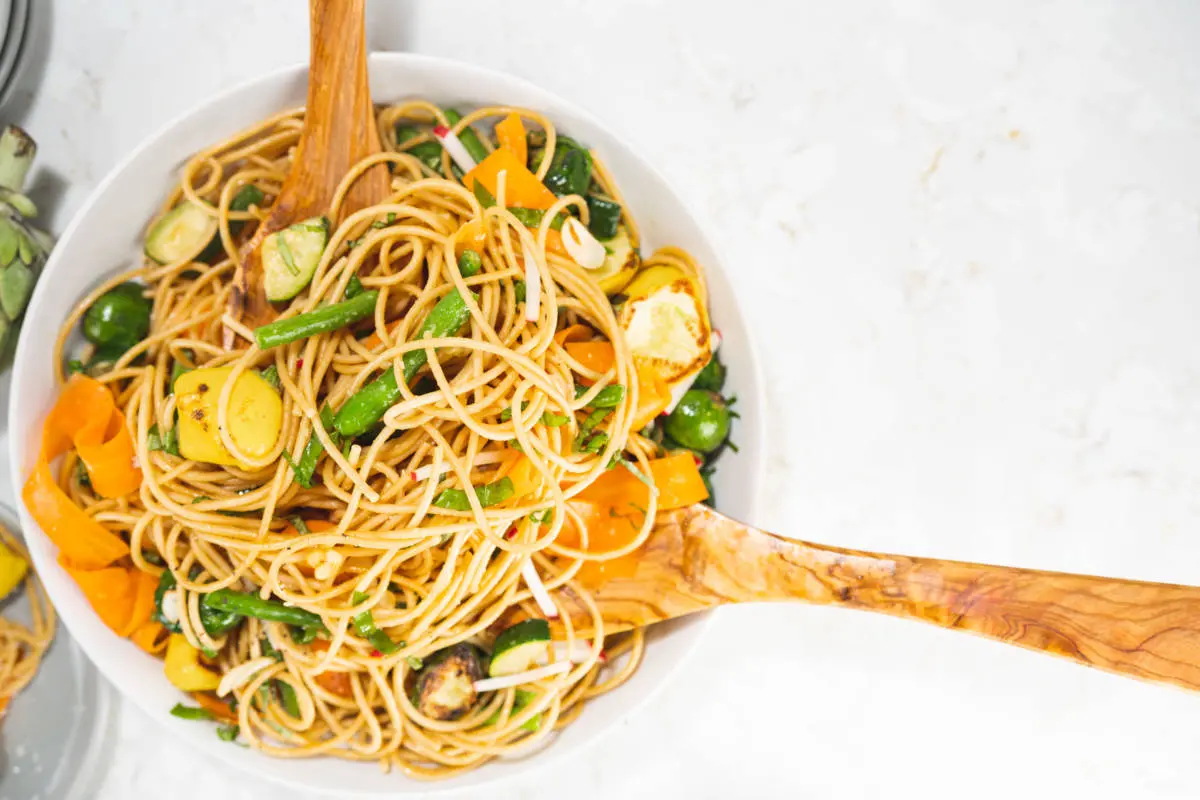 Pasta Primavera
Ingredients:
1

pound

whole wheat spaghetti

( or angel hair pasta)

2

tablespoons

olive oil

(plus more as needed)

3

garlic cloves

(thinly sliced or minced)

½

pound

baby squash and/or zucchini

(diced in ¼-inch chunks)

½-1

teaspoon

crushed red pepper flakes

(use the larger amount if you want it spicier)

½

pound

green beans

(trimmed and cut in 1-inch pieces)

3-4

spring radish

( thinly sliced)

6-8

baby carrots

(washed and shaved into ribbons)

4

jars

roasted red peppers

(thinly sliced)

¼

cup

grated Parmesan cheese

(freshly grated, plus more to garnish)

Kosher salt and black pepper

(to taste)

fresh basil leaves

(torn, for garnish)
Instructions:
Bring a large pot of salted water to a boil and cook the pasta according to the package instructions. Drain, reserving 2 cups of pasta water, and toss the pasta with a bit of oil to prevent it from sticking together. Cover the pasta to keep warm.

Line a small plate with paper towels. Heat the olive oil in a large skillet — large enough to fit all the vegetables and pasta (or the pot you cooked the pasta in — over medium heat. Once the oil is shimmering and hot, add the garlic and cook for 2 minutes or until lightly golden brown. Use a spoon to scoop the garlic out and transfer it to the paper towels.

Sauté the baby squash and zucchini along with the crushed red pepper flakes in the garlic oil for 3-4 minutes until they begin to soften. Add the green beans and radishes and sauté for 4-5 minutes, until the green beans are bright green but still have a bite to them.

Stir in the carrot ribbons and red peppers and cook until hot, about 2 minutes. Turn the heat to low, taste and season with salt and pepper as needed.

Toss the pasta with the artichoke and bruschetta spreads, adding a bit of the reserved pasta water as needed to just coat the noodles. Tip the noodles into the pan with the vegetables and toss to combine with the parmesan. Taste and season as needed.

Garnish with the crispy garlic, torn basil leaves, and more parmesan cheese, if desired.
Notes:
You can use any bruschetta and/or artichoke spread or 2 cups of diced tomatoes or 1 14-ounce can fire-roasted diced tomatoes.