It's no secret that we love traditional cobblers, like this cherry cobbler, but when it comes to peaches, there's just something so perfect about the crunchy, crumbly topping of a peach crisp. While cobbler is traditionally made with buttery biscuit dough, crisps rely on a mixture of oatmeal and spices. This allows the flavors of the topping to melt down into the fruit and create a delicious blend of flavors.
In this dish, tart blueberries and lemon zest counteract the sweetness of the peaches for a fresh take on this simple dessert. While this peach crisp has all the bright flavors of summer, the cinnamon and brown sugar topping reminds us of classic family recipes and cozy late-night bonfires.
In both crisps and cobblers, the juicier the fruit is the more flavor will soak into your crust and the better your dessert will taste. This makes fresh, juicy Oregold® Peaches the ideal fruit for summer desserts. Bake these beauties in a cast iron skillet and you're all set for a summer cookout. Oh, but don't forget the ice cream!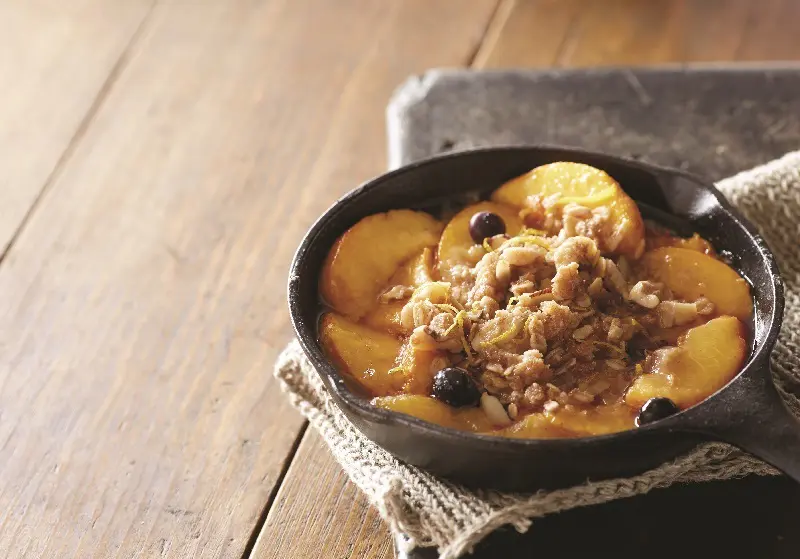 Peach Crisp with Blueberries
Ingredients:
½

cup

blueberries

(fresh )

½

cup

flour

½

cup

brown sugar

1

teaspoon

cinnamon

¼

teaspoon

salt

½

cup

unsalted butter

(chilled )

1

cup

rolled oats

1

teaspoon

lemon zest
Instructions:
Preheat oven to 350° F. Butter an 8×8-inch baking dish.

Slice peaches and place them in the baking dish. Sprinkle with blueberries.

Mix flour, brown sugar, cinnamon, and salt.

Dice butter and cut into the flour mixture until evenly mixed.

Add oats and lemon zest.

Sprinkle flour mixture on top of fruit and press lightly.

Bake for 30 minutes or until top is golden brown.