It's a question asked every year: "Should we serve a salad on Thanksgiving?"
Unlike other members of my family, I'm team salad all the way. A few bites of cool, crisp salad are a palate cleanser during what is typically a rich, heavy meal full of gravy, potatoes, and turkey. Each year, no matter how the family votes fall, I make and serve a salad at Thanksgiving.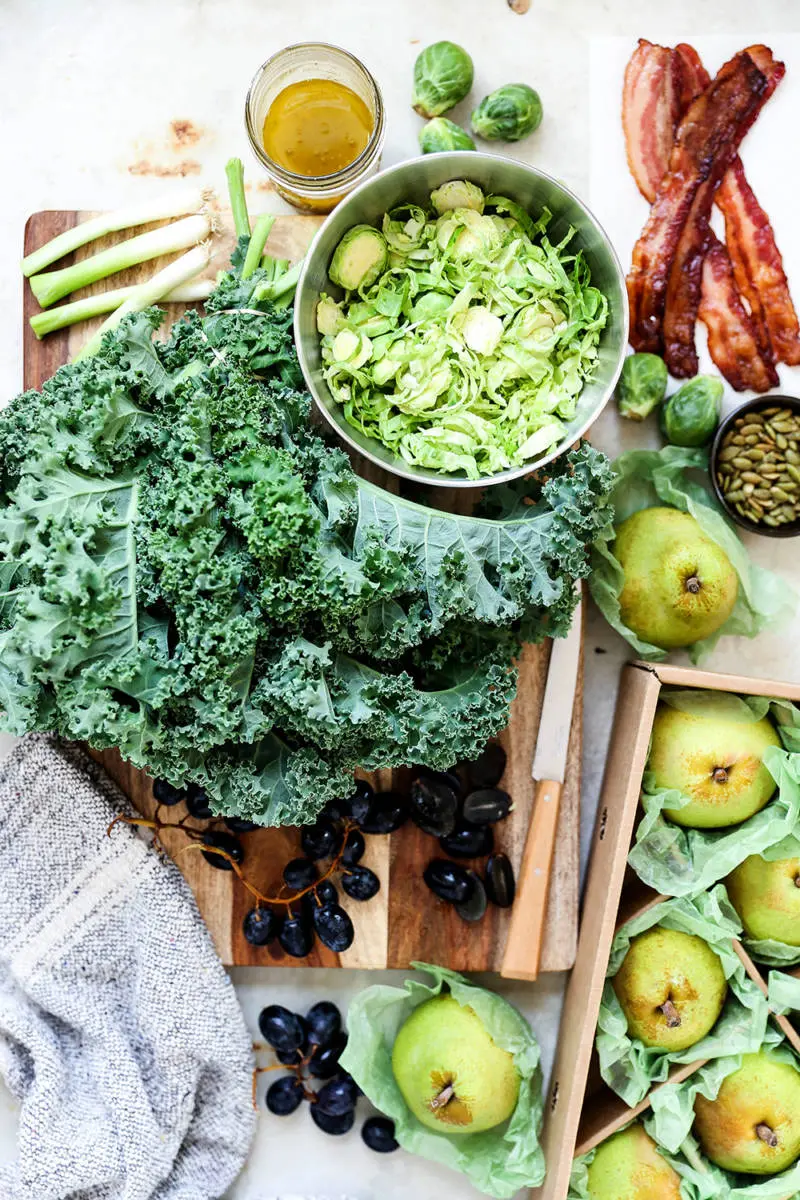 This year, I'm showcasing this shredded kale and brussel sprout salad with pears, grapes, and bacon. Regardless of whether you're pro-salad or anti-salad on Thanksgiving, I hope you'll give it a try!
This salad takes less than 30 minutes to prepare. You'll start by cooking bacon in your oven, which is an easy way to make bacon because the pieces come out perfect every time. Plus it's completely hands free, and there are zero messy splatters! While the bacon cooks, you can put together the salad dressing, then slice the kale, brussel sprouts, scallions, grapes, and Harry & David Royal Riviera Pears. The pears are definitely my favorite part of this salad. They add so much flavor and sweetness, and contrast well with the bacon (my other favorite part of the salad). They totally make this salad feel extra special for the holidays.
Once the bacon has finished cooking, you'll chop it into smaller pieces, and then toss it together with the other ingredients in one large bowl. Voilà! You're done!
This shredded kale and brussel sprout salad is great for any holiday because it easily feeds a crowd. A small serving goes a long way–it's nutrient dense and tastes delicious. But the absolute best reason to make this salad for Thanksgiving or any holiday is because it can be prepared several hours in advance without the risk of wilting or getting soggy. Yes, even fully dressed, this salad can hold its own. The rest of your day is free for working on your stuffing and pies!
If you do make this salad in advance, just remember to give it a fresh toss before you serve it. Or, if you'd prefer a vegetarian-friendly salad to serve, try this easy balsamic pear salad or just remove the bacon. Enjoy!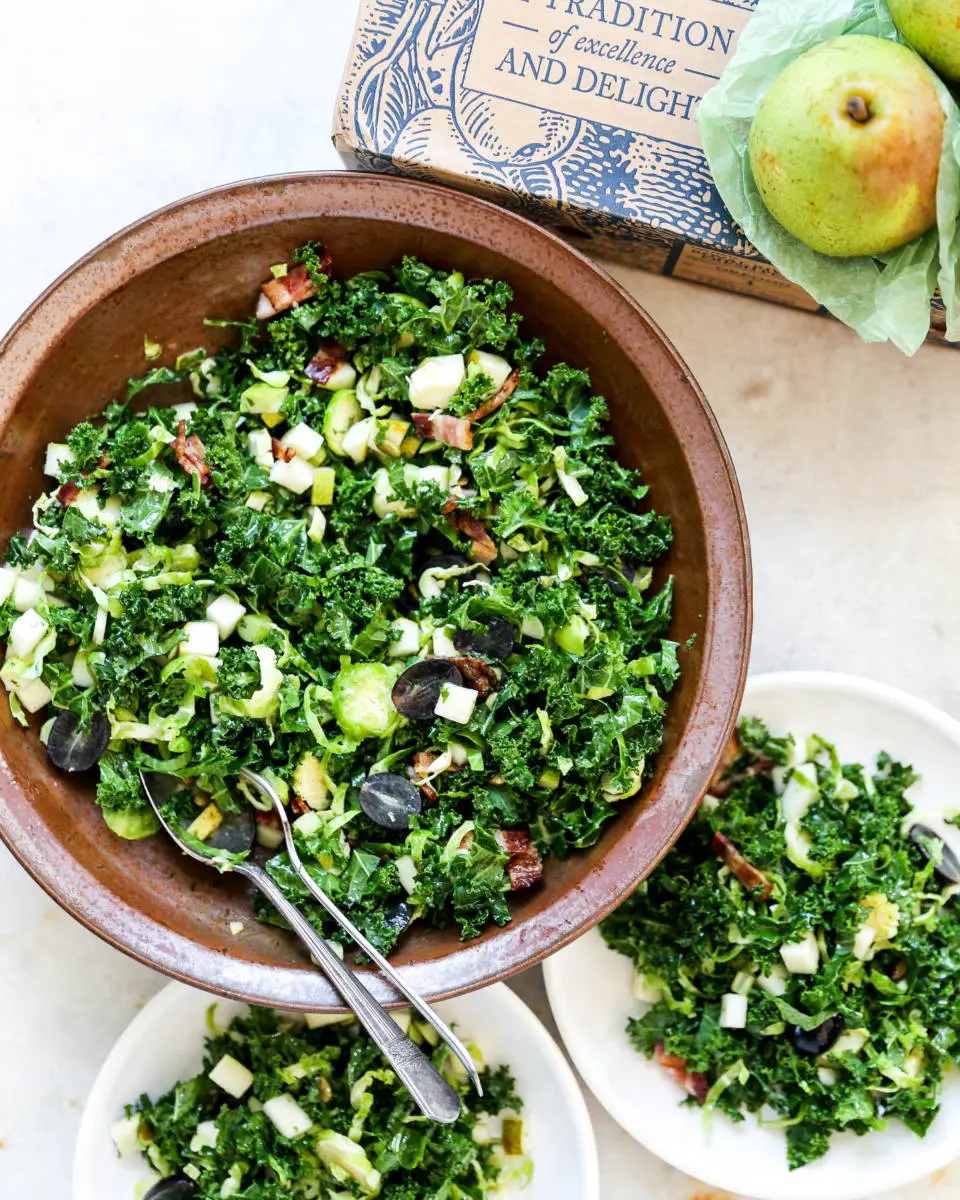 Shredded Kale and Brussels Sprouts Salad with Pears, Grapes, and Bacon
Ingredients:
4

slices

bacon

¼

cup

extra-virgin olive oil

2

tablespoons

apple cider vinegar

2

tablespoons

maple syrup

1

tablespoon

lemon juice

(fresh squeezed )

1

teaspoon

Dijon mustard

¼

teaspoon

salt

¼

teaspoon

black pepper

6

cups

thinly sliced kale leaves

3

cups

shredded brussels sprouts

(from about 1 dozen brussels sprouts)

1

cup

grape halves

2

Harry & David® Royal Riviera® Pears

(cored and chopped)

4

scallions

(thinly sliced)

⅓

cup

roasted pepitas
Instructions:
Pre-heat your oven to 400 degrees Fahrenheit.

Line a baking dish with parchment paper.

Spread the bacon slices across the parchment paper in a single layer.

Bake in oven for 13-17 minutes. The cooking time will depend on the thickness of your bacon and your desired level of crispiness.

Remove the bacon from the oven.

Carefully transfer the cooked bacon to a paper towel-lined plate to drain, and set it aside to cool.

Once the bacon is cool enough to handle, chop it into bite-sized pieces.

In a small bowl, whisk together the olive oil, apple cider vinegar, maple syrup, lemon juice, Dijon mustard, salt, and black pepper.

Stir in a tablespoon of the bacon fat released during cooking (there should be several tablespoons remaining in your baking dish). Set aside.

Add the kale, brussels sprouts, grapes, pears, and scallions to a large bowl. Pour the dressing over the salad and toss until everything is coated.

Add the chopped bacon and pepitas, tossing to combine.

This salad can be served immediately, or covered and stored in your refrigerator for several hours before serving.
---