This lamb chop recipe is big on flavor and short on time. The addition of pear and cheese elevates the butter to a tangy and sweet condiment for lamb chops. Pair it with a deliciously refreshing pomegranate and mint smash and you have a meal that is perfect for the holidays!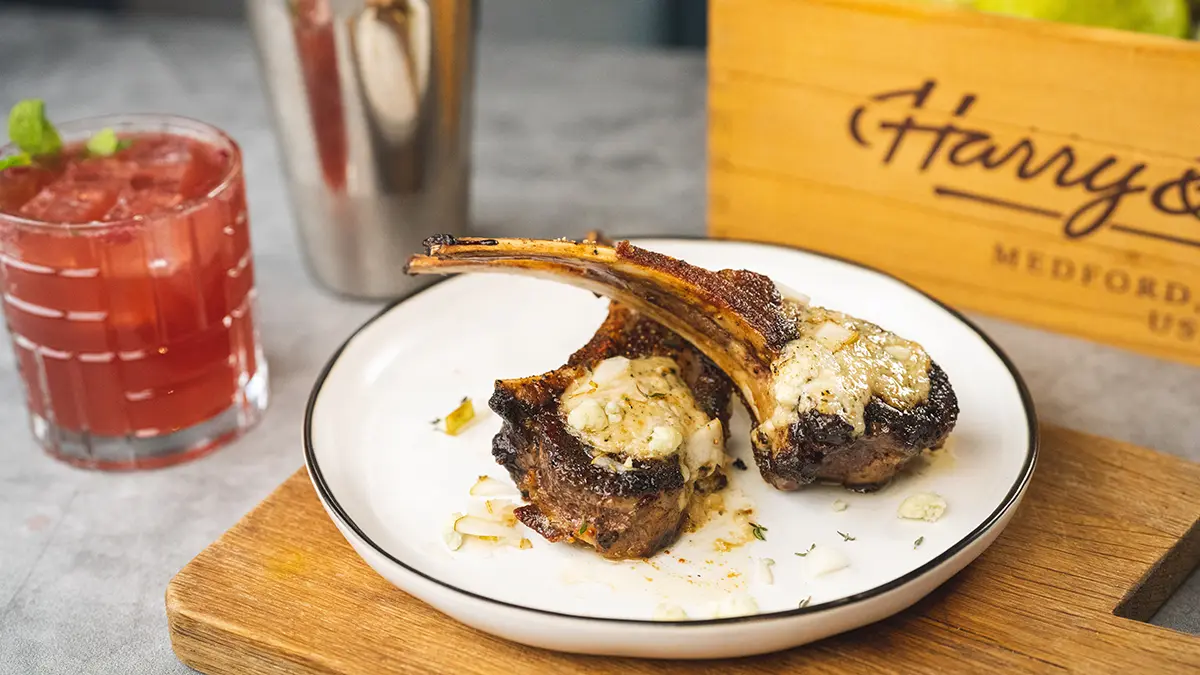 Pear & Gorgonzola Lamb Chops with a Pomegranate Vodka Smash
Equipment:
Food processor

Cast iron skillet or oven safe pan

Cocktail shaker
Ingredients:
For the pomegranate smash
Instructions:
Preheat the oven to 425˚ F. Take lamb out of the fridge and place on a plate. Pat each side dry with paper towels. Rub with the oil and season with salt and pepper and let sit for 10 minutes.

Combine the butter, cheese, pear and thyme in a food processor until smooth. Season with salt and pepper to taste.

Heat a large oven-safe pan to medium-high heat and carefully place 2 lamb chops at a time in the pan to sear. Avoid moving the chops so a crust can be formed. Once one side is dark brown remove to the plate and repeat with the remaining chops.

Return chops to pan not seared side down and top each chop with a smear of butter (about 1 tablespoon). Place in the oven and heat until a thermometer reads 145˚ F for medium rare (about 10 minutes). Remove from the oven and let rest for at least 3 minutes before cutting.
For the pomegranate smash
Add the seeds and 4 mint leaves to the bottom of a cocktail shaker and muddle until the juice releases from the seeds and the mint is bruised.

Add the vodka and fill with ice. Seal the top, shake for 20 seconds and strain into a glass. Top with the sparkling juice. Garnish with remaining mint leaf and a few seeds.
Notes:
We recommend a side of roasted potatoes with this.
---