If there's a weekend morning that can't be improved upon by a homemade muffin, I haven't experienced it yet. When I begin my Saturday morning baking sessions, I look through the fruit bowl on my counter to see if there's anything I can chop up and include in the muffin batter.
Last week, when my counter was overflowing with beautiful, juicy, and ripe Royal Riviera Pears, I knew my muffins were about to "level up."
Making the pear muffins
My muffin recipe is a basic buttermilk muffin that is customizable with different fruits and spices, depending on what you have on hand. Think of this recipe as a starting point for any kind of fruit muffins you want to make.
The reason I use buttermilk in my recipe is because it makes for a light, fluffy, and tender muffin. Buttermilk reacts with the baking soda and makes the muffins rise high in the pan. If you're out of buttermilk, use the same amount of whole milk with 1 teaspoon of lemon juice stirred in.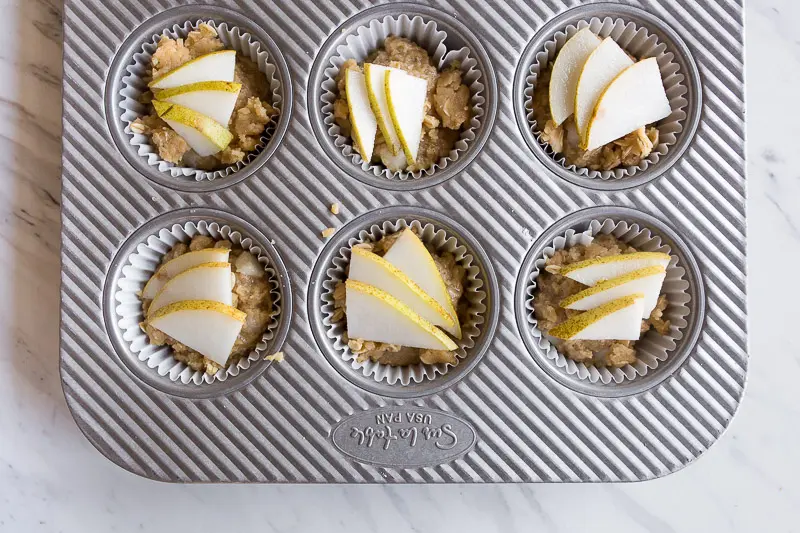 The streusel on top of this pear muffin is a simple combination of flour, brown sugar, oats, and butter. It provides a delicious crunchy texture on top. Personally, I don't believe in muffins without a streusel topping.
I love this recipe so much because you can use even the juiciest of fruits with it–everything from apple cubes and chopped strawberries to blueberries and fresh cranberries. But I'm definitely partial to Royal Riviera Pears during their brief season!
The pears melt into soft, sweet cubes inside the muffin. The sweet pear flavors intensify in the oven as they bake, and the end result is a muffin that captures the delicate taste of Royal Riviera Pears perfectly.
This recipe makes 11 muffins. Don't be tempted to overfill the muffin cups, because you want to leave plenty of room for the streusel topping and a few slices of pear, too. And, if you still have pears left over, you can try this easy baked pears dessert!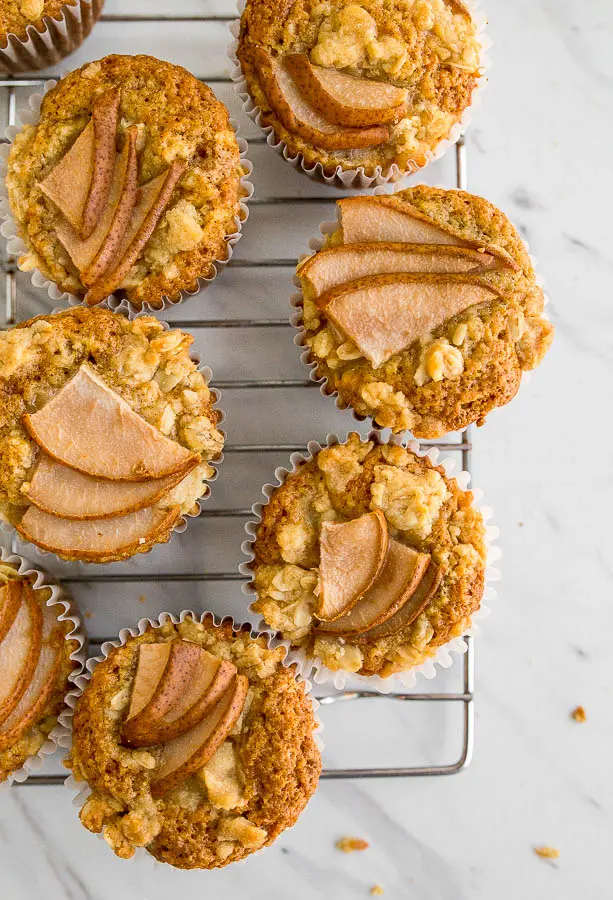 Pear Muffins with Oat Streusel
Ingredients:
For the muffins
3

tablespoons

unsalted butter

(melted)

1

large

egg yolk

½

cup

buttermilk

(at room temperature)

½

teaspoon

vanilla extract

1

cup

all-purpose flour

1

teaspoon

baking powder

½

teaspoon

baking soda

⅛

teaspoon

salt

½

cup

brown sugar

¼

teaspoon

ground cinnamon

¼

teaspoon

ground cloves

½

cup

Harry & David® Royal Riviera® Pears

(peeled & chopped into 1/2" cubes, extra slices for for decorating)
For the streusel
2

tablespoons

unsalted butter

(melted)

¼

cup

all-purpose flour

2

tablespoons

rolled oats

2

tablespoons

brown sugar
Instructions:
First, preheat the oven to 350˚ F, and line 11 cups in a standard-size muffin pan with liners.
Starting with the muffins
In a large bowl, whisk together the melted butter, egg yolk, buttermilk, and vanilla.

Next, sprinkle the flour, baking powder, baking soda, salt, brown sugar, cinnamon, and cloves on top of the butter mixture.

Stir very well to combine everything. The batter will seem slightly dry, and that's fine–make sure all the flour is incorporated.

Stir in the chopped pears.

Divide the batter between the muffin cups.
To make the streusel
In a small bowl, stir together the melted butter, flour, oats, and sugar. The streusel will clump together into a wet mixture.

Use your fingers to pinch off small pieces of it to crumble over the muffin tops, about a scant teaspoon per muffin.

If desired, fan 3 thin slices of pear on top of each muffin.

Bake the muffins for 23-25 minutes.

Immediately remove the muffins from the pan when they're done and let cool on a wire rack for 10 minutes before serving.

Leftover muffins keep for 1 day on the counter, tightly covered.
---