Puréed soups are what I crave most during the fall and winters months. I also find them to be the perfect blank canvas to experiment with new flavor combinations and tasty toppings. So, in addition to being delicious, they can be a fun and creative way to showcase your culinary abilities throughout the cold months.
This silky pear and pumpkin soup needs just one pot, so it's easy to execute whether for a weeknight dinner or as an elegant starter at a holiday dinner party.
Royal Riviera® Pears add a mellow sweetness to this soup, which complements the earthiness of the pumpkin, onions, and fresh sage. I prefer to use these premium pears that are on the firmer side (think two to three days before you think they will be ripen) because the texture is more similar to pumpkin flesh at this point. This will ensure that everything will take the same amount of time to cook.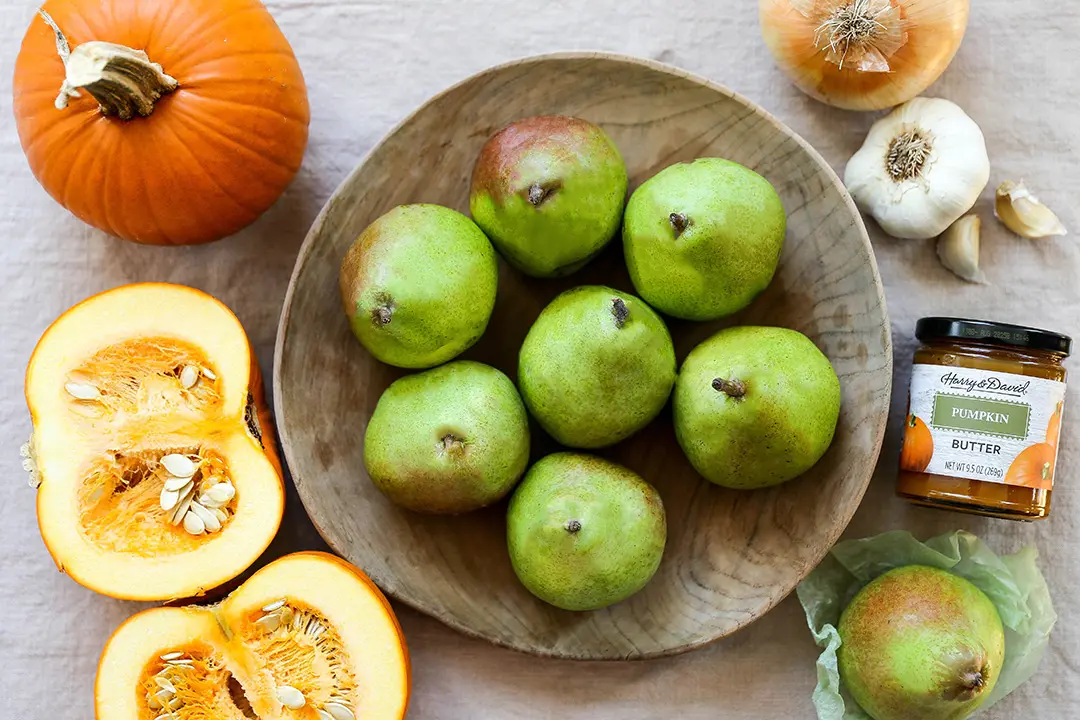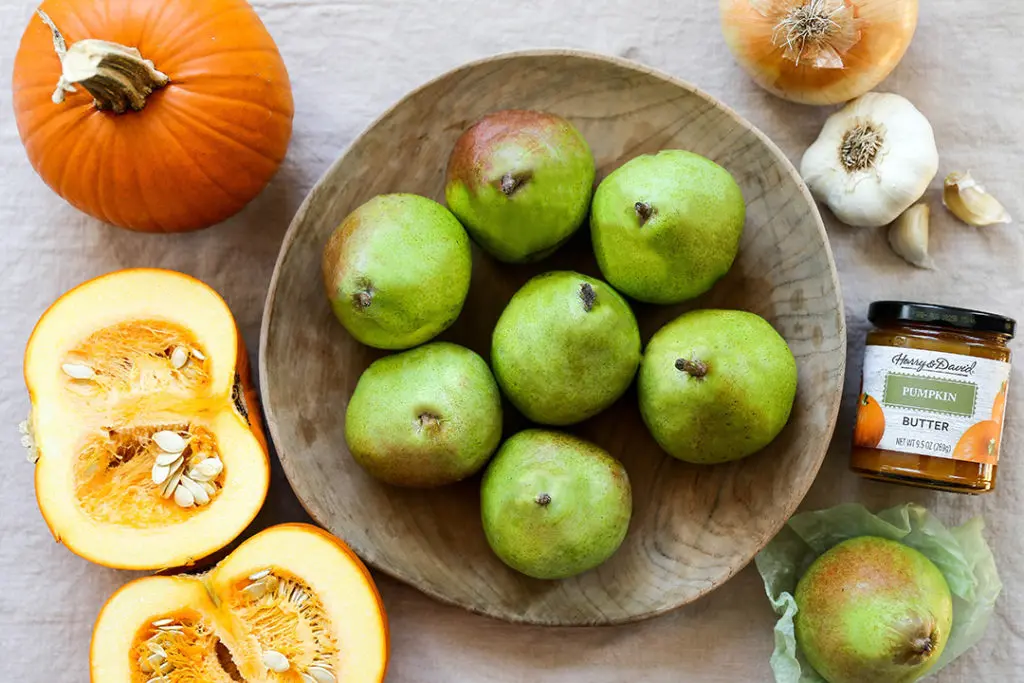 This recipe uses fresh pumpkin, so put your can opener away, but apply some elbow grease. Using fresh pumpkin for the first time can look intimidating, but taking the few extra minutes to prepare it makes all the difference in the flavor. Make sure you purchase a sugar pumpkin or pie pumpkin as these are more suitable for cooking and baking. They will be much smaller than those sold for decorative purposes or jack-o-lanterns.
To prep your pumpkin, start by snapping off and discarding the stem. Scrub the outside of the pumpkin with cool water to remove any dirt. Then wipe it dry with a clean dishtowel. With a sharp knife, slice the pumpkin in half through the spot where the stem was. Scoop out and discard the seeds and strings. Then slice each piece in half again, so you have four wedges, making them smaller and easier to handle. Use a peeler to remove the outer rind and chop the flesh into small cubes. If the rind is thick, you might have to go over each spot two to three times with your peeler to get down to the flesh.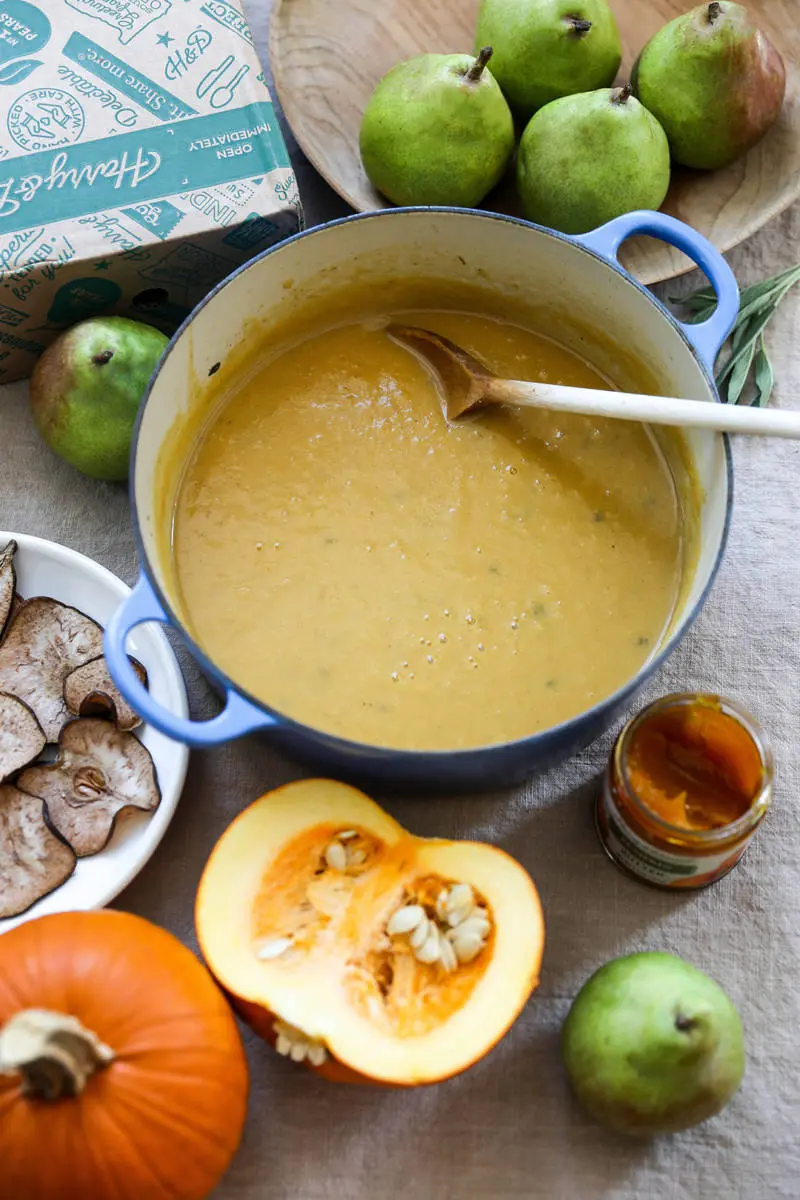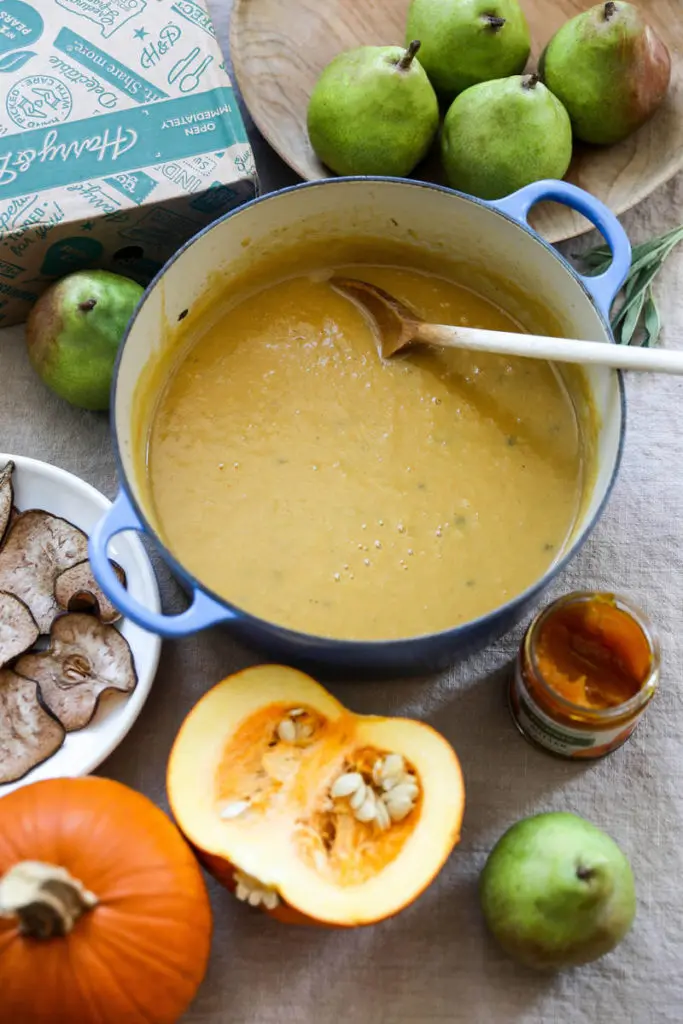 The flavor of fresh pumpkin is slightly more herbaceous and lighter than canned pumpkin, which is ideal for savory recipes like this one. And with a couple of tablespoons of Harry & David Pumpkin Butter, the pumpkin flavor gets even better.
Puréed soups are begging for toppings and this one yearns for a few dried pear slices. Simply slice one Royal Riviera® Pear as thin as you can and then bake the slices at a 200° F in your oven. Check them after 60 minutes. They should be dry to the touch, but depending on how thin you've sliced them, you may need to bake them for longer.
Pear Pumpkin Soup
Ingredients:
For the Pear Slices
Instructions:
For the pear garnish
To make the pear slices, preheat your oven to 200° F. Line a rimmed baking sheet with parchment paper.

Cut the pear lengthwise into very thin slices, removing any seeds as you go. Lay the slices out in a single layer on your prepared baking sheet. Then transfer to your oven.

Bake until the pear slices are dry to the touch, 60 to 80 minutes. Remove and set aside.
For the soup
Warm 2 tablespoons of the olive oil in a large stockpot over medium-high heat. Add the cubed pumpkin, chopped pears, and onion. Cook, stirring occasionally, for 7 to 9 minutes, or until the ingredients are starting to soften. If the bottom of your pot starts to get dry, add the remaining tablespoon of olive oil.

Stir in the garlic, sage, salt, black pepper, and allspice. Cook an additional 2 minutes, or until fragrant. Then stir in the vegetable broth. Partially cover the pot with a lid so it's slightly ajar and bring the soup to a simmer. Cook until the cubed pumpkin is very soft, about 25 to 30 minutes. Turn off the heat and allow the soup to cool slightly.

Purée soup using an immersion blender, regular blender, or food processor with the blade attachment. If using a blender or food processor, work in batches as necessary and be careful when transferring the soup so as not to burn yourself.

Return the puréed soup to your pot and warm it over medium heat. Add the pumpkin butter and stir until fully incorporated. Taste and adjust for salt and pepper, if necessary.

To serve, ladle the warm soup into bowls. Garnish with the pear slices and fresh sage leaves. Enjoy immediately.
Notes:
Leftover soup can be stored in an airtight container in your refrigerator for 3 to 4 days.
---