When driving through Southern Oregon, it's hard to miss the thousands of acres of pear orchards that stretch between the rolling, golden hills. These orchards aren't growing just any pear that you can find at your local grocery store. These rows of carefully cultivated trees are home to the legendary Royal Riviera® Pear.
The Harry & David harvest team works tirelessly tending to 700,000 pear trees across 1,640 acres, picking roughly 250 tons of pears per day — that's 500,000 million pounds, or the combined weight of 33 male African elephants. In total, approximately 19 million pears are harvested at across 19 orchards.
The science behind the pear season harvest
The pear season harvest begins in the last week of August and continues for 14 to 28 days. Although, work for the following harvest starts as soon as this one is over, so it's truly a year-round undertaking.
Before the pears get plucked off the branch, the firmness of roughly 4,000 pears is tested to determine when harvest can begin. A tool called a penetrometer is used to test the pears' firmness by measuring the depth or rate of penetration of a needle or rod driven into the fruit. Another tool used in the orchards is a larger fruit texture analyzer to determine which pears have reached maturity. The fruit texture analyzer gathers the information and translates it into a color-coded spreadsheet. The test shows the average firmness and maturity level of the pears, and when it reaches the desired 10 to 13 pounds of pressure per square inch, the harvest can begin.
---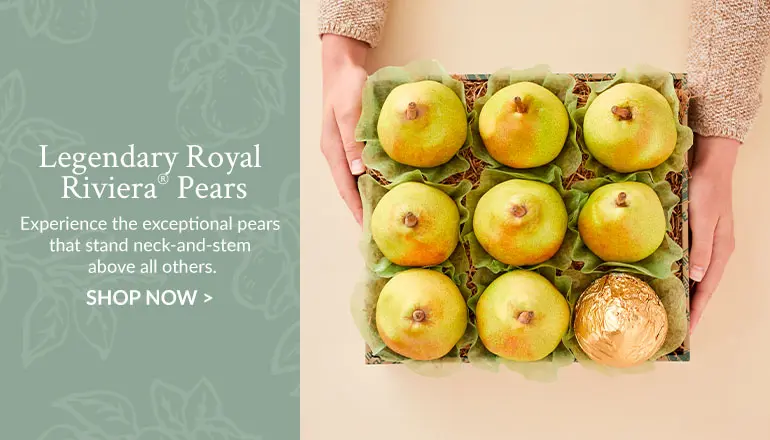 ---
A lot of love and attention
One of the most popular pear varieties, the Comice (ko-MEESE) pear, which is where the Royal Riviera® Pear derives from, is grown in the Harry & David orchards. First propagated in France in 1856, they earned the nickname "The Fruit of the Kings" because of their sweet, buttery flavor and were a favorite among royalty. The pears were introduced to Southern Oregon in 1897 and thrived — if not more — in the environment that was similar to their home in France.
Harry & David is one of the world's largest producers of Comice pears. "They do so well here because of the genetics, the way we farm it, and the soils we have," says Matthew Borman, Vice President, Orchards at Harry & David.
These pears can be difficult to grow and require a lot of love and attention, but "it's the commitment we make," Borman says. "It takes a minimum of four seasons before a pear tree can produce fruit, and our oldest trees have over 60 years under their belts." The trees are cared for year-round with cycles of limb pruning, bug prevention, bloom management, thinning fruit to make extra space so the pears can reach their full size, and frost protection. It's a full time job that takes a lot of care and precision.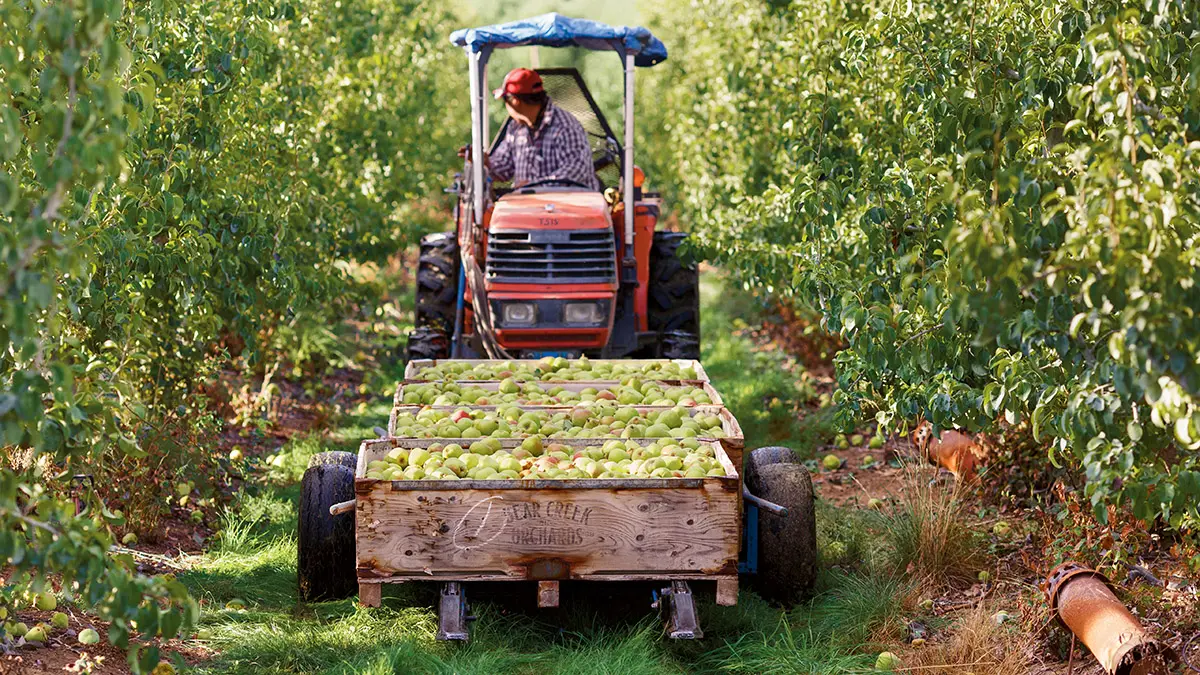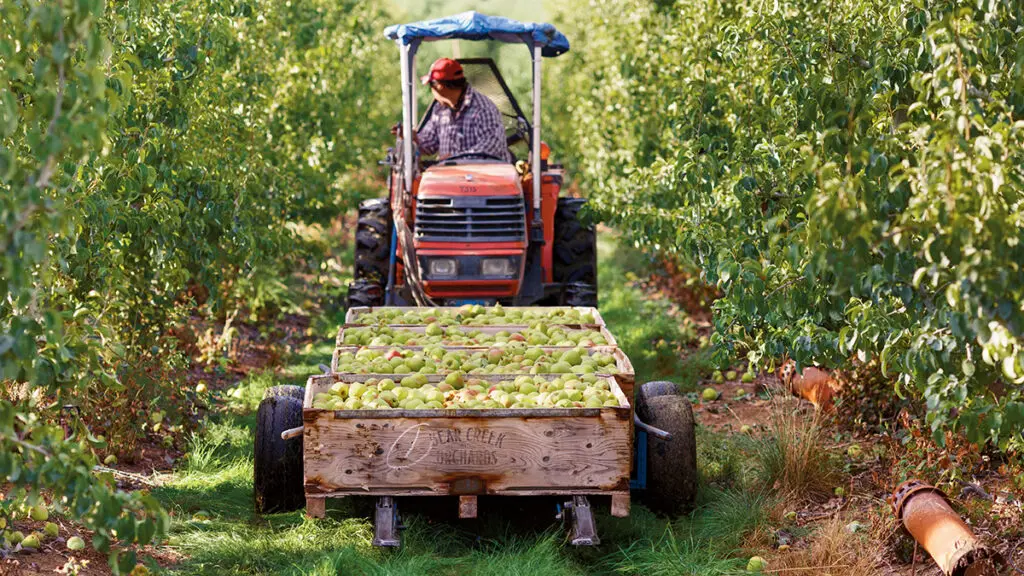 Some of those trees may not have been as fruitful this pear season. This year, the entire crop of pears faced some severe weather conditions, including extreme heat and drought. Because of this, the pears may look a little different on the outside, but inside they remain as juicy and delicious as ever.
Ripening en route
A team of over 250 professional pickers work their way through the orchards like busy bees. After gently twisting the pears off their branches one-by-one and depositing them into large crates, they get nestled into boxes. Then they're off to live in cold storage for 30 days. This is done because the pears actually don't ripen on the tree.
Ripening begins when they are put in cold storage (at a chilly 31.5° F) and continues until they reach your doorstep. The cold storage kicks off the process of the sugar development in the pears, creating that deliciously sweet flavor that you know and love.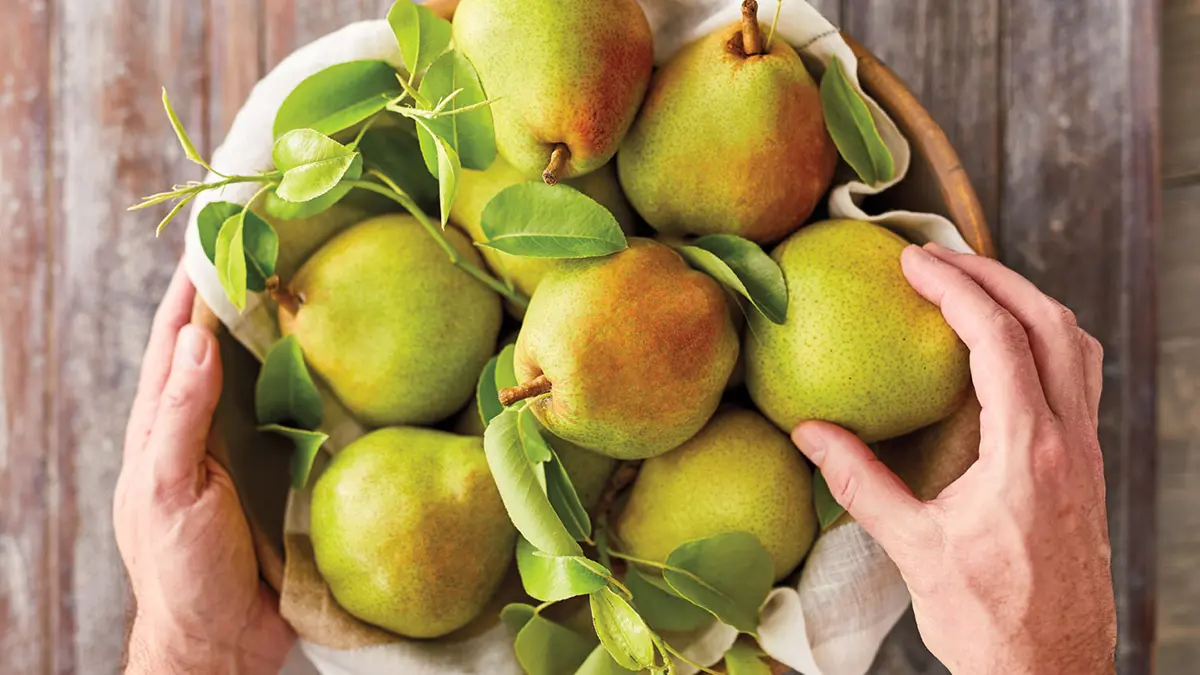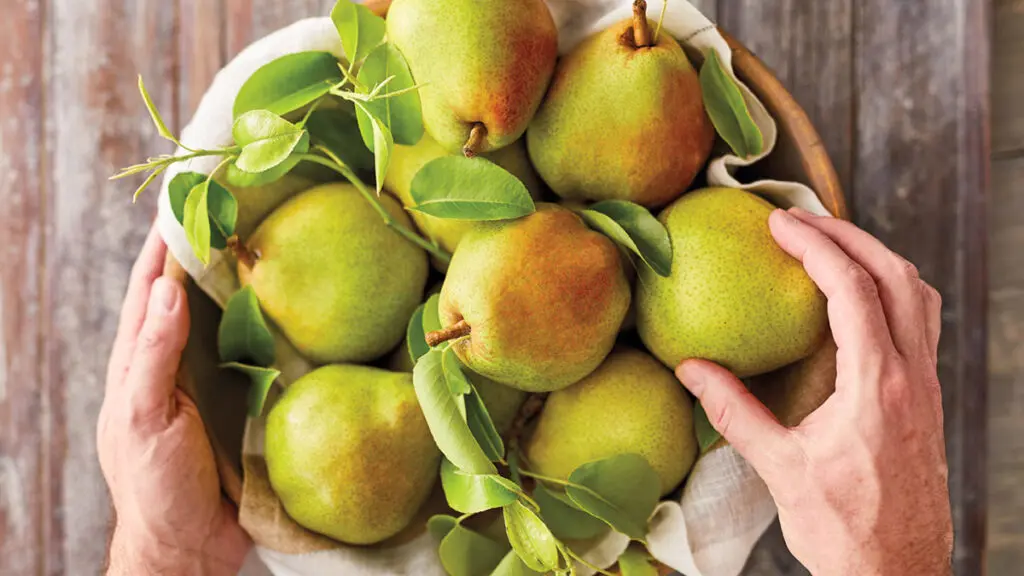 As soon as the pears are ready, they are gently packed into festive boxes, with one wrapped in their famous gold foil, and shipped to pear fans across the nation.
For many pear fans, receiving a box of Royal Riviera® Pears is a beloved holiday tradition and a way to share love with friends and family. Share your pears on a beautiful charcuterie board or try poaching them for a delicious holiday dessert. Remember, Royal Riviera® Pears always sell out fast so reserve yours now.