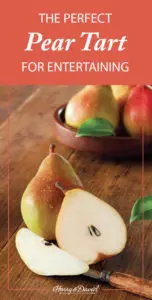 Royal Riviera® Pears are finally back and we're so excited for all the delicious recipes and holiday desserts starring our legendary Southern Oregon pears. This pear tart recipe doesn't have any complicated fillings, so these sweet and juicy pears really shine when paired with cinnamon and a simple crust.
When baked, the halved pears beautifully hold their shape, which makes this the perfect dessert for the start of pear season and oh-so-beautiful for easy entertaining. This pear tart will steal the show and your guests will never know that the prep work took only minutes. We topped it off sweet peach jam to blend all the best flavors of late summer. So go ahead and invite some friends over to enjoy this tasty welcome to autumn.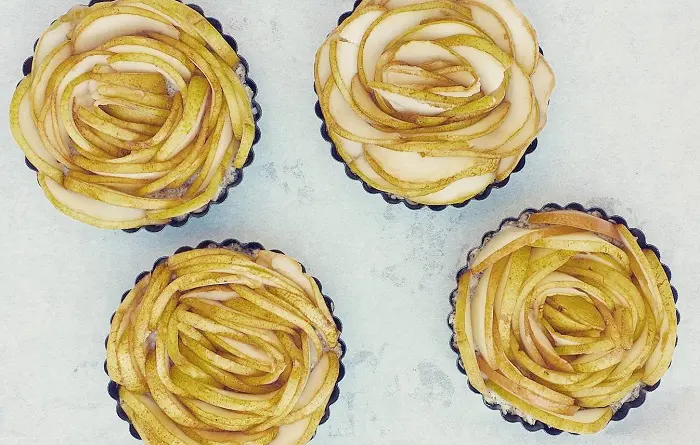 Royal Riviera® Pear Tart Recipe
Ingredients:
½

cup

unsalted butter

(room temperature, with additional for pan)

1

cup

all-purpose flour

¼

teaspoon

baking powder

½

cup

sugar

2 to 3

Harry & David® Royal Riviera® Pears

(peeled, halved, and cored)

1

tsp

ground cinnamon

1

large

egg

½

cup

apricot

(peach, or fig jam (orange marmalade is delicious too))

1

Tbsp

lemon juice

(fresh squeezed)

Whipped cream

(ice cream, or crème fraîche (optional for topping))
Instructions:
Heat oven to 350°F. Butter a 14-inch rectangular tart pan.

Combine flour and baking powder in a medium bowl and set aside.

Using an electric mixer, cream butter and ½ cup sugar at high speed in a large bowl. Lower speed to medium, add egg, and beat until incorporated.

Gradually add the flour mixture and blend well. The dough will be quite soft.

Press the dough into the pan with floured fingers to form an even crust. Arrange pear halves top to bottom with cut-side down. Sprinkle with the cinnamon and remaining sugar.

Bake until crust is golden brown, about 45 minutes. Let cool.

Warm jam and lemon juice in a small saucepan over medium-low heat, mixing until combined. Remove from heat and brush gently over the entire tart.

Serve with choice of topping, if desired.