She has placed the ingredients on phyllo dough, which gives the dish a perfect crunch. To prevent the phyllo from drying out keep the sheets covered with plastic wrap or a damp towel while you're working. If a sheet rips, just patch it back together with melted butter and continue.
The layers of phyllo dough and butter are topped with brie and sliced pears. While baking in the oven, the flavors become even more apparent. Served with a drizzle of honey and a sprinkle of fresh thyme, these pear tartlets are simply irresistible.
We also love this pear tartlet recipe with puff pastry instead of phyllo dough, which makes it even easier! Just use defrosted, ready-made puff pastry from the freezer section and assemble brie at pears all at once. Then, bake at 350 degrees for 12-15 minutes and serve warm.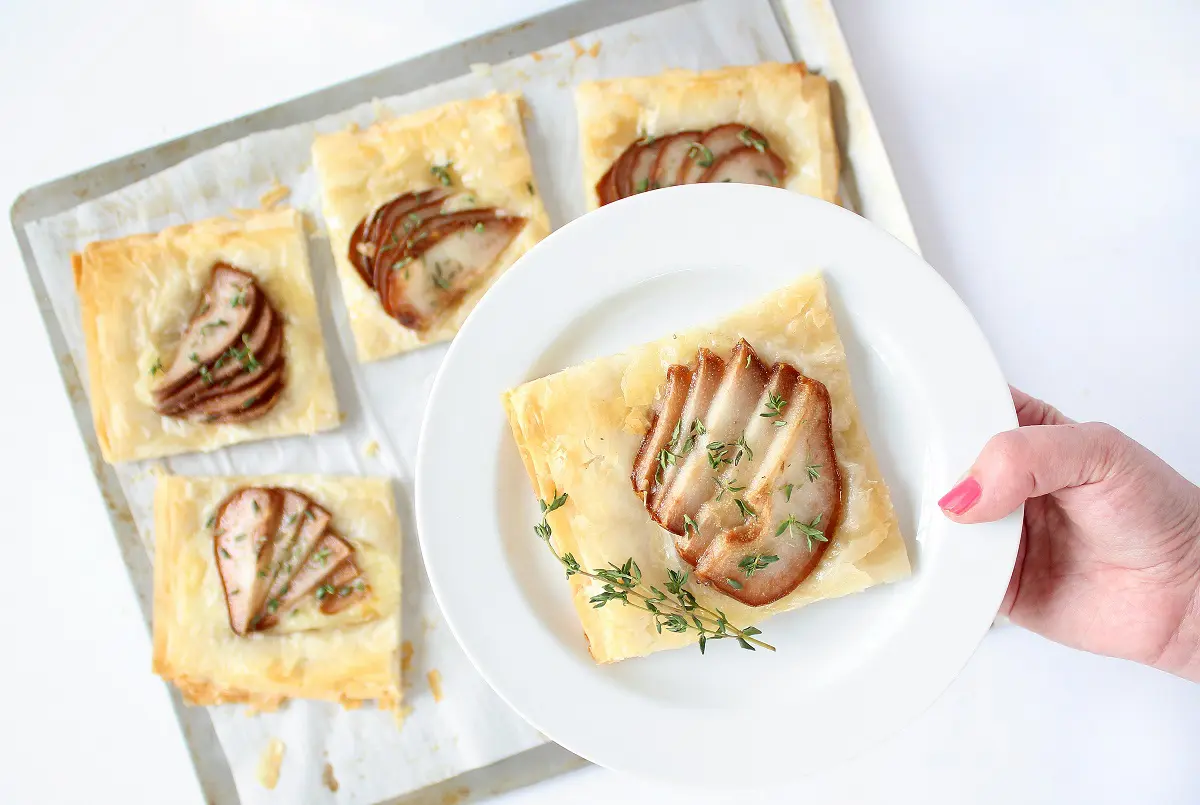 Pear Tartlet
Ingredients:
1

package

phyllo dough

(24 sheets, 9-by-14-inch sheets)

½

cup

butter

(melted)

⅓

lb

brie cheese

(cut into six slices about 1/4-inch thick and 3-inches long)

2

Harry & David® Royal Riviera® Pears

(thinly sliced lengthwise)

¼

cup

honey

2

tablespoons

thyme

(or rosemary, fresh )

salt

( to taste)
Instructions:
Preheat oven to 400°F. Line a 17 1/2-by-12 1/2-inch baking sheet with parchment paper. Lay two sheets of phyllo on the prepared pan. Keep the remaining phyllo covered with plastic wrap or wax paper and a damp kitchen towel.

Lightly coat the phyllo surface with butter using a pastry brush. Repeat this step, layering the remaining phyllo on top. Brush the final sheet with butter. *Place brie slices three across and two down on the phyllo dough.

Bake for 10 minutes.

Once the brie has melted, remove the tart from oven and carefully layer the slices of pear on top of each piece of brie. Return the tart to the oven and bake until the crust turns brown and crispy, 15 to 20 minutes.

Let the tart cool on the pan for 5 minutes. Cut the tart into six rectangles so there is a piece of brie and pear on each. Drizzle with honey and sprinkle with thyme and salt. Serve warm.
Notes:
In step 2, you have the option to carefully roll about 3/4 inch of each side toward the center to form the outer rim of the tart. Or you can keep it free-form as Haley did and let the edges get crispy.
---