When Royal Riviera Pear season finally arrives, my whole family gets excited. It's not that we don't love every other fruit that comes in the Harry & David Fruit of the Month Club, but pear month is especially great. Royal Riviera Pears are delicious fresh: Slice them when they're just starting to turn yellow and toss them in a salad, dip them in runny almond butter for a snack, or save a few slightly green ones for dessert.
The best dessert for using pears, I feel, is a tart! Tarts allow the flavors of any fruit to shine through. A buttery crust only heightens the texture of the soft pear once it's baked. And of course, the tart allows for the most beautiful display of sliced fruit.
For this pear tart recipe, I also tucked an almond crumble mixture underneath the pears. It's simply almonds, flour, and sugar ground into a fine meal. As the pears bake and release juices, the almond crumbs absorb the juices and turn into a custard-like texture. It's like pudding underneath a pear with minimal effort.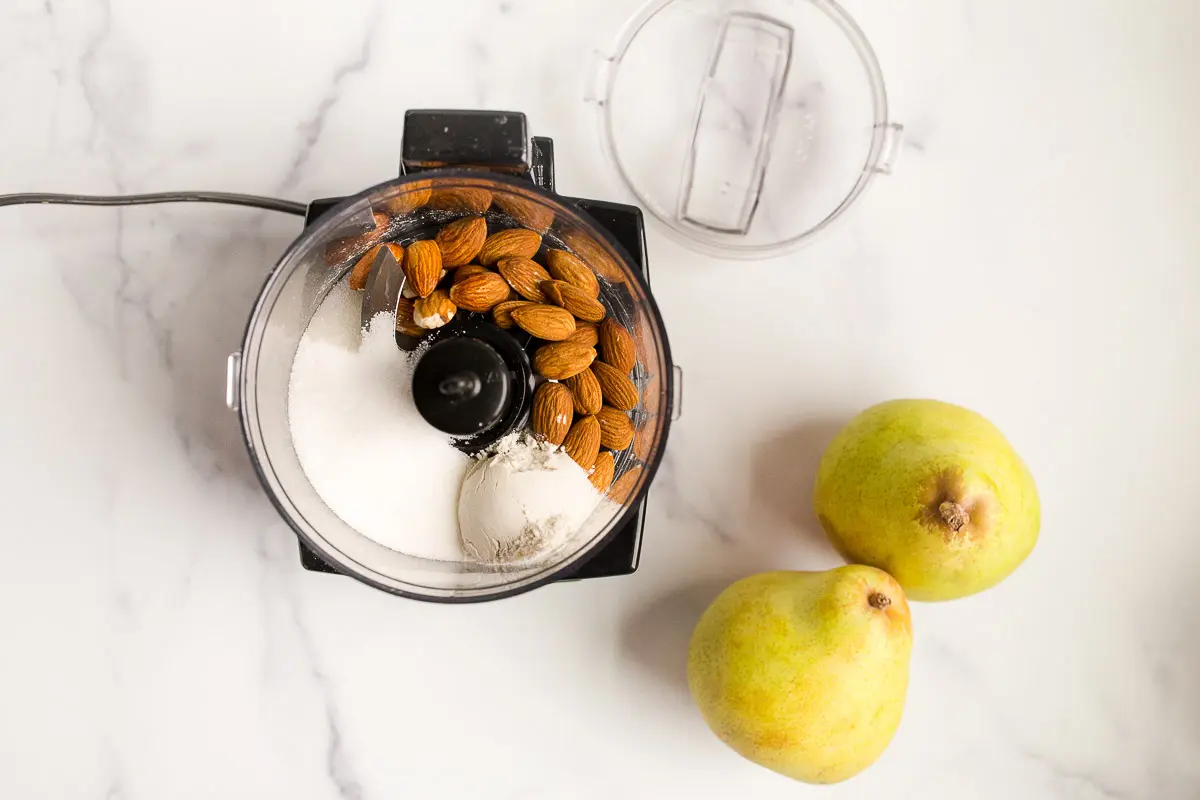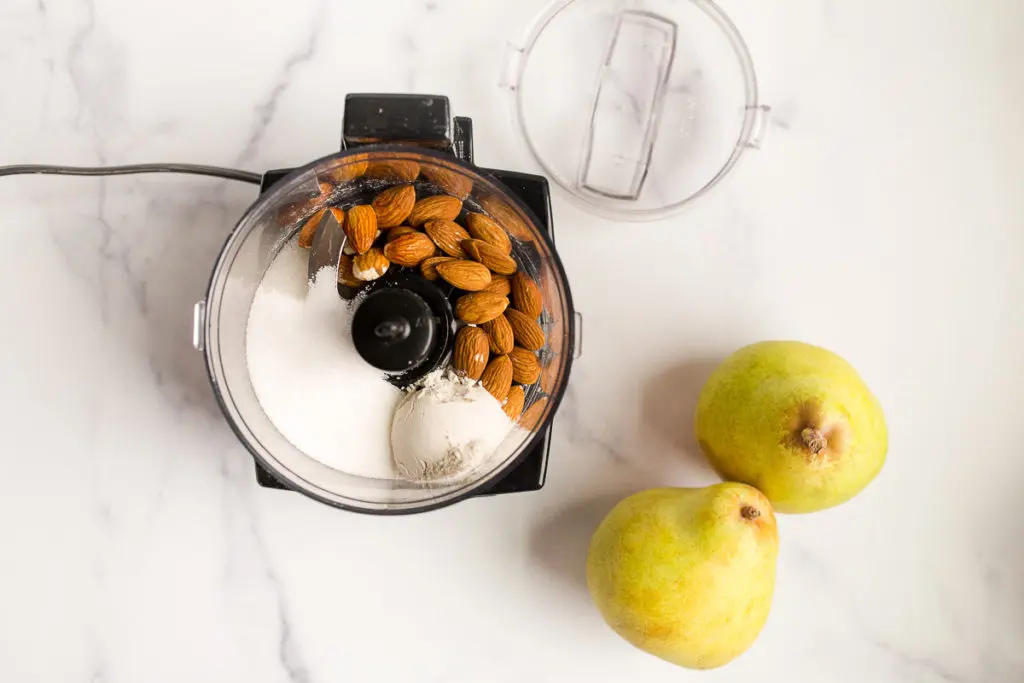 This pear tart recipe can be used to make two or eight pear tarts. To do this, we're going to roll out one sheet of puff pastry and slice it into eight equal rectangles. Lay a piece of parchment paper between each rectangle, and freeze them until you need them. You can take out as many pieces of pastry as you need.
Since Royal Riviera Pears are so large, it only takes five thin slices of one pear to make one tart, which means one pear can make four tarts. When I just want to make two tarts, I snack on the remaining half of the pear.
Once the dough rectangle is mostly thawed, use a fork to prick holes all over the surface, avoiding the edge about 1/4-inch all the way around. The places where you don't prick the dough will puff up in the oven. The holes allow the steam to escape while baking, so the pears and almond mixture stay in place. The almond mixture also stores great in the freezer in an air-tight container, if you're only serving two tarts now. You only need a heaping two teaspoons of the mixture per tart.
I recommend brushing the edges of each tart with a beaten egg mixed with water, which helps them bake up golden brown and beautiful.
These mini pear tarts are a delicious sweet weekend dessert or weeknight treat, but they also make a great Thanksgiving dessert. If your celebration is smaller this year, just bake up as many tarts as you need! If you don't snack on the extra pear slices, you can also use them to make this pear salad.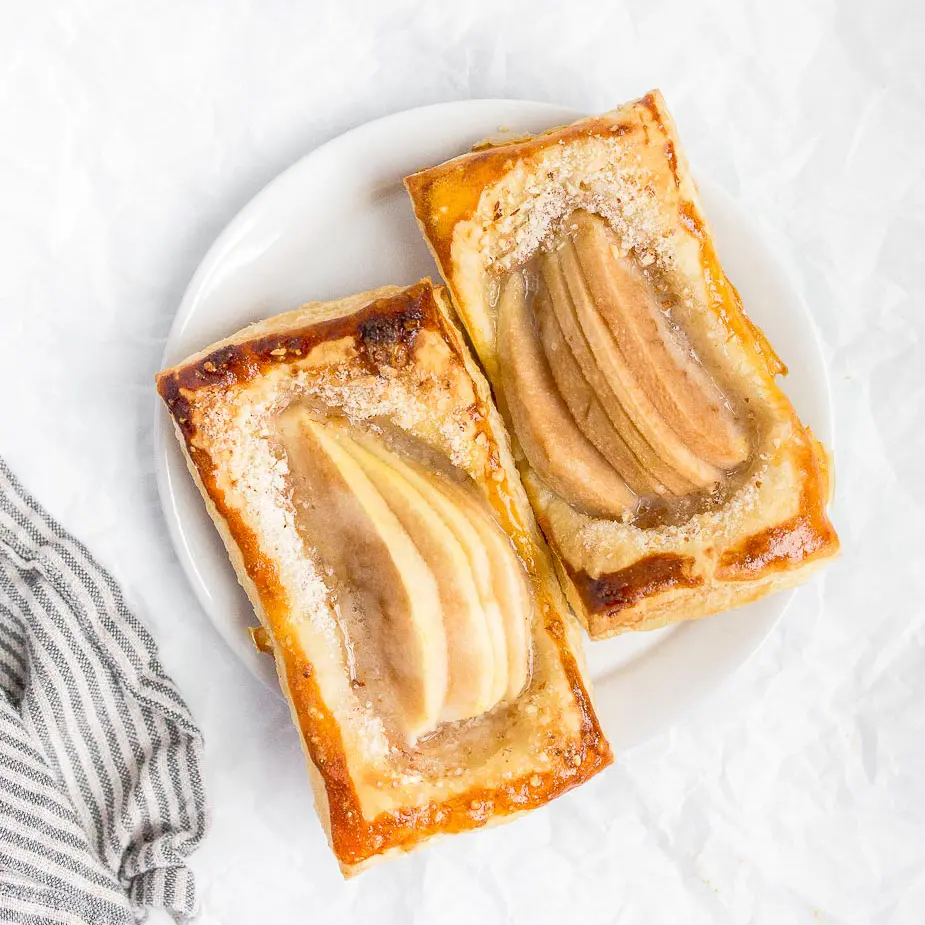 Pear Tarts
Ingredients:
1

sheet

puff pastry

(frozen , defrosted on the counter for 20 minutes)

1

tablespoon

all-purpose flour

2

tablespoons

granulated sugar

(divided)

2

tablespoons

raw almonds

(whole)

⅛

teaspoon

sea salt

⅛

teaspoon

almond extract

¼

teaspoon

lemon juice

1

egg

(beaten)
Instructions:
Preheat the oven to 400° F, and line a baking sheet with parchment paper.

Roll the puff pastry out on a floured counter to make it about 1-inch wider in all directions.

Use a pizza cutter to cut out 8 equal-sized rectangle pieces of dough.

Move each dough rectangle to the baking sheet. Use a fork to prick holes all over the dough, avoiding the edges and leaving a 1/4-inch border so that the edges of the pastry will puff up.

In a small food processor, blitz the flour, 1 tablespoon of sugar, almonds, and salt. Add the almond extract and lemon juice once the mixture is powdery, and blend again.

Peel and thinly slice each pear into 5 slices per quarter of a pear.

Place 2 teaspoons of the almond mixture on the dough rectangles, spreading it out but avoiding the edges by 1/4-inch. Repeat with all of the dough rectangles.

Lay 5 slices of pear (which is 1/4 of a pear) onto each dough rectangle. Sprinkle the remaining tablespoon of sugar on top of the sliced pears.

Finally, beat the egg with a generous splash of water, and use a pastry brush to spread it on the edges of all of the tarts.

Bake the tarts for 16-17 minutes. Let them cool for 10 minutes before serving.
Notes:
To make this for two, use only 2 pieces of dough and half a pear, and reserve the remaining almond mixture in the freezer for another day. The bake time is the same for 2 tarts.
---