Food trends come and go, but the classics never go out of style.
While we may get swept up in the TikTok oven-baked feta pasta fad or adopt a strict regimen of "feeding" our sourdough starter for a week, we always return to those time-honored traditions that provide us with the ease, comfort, and incomparable taste we crave. Enter Harry & David Pepper and Onion relish.
These bursting-with-flavor red pepper relishes have been a must-have pantry staple and fan favorite in neighborhoods across America for years. Classic Recipe Pepper and Onion relish offers sweet and savory notes from sweet, red peppers and caramelized onions, layered with a hint of tang and a bit of crunch, giving it the perfect texture. And when folded into softened cream cheese to make this beloved pepper relish cream cheese dip, these relishes go from pantry staple to party starter!
Surrounded by fresh-cut veggies, chips, crackers, and cured meats, pepper relish dip shines on a party snack tray for holiday nibbling, get-togethers, and game-day potlucks.
The Pepper and Onion Relish has become so popular that customers have come up with their own ways of incorporating this condiment into all kinds of dishes. Here are eight more customer-inspired traditions to "relish" the flavors found in each Pepper and Onion relish beyond the classic sweet pepper cream cheese dip that's sure a crowd pleaser.
But, when in doubt, always go with a classic.
Shrimp cocktail
Dip chilled shrimp into Harry and David's Classic Pepper and Onion Relish instead of cocktail sauce. Or try Pepper and Onion Relish with Peach for a sweet edge.
Tuna salad
Combine spoonfuls of Hot & Smoky Pepper and Onion Relish with mayonnaise-based tuna salad. Or spread over bread to make an unforgettable tuna sandwich.
Meatloaf and mini meatballs
Add Pepper and Onion Relish with Peach for a touch of sweet to your weeknight meatloaf. Sweet mini meatballs are a favorite, too.
---

---
Homemade cornbread
Check out this beloved skillet cornbread recipe that includes Classic Pepper and Onion Relish for tangy sweetness.
Chili
Classic chili recipes get a spicy boost from Hot & Smoky Pepper Onion Relish.
Hot dogs and hamburgers
Hit a home run with any one of these relishes as a condiment — and baked beans are next-level goodness with Smoky Bacon Pepper and Onion Relish.
Pork tenderloin
Pepper and Onion Relish with Orange makes an incredible citrusy glaze.
Cheese boards
Pepper and Onion Relish with Zinfandel was born for a cheese and charcuterie board.
Check out more Pepper and Onion Relish recipes.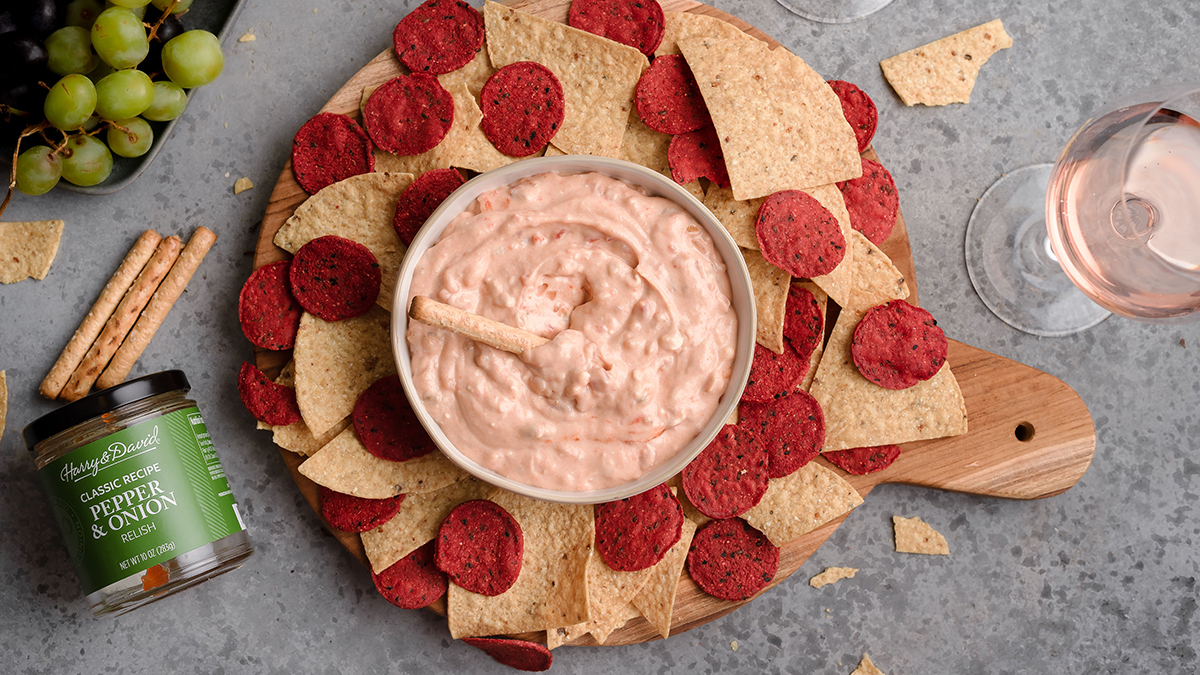 Pepper Relish and Cream Cheese Dip
Instructions:
Blend softened cream cheese in a mixing bowl until smooth.

Add relish and blend well.

Serve with crisp tortilla chips, snack crackers, or finger foods.