As the sun sets on another summer full of nectarous fresh fruits, one delicious sweet spot in the stone fruit harvest season remains — the autumn arrival of Peppermint Peaches™ White Peaches.
A one-of-a-kind variety that ripens after nearly all other peaches have vanished from the fruit market — but before others throughout the southern hemisphere have reach full ripeness — the peppermint peach offers a sweeter taste than other white peaches and a smoother texture than standard yellow varieties. It also has low acidity, a slight crunch upon first bite, and a significantly larger size and richer color than most any peach.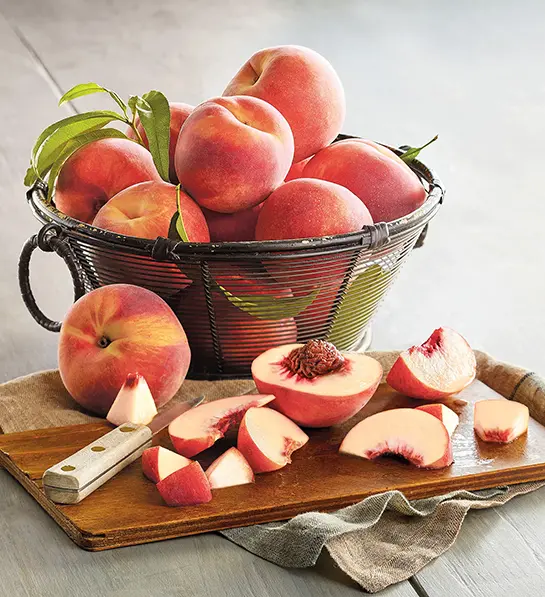 Though the peppermint peach is far from minty, its moniker makes perfect sense when you consider the mesmerizing cream-and-pink patterned blossoms of its mother tree, known to grow only in the sandy loam soil of California's Central Valley. The trees were planted in 2013 and started bearing fruit three years later. Russ Tavlan, the founder and CEO of Peppermint Peaches™ proprietary grower Moonlight, pinpoints the fruit's native acreage as located only in the Central Valley's Reedley area, on "the western slope of the rich and fertile Kings River, in a cooler microclimate that provides the perfect warm and arid condition that allows peppermint peach trees to prosper."
Brett Britz, also of Moonlight, cites the company's painstaking soil and growth management process as one of the hallmarks that make the peppermint peach unlike any other on earth. "Moonlight takes a regenerative approach to agriculture and applies a special blend of macro amendments to the soil to allow for bigger, sweeter, and more colorful fruit."
Britz explains that, as maintenance throughout the growing season, "tree branches are pruned during the summer months with perfection in mind, and leaves adjacent to ripening fruit are removed to achieve maximum flavor, sweetness, and color."
Moonlight's trademark treatment continues throughout the peppermint peach harvest process, as all the fruits are handpicked at peak maturation directly into heat-resistant hard plastic totes. This process may take a little bit longer, but it pays off in the end with a bruise-free, cleaner final batch than that yielded by other peach orchards. Such a caring finish aims to keep all outer skin of the peppermint peach distinctly intact, preserving a fresh, trademark taste Britz describes as marked with "super sweet floral notes and devoid of the distinct tartness of yellow peaches."
The company's home base in Reedley, located just outside Fresno, also contains a multi-million dollar preparation and packing facility that utilizes state-of-the-art technology and sustainable processes — along with plenty of good old-fashioned know-how acquired during Moonlight's century-plus spent in the west coast fruit industry. These advantages allow the farming company to quickly and efficiently prepare and deliver a peach of unequaled quality, directly to your front door, in the same state that it left its branch in sunny central California.
---

---
Peppermint peaches are beloved for their manifold uses both in the kitchen and on the go, and much of the credit for that goes to their distinctive growth characteristics. "Like few other late-season peaches, peppermint peaches are only semi-freestone, making them easy to slice and prepare for snacks, salads, and dessert," Tavlan says. This inner form allows for removal of pits with minimal effort and a clean separation from the nectarous portions of the peach — meaning there's zero wasted fruit material.
Despite their extended availability into the fall, and Moonlight's supply and nationwide distribution, a narrow window to actually enjoy peppermint peaches exists. (Kind of like the Mackinaw peach…) While the soils of southern peach hotspots like Georgia and South Carolina, New Jersey on the East Coast, and other regions of California all produce fine traditional stone fruit growth, none produce a fruit that hangs longer on the tree and offers a greater size and flavor profile than the peppermint peach.