In "Gifting 101," we're bringing you all the best advice on gifting, whether you need recommendations on what to share for the holidays or tips on how to continuously impress your loved ones with gifts they'll cherish. Give your dog or cat something to bark or meow about this Christmas with pet stockings from Max & Milo.
Your dog or cat isn't just a pet — it's family.
So it shouldn't surprise you that last holiday season more than 50 million fellow pet parents purchased a holiday gift for their four-legged family members. That's a lot of biscuits!
When it comes to holiday gift ideas and pet gift baskets that they can eat and wear, Harry & David has your fur babies covered with its custom Max & Milo™ buffalo-check fabric holiday stockings. Inspired by joy and unconditional love, Max & Milo™ is a specialty gift collection designed for pet lovers by pet lovers, which means the driving factor behind every Max & Milo™ treat and toy is quality.
The 2022 holiday pet stockings for dogs and cats arrive at your doorstep filled to the brim with whisker-licking snacks, interactive toys, and festive bowties and bandanas for frame-worthy photos with Santa Paws.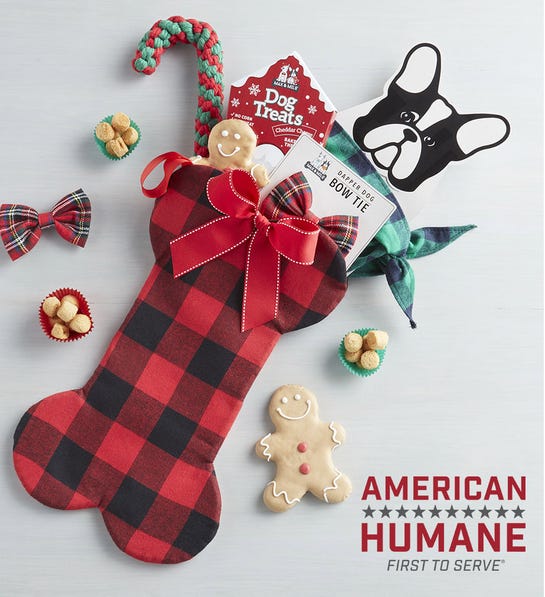 Good, and good for them
Each seasonally decorated cookie and deliciously cheesy treat in these holiday pet stockings are baked in the good ol' U.S. of A., with all-natural, human-grade ingredients free of wheat, corn, and soy. Go ahead…sneak a bite when your pup isn't looking.
Toy or toothbrush?
Did you know certain toys are not only great for your pet's mental stimulation but help them keep a healthy mouth? And a healthy mouth means no stinky pet breath. We can tolerate the licks. But bad breath? Yuck.
Max & Milo™ holiday stocking toys are made with teeth-cleaning and gum-massaging rope and burlap, and then safety tested for hours of tossing, flossing, and tug-o-war.
Give the gift that gives back
This holiday season, Harry & David is proud to be partnering with American Humane. Founded in 1877 as the country's first national humane organization, American Humane is committed to ensuring the safety, welfare, and well-being of animals.

For every Max & Milo™ product you purchase between now and Dec. 31, 2021, Harry & David will donate 5% of the net proceeds* to support American Humane in its mission to protect animals in times of crisis.
*"Net Proceeds" is defined as the gross sales price of the product less any and all taxes, service charges, shipping and handling charges, surcharges, discounts, gift certificates, promotional gift certificates, promotional offers (e.g., airline miles, points, e-money, etc.) credits, rebates, chargebacks, refunds, credit card processing fees and gift certificate cancellations. Minimum donation of $10,000.