The series "Growing Smiles" explores the challenges faced by America's developmentally disabled adults and the solutions provided by Smile Farms, the primary philanthropic endeavor of 1-800-FLOWERS.COM, Inc. This story explores how Smile Farms is finding job opportunities for people with disabilities at restaurants.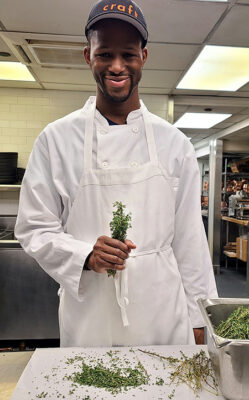 By all accounts, Emmanuel "Manny" Irick is a star restaurant employee. "Hard working," says one of his managers. "A joy to be around," says another who added words like "confident," "positive," and "reliable."
But Manny almost didn't have a chance to shine. The 37-year-old from Brooklyn, New York, tried hard, had a goal, and was persistent despite obstacles in finding a job.
About 61 million Americans live with disabilities and struggle to find meaningful employment. Just 21% of people with a disability were employed in 2022, according to the Bureau of Labor Statistics. By comparison, over 65% of people without disabilities have jobs.
Manny got his chance through a partnership between the Community Prevocational program at League Education & Treatment Center (LETC) and Smile Farms, an innovative program that creates meaningful jobs in agricultural and hospitality settings for adults with developmental disabilities.
Manny's opportunity arose as Smile Farms was looking beyond agriculture to expand opportunities for the over 270 participants spread out across 11 campuses. For an organization known for growing food, an expansion into restaurants seemed like a natural path.
From farm to table(s)
Smile Farms' shift to restaurants happened organically, and Manny's journey illustrates this.
After completing pre-vocational training at League, Manny's first job was as a Smile Farmer, working at urban farms in the New York area. "It was fun," Manny recalls. "I learned how to put the seeds in, grow plants, and pick the vegetables when they were ready."
Crafted Hospitality, the food service company of celebrity chef Tom Colicchio, has partnered with Smile Farms for over six years. It hosted a campus employing a Smile Farmer, purchased Smile Farms-grown produce to use on its menus, supported its hot sauce, and contributed to its donation delivery service.
Once the pandemic began to subside, restaurants struggled to find workers to staff their kitchens and dining rooms. This prompted a conversation between Craft New York General Manager John Gargano and Diana Martin, managing director of Smile Farms.
"John asked me, `Would you be you be up for trying to get some of the Smile Farmers to work at the company's flagship restaurant, Craft New York, and its adjacent Italian restaurant, Vallata, in Manhattan?"
The answer was a resounding yes.
Becoming part of the workforce
"Smile Farms workers go through the same process as everyone else applying for a job at Craft," Martin explains. "Their resumes are sent over, they come in for an interview, and, if they are hired, they get onboarded and trained."
The initial jobs offered to Smile Farms employees, including Manny, were for polishers, who shine the glassware for the tables. It's an important job in a high-end restaurant: "Everything has to be perfect," Gargano says.
Gargano said that the restaurant built a new polishing station and manned it with Smile Farms staffers. "They are polishing the glassware and taking it back and forth from the station to the dining room floor as needed," Gargano says. "Prior to the Smile Farms polishers, the restaurant's workers were doing it themselves."
Good work means expansion of the program
The Smile Farms employees have been extremely beneficial to the restaurant, Gargano says. "Everyone is more productive and efficient, and you're providing opportunities for someone who might otherwise not have — and that's something special."
As a result of the success, Craft is expanding the program to its other restaurants in New York City. "And we're also expanding at the flagship store. We're going to go from two workers to five, and, ultimately, with all the restaurants, we plan to employ 15–20 workers," Gargano points out.
Not only is Craft hiring more workers, but it is beginning to promote, starting with Manny. "He was moved to kitchen prep, which is amazing," Martin says. "He went to the chef, on his own, and said he wanted to learn how to do kitchen prep, and he loves his new position."
Manny's promotion
Manny is thrilled about his rise at Craft.
"It has been great," he says. "In food prep, I have learned how to make juices, prepare thymes, basils, parsley, how to grate cheese, mash potatoes, and I helped to make cookies. But I didn't do it by myself; the staff helped me a lot. I also help around the restaurant if they need me."
"I was happy to have the chance to work. As long as I'm working, I'm happy. I have money to buy the things I need, which is great," he says.
---