The ribeye steak is a cut of beef with its own unique history and cooking techniques, and it's a favorite of summertime grillers, professional chefs, and, well, anyone who loves a flavorful steak. Simply seasoned with salt and pepper and finished with a pat of butter, a ribeye steak is a tender, delicious centerpiece of a memorable meal.
History of the ribeye steak
The ribeye gets its name from where it's found on the cow — namely, the central part of the animal, or the "eye." This popular cut, a piece of rib steak without a bone, has a number of aliases too, though. Most notably, the historic New York City restaurant Delmonico's christened the ribeye a "Delmonico steak," and it still appears that way on menus and at butcher shops across the United States. Other names include the Spencer, the beauty steak, and the Scotch fillet (in Australia and New Zealand). A more eye-catching version of the ribeye is known as the tomahawk steak and features five of the rib bones left intact.
Chefs and beef purists have embraced the ribeye as one of the most luxurious options for steak, prizing it for its marbling, the white pieces of fat that run through the meat.
Thanks to its popularity, the ribeye is widely available, including from Harry & David, which offers a pack of four 12-ounce ribeye steaks. "We have sourced this ribeye from antibiotic-free Black Angus cattle that have been raised on the Midwestern plains with a 100%-vegetarian diet," says Andy Whitticar, merchandise manager, Specialty Food and Wine for Harry & David. "The cattle are corn finished for 120 days, which creates the perfect marbling and tender, flavorful beef. It's then aged in-house and trimmed to exacting standards."
How to cook a ribeye steak
One of the reasons the ribeye has become such a favorite cut is that it can be seasoned and cooked simply and still deliver significant flavor. Salt and pepper the meat, lightly coat it in olive oil, and throw it on a charcoal or gas grill over direct heat for four to six minutes per side for medium rare or medium well, respectively. Pro tip: Use tongs instead of a fork when flipping so you don't pierce the meat and let any delicious juices run out.
To broil a ribeye, place a cast-iron pan six inches under the broiler. Once it's hot, place the ribeye in the oven and cook it for three minutes on each side. Then set the oven to bake at 500 degrees Fahrenheit for between one minute (rare) to seven minutes (medium well).
---

---
Sierra Castellano, senior director of merchandising at Harry & David, says that grilling is a great option for ribeye steaks, as is — wait for it — searing it…in a pan…with butter! She also advocates a simple approach to serving the steak: Leave the sauces aside and try using a rub instead of just salt and pepper. "I am more of a purist and like to season my steak with a rub, which helps give it a kick but also allows the natural flavor of the meat to come through," Castellano says. "Our Peppercorn Steak Spice Rub would be a nice complement to this type of steak."
Many chefs and expert grillers advise letting steaks rest for about five minutes before cutting into them. (We know, it's hard to be patient.) This helps preserve those all-important juices and is especially key for a ribeye, which is juicy and tender when served in the rare-to-medium range (and no more than medium-well). While the steaks are resting, add pats of butter and cover in foil.
Wine pairing with ribeye steaks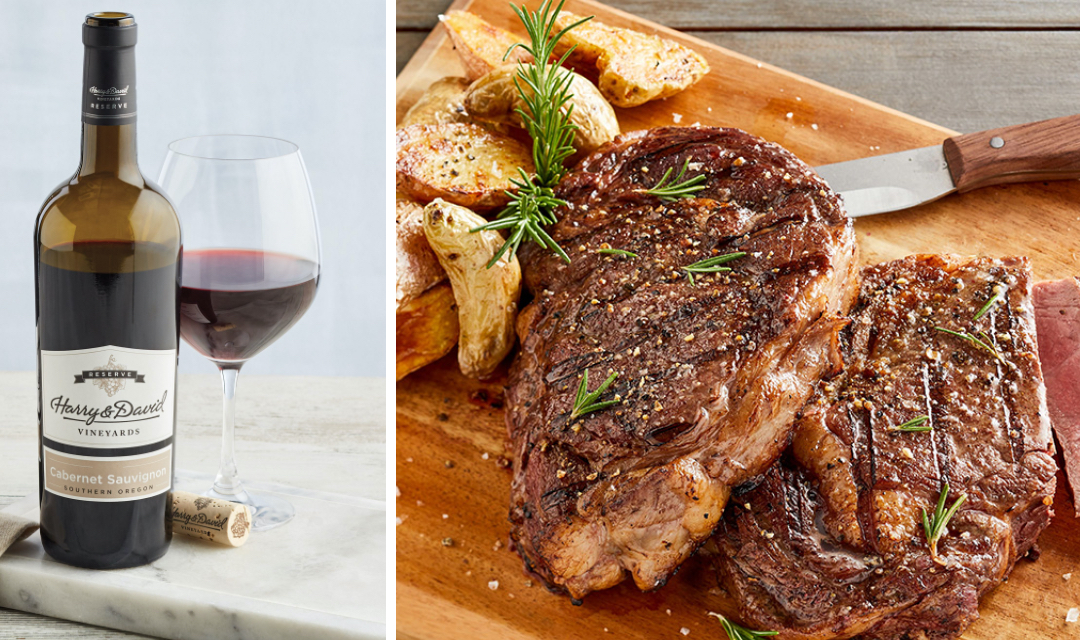 Full-bodied red wines pair best with ribeye steaks. "Our 2018 Reserve Cabernet Sauvignon would be an excellent pairing," Castellano recommends. "It has good tannin structure, which would hold up well to this hearty steak."