Pears hold a special place in the hearts of folks at Harry & David. Sure, the company offers a lot of different gifts for sale — including a wide variety of fruit — but few are as beloved as pears. Specifically, Royal Riviera® pears.
Synonymous with the holidays, these beauties have been perennial gifts since 1934, and are used to make nearly everything: muffins, cocktails, pizzas, a stuffing for meat. You can poach them, bake them, or simply eat them out of hand. So, finding another way to celebrate this bountiful and delicious part of the company's history in a brand new way is an idea that has always held natural appeal.
From orchard to bottle: How to create a new classic
Creating a stellar product takes time. According to Ellen Sorenson, Harry & David's merchandising manager for wine, the path for producing the new Royal Riviera™ Pear Cider has taken more than seven years to get just right.
When Sorenson joined the wine team, she was curious why it didn't have a hard pear cider, considering Harry & David's background, history, and heritage in pears. Apparently, one was "in development" at the time. "It just took a long time to make it perfect," she declares.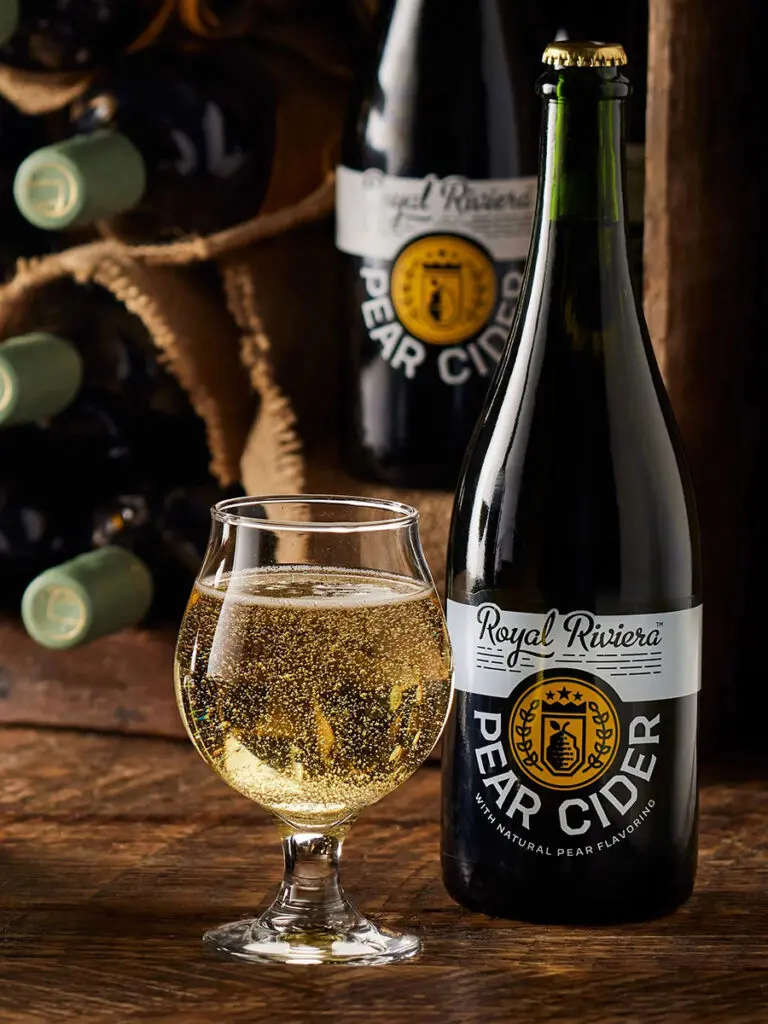 One aspect to making hard cider that threw Sorenson for a loop was the fact that making cider from pears is a lot different than when you do it with apples. "A lot of the process, starting with pressing the pears, is controlled by the way pears ripen, so it's not the same as apples," Sorenson explains. "Plus, our Comice pear — the Royal Riviera® pear — is so delicate. It has those wonderful, unique flavor qualities that make it so special, and capturing those in a cider was a challenge that took time to get it just right."
Luckily, as Sorenson says, "the stars finally aligned," and they were able to make it work.
"Our new hard pear cider is a product of patience, but I'm so excited about how it turned out," she says. "It's super delicious. It's approachable — it's almost too easy to drink. We blended the juice with apple and created a really amazing flavor profile that is what we wanted for so many years."
(FYI, if the pear cider was made 100% from pears, it could be called a perry; ciders generally contain at least a bit of apple.)
Ironically, though — compared to many wines — to physically make the cider, takes a lot less time.
Cider production is quick, just a few months versus years with wine. The process starts out the same, with pressing the fruit and getting the juice, and then adding yeast so it can ferment some of the pear sugars into alcohol. But wine is often aged in barrels or tanks where it matures, developing flavor nuances and building structure and complexity. In contrast, most cider moves quickly, spending a few weeks in fermentation and then after some finishing touches, going into the bottle. No aging is involved, so small batches can be made every few months.
Savor every note, any day of the week
If you're a fan of the Royal Riviera® pear, it will be easy to love this new hard cider, Sorenson says. "That's the exciting part of this — we get to use our pears that we already know people love and that taste so delicious. They may not be getting wrapped with gold foil, but they still get to share their amazing taste."
And as for that flavor, she says, each bottle captures exactly what you want from a pear cider: it's clean and crisp, slightly sweet but balanced with nice acidity.
"It's a real crowd pleaser," Sorenson boasts. "There are some wonderful fruit notes up front, and it has a beautiful orchard blossom and honey aroma that really pulls you in and makes you want to drink it."
She adds: "Hard cider is such a versatile and exciting drink. It can be consumed in so many ways. It's light and refreshing when served chilled on a warm spring or summer day, but it's also ideal in the fall. It's perfect almost year-round."
Cheesy perfection
With its slightly sweet flavor, pear cider goes beautifully with a wide variety of foods and can be served at almost any meal.
"I love it with cheese!" Sorenson exclaims. "There are so many different cheeses that you can put it with, and it can stand up to all of them really well."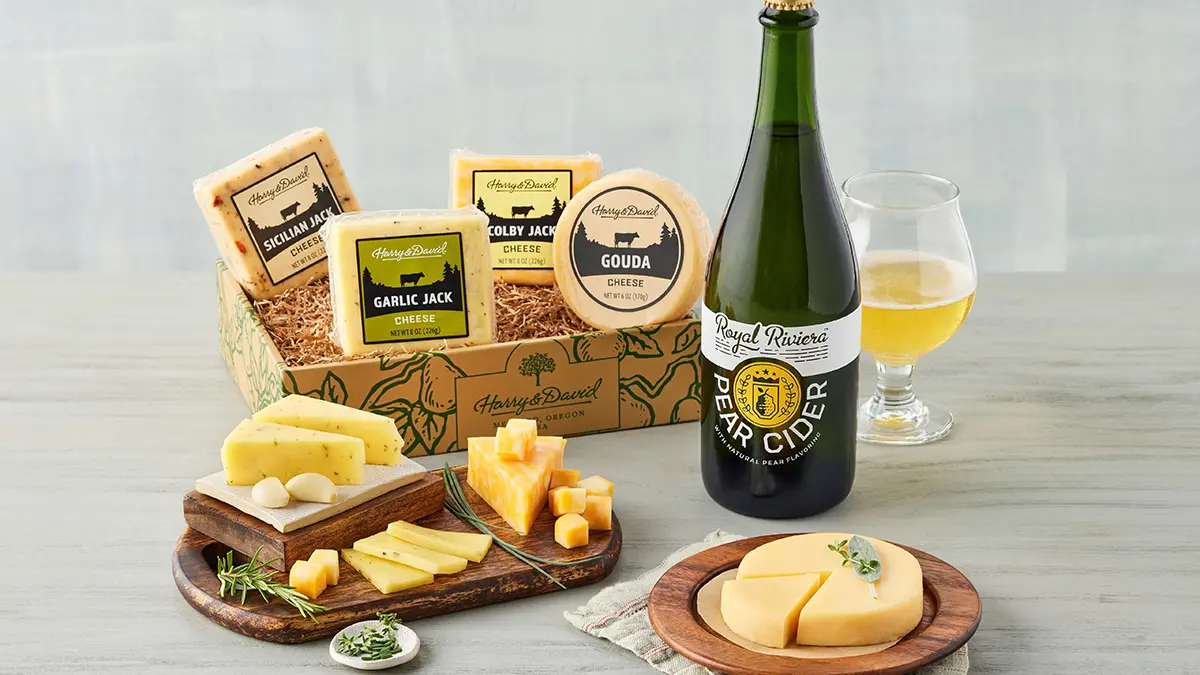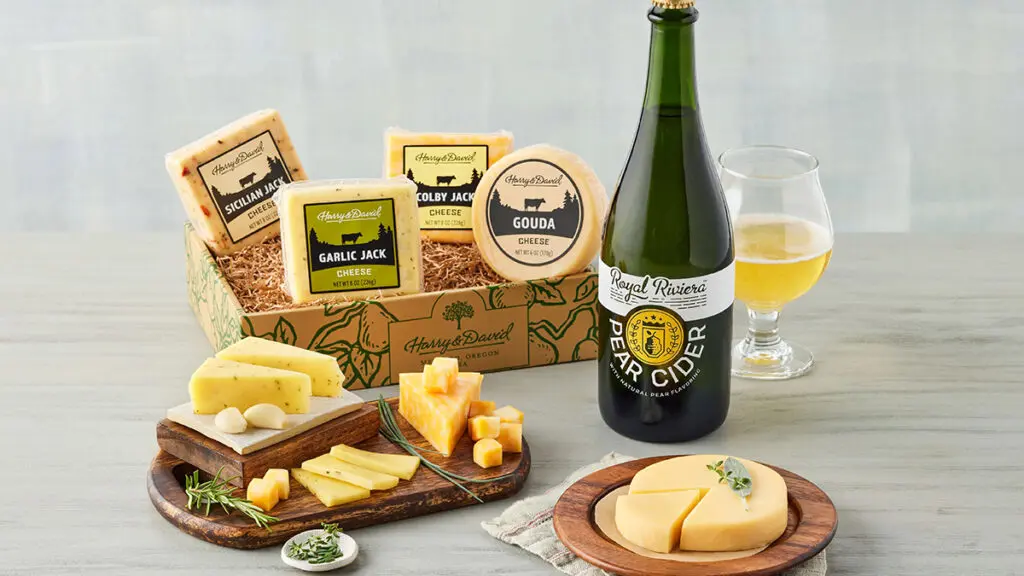 Consider serving it with a cheese tray featuring Brie, Camembert, Gouda, or blue cheese. Or, if you really love cheese, seek out some Calvados cheese to go with your cider. Also known as "Calva d'Auge," this cheese from France's Lower Normandy region is made with the rind of ripened Camembert and then soaked in brandy, infusing it with a nutty, rich, and intense flavor.
"The cider enhances the funkiness of these kinds of cheeses in the best possible way," Sorenson adds.
More perfect pear-ings
In addition to snacks and appetizers, hard pear cider can be an ideal complement to any important or celebratory meal.
"I think a lot of people overlook pairing cider with food, but if we treat it like wine, it's a perfect staple for holiday meals," Sorensen says. "If your turkey has an herb rub or you're serving sides like sweet potatoes or stuffing, it's so good with either. I know it'll be part of our Thanksgiving meal this year."
You can even serve it with desserts like fruit tarts, crisps or cobblers, panna cotta, or even cheesecake. And it's even good in cocktails! Mix it with sparkling wine and a splash of orange juice for a pear cider mimosa, stir it into your favorite white sangria, or pair it with vodka for a cider Moscow mule or pear martini.
A gift with meaning
While Royal Riviera™ Pear Cider is an excellent product to buy and drink for your own enjoyment, Sorenson also believes it makes a phenomenal gift for others.
"Like the wines and other products we make," she says, "this is a product that has seen a whole lot of love in its development. I know I said it was a product of patience, but it's also been a product of passion, not just for myself but for our whole team. I think you can see that when you taste it, and it's something that's so perfect to share with others because of that.
"Of course it tastes wonderful, but it's also a product that speaks to our heritage and where our pears come from, and our ties to agriculture and the land. All of that makes it extra special for us."
(C) Harry and David, LLC, Medford, OR
---