Whether it's a busy weeknight, a friend's decided to stay for dinner, or you simply don't want to cook, sometimes you need something easy to throw together. The recipes in our series "Homemade Gourmet" take the thought and time out of cooking without sacrificing their flavor or gourmet appeal. This recipe from Liz Harris at Floating Kitchen uses classic Pepper & Onion Relish to make savory breakfast scones worth sharing.
It's always fun to bake something special on weekends. Brunch, especially when entertaining friends or family, is the perfect opportunity to pull out all the stops.
One of my favorite people to eat brunch with is my mom. She has a serious sweet tooth (I definitely inherited my love of ice cream from her), but at breakfast she always prefers to indulge in something savory. When we eat brunch together I love treating her to something unique. Enter these savory Parmesan-basil scones filled with Pepper & Onion Relish that I know she is going to love!

Stuffed scones might seem intimidating, but they are super easy to prepare. I start with Harry & David's Old-Fashioned Scone Mix. This mix is one of my favorite items to keep in my pantry, because you only need to add water and presto you have fresh, tender scones baked in under 30 minutes. For this recipe, I added grated Parmesan cheese and fresh basil to play up the scones' savory side a bit more. If you don't have fresh basil, you could substitute in any fresh herb, like parsley, chives, or thyme.
Once the dough has come together, divide it into four equal-sized portions and shape each portion into a flat circle. Now here comes the fun part. You're going to make a "scone sandwich" using Harry & David's flavorful Pepper & Onion Relish as the filling. To do this, spread a couple tablespoons of the relish on two of the dough circles. Then place the remaining two circles on top and gently seal the edges. That's it!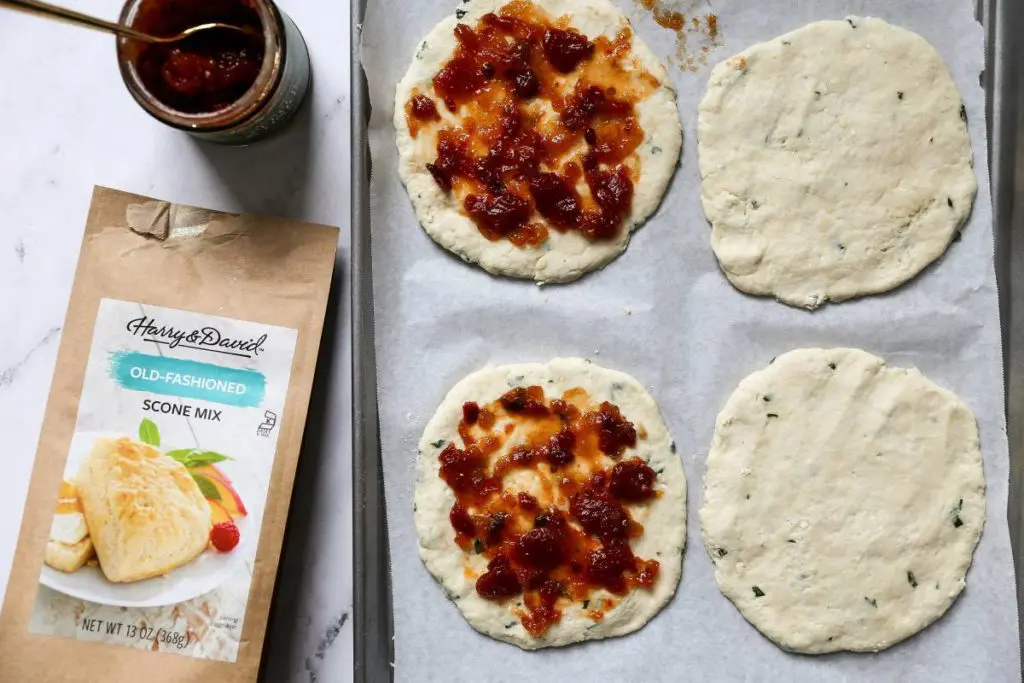 If we were making regular scones, this is the point where you would cut the scones into wedges. But we're skipping that part, for now, to help prevent any of the filling from leaking out while they bake. Instead, chill the "scone sandwiches" just as they are, then bake them before you cut them. I know it seems weird, but it works.
Once the scones are baked and have cooled slightly, it's time to cut them into wedges. Best enjoyed the day they are baked, these scones go great with eggs, bacon, coffee, and whatever other breakfast or brunch items you're serving.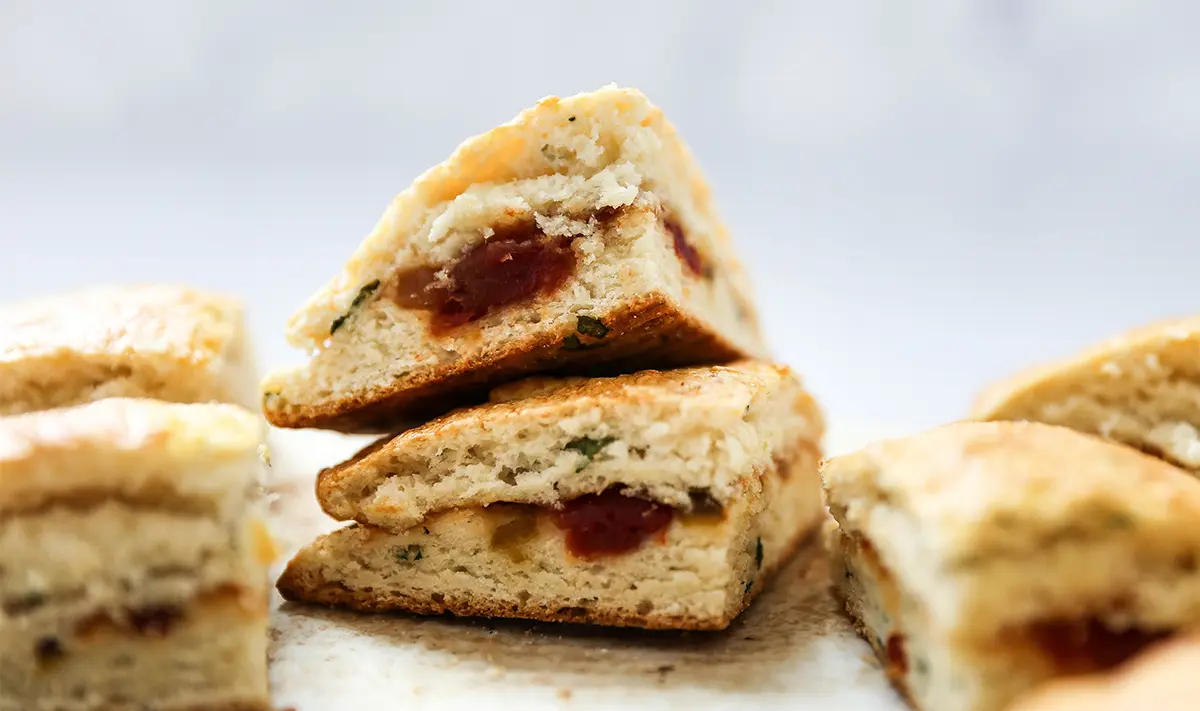 Savory Scones with Pepper & Onion Relish
Ingredients:
1

package Harry & David's Old-Fashioned Scone Mix

¼

cup

grated Parmesan cheese

2

tablespoons

fresh basil

(minced)

⅔

cups

cold water

4

tablespoons

Harry & David® Pepper and Onion Relish

1

egg

1

tablespoon

heavy cream
Instructions:
In a large bowl, stir together the scone mix, cheese, and basil.

Add the cold water and stir with a wooden spoon until all the dry ingredients are moistened and have loosely come together to form a shaggy dough ball. You'll know the dough ball is ready when it's roughly holding together; if the dough is smooth or elastic then it's been overworked.

Transfer the dough ball to a floured surface and knead it 4-5 times to bring all the ingredients together. Then divide the dough ball into 4 equal-sized pieces.

Shape and flatten each piece into a circle approximately 1/2-inch thick and place on a parchment paper-lined baking sheet.

Spread 2 tablespoons of the relish on 2 of the circles, leaving a slight border around the edge. Then top each with one of the remaining circles, gently pressing the 2 halves together to seal.

Transfer the baking sheet to your freezer for 30 minutes to chill the scones.

Meanwhile, pre-heat your oven to 425° F.

In a small bowl, whisk together the egg and heavy cream. Set aside.

Remove the baking sheet from the freezer and brush the tops of each of the scones with some of the egg wash. Then transfer the baking sheet to your pre-heated oven and bake the scones for 16-18 minutes, until the scones are golden brown on top.

Let the scones rest on their baking sheet for 15 minutes. Then using a sharp knife, cut each circle into 4 wedges. Serve.