Pati Jinich is a chef, cookbook author, and TV host of the three-time James Beard award-winning PBS series Pati's Mexican Table. Here she shares her recipe for Tuna Steaks with Spicy HoneyBell Sauce, chats with us about how cooking is an opportunity to create space for joy and make meaningful memories, and share how her love for her native country of Mexico keeps evolving.
For Mexican chef Pati Jinich, there is no more selfless act of love than feeding someone. "Cooking just brings the walls down, you're just opening yourself because you have to share what you like, what you don't like," she says. Jinich equates cooking with being present for each other, as well as creating the opportunity to listen. "The careful attention to preferences," she explains, "is what allows us to focus on someone else's wants and needs."
Her love of cooking goes beyond caring for the nourishment of our bodies for fuel. Jinich cooks intending to feed the body and soul "[When you cook for others] you're giving people the space to find joy, through their senses and emotions that are so linked."
Indelible food memories
Each of us builds a rich personal history that is full of flavor and memories. For most people, cultural traditions, favorite places, and, of course, our loved ones are intertwined with food. "My husband always laughs because everything that I remember is tied to whatever we ate at the time, from our wedding to what I ate at the hospital when our boys were born," Jinich says.
Cooking just brings the walls down, you're just opening yourself because you have to share what you like, what you don't like."
Food marks her life's milestones. "Whenever people ask us about how Daniel and I met, I always talk about the oregano chicken we both ordered on our first date at La Fonda Garufa, an Argentinean restaurant in Mexico City. It was so crisp on the outside and so juicy on the inside." And Jinich turns to her favorite comfort foods from childhood growing up in Mexico for a source of inspiration and comfort. "It's the black rice and beans, pasta seca [Mexican-style pasta], carnitas [caramelized pork], flan, it's the chicken Milanesa, family-style meals," she says. "[These are the foods] that I hanker for that nurtured me growing up that made me feel rooted in Mexico."
---

---
An ever-expanding hunger
As host of her award-winning cooking program, Pati's Mexican Table on PBS and Amazon Prime, Jinich brings the audience into her kitchen and on her adventures traveling through Mexico. "In the beginning, I used to go to the places that I already knew because I wanted to share our foods, our culture, our traditions, and show how we can enrich whichever country we may be in," she says.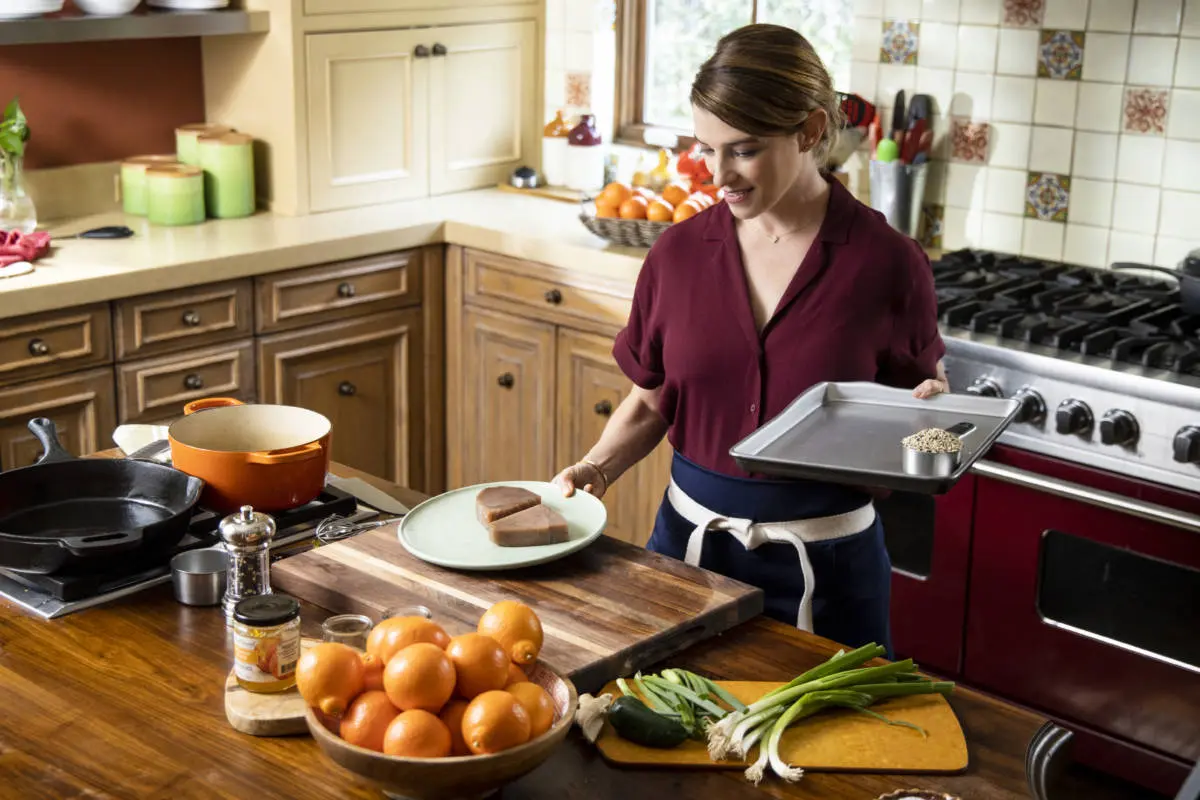 But as the seasons evolved, the distance Jinich felt as a U.S. transplant deepened her love and curiosity for her home country. "When you're a foreigner, nostalgia grows," she explains.
Recent seasons reflect the shift in Jinich's lens. "As years moved on [in filming the show], I wanted to reconnect to the Mexico that was changing, the Mexico that I didn't know," she says. "[My show] is an ever-expanding hunger for more."
For Jinich, "[Cooking is about] the joy you bring and it's how you can enrich people's lives." And she means it. "Even if it is with one tip, or one recipe, someone from the audience may have been looking for a recipe from their grandmother, or a dish they ate but can't get their hands on," she says. "We find so much joy and meaning in the food that we put at the table and connects us to where we come from."
Tuna steaks with spicy HoneyBell sauce
"Tuna steak is something that Daniel always orders in a restaurant," Jinich says. "So much so, [that] if there's tuna on a menu, I can predict he's going to order it no matter what!"
These days, Daniel's ability to dine out as often as they like has been curbed, so Jinich came up with a plan. "I'm putting all of the things that I know he loves from all of the tuna steaks he's ever ordered into one dish," she says.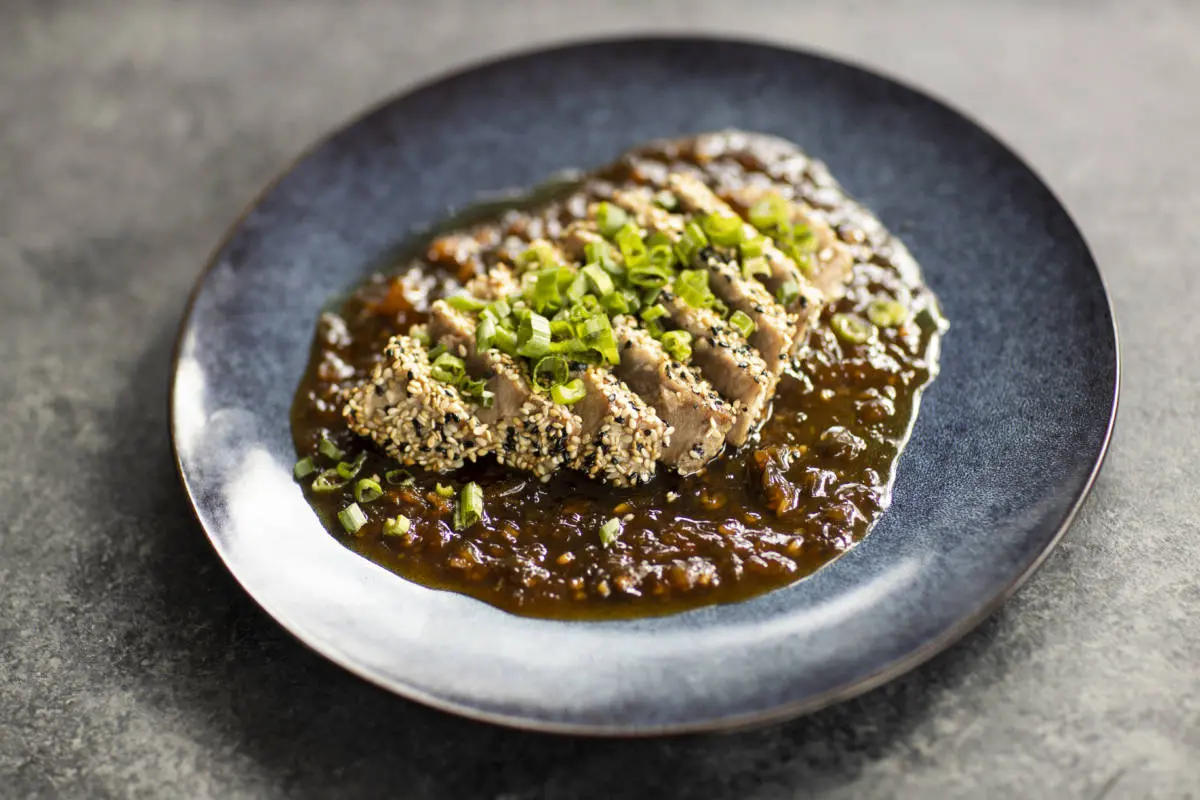 Jinich's recipe for Tuna Steaks with Spicy HoneyBell Sauce is a bold juxtaposition of flavors. "[Mexicans] like the spicy with the tangy, the sour with the salty. We want it all in one meal."
Her tuna recipe looks toward Asian influences as well, using soy sauce in the base and sesame seed for the tuna's coating. Look for excellent quality sushi or sashimi-grade tuna such as bluefin or ahi tuna, which are best enjoyed rare. "It's quickly seared in sesame and peanut oil which gives a lot of flavor to the [sesame] coating of the tuna," Jinich explains. And that quick sear protects the moist and supple interior of the fish.
The HoneyBell oranges owe their incredible sweetness and extreme juiciness to the fact that they are a hybrid between a tangerine and a grapefruit. Adding the rind to the sauce also gives a fresh hint of HoneyBell zest. "[This HoneyBell sauce] is spicy, tangy, savory, sticky. It's everything my husband loves!" Jinich says.
All photos by Jennifer Chase.
Tuna Steaks with Spicy HoneyBell Sauce
Ingredients:
4

Vital Choice Wild Ahi Tuna Steaks

(5 ounces each)

3

tablespoons

sesame oil

(divided)

3

tablespoons

peanut oil

(divided)

6

scallions

(thinly sliced, white (green parts reserved for garnish))

1

tablespoon

fresh ginger

(peeled and grated )

1

jalapeño or serrano chili

(stemmed and finely chopped (seeding optional))

1

cup

HoneyBell orange juice

1

orange rind

½

cup

peach jam

⅓

cup

soy sauce

½

cup

sesame seeds

1

teaspoon

freshly ground black pepper

¾

teaspoon

kosher salt

(or to taste)
Instructions:
In a medium saucepan set over medium heat, add 2 tablespoons of the sesame oil and 2 tablespoons of the peanut oil and heat until shimmering.

Add the scallions, ginger and chile and cook, stirring occasionally, until completely softened and fragrant, about 3-4 minutes.

Add the HoneyBell juice, HoneyBell rind, apricot jam and soy sauce, and using a whisk or a spatula, stir to incorporate.

Simmer until the mixture takes on a light syrup consistency, about 10 minutes. Remove from the heat.

Place the sesame seeds, ground black pepper and salt on a plate and using your fingers, toss to combine.

Working with one tuna steak at a time, place the tuna steaks in the mixture, pressing gently and turning so that all sides are entirely covered in the mixture. Set aside.

In a large skillet or cast-iron pan, add the remaining tablespoon of peanut oil and the remaining tablespoon of sesame oil, and heat over medium-high heat until shimmering.

Add the tuna steaks and sear until browned on each side, about 1 minute per side.

Remove from the pan and set on a chopping board.

Meanwhile, spoon a generous amount of the Spicy HoneyBell Sauce onto each plate, or platter if serving family style.

Using a sharp knife, thinly slice the tuna and place on top of the sauce.

Garnish with the reserved scallions and serve immediately.