Fruit and cheese is a classic combination, but most people limit themselves to apples and cheddar. Today, Gina Homolka introduces us to an adventurous combination from The Skinnytaste Cookbook: Light on Calories, Big on Flavor. She pairs succulent Royal Riviera® Pears with creamy Brie cheese and then adds fig butter to create a superb grilled cheese recipe that will titillate your tastebuds. It's comfort food turned into a culinary delight for the health-conscious, courtesy of a Skinnytaste recipe.
Have you ever had baked Brie? If not, you're totally missing out. And if you have, then you'll understand why this grilled cheese sandwich works. I love the salty-sweet combination of ripe pears and Brie. Adding a touch of fig butter — a fruit spread not to be confused with butter — to this grilled cheese sandwich enhances the sweetness of the pears and makes it a real adult treat.
---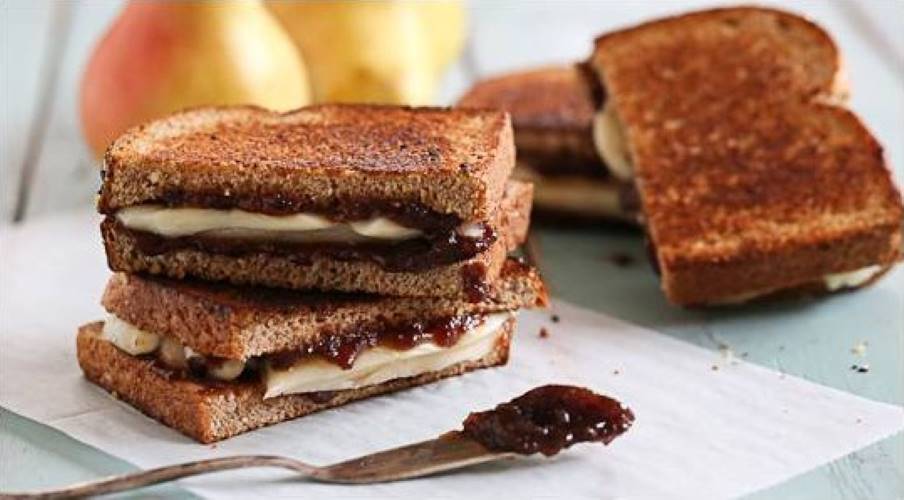 Pear and Brie Gourmet Grilled Cheese Recipe
Ingredients:
8

slices

multi-grain bread

¼

cup

fruit butter such as fig or apple

1

Harry & David® Royal Riviera® Pears

(peeled, thinly sliced6 oz light Brie, rind removed, sliced1 can olive oil spray or oil mister)
Instructions:
Heat skillet over medium-low heat.

Spread each slice of bread with ½ tablespoon fig or apple butter.

Top 4 bread slices with the Royal Riviera® Pear and Brie, then top with remaining bread slices.

Spray both sides sandwiches with a little oil.

Place sandwiches, one at a time, in hot skillet and cook until bread is golden cheese starts to melt, about 2 minutes on each side.

Alternatively, use a panini press.
Notes:
What To Do Next…
Did you try Gina's recipe? Please let us know in the comments. We'd love to hear from you.
Order your box of Royal Riviera® Pears today.