The holidays are all about family, and nothing brings all the generations together like food! In "Homespun Holidays" we explore recipes perfect for new family traditions, shareable plates for your next holiday get-together, and small-batch desserts and sides for more intimate gatherings. In this article, chef Jennifer Iserloh shares her recipe for slow-cooked brisket, a cut of meat traditionally eaten at Jewish holidays that needs a lot of time and liquid to achieve perfection.
Brisket has become the go-to meat dish for many Jewish celebrations for several reasons. For starters, this primal cut is kosher, coming from the front of the cow — all meat from the hindquarters is not kosher. Its large size also makes it perfect for serving a hungry holiday crowd. Since a slab of brisket is so big, it wasn't something you'd eat daily, making it designed for serving at special occasions and on holidays.


Back in the day — Ashkenazi (Central and Eastern European) Jews have been eating brisket since the 1700s — brisket was also a more economical option for families on a budget who still wanted to serve up something feast-worthy for Passover. You can't just eat matzo ball soup…
The Key to the Perfect Brisket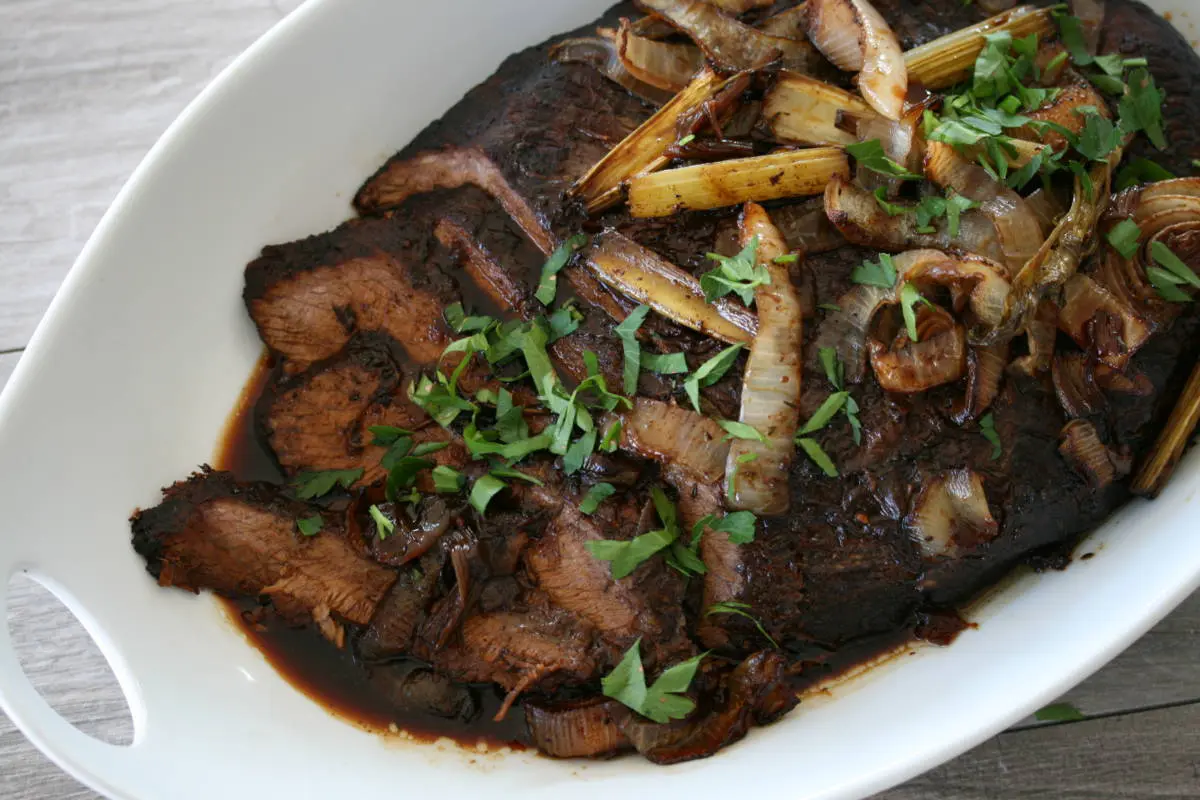 The goal with brisket is to make it moist and tender, but all too often it comes out dry and overcooked. Since brisket comes from a heavily worked muscle, it can be tough. The key is to cook it low and slow: low heat for a long length of time. Plus, use a bold sauce like soy sauce or ketchup. Continue adding liquid throughout the cooking process to keep the brisket from getting dry.

Serve this tasty slow-cooked brisket with a simple green salad topped with pear balsamic vinegar for a sweet flavor companion. If cooking the meat seems too unwieldy, you can also purchase your brisket already prepared.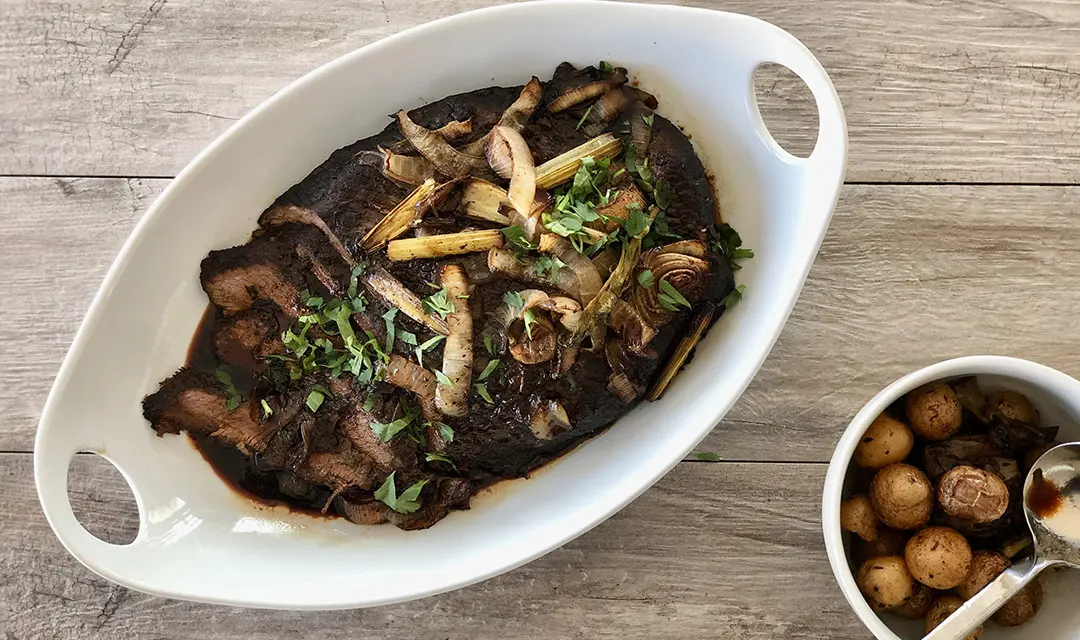 Slow-Cooked Beef Brisket
Chef Jennifer Iserloh shares her recipe for slow-cooked brisket, a cut of meat traditionally eaten at Jewish holidays that needs a lot of time and liquid to achieve perfection.
Ingredients:
1 4-5

pound

flat-cut beef brisket

(Untrimmed )

2

teaspoons

kosher salt

1

teaspoon

freshly ground black pepper

3

tablespoons

Olive oil

(divided)

2

medium

onions

(thickly sliced)

3

celery stalks

(cut into 2-inch pieces)

1

head

garlic

(halved crosswise)

1

bunch

fresh thyme

¾

cup

Harry & David® Royal Riviera® Pear Balsamic Vinaigrette

¼

cup

low-sodium soy sauce

( or Bragg Liquid Aminos)

2

cups

water

1

pound

baby potatoes

¼

cup

fresh parsley

(flat-leaf sprigs)
Instructions:
Preheat the oven to 300°F. Sprinkle both sides of the brisket with salt and pepper. Warm half of the olive oil in a large skillet over medium heat. Add the brisket and brown 6 to 8 minutes, without moving. Flip and brown the other side for another 6 to 8 minutes. Transfer to a baking dish, preferably 9×13, large enough to accommodate the potatoes as well as the meat.

Add remaining olive oil to the skillet and place over low heat. Add the onions and celery and cover. Cook for 4 to 5 minutes, stirring occasionally until the vegetables soften. Arrange the vegetables on top of the brisket. Tuck the garlic head in the corner of the baking dish and scatter the thyme sprigs over the meat.

Add the balsamic vinegar, soy sauce (or liquid aminos), and water around the meat. Cover well with two layers of aluminum foil and bake 3 ½ to 4 hours, until very tender. (The tip of a knife should easily pierce the meat.) Add the potatoes for the last hour of cooking.

Uncover brisket and increase oven temperature to 400°F. Transfer the onions, celery, and garlic head to a large platter. Return the brisket with the potatoes to the oven to allow the top to crisp and the liquid to reduce by a third, 30 to 45 minutes.

Before slicing, cool the meat slightly for about 10 minutes, then transfer to a cutting board. Slice with a serrated knife and transfer the brisket to the plate with the vegetables. Spoon over half of the braising liquid and garnish with parsley. Transfer any extra braising liquid to a gravy boat. Serve the potatoes on the platter or in a separate bowl.