Our series "Community Connections" highlights organizations dedicated to the sharing spirit of Harry & David.
It's planting time, and Tyler is keen to get started. The garden beds are prepped and ready, the weather is perfect, and Tyler concentrates on his task of carefully dropping seeds in the earth. "He's the most stellar seeder in the world," says Rob Melnick, who supervises Tyler and other adults who have learning challenges. "He's our go-to guy for that."
Tyler's job helps him develop critical life skills. It's part of Smile Farms, a program that trains people with developmental disabilities to work in horticultural settings. For the farmers, confidence and self-esteem grow alongside the seedlings.
"I like putting the seed into small boxes," says Tyler. "I add dirt, seed, water, dirt, water to help them grow. Then they turn into plants!"
Growing plants and skills
On this day, 26-year-old Tyler is working in the garden of a residential facility operated by Family Residences and Essential Enterprises (FREE), one of the organizations that collaborate with Smile Farms in the New York metropolitan area. Rob, who is vice president of community services at FREE, clearly delights in seeing how the farmers enjoy their newfound passion and purpose. "By getting your hands dirty and engaging in a meaningful way, the body and soul and mind really come to fruition, especially with our agricultural programs," he says.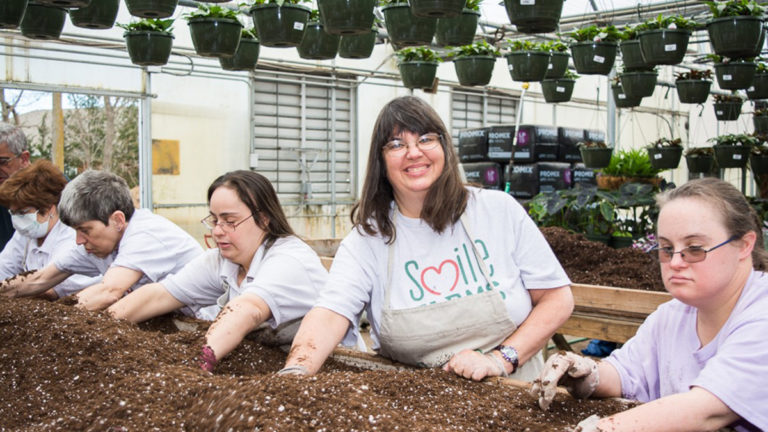 Tyler is on the spectrum and has specific talents. Planting tiny seeds accurately is one of them. "Not just anybody can do that fine-motor skill and be able to very delicately take very minuscule seeds and properly sort them and then plant them," Rob says.
And that, in a nutshell, is the essence of Smile Farms. Everyone has skills — they might just not have had a chance to develop them yet. It's also true that everyone can be part of a team and thrive, taking satisfaction from their work.
"Smile Farms is often a first job for our farmers — and many come to our programs without experience working with others toward a common goal," says Diana Martin, managing director of Smile Farms. "We offer them the opportunity to literally grow together, individually, as a team, and from the earth. It's very special to witness their pride in themselves and in the fruits of their labor."
Part of the nonprofit's success is a direct result of its commitment to forming relationships with local small businesses, whether with restaurants, stores, or other agricultural ventures. Smile Farms creates a web of experts and supporters, and in turn weaves in an expanding network of partner campuses.
The first seed is planted
The Smile Farms story began in 2015 with the McCann family. Kevin McCann lives in a group home on Long Island, New York, run by Independent Group Home Living (IGHL). When the program's CEO, Walter Stockton, mentioned to Kevin's brother Jim McCann, founder and chairman of 1-800-FLOWERS.COM, Inc., that he was having trouble finding work for residents, Jim told him he'd be happy to help.
But when Jim scanned the local job market, he discovered that there were indeed very few options for meaningful work for people with developmental disabilities. "Work is about a lot more than a paycheck," says Jim. "It's about who we are, it's social, it's about fulfillment engagement, a sense of contributing, and giving back, learning and growing."
"Job numbers for people with disabilities were low before the pandemic, and certainly numbers have dropped dramatically," says Donna Meltzer, CEO of the National Association of Councils on Developmental Disabilities. "And we don't know how many of these jobs will come back."
Pre-pandemic, the employment-to-population ratio for people with disabilities living in community settings was 38.9 percent in 2019, according to the Annual Report on People with Disabilities in America: 2020, compiled by the University of New Hampshire's Institute on Disability. To put that in context, the ratio for people without disabilities is more than double, at 78.6 percent. And Donna says that the employment rate for people with intellectual disabilities is even lower.
Jim was determined to fill that opportunity gap. He and his brother, Chris McCann, CEO of 1-800-FLOWERS.COM, embarked on a mission to design a nonprofit that would teach skills and hire people to grow flowers and produce, in turn giving them the opportunity to flourish.
Today, job creation is still a focal point for Smile Farms, but the organization now expands on the educational and vocational programs offered by its partners, too. This helps the farmers develop more skills, which in turn will lead to a wider range of fulfilling work opportunities.
A dream becomes reality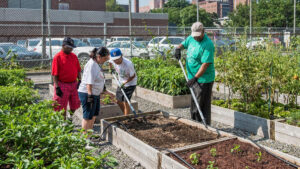 Smile Farms broke ground on its first working garden in 2015 at IGHL. Today, 140 Farmers receive paychecks funded by Smile Farms, and the organization impacts countless families across 10 campuses. Almost none of the Farmers have worked before, so it's the first time they are experiencing the satisfaction of mastering new skills, the pleasure of contributing to their team and community, and the thrill of taking home a paycheck.
The produce the Farmers grow is donated to nonprofits that serve communities in need. It's also bought by local restaurants — chef Tom Colicchio sources it for his Small Batch restaurant in Garden City, New York, which prides itself on showcasing the best ingredients from Long Island. Some vegetables are enjoyed for dinner by the Farmers themselves, and baskets of them are sold at farmers' markets to raise money that's plowed back into Smile Farms and its partners' projects.
Benefits of working with earth
There's a powerful connection between working with the land, planting and growing, and health and mental benefits. The American Horticultural Therapy Association describes horticultural therapy as "a time-proven practice" that goes back centuries. Working in a garden or farm setting "helps improve memory, cognitive abilities, task initiation, language skills, and socialization," the organization says, adding that vocational programs help "people learn to work independently, problem-solve, and follow directions."
Kim Brussell, vice president of public affairs and marketing at The Viscardi Center, another Smile Farms partner, notes the personal boost her students feel when they garden and grow. "They get such a great sense of purpose, the feeling that they're part of something bigger than themselves, that they can give back," she says. "Their work is very important, and they see it's important. They're donating all these cucumbers to a food bank or a mobile market that's counting on them — and that stays with them."
Adapting and growing
Just as the farmers learn and develop new skills, Smile Farms is adapting to changing times itself. When the COVID-19 pandemic made it impossible for the farmers to work and socialize together, Smile Farms came up with ways to keep everyone's enthusiasm and connection strong.
One particularly well-received project? Seed-planting kits. "We thought, 'Well, we can't bring our farmers together, but we can give them something that mimics the experience of watching something grow and getting your hands dirty and watering it, seeing how it grows over time, and we can get it to them at home,'" says Diana. "We created kits by putting together basil, shovels, sun-catchers, and T-shirts," she says. "Then we paired them with an art kit and painting video so they could explore that area of creativity at home as well."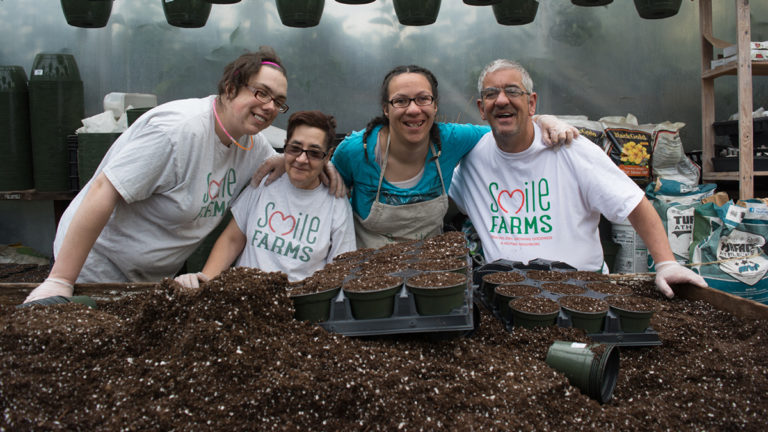 Although Smile Farms has only been up and running for a little over five years, Diana says it has innovated and earned itself a solid reputation as a nonprofit leader in creating solutions for unemployment among young adults and adults with developmental disabilities.