The arrival of Harry & David's famous Oregold peaches is one of the highlights of my summer. Big, succulent and extra sweet, these Oregold peaches are hands down the best peaches I've ever had. They are great for snacking, baking, grilling and even drinking. Yes, that's right. Drinking! 
The juiciness of Oregold peaches makes them well suited to use in drinks as a fresh ingredient. I always make sure to set aside a few to try out in different cocktails and mocktails. This summer, I've been mixing up these fun and fruity sparkling elderflower and fresh peach margaritas. They deliver a big punch of peach flavor. And I know you're going to love them!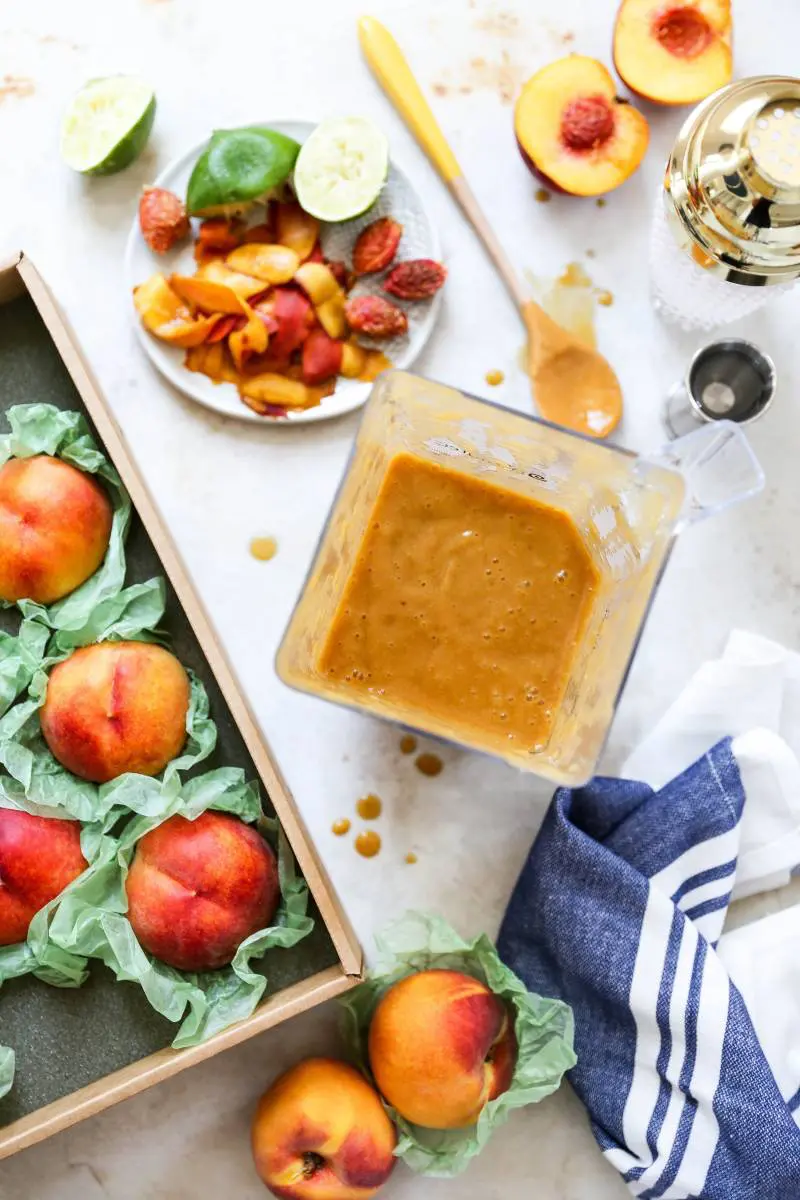 This peach margarita recipe is very easy to make. First, blend together some pitted, peeled, and chopped Harry & David Oregold peaches with agave syrup and lime juice to create a smooth purée. Next, shake up some of this purée with blanco tequila and elderflower liqueur. Then strain it into a prepared glass and top it off with a couple ounces of Prosecco for a refreshing, effervescent finish.  
Boom! You're ready to party in just a few simple steps!
Peach margarita recipe substitutions
There are a couple substitutions to this recipe that I think are worth mentioning because I don't want there to be any barriers between you and these margaritas. First is the elderflower liqueur. While it does add some lovely, subtle flora notes to this recipe, you can substitute it for orange liqueur, which might be more accessible.
This will give you more of a traditional margarita flavor profile. But hey, classics are classics for a reason! The second place where you can switch things up is the Prosecco. If you're looking for a cocktail with a little less "oomph", try topping off this margarita with sparkling tonic water or club soda instead of the Prosecco or any sparkling wine. You'll still get great fizz, but without the added alcohol.
Sparkling Elderflower and Fresh Peach Margarita
Ingredients:
For the Margaritas (per cocktail):
3

ounces

peach purée

1 ½

ounces

blanco tequila

½

ounce

elderflower liqueur

2-4

ounces

Prosecco

(can substitute sparkling water)

Ice
For Garnish:
sea salt flakes

sliced lime
Instructions:
To make the peach purée, add all the ingredients to your blender and blend on high until smooth.

Transfer the purée to a clean container and refrigerate it until you're ready to use it. You'll have enough of the purée to make approximately eight cocktails.

To prepare your glasses, start by spreading some flaky sea salt out onto a small plate.

Moisten the rim of your glasses with fresh lime juice. Then gently press the moistened rim down into the sea salt so that it adheres to the rim of glass. Add ice and set aside.

To make a single cocktail, add the peach purée, tequila and elderflower liqueur to a cocktail shaker with ice.

Shake vigorously.

Then strain into one of your prepared glasses. Top with Prosecco and stir gently. Garnish with sliced peaches and lime. Enjoy immediately.
---