Something about spice cake just screams autumn. Maybe it's the warm, cozy flavors, the nostalgic fragrance, or the use of gorgeous seasonal fruit. Whatever it is, a spice cake is the ideal dessert for fall, and when adorned with poached pears and a sweet maple cream, it becomes something truly magical.
This is a cake that will leave an impression, whether you serve it for a special occasion or just as an everyday treat with a cup of coffee. Its sweetness level is mild, making it as perfect for breakfast as it is for dessert. And who doesn't love cake for breakfast?
Surprisingly easy to make, this cake blends warm spices, including cinnamon, nutmeg, and cardamom, with the complexity and slight bitterness of molasses, creating a dark, moist, richly flavored dessert. A whole poached pear — its elegant yet subtle flavor infused with herbs from the poaching liquid — stands tall in the center. The final elevating touch is the sweet maple glaze, adding just the right amount of sweetness to the cake.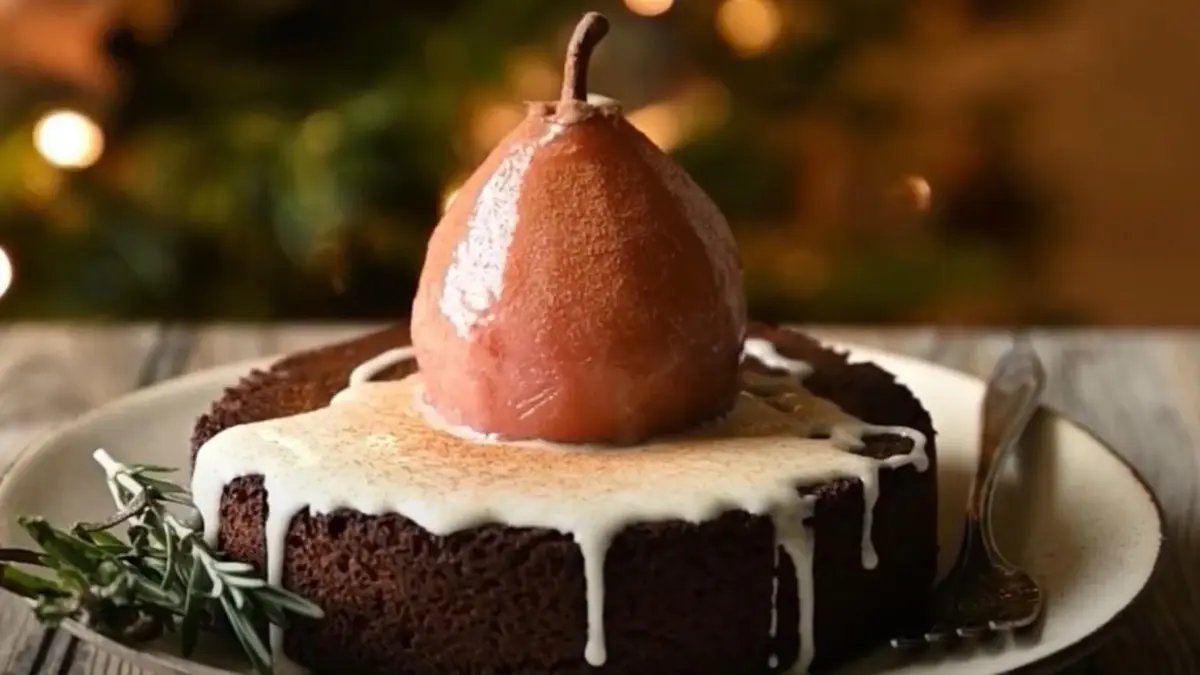 Spice Cake With Rosemary Poached Pears & Maple Cream
Ingredients:
Spice Cake
1

egg

½

cup

light brown sugar

¼

cup

molasses

4

tablespoon

butter

(softened)

2

tablespoons

Milk

1

teaspoon

vanilla

1

cup

flour

1

teaspoon

baking powder

¼

teaspoon

salt

½

teaspoon

cinnamon

¼

teaspoon

nutmeg

¼

teaspoon

cardamom
Maple Cream
⅔

cup

powdered sugar

1

tablespoon

maple syrup

1-2

teaspoons

Milk
Instructions:
For the cake
Preheat oven to 350° F and grease a 6″ round baking pan.

In a medium bowl, combine the egg, brown sugar, molasses, butter, milk, and vanilla.

Slowly mix in the flour, baking powder, salt, and spices into wet ingredients until combined.

Pour the mixture into the baking pan. Bake for 25 to 27 minutes or until a toothpick comes out clean. Let cool.
For the rosemary poached rears
In a small saucepan, add cabernet, water, sugar, and lemon juice. Bring to a simmer and add the peeled pear and rosemary sprigs.

Let the pear sit in the wine mixture for 25 to 30 minutes, or until the pear becomes soft and a deep red color.

Remove pear from pan and place on a paper towel or plate until ready to assemble.
For the maple cream
Using a fork, combine powdered sugar, maple syrup, and milk together in a bowl until there are no more clumps and it becomes an icing consistency.
Assembling the cake
Using a spoon, carve a small divot in the center of the cake, just big enough so the pear can sit up on its own.

Place the pear in the divot and drizzle with the maple cream. Top with extra cinnamon if desired. Enjoy!
Notes:
For the poached pear: Be sure to use slightly firm, unbruised pears and peel in long strokes to keep the shape of the pear (a vegetable peeler works great for this). Turning the pear in the poaching liquid periodically as it simmers will ensure the color is even all the way around.
Using herbs: Adding rosemary to the pear-poaching liquid lends an earthy flavor and brings out the sweetness of the pear. Using herbs in desserts may seem a bit unexpected yet they complement fruit-forward desserts beautifully.
---