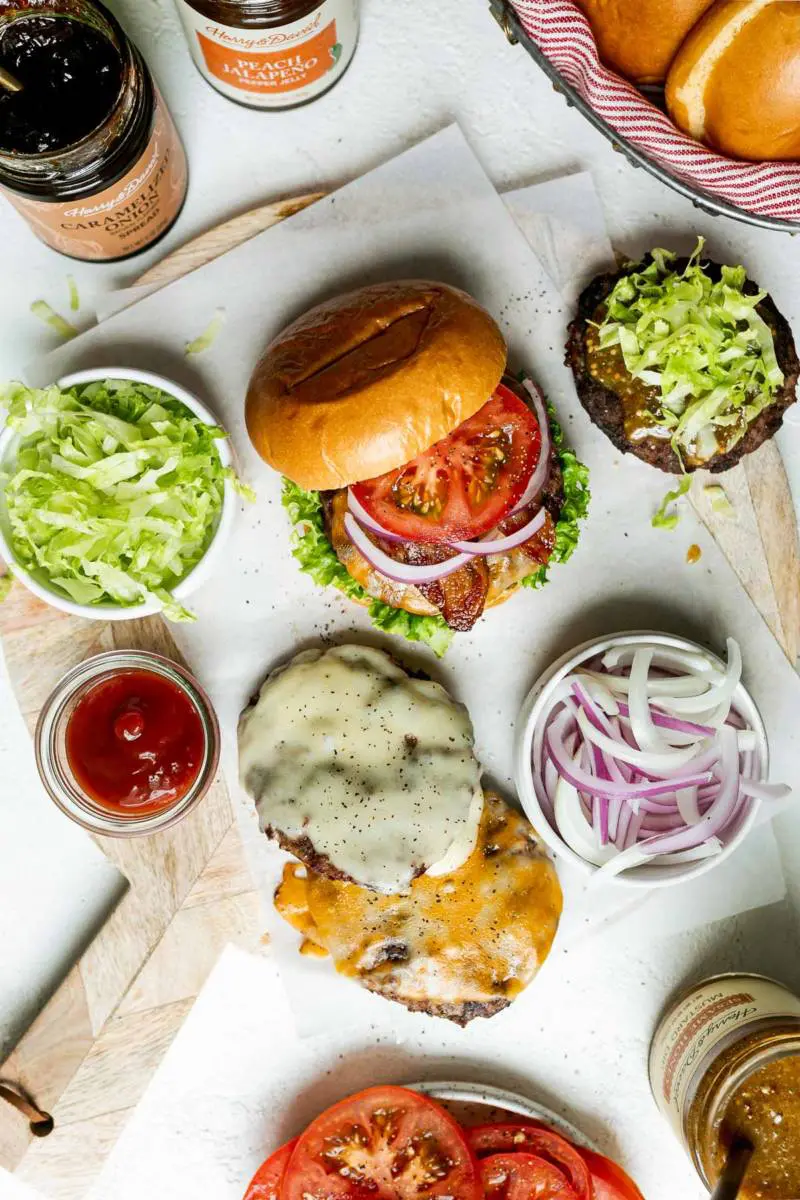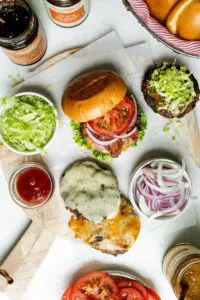 These days, having loved ones over for an outdoor meal can and should be as unfussy as shooting a text that says, "Hey, we're throwing burgers on the grill tonight. Wanna join us?"
Throughout my years of hosting, my best memories are these easy moments and everyday celebrations. Good food, good drinks, and, of course, lots of laughter is a simple and surefire recipe for an excellent time with friends and family.
In the summertime, I like to keep any cooking super simple for those last-minute backyard cookouts. Setting up a burger bar, where guests can have fun assembling their own juicy burgers, is one of my favorite ways to host. It's easy, impressive, and soooo delicious!
There are a few key components to the ultimate burger bar. Burgers, of course… And you must have bacon. It's a requirement in my household. To get the bacon started while the grill heats up, cook it in a cast iron skillet directly on the grill. This technique has been a game-changer for me. Sometimes I'll also prep the bacon in advance in the oven. Cooked bacon can be refrigerated a few days ahead of time (remember to make a few extra strips for snacking!).
I love Harry & David Steak Burgers for cookouts. They cook like a burger, but eat like a steak. They're delicious on their own or topped with cheese and all the fixings! I love creamy cheeses that melt easily like Colby jack, pepper jack, or even fresh mozzarella for an Italian twist. For buns, buttery brioche ones are my go-tos, which I throw on the grill until they are nice and toasty.
---

---
Now for the fun part: the toppings! Lettuce, thinly sliced red onion, heirloom tomatoes, pickles, sliced avocado or guacamole, and fresh herbs like cilantro and basil are some of my favorites. I like to arrange a big platter with fresh vegetables in advance and keep it in the fridge until our guests arrive — this frees me up to talk with everyone, rather than spending all the time in the kitchen.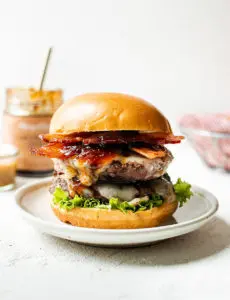 I also love adding some unexpected toppings and condiments to the bar for guests to experiment. Along with the usual suspects ketchup and mustard, relishes and toppers like bruschetta and jalapeño jelly are always big crowd-pleasers. With all the options for toppings, sometimes my guests like a gentle nudge. So, I like to set out cards with suggestions. Here are few favorites:
The Old Reliable: Bacon, Colby jack, maple hickory-smoked bacon, and caramelized onion spread or honey mustard.
Bruschetta Burger: Fresh mozzarella, fire-roasted bruschetta, and fresh basil
Bacon Guacamole Burger: Pepper jack, maple hickory-smoked bacon, guacamole/mashed avocado, and fresh cilantro
Sweet Heat Burger: Pepper jack and peach jalapeño jelly
Island Burger: Pepper jack, maple hickory-smoked bacon, charred pineapple relish, and fresh cilantro
Every time I host a burger bar cookout, one of my guests comes up with a new combination. Challenge your guests to see what they can create. It's a fun, memorable way to spend time with friends and family outdoors in the summertime.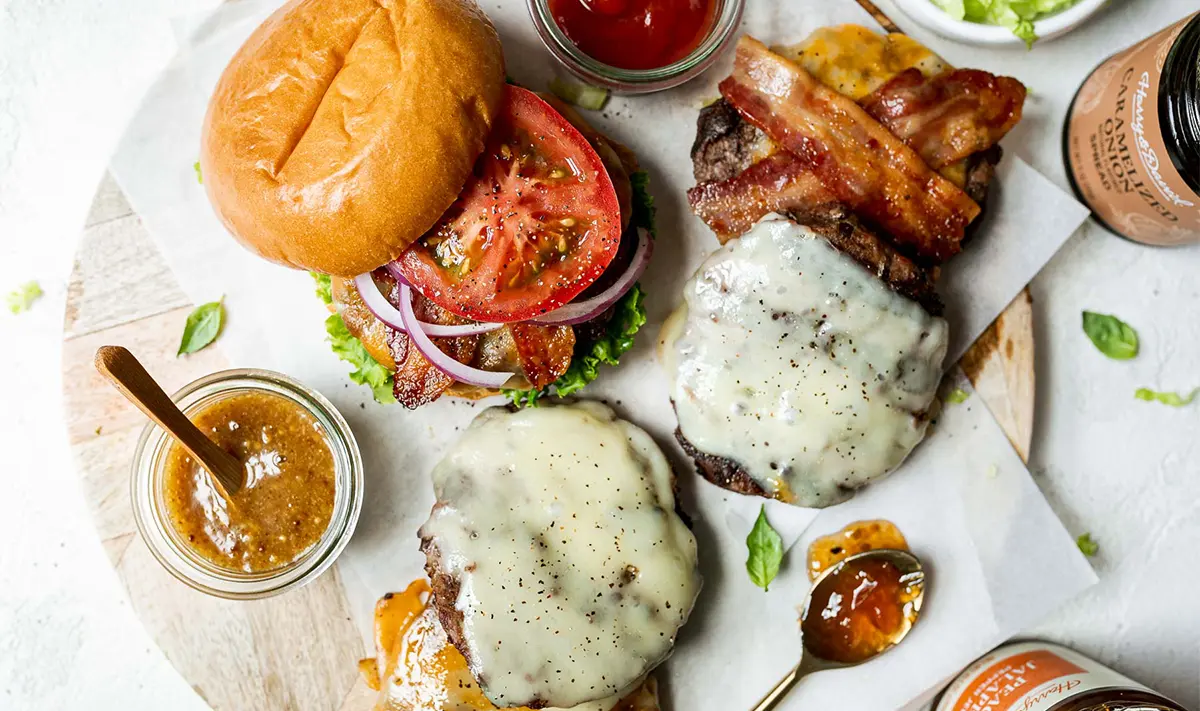 The Ultimate Burger Bar
Ingredients:
For thr Burger Bar
Lettuce

Red onion

(thinly sliced)

Heirloom tomato

(sliced)

Pickles

(sliced into 1/4-inch chips)

Mashed avocado or guacamole

Fresh cilantro

Fresh basil

Ketchup

Mustard
Instructions:
Preheat the grill to medium-high, about 400° F.

Cook the bacon: Place a heat-safe cast-iron skillet directly on the grill grates. Add the bacon to the skillet. Cook 4-5 minutes per side until the bacon is rendered and as crisp as you'd like. Carefully transfer to a paper towel-lined plate to drain any excess oil. Set aside. Note: If you'd like to prep the bacon in advance, you can cook it on the stovetop or in the oven. My go-to is the oven. Arrange the bacon on a parchment-lined baking sheet. Bake at 375° F for 10-12 minutes, until rendered and as crisp as you'd like. Remove from the oven and transfer to a paper towel-lined plate to drain any excess oil. Once cool enough to handle, transfer to an airtight container and store in the refrigerator for up to 3 days.

Grill the steak burgers: Once the bacon is about halfway cooked, begin grilling the steak burgers. Just before placing the patties on the grill, generously spray a wad of paper towels with nonstick cooking spray. Use grilling tongs to run the paper towel over the grill grates, generously oiling the grill grates. Place the burgers on the grill. Close the lid and grill for 3 minutes per side for medium doneness. If you'd like to add cheese to your burgers, do so when there are 2 minutes left of grilling time.

Toast the brioche buns: Halve the burger buns. Lightly spritz the cut side with nonstick cooking spray. Place the buns directly on the grill grates, grilling for 90 seconds to 2 minutes, just until toasty. Keep a close eye on them to prevent burning – they toast very quickly!

Serve: Place the grilled burgers, cooked bacon, and toasted buns on individual platters. Set up your burger bar by placing the platters on a table or serving station, along with your toppings and condiments of choice.