Strawberry season is the best season! I simply can't get enough sweet, sun-ripened strawberries during the spring and summer. I love baking them into cakes, tossing them into salads, or blending them into smoothies. And of course, I love eating them just as they are (although a little chocolate never hurt anyone!). When I really want to shake things up though, I turn them into some fabulous fruity cocktails!
This easy strawberry cocktail recipe made with Harry & David's giant strawberries is my new favorite summer sipper. It's a great drink to celebrate brunch season or share on a warm evening outside. Here's all you need to make them at home.
Making the strawberry purée
You'll start by roughly chopping two cups of strawberries. Add them to a bowl with some sliced jalapeño peppers and granulated sugar. Let that mixture macerate for about one hour at room temperature––this will let the strawberries soften slightly and release some of their delicious juices. Next, blend everything together (including those juices) until smooth. Now you've completed the majority of the work and are ready to make the cocktails!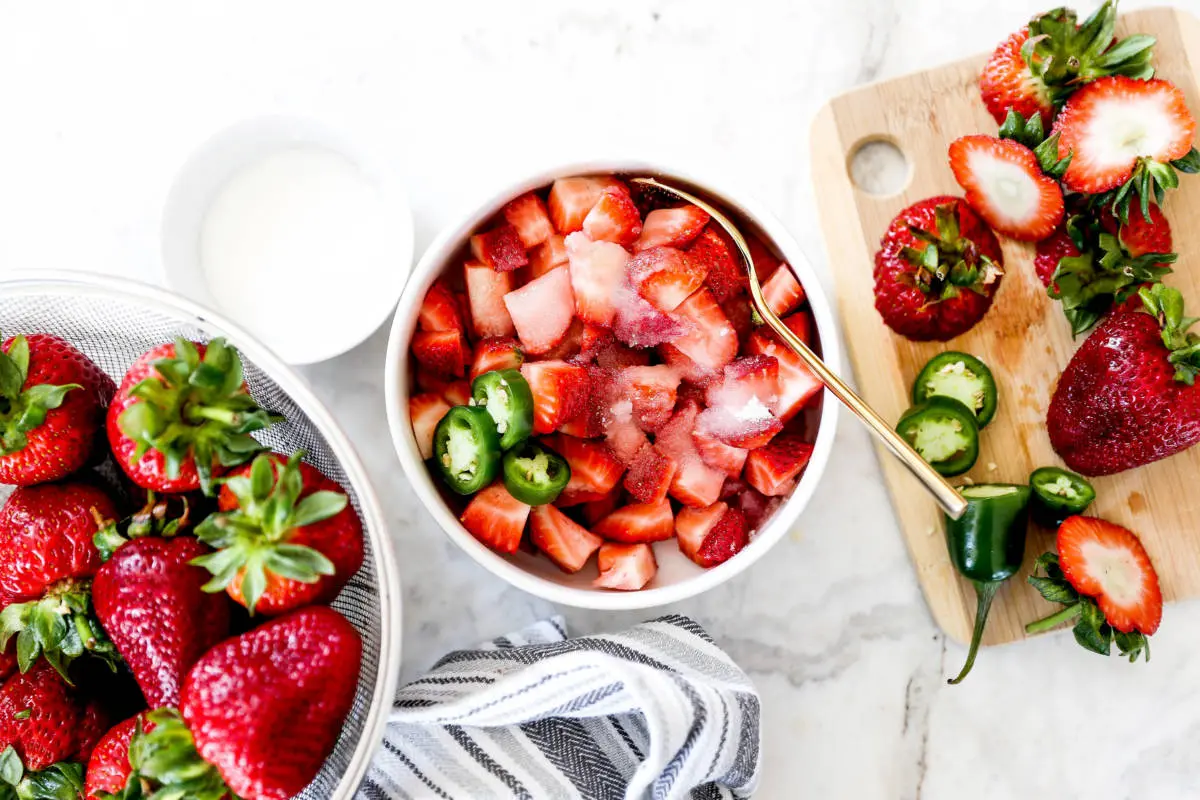 The strawberry purée can be used immediately after you finish making it. You can also prepare it 2-3 days in advance and keep it stored in your refrigerator. You'll have enough purée to make approximately 6-8 cocktails.
Mixing the cocktails
To make the cocktails, simply shake up some of the strawberry purée with your favorite vodka and some fresh-squeezed lemon juice. Strain it over ice, add a few splashes of tonic water, garnish it with sliced strawberries and jalapeño peppers, and you're ready to go!
The mostly neutral taste of the vodka doesn't overpower the flavor of the strawberries. That's one of the main reasons why it's my choice of spirit for this summer cocktail. You could also use gin, if you prefer.
How many jalapeño peppers should you use in this recipe? That depends on how spicy you want your cocktail to be! Two slices will give some warmth, but it won't be overwhelmingly spicy. Adding in five (or more if you're daring!) will certainly bring some heat. Personally, I find three to four slices to be the sweet spot. You can always add more in afterwards, but you can't take them out after you make the purée.
Cheers to strawberry season and warm weather!
Strawberry Cocktail with Jalapeño and Lemon
Ingredients:
For the Strawberry Purée:
2-5

slices

jalapeño pepper

¼

cup

granulated sugar
For the Cocktails (Makes 2):
4

ounces

strawberry purée

4

ounces

vodka

1

ounce

lemon juice

(freshly squeezed )

6

ounces

tonic water

Ice
Instructions:
To make the purée:
Add the chopped strawberries, jalapeño pepper slices, and sugar to a medium bowl. Stir to combine.

Cover the bowl and let it sit at room temperature for 1 hour.

Pour all the contents of the bowl, including any accumulated juices, into your blender and process until smooth.

Transfer the purée to a re-sealable container and refrigerate it until you're ready to use it. The purée can be prepared ahead of time and stored in your refrigerator for 2-3 days.
To make the cocktails:
Add the strawberry purée, vodka, and lemon juice to a cocktail shaker filled with ice. Shake vigorously.

Strain the mixture into two glasses with ice, dividing it evenly between the glasses. Top with the tonic water and stir gently.

Garnish with sliced strawberries and jalapeño peppers, if desired. Enjoy immediately.
---